The global home fragrance diffuser market was valued at USD 2.94 billion in 2022 and is expected to grow at a CAGR of 5.3% during the forecast period.
Consumer's strong desire to create inviting and enjoyable living environments is a prime factor stimulating the market forward. Home fragrance diffusers have emerged as a popular and convenient solution for achieving this goal. These diffusers effectively infuse fragrances into homes, enhancing the overall ambiance and creating a tranquil and calming atmosphere.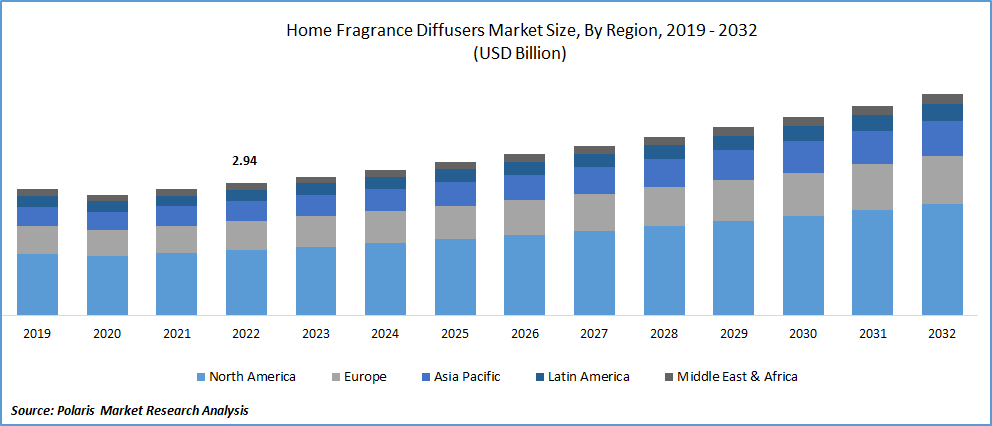 To Understand More About this Research: Request a Free Sample Report
Additionally, the rising interest in aromatherapy and the well-established therapeutic properties of scents have contributed to the market's expansion. Home fragrance diffusers allow individuals to experience the benefits of aromatherapy within the confines of their own homes.
The demand for home fragrance products such as candles, diffusers, and scented items experienced a significant increase of 13% in 2020, as reported by PYMNTS.com. The ongoing pandemic has underscored the significance of self-care and mental well-being, leading individuals to prioritize activities that promote relaxation and stress reduction. Fragrance diffusers, especially those that offer aromatherapy benefits, have become increasingly popular as people seek effective ways to enhance their overall well-being and create a soothing environment.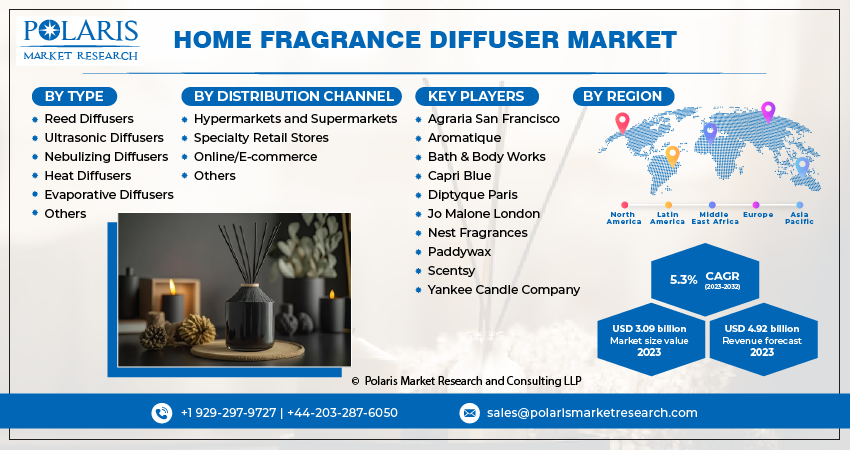 For Specific Research Requirements, Request for a Customized Report
Growth Drivers
Growing focus on self-care and relaxation
The growing focus on self-care and relaxation has become a significant driver in the Home Fragrance Diffuser Market. In today's fast-paced world, consumers are increasingly prioritizing their mental and emotional well-being. Home fragrance diffusers play a vital role in creating a soothing and calming atmosphere within one's living space, aligning with the broader wellness trend.
These diffusers offer a convenient and effective way to enhance relaxation routines, whether it's through aromatherapy, meditation, or simply unwinding after a long day. Fragrances like lavender, eucalyptus, and chamomile are sought after for their stress-relieving properties, contributing to a tranquil environment at home.
Moreover, the pandemic has intensified the need for self-care practices, as more people spend time indoors. The aromatic experience provided by home fragrance diffusers not only promotes relaxation but also helps in improving sleep quality and reducing anxiety.
As consumers continue to prioritize self-care and relaxation, the Home Fragrance Diffuser Market is expected to witness sustained growth, with an increasing array of fragrance options and innovative technologies to cater to these evolving preferences.
Report Segmentation
The market is primarily segmented based on type, distribution channel, and region.
By Type

By Distribution Channel

By Region

Reed Diffusers

Ultrasonic Diffusers

Nebulizing Diffusers

Heat Diffusers

Evaporative Diffusers

Others

Hypermarkets and Supermarkets

Specialty Retail Stores

Online/E-commerce

Others

North America (U.S., Canada)

Europe (France, Germany, UK, Italy, Netherlands, Spain, Russia)

Asia Pacific (Japan, China, India, Malaysia, Indonesia. South Korea)

Latin America (Brazil, Mexico, Argentina)

Middle East & Africa (Saudi Arabia, UAE, Israel, South Africa)
To Understand the Scope of this Report: Speak to Analyst
By Type Analysis
The Reed diffusers segment accounted for a significant market share in 2022.
The Reed diffusers segment accounted for a significant market share in 2022. The growing demand for reed diffusers can be attributed to their numerous advantages, including convenience, decorative appeal, low maintenance, & a wide range of fragrance options. It provides a subtle and scent experience without any need for the open flames. Additionally, they serve as visually attractive home decor items.
The heat diffuser segment is likely to exhibit the fastest growth rate. The increasing demand for heat diffusers can be attributed to their convenience and effectiveness in dispersing fragrance. Unlike alternative diffuser options, heat diffusers utilize heat generated by candles or electric heating elements to emit fragrance without requiring water or electricity. These diffusers offer a consistent and enduring scent experience, making them attractive to individuals who favor a subtle and long-lasting presence of fragrance.
By Distribution Channel Analysis
The specialty stores segment held a significant market share in 2022.
The specialty stores segment held the majority market share. These specialty retail stores offer a wide array of products, including candles, reed diffusers, room sprays, and wax melts, presenting customers with a broad range of options. By housing fragrance specialty stores, aromatherapy shops, and similar establishments, these retail stores serve as platforms for showcasing and providing customers with a diverse selection of fragrance-related products. This enables customers to explore and select scents that align with their personal preferences.
The online segment is projected to gain a substantial growth rate. Online shopping offers customers a convenient avenue to browse & purchase such diffusers from their homes. It provides them with the flexibility to explore a diverse range of products, compare prices, and read reviews from other customers, thereby facilitating informed purchase decisions.
The growth of the online retail sales channel for fragrance diffusers can be attributed to a blend of factors, including convenience, broader customer reach, detailed product information, competitive pricing, promotional offers, a seamless shopping experience, and the influence of the COVID-19 pandemic. In response to this upward trend, companies operating in the industry are placing greater emphasis on enhancing their online presence and optimizing their e-commerce capabilities. This strategic approach allows them to take advantage of the expanding online market for fragrance diffusers.
Regional Insight
North America dominated the global market in 2022.
North America dominated the global market. Region's growth is primarily due to the growing preference among consumers to create an inviting atmosphere within their homes, leading to the rising popularity of home fragrance products such as diffusers. Additionally, there is a noticeable surge in the adoption of aromatherapy practices, with diffusers playing a pivotal role in this trend. Consumers are seeking long-lasting fragrances that not only provide pleasant scents but also contribute to their overall well-being. Additionally, the industry caters to the premium and luxury segments, as consumers are willing to invest in diffusers that offer high-quality, distinctive designs. Considering these market trends, the region is expected to sustain its growth momentum in the foreseeable future.
Asia Pacific region is likely to emerge as the fastest-growing region. It offers considerable opportunities for market players to capitalize on. The demand for home fragrance products, including diffusers, is being propelled by factors such as rising disposable income and improving standards of living in countries like China, India, & Japan. Additionally, there is a growing awareness and appreciation for the benefits of aromatherapy, which is further driving the adoption of fragrance diffusers in households across the region. Prominent manufacturers of fragrance diffusers in India are actively pursuing business expansion strategies and targeting consumers who value high-quality and distinctive diffusers. Simultaneously, they also offer more affordable options to cater to a wider customer base.
Competitive Insight
The home fragrance diffuser market is fragmented and is anticipated to witness competition due to several players' presence. Major service providers in the market are constantly upgrading their technologies to stay ahead of the competition and to ensure efficiency, integrity, and safety. These players focus on partnership, product upgrades, and collaboration to gain a competitive edge over their peers and capture a significant market share.
Some of the major players operating in the global market include
Agraria San Francisco

Aromatique

Bath & Body Works

Capri Blue

Diptyque Paris

Jo Malone London

Nest Fragrances

Paddywax

Scentsy

Yankee Candle Company
Recent Developments
In April 2022, WoodWick recently introduced the "WoodWick Radiance" diffuser. This unique diffuser features an hourglass-shaped design and operates on battery power. It offers a convenient refill process that does not require water.

In December 2022, during the Christmas season, IRIS Home Fragrances, the lifestyle and wellness brand under Cycle Pure Agarbathies, unveiled the Glitter range. This festive collection showcases alluring fragrances such as Gold Musk and Romance, which are offered in a variety of formats, including candles, tapers, and reed diffusers.
Home Fragrance Diffuser Market Report Scope
| | |
| --- | --- |
| Report Attributes | Details |
| Market size value in 2023 | USD 3.09 billion |
| Revenue Forecast in 2032 | USD 4.92 billion |
| CAGR | 5.3% from 2023 – 2032 |
| Base year | 2022 |
| Historical data | 2019 – 2021 |
| Forecast period | 2023 – 2032 |
| Quantitative units | Revenue in USD billion and CAGR from 2023 to 2032 |
| Segments Covered | By Type, By Distribution Channel, By Region |
| Regional scope | North America, Europe, Asia Pacific, Latin America; Middle East & Africa |
| Customization | Report customization as per your requirements with respect to countries, regions and segmentation. |