The global infection surveillance solutions market was valued at USD 477.8 million in 2020 and is expected to grow at a CAGR of 14.0% during the forecast period. The key factors responsible for the market growth include a rise in anti-microbial resistance, an increase in the prevalence of hospital-acquired infections, and a rising need for continuous surveillance as need to contain viral infections such as COVID-19 all over the globe. Moreover, a surge in infectious diseases over the past decade led to the rapid rise in the installation of infection surveillance devices in healthcare facilities.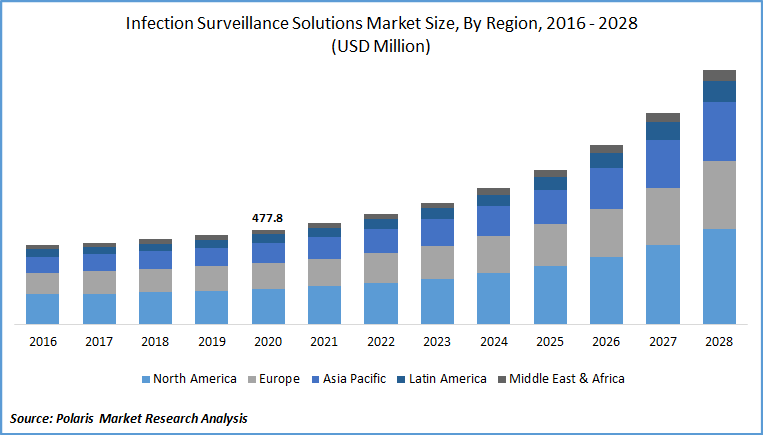 Know more about this report: request for sample pages
Moreover, favorable government policies and positive steps to contain the severance of anti-microbial resistance and onset of probable mutations in the strain. In line with this, the National Microbiology Laboratory (NML) and Public Health Agency of Canada's Centre for Communicable Diseases and Infection Control (CCDIC) introduced prominent steps like Canadian Nosocomial Infection Surveillance Program (CNISP) to provide HAIs trends, challenges, and prevalence scenario. Currently, the network has 54 hospitals following guidelines.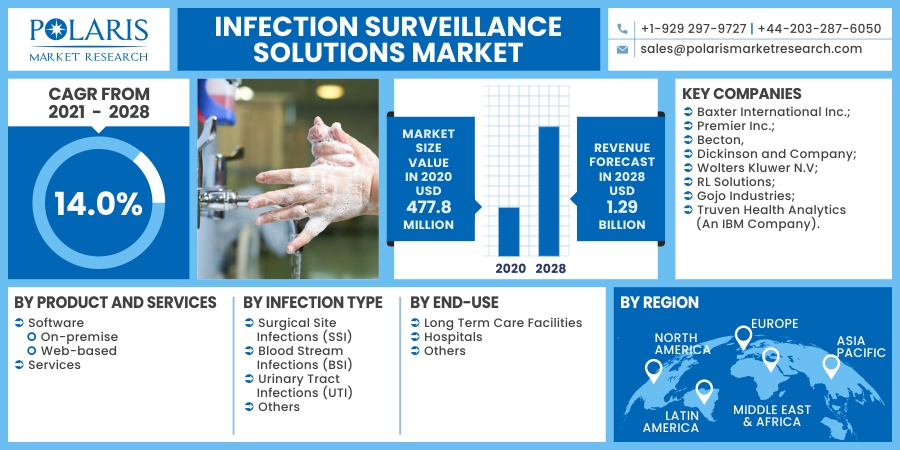 Know more about this report: request for sample pages
Infection Surveillance Solutions Market Report Scope
The market is primarily segmented on the basis of product and services, infection type, end-use, and region.
By Product and Services

By Infection Type

By End-Use

By Region

Surgical Site Infections (SSI)
Blood Stream Infections (BSI)
Urinary Tract Infections (UTI)
Others

Long Term Care Facilities
Hospitals
Others

North America (U.S., Canada)
Europe (France, Germany, UK, Italy, Spain, Netherlands, Austria)
Asia Pacific (Japan, China, India, Malaysia, Indonesia, South Korea)
Latin America (Brazil, Mexico, Argentina)
Middle East & Africa (Saudi Arabia, UAE, Israel, South Africa)
Know more about this report: request for sample pages
Insight by Product and Services
The software surveillance solutions segment accounted for the largest revenue share, in 2020. The segment is further bifurcated into on-premise and web-based software. Among these two, web-based software is projected to witness the highest growth rate over the assessment period. This is primarily due to the easy availability of products and devices in different configurations, real-time analysis, and ease of usage.
Moreover, entry of software companies having rich experience in healthcare IT projects coming up with innovative services such as data collection in the form of electronic health records, epidemic trends, analytics, and usage trends. However, the services segment is projected to witness the fastest market growth over the assessment period of infection surveillance industry.
Insight by Infection Type
In 2020, the urinary tract infection market segment in infection surveillance solutions accounted for the largest share and likely to maintain its dominance over the assessment period. This is primarily due to an increase in cases of UTIs all over the globe. According to the study done by womenshealth.gov, women are susceptible to UTIs, in comparison to men.
CDC reported that more than 75% of the UTIs acquired in healthcare facilities are due to prolonged use of urinary catheters. Moreover, European Centre for Disease Prevention and Control found that the patients who were admitted to ICU for more than 2 days, around 3% have acquired UTIs.
However, the other surveillance market segment is poised to register a lucrative market growth rate over the surveillance study period. Such high growth is attributed to a surge in infectious diseases over the past decade and the occurrence of new mutant strains, who could create havoc in the coming years. Moreover, the rising interest of multi-national companies in devising innovative devices is also expected to boost the segment's market growth prospects in infection surveillance solutions.
Insight by End-Use
In 2020, the hospital segment of infection surveillance solutions industry accounted for the largest share and likely to maintain its dominance over the assessment period. This dominance is due to the high purchasing power capacity of hospitals, and the presence of skilled individuals in creating a system. Moreover, hospitals are better equipped with the skillset to manage HAIs, and patients could be monitored within the stipulated time.
It is being estimated that over 45% of hospitals use surveillance and software systems for quicker analysis of disease. Installed automated tools to analyze past trends of infection through simulation, helping them in containing healthcare acquired infections in the healthcare facilities.
Geographic Overview
North America infection surveillance solutions market is projected to dominate the global market. Factors responsible for such growth include a rise in reported cases of HAIs, strong government initiatives to raise awareness among patients, and the presence of key surveillance market players in the region.
In this direction, the U.S government has introduced a 5-year action plan, National Action Plan (NAP), to combat antibiotic-resistant bacteria and particularly the incidence of methicillin-resistant Staphylococcus aureus, Carbapenem-resistant Enterobacteriaceae, and Clostridium difficile.
Competitive Insight
The prominent players operating in the infection surveillance solutions market are Baxter International Inc.; Premier Inc.; Becton, Dickinson and Company; Wolters Kluwer N.V; RL Solutions; Gojo Industries; and Truven Health Analytics (An IBM Company).