The Japan cancer vaccines market size was valued at USD 459.4 million in 2019 and is anticipated to grow at a CAGR of 17.8% during the forecast period. A vaccine is a biological preparation that strengthens the immune system and provides acquired immunity against a specific pathogen. According to the World Health Organization (WHO), cancer vaccines are popularly used to treat various types of cancer such as, breast cancer, lung cancer, cervical cancer, and others. According to the Ministry of Health, Labor, and Welfare report, cancer was the leading cause of death among Japanese in 2016, followed by heart disease and pneumonia. In 2016, 372,986 people died of cancer in Japan, accounting for 28.5% of all deaths that year. This number gradually increased and reached approximately 380,000 by the end of 2018. Approximately, one out of every two Japanese citizen are projected to get cancer, however, the survival rate of cancer patients has increased due to the greater precision of early detection and treatment and dramatic improvement in research and development activities. Thus, is expected to primarily drive the market for cancer vaccines in Japan.
In Japan, growing prevalence of cancer, increasing investment in research and development, growing prevalence of human papilloma virus (HPV) infections, and growing number of product approval and development of novel cancer vaccines are driving the growth of the cancer vaccines market in Japan. HPV has all together been identified in almost 100% of patient suffering with cervical cancers in Japan, especially HPV 16 and 18, which together account for around 65% of all cervical cancer cases in Japan. Furthermore, in 2017 the Japanese government announced that it aims to increase spending on science and technology by 900 billion yen over the next three years, with a significant chunk going to a new initiative to promote collaboration between industry and academia.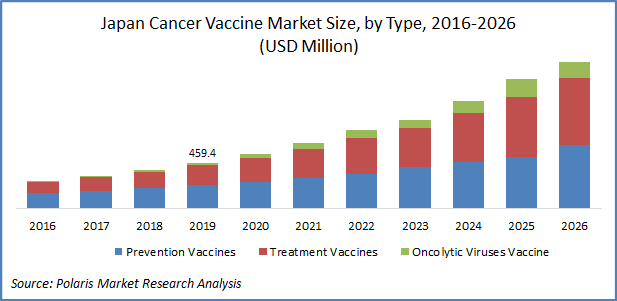 Know more about this report: request for sample pages
Based on such initiative large number of research studies are being conducted that focused on development of cancer vaccines for Japanese population. However, high cost associated with development of cancer vaccines, growing need for regular up-gradation of the manufacturing technology and longer time span required for manufacturing a single vaccine are predicted to hamper the market growth during the forecast period. Furthermore, growth in transition from prophylactic to therapeutic cancer vaccines are expected to offer lucrative opportunities in the near future.
Dendritic cell cancer vaccines and antigen/adjuvant vaccines technologies are potential target areas of investment for key players in the Japanese cancer vaccines market. These segments are projected to exhibit significant growth in the near future, owing to the production of maximum vaccines based on these technologies to achieve better effects and results. In recent years, dendritic cells have emerged as new growth frontier for the companies that develop vaccines against different types of cancer, and approximately 53 vaccines constructed using dendritic cell technology are in the clinical pipeline, globally. Furthermore, antigen/adjuvant technology has gained traction over the years and is increasingly being utilized in the development of cancer vaccines as the recombinant or synthetic antigens cancer vaccines are less immunogenic. In addition, development of powerful as well as efficient adjuvants is considered to be a part of engineering new approaches to cancer vaccines.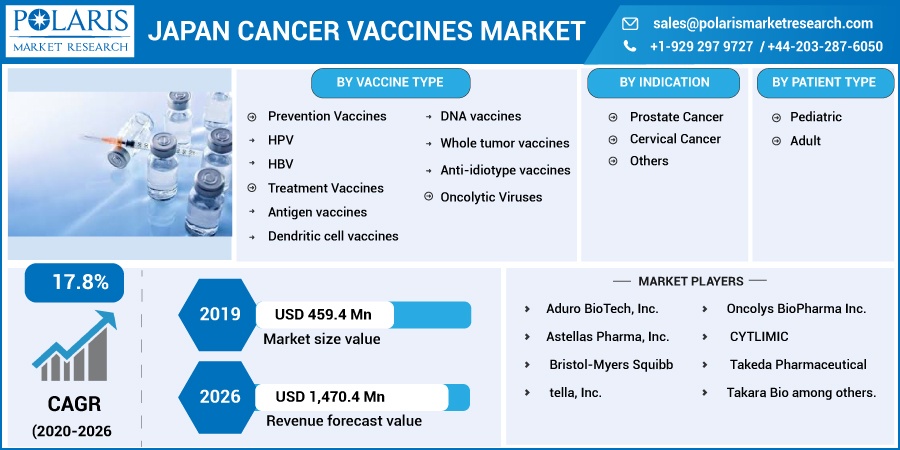 Know more about this report: request for sample pages
Japan Cancer Vaccines Market Report Scope
The market is primarily segmented on the basis of type, indication, and patient type.
By Vaccine Type

By Indication

By Patient Type

Antigen vaccines
Dendritic cell vaccines
DNA vaccines
Whole tumor vaccines
Anti-idiotype vaccines

Prostate Cancer
Cervical Cancer
Others
Know more about this report: request for sample pages
Japan's health sector has extensively profited from a culture and environment that supports interagency, interagency, and multispectral collaboration. Based on this tradition, Japan's Ministry of Health improved and supported a number of relationships between stakeholders to develop and implement solutions to overcome a lack of resources and operational capacity to implement the HPV and HBV immunization program. For instance, in October 2010, Takeda entered into an agreement with the Japan Health HS Foundation to develop the HPV vaccine for the prevention of cervical cancer. In March 2015, Takeda transferred this license agreement to the Chemo-Sero-Therapeutic Research Institute for further developments.
Researchers are aggressively studying the new line of vaccines and medication that would help prevent and treat cancer patients in Japan. However, various side effects associated with cancer vaccines have created a blunder in the Japanese cancer vaccine market since 2013. There are many studies concluding that the cancer vaccines are causing chronic pain and heart and neurological troubles. Even though there are doubts regarding the vaccines, many new and established players are focusing on research and development. For instance, in August 2019, Cytlimic started its Phase 1 Trial of CYT001 for the patients with unrespectable advanced hepatocellular carcinoma. Also, in June 2019 Otsuka and its Subsidiary Astex Pharmaceuticals, Inc. announced positive results from a Phase III clinical trial of anticancer candidate ASTX727.
Vaccine Type Outlook
Based on type, the market is segmented into prevention vaccines, treatment vaccines, and oncolytic viruses. The prevention vaccines segment is expected to dominate the Japanese market in 2019 however, the oncolytic viruses segment is projected to grow at a highest CAGR during the forecast period. Technological developments such as natural killer cells and use of combination therapies are also driving the industry growth. Furthermore, ongoing development of virus therapies, which are in the pipeline will further enhance the growth of oncolytic virus therapy market in the forecast period.
In September 2019, Takara Bio Inc. presented the results from clinical trials of C-REV (canerpaturev, former HF10), an oncolytic viral immunotherapy and NY-ESO-1
Indication Outlook
On the basis of indication, the Japan cancer vaccines market is segmented into prostate cancer, cervical cancer, and others. The cervical cancer segment is expected to dominate in 2019 based on increasing prevalence of cervical cancer in Japan and increasing government initiatives regarding cervical cancer vaccines. However, the prostate cancer segment is anticipated to witness a fastest growth based on the advantages provided by the advanced technologies.
In January 2019, Astellas Pharma Inc. received an approval in Japan, for its gonadotrophin-releasing hormone (GnRH) receptor antagonist, Gonax. This product is developed to be used for the treatment of prostate cancer
Patient Type Outlook
On the basis of Patient Type, the market is segmented into pediatric and adult. The adult segment held a largest share in the japan cancer vaccine market based on increasing in incidence of human papilloma virus infections in adults. Additionally, rise in cancer incidence in Japan cause approximately 4,00,000 deaths, thus, growing the need for prophylactic and therapeutic cancer vaccines. Furthermore, the pediatric cancer vaccines segment possesses high market potential for growth in the market, owing to increase in traction of prophylactic vaccines among children.
In November 2018, Astellas Pharma Inc. received FDA approval for its XOSPATA (gilteritinib). It is used for adult patients with relapsed/refractory acute myeloid leukemia (AML) with a FLT3 mutation
Competitive Landscape
There are several established as well as emerging companies operating in the Japan cancer vaccines market. These companies are opting for research and development as their primary growth strategy to enhance their market presence. Market players require approvals from different countries for the launch of new, technologically advanced products to sell their products across different geographies. Thus, market players in this have also focused on product development in order to commercialize and develop efficient cancer vaccines to strengthen their market position.
Furthermore, product launches, clinical trials, and geographic expansion are some additional growth strategies adopted by the key players in this market. Moreover, collaboration as well as acquisition has helped the companies improve their technological infrastructure, boost up their production process, and expand into new geographies. This has helped companies to develop and introduce novel cancer vaccines in the market. The key leading players in the market include Aduro BioTech, Inc., Astellas Pharma, Inc., Bristol-Myers Squibb, tella, Inc., Oncolys BioPharma Inc., CYTLIMIC, Takeda Pharmaceutical, and Takara Bio among others.