The global last mile delivery market was valued at USD 131.37 billion in 2022 and is expected to grow at a CAGR of 8.5% during the forecast period.
The market growth is being driven by increasing demand from consumers for fast deliveries, real-time tracking & visibility, and concerns about urban congestion and sustainability. This pertains specifically to the last stage of the logistics process, which involves transporting products from a distribution center to their final destination - usually either the customer's home or a retail store.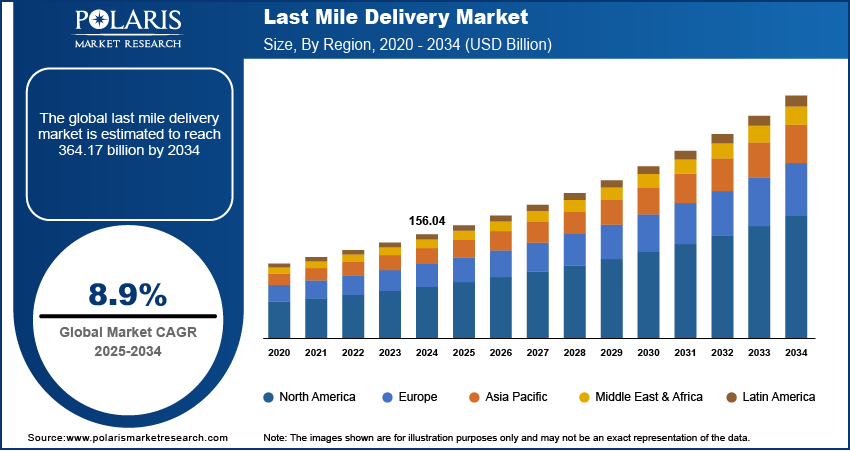 To Understand More About this Research: Request a Free Sample Report
As businesses and customers continue to evolve, the importance of having flexible and scalable logistics services is becoming increasingly necessary. Technology and data analytics capabilities have become crucial for a comprehensive understanding of the entire supply chain. In contrast, traditional players in the Indian market have historically prioritized human resources and infrastructure over investing in technology and data analytics capabilities. These traditional players often focus on specific segments or geographic regions and, relying on labor-intensive manual processes, need more technical know-how, organizational structure, and management expertise to adapt to the changing market dynamics.
The COVID-19 pandemic significantly influenced the market. With countries implementing lockdowns and restrictions to curb the virus's spread, there was a significant increase in online shopping and e-commerce activities. This sudden surge in demand for home deliveries placed considerable strain on last-mile services, leading to rapid adjustments to meet evolving consumer preferences and delivery needs. Additionally, the closure or restrictions placed on physical retail stores further amplified the demand for last-mile delivery, resulting in substantial growth in e-commerce sales.
Despite the difficulties posed by the COVID-19 pandemic, it also brought about opportunities in the sector. The rapid transition to e-commerce and increased technology adoption during the pandemic is expected to have a lasting impact on the industry, extending beyond the pandemic itself. As a result, businesses are prioritizing improvements to their last-mile delivery capabilities to align with changing customer expectations and preferences in the post-pandemic business environment.
Industry Dynamics
Growth Drivers
Growth of emerging technologies and E-commerce platforms
The last-mile delivery sector has gained significant attention in recent years due to the rapid growth of e-commerce and customer demand for reliable, fast services. To meet these demands, businesses, retailers, and logistics companies are investing heavily in improving their delivery processes to ensure products are delivered on time. This has led to the development of innovative technologies and cost-effective, environmentally friendly solutions to meet customer expectations. As a result, the last mile delivery market is undergoing significant changes as organizations explore and implement technological advancements such as autonomous vehicles and drones that have the potential to reshape the last-mile delivery sector.
Report Segmentation
The market is primarily segmented based on service type, technology, application, and region.
By Service Type

By Technology

By Application

By Region

Autonomous

Non-autonomous

Food & Beverages

Retail & E-commerce

Healthcare

Others

North America (U.S., Canada)

Europe (France, Germany, UK, Italy, Netherlands, Spain, Russia)

Asia Pacific (Japan, China, India, Malaysia, Indonesia. South Korea)

Latin America (Brazil, Mexico, Argentina)

Middle East & Africa (Saudi Arabia, UAE, Israel, South Africa)
To Understand the Scope of this Report: Speak to Analyst
By Service Type Analysis
B2C segment accounted for the largest market share in 2022
The B2C segment has the largest market share due to the significant shift in consumer behavior towards online shopping and the increasing prevalence of e-commerce platforms. Businesses recognize the necessity of offering highly efficient and customer-centric services, thus driving growth. This trend is expected to continue as companies acknowledge the importance of delivering seamless, convenient, and customer-focused service experiences.
To cater to the changing preferences of modern consumers in the digital age, it is essential to make smart investments in efficient last-mile logistics and utilize technology strategically. As businesses continue to embrace these strategies, the B2C sector is set to experience ongoing growth and prominence in the ever-evolving landscape of contemporary commerce.
The C2C segment is anticipated to grow rapidly as the adoption of C2C's last-mile delivery services is increasing. Consumers utilize these services to arrange direct deliveries without the involvement of traditional businesses or retailers. Peer-to-peer marketplaces and online platforms have enabled people to personally deliver goods to other consumers in C2C services.
These platforms act as intermediaries, linking individuals who want to send or receive goods, creating a decentralized network for conducting these deliveries. The growth of C2C last-mile delivery presents both opportunities and challenges. On the positive side, it offers significant benefits such as potential cost reductions, increased flexibility, and a sense of community involvement. However, concerns can arise regarding the reliability, security, and accountability within the peer-to-peer delivery model.
By Technology Analysis
Non-autonomous segment held the significant market share in 2022
The non-autonomous segment dominates the market in terms of revenue. This technology has been widely adopted despite the increased focus on autonomous delivery technologies such as self-driving vehicles and drones. Non-autonomous vehicles are known for their cost-effectiveness, especially when transporting goods over short to medium distances. Moreover, the longstanding use of this technology has proven its success in implementation and operation, instilling greater trust and confidence in both companies and customers.
However, the autonomous segment is expected to grow at a robust pace. Technological advancements in the logistics industry are driving a significant transformation, paving the way for the adoption of autonomous solutions. Ongoing improvements in autonomous technologies enhance their capabilities, reliability, and safety, making them more viable for practical use in last-mile delivery operations. The development of last-mile delivery technology is expected to provide a comprehensive solution for businesses and consumers, with both autonomous and non-autonomous methods working together to meet changing demands.
By Application Analysis
Food & beverage segment is expected to witness highest growth during forecast period
The food and beverage industry is expected to experience rapid growth in the coming years. This can be attributed to the increasing demand for efficient delivery of perishable items from establishments to consumers' homes. The growth of the industry is further fueled by the rising popularity of food delivery services, changing consumer preferences, convenience, and the impact of COVID-19, which has highlighted the significance of contactless delivery options. The emergence of cloud kitchens and food delivery platforms is streamlining operations, attracting customers and driving the demand for fast and efficient last-mile delivery services.
Regional Insights
North America region dominated the global market in 2022
North America emerged as the largest region. The region witnessed a substantial increase in e-commerce activities as more consumers embraced online shopping for its convenience and diverse product offerings. This surge in online shopping heightened the demand for efficient last-mile delivery services, further elevating North America's prominence in this sector. Additionally, the region's strong technological infrastructure played a crucial role in supporting the growth of last-mile delivery.
Asia Pacific region will grow rapidly. This growth reflects the region's robust economic development and its emergence as a major player in the continuously evolving logistics sector. The region is witnessing remarkable growth in e-commerce, buoyed by a growing middle-class population, expanding smartphone usage, and increased internet accessibility, resulting in a significant uptick in online shopping and the demand for efficient delivery services.
Key Market Players & Competitive Insights
Competition is intense among a wide range of players, including established logistics firms, e-commerce giants, startups, and technology companies. Key players use strategies like product launches and mergers & acquisitions to grow their market presence. They also focus on enhancing the customer experience through new features, intensifying competition.
Some of the major players operating in the global market include:
A1 Express Services Inc.

A2Z Drone Delivery, LLC

Amazon.com

Deutsche Post AG (DHL GROUP)

Drone Delivery Canada Corp.

FedEx

Kerry Logistics Network Limited

Power Link Expedite

United Parcel Service, Inc. (UPS)

XPO Logistics, Inc.
Recent Developments
In June 2023, Amazon has revealed its intentions to involve small businesses in its efforts to improve last-mile delivery operations. This initiative, covering 23 U.S. states, will engage a variety of small businesses, including clothing stores, florists, and corner stores. Amazon estimates that participating small businesses could potentially earn up to USD 27,000 annually by taking on delivery responsibilities.
Last Mile Delivery Market Report Scope
| | |
| --- | --- |
| Report Attributes | Details |
| Market size value in 2023 | USD 142.21 billion |
| Revenue forecast in 2032 | USD 297.57 billion |
| CAGR | 8.5% from 2023 – 2032 |
| Base year | 2022 |
| Historical data | 2019 – 2021 |
| Forecast period | 2023 – 2032 |
| Quantitative units | Revenue in USD billion and CAGR from 2023 to 2032 |
| Segments covered | By Service Type, By Technology, By Application, By Region |
| Regional scope | North America, Europe, Asia Pacific, Latin America; Middle East & Africa |
| Customization | Report customization as per your requirements with respect to countries, region and segmentation. |