The global lateral flow assay market was valued at USD 12.46 billion in 2022 and is expected to grow at a CAGR of 3.1% during the forecast period. Lateral flow tests are used to identify the presence of a target component in the liquid sample. Over the projected period, it is anticipated that the lateral flow assay industry would rise at a faster rate due to the increased prevalence of infectious diseases. For instance, the WHO estimates that approximately 10 million individuals globally have tuberculosis in 2020.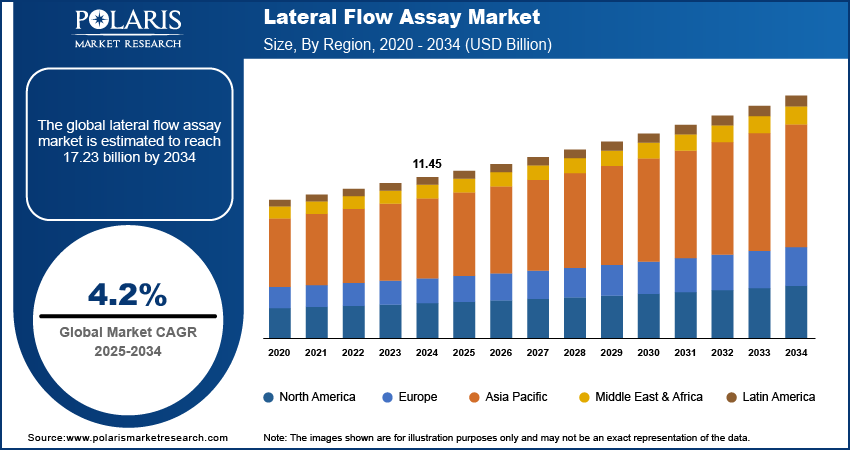 Know more about this report: Request for sample pages
One of the main causes driving the expansion of the lateral flow tests market is the increased prevalence of infectious diseases such malaria, tuberculosis, HIV/AIDS, hepatitis, pneumonia, and influenza. Almost 241 million cases of malaria were reported in 2021, resulting in more than 627 thousand fatalities worldwide, according to the Global Malaria Report 2020.Lateral Flow Assay software gathers information from financial transaction and management tools, including accounting software and ERP systems, intending to reduce money laundering operations.
The most well-known method of diagnosis in clinical analysis, food safety, and the environment is point-of-care (POC) testing. POC gives rapid findings in less time than centralized labs. POC devices based on lateral flow assays (LFA) are one of the solutions for qualitative and quantitative analysis that are expanding quite quickly. LFA is carried out across a strip that has been built from several components on a plastic background.
A multitude of variations, including formats, biorecognition molecules, labels, detecting systems, and applications are fundamentally combined in a lateral flow assay. Several facets of the lateral flow test are highlighted in several review articles that have been published. The concepts of immunochromatography, its benefits, and in particular the application of the lateral flow immunoassay in identifying harmful chemicals in food and agricultural goods are highlighted in a recent study.
Due to a substantial increase in the need for quick, point-of-care testing of the lethal disease, the COVID-19 pandemic has accelerated the implementation of lateral flow tests. In order to control the COVID-19 epidemic, lateral flow assays offer a simple, affordable testing approach. As a result, these assays are anticipated to be in high demand for disease surveillance during the pandemic period.
Globally, lateral flow assay applications are considerably expanding. Campaigns to educate the public about infectious disease signs and prevention techniques are crucial for containing disease epidemics. As a result, there is a significant demand for lateral flow assays due to greater patient awareness. The development of the lateral flow assay market is also being fueled by the approval of new products and rising earnings as a result of the sales of COVID-19 quick tests.
Chronic disease detection should be accurate and cheap with a focus on infectious diseases. It reduces the need for repeated patient visits and makes it easier to manage and contain infectious disease outbreaks quickly. Prior to the proper administration of medication, the WHO advises rapid parasite-based diagnosis in all patients who are suspected of having malaria.
Rapid diagnostic test kits are therefore becoming more and more necessary, enabling quick diagnosis and treatment. Rapid diagnostic tests, particularly in places with limited access to cutting-edge technologies, can greatly improve the quality of infectious illness diagnosis and management, according to WHO.
The use of lateral flow devices also removes the need to wait for the interpretation of test results, assists in the optimization of prompt treatment decisions, enhances the effectiveness of care given, and significantly lowers diagnosis costs, particularly in regions with resource-constrained settings and inadequate laboratory infrastructure. The utilization of lateral flow devices has increased significantly due to the rising trend of decentralized testing. Major infectious diseases like malaria and the flu are controlled by using these devices.
According to the WHO, quick diagnostic tests are used for outbreak investigation and parasite prevalence surveys, remote diagnosis by medical professionals in malaria-endemic countries, and diagnosis by healthcare providers who are not close to microscopy services. As a result, lateral flow device use is rising on a global scale due in large part to the numerous advantages they offer.
One of the main causes driving the expansion of the lateral flow tests market is the increased prevalence of infectious diseases such malaria, tuberculosis, HIV/AIDS, hepatitis, pneumonia, and influenza. Almost 241 million cases of malaria were reported in 2021, resulting in more than 627 thousand fatalities worldwide, according to the Global Malaria Report 2020.
According to data from the IDF Diabetes Atlas, 643 million persons worldwide are expected to have diabetes by 2030, up from an estimated 537 million in 2021. According to estimates, the illness killed 6.7 million people in 2021. Thus, the need for lateral flow tests is projected to rise in the next years due to the increased occurrence of chronic disorders.
Industry Dynamics
Growth Drivers
With the number of COVID-19 cases increasing globally, there will be a greater demand for quick diagnosis for treatment, and during the projected period, data gathering is anticipated to boost global lateral flow assay market expansion.
In order to identify COVID-19 antibodies, lateral flow assay tests are advantageous since they are inexpensive, simple to interpret, and quick to diagnose (within 15 minutes). All the leading players in the lateral flow assay industry launched COVID-19 tests in the previous year since these tests can also be produced affordably.
Point-of-care testing is becoming more and more popular as a result of increasing chronic disease prevalence, technology developments, and public awareness. Large corporations are concentrating on creating devices with high sensitivity and performance for applications including COVID-19 testing, cardiac marker testing, and pregnancy testing. lateral flow assay test results that were inconsistent.
Report Segmentation
The market is primarily segmented based on product, application, techniques and region.
By Product

By Application

By Techniques

By Region

Kits & Reagents

Lateral Flow Readers

Cardiac Marker Testing

Pregnancy & Fertility Testing

Others

Veterinary Diagnostics

Food Safety & Environment Testing

Drug Development & Quality Testing

Sandwich Technique

Competitive Technique

Multiplex Detection

North America (U.S., Canada)

Europe (France, Germany, UK, Italy, Netherlands, Spain, Russia)

Asia Pacific (Japan, China, India, Malaysia, Indonesia. South Korea)

Latin America (Brazil, Mexico, Argentina)

Middle East & Africa (Saudi Arabia, UAE, Israel, South Africa)
Know more about this report: Request for sample pages
In 2022, the sandwich technique dominated the market, accounting for the largest market share.
Sandwich assays are anticipated to have the highest revenue share because to their precision, accessibility, and simplicity. Without the need for trained workers, the test can also be employed in healthcare settings with limited resources. Sandwich assays are frequently used to detect bigger analytes that contain two or more binding sites or epitopes.
For instance, Abcam provides a Universal Lateral Flow Assay Kit that combines GOLD conjugation and Ulfa-Tag kit technology to enable the creation of unique sandwich assays. Such a kit's versatility to function with any set of detection and capture antibodies is one of its benefits. Thus, it is anticipated that a rise in the availability of cutting-edge sandwich assays will fuel the sector's expansion.
The demand in North America is expected to witness significant growth.
The COVID-19 pandemic, which has raised public awareness and increased access to a variety of diagnostic tests, is predicted to stimulate substantial expansion. For instance, in the U.S., there were around 300 million at-home, quick COVID-19 tests available as of December 2021, ten times more than the 24 million tests that were accessible in August 2021. Also, the Biden Administration declared in November 2021 that it will invest roughly USD 650 million in enhancing rapid diagnostic testing and expanding access to COVID-19 tests.
Due to growing market entry collaborations, government initiatives, and efforts made by important companies, Asia Pacific is predicted to develop at a high CAGR. Additionally, it is projected that an increase in awareness efforts by major companies will accelerate the expansion of the local industry.
Competitive Insight
Some of the major players operating in the global lateral flow assay market include Abbott Laboratories, BD, Hologic, Inc, Siemens Healthineers, Merck KGaA, Danaher Coorporation, Perkin Elmer etc
Recent Developments
In March 2020, Ozo Life launched OZO COVID-19 Rapid Test Kits, which offer a latex-enhanced, high-sensitivity lateral flow immunoassay solution for the detection of COVID-19 at its early stages.
Lateral Flow Assay Market Report Scope
| | |
| --- | --- |
| Report Attributes | Details |
| Market size value in 2023 | USD 12.83 billion |
| Revenue forecast in 2032 | USD 16.89 billion |
| CAGR | 3.1% from 2023 - 2032 |
| Base year | 2022 |
| Historical data | 2019 – 2021 |
| Forecast period | 2023 - 2032 |
| Quantitative units | Revenue in USD billion and CAGR from 2023 to 2032 |
| Segments covered | By Product, By Application, By Technique, By Region |
| Regional scope | North America, Europe, Asia Pacific, Latin America; Middle East & Africa |
| Key companies | Abbott Laboratories, BD, Hologic, Inc, Siemens Healthineers, Merck KGaA, Danaher Corporation, Perkin Elmer. |