The global legal marijuana market was valued at USD 14,159.78 million in 2022 and is expected to grow at a CAGR of 15.9% during the forecast period.
The growth of the marijuana market is fueled by several factors, including the increasing legalization of marijuana, the expanding therapeutic uses of cannabis, the rising elderly population with a demand for chronic illness treatment, and technological advancements in production.
Marijuana, also known as cannabis, is a natural psychoactive plant extract with medicinal and recreational uses. It is employed in medicine to alleviate symptoms caused by chemotherapy, chronic pain, muscle spasms, and other medical conditions. Extensive research is being conducted to explore its medicinal applications and benefits. Additionally, the recreational use of cannabis contributes to its high market value.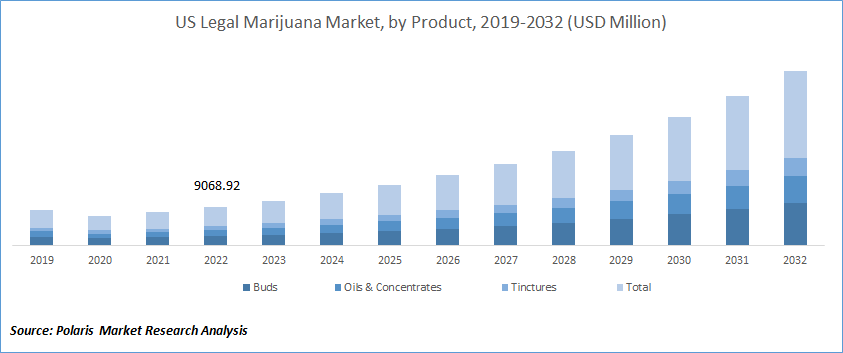 To Understand More About this Research: Request a Free Sample Report
Historically, the cannabis industry has faced regulatory constraints. However, recent trends, such as the legalization of medical and adult-use cannabis in various countries, are expected to drive significant growth in the industry.
The COVID-19 pandemic has impacted the cannabis industry's supply chain operations. Stringent lockdown measures worldwide have led to reduced marijuana supply at dispensaries. Moreover, the emergence of COVID-19 has also affected the export industry, with disruptions in the distribution networks due to lockdowns in key nations, affecting import and export activities. Despite these challenges, the number of individuals using cannabis for medicinal purposes is projected to increase as conditions requiring marijuana as a therapy rises.
The growth of the legal marijuana market is primarily driven by the disclosure of medicinal marijuana as a practicable alternative to established medicine and the increasing social acceptance of marijuana. The US Food and Drug Administration (FDA) has approved medications formulated with marijuana due to its various medical benefits.
The rising incidence of cancer has led to research on using THC-based drugs for cancer treatment. Additionally, numerous medications based on THC and CBD have received approval or are undergoing clinical trials to treat muscular spasms and neuropathic pain. As the prevalence of these diseases increases, and medical marijuana is recognized as a viable alternative to traditional therapies, the marijuana market share is growing.
However, some countries have implemented strict regulations and restrictions on marijuana use due to its potentially harmful side effects. The use of marijuana for recreational purposes is believed to have negative health effects. These factors can hinder the growth of the legal marijuana market share during the forecast period.
Industry Dynamics
Growth Drivers
Increasing Utilization in Therapies
The legal marijuana industry is being propelled by the legalization of marijuana for medicinal and recreational purposes and the increasing utilization of these therapies to treat chronic conditions. With improvements in federal laws, the market for legal marijuana is expected to experience significant growth.
New companies are entering the industry, focusing on research and development, cannabis testing, and production. In Canada, many jurisdictions are driving and commercializing cannabis retail businesses, transitioning from a single-provider model to soliciting bids from multiple vendors. These developments are set to enhance the state of marijuana markets worldwide.
For example, in February 2021, Governor Phil Murphy authorized three estimations legalizing recreational cannabis for individuals older or aged 21 in New Jersey, USA. This move is expected to boost commercial viability in the coming months. Additionally, advancements in design, development studies, and innovative product delivery options present significant opportunities in the market during the forecast period.
However, stringent regulatory frameworks are anticipated to limit market expansion throughout the projection period. The market participants must comply with various regulatory standards across different regions. Diverse countries have varying rules regarding legalization for other purposes, and the rigorous regulatory requirements for sale and manufacturing pose significant challenges for market players.
Report Segmentation
The market is primarily segmented based on products, application, compound, mode of delivery, and region.
By Product

By Application

By Compound

By Mode of Delivery

By Region

Buds

Oils & Concentrates

Tinctures

Medical

Chronic Pain

Arthritis

Migraine

Cancer

Others

Industrial Hemp

Recreational

Tetrahydrocannabinol (THC)-Dominant

Cannabidiol (CBD)-Dominant

Balanced THC & CBD

Capsules

Concentrates

Edibles

Others

North America (U.S., Canada)

Europe (France, Germany, UK, Italy, Netherlands, Spain, Russia)

Asia Pacific (Japan, China, India, Malaysia, Indonesia. South Korea)

Latin America (Brazil, Mexico, Argentina)

Middle East & Africa (Saudi Arabia, UAE, Israel, South Africa)
To Understand the Scope of this Report: Speak to Analyst
The buds segment accounted for the largest market share over the forecast period
The buds segment accounted for the largest market share over the forecast period in Legal Marijuana because it contains the highest concentrations of cannabinoids, including tetrahydrocannabinol (THC) and cannabidiol (CBD), which are the primary compounds responsible for the psychoactive and medicinal effects of marijuana.
Dried cannabis buds are widely consumed for both recreational and medicinal purposes. They are commonly used for smoking, vaping, and preparing edibles and extracts, making them highly sought after by consumers.
Cannabis plants come in various strains, each with unique flavors, aromas, and effects. The availability of different strains of cannabis buds caters to diverse consumer preferences and drives demand for a wide range of products.
The buds have been part of the traditional marijuana market for decades, even before the legalization of cannabis in some regions. As a result, this segment has a well-established customer base and distribution networks.
Tetrahydrocannabinol (THC)-dominant segment held the highest market share in 2022
In 2022, the Tetrahydrocannabinol (THC)-dominant segment held the highest market share due to the wide-ranging therapeutic qualities associated with THC.
THC is a psychoactive compound found in marijuana that is known for its various medicinal properties. It has been recognized for its pain-relieving, antibacterial, antianxiety, anticancer, antidepressant, antiemetic, antinausea, anti-inflammatory, and antitumor effects. These therapeutic qualities have garnered significant attention and have contributed to the popularity and market demand for THC-dominant products.
Patients seeking relief from chronic pain, anxiety, depression, nausea, inflammation, and other medical conditions turn to THC-dominant marijuana products for their potential therapeutic benefits. The effectiveness of THC in addressing these health concerns has led to its widespread use and contributed to the dominance of the THC-dominant segment in the Marijuana Market.
North America dominated the global market in 2022
In 2022, North America dominated the global market. It experienced significant expansion due to progressive government regulations and the comparatively well-established framework for the medicinal and adult use of marijuana in the United States. Several factors contributed to this dominance, including the occurrence of key legalized marijuana producers and farmers in the region, the legalization of marijuana for personal use, a surge in retail trade, and the rapid development of retail outlets throughout the area.
Competitive Insight
Some of the major players operating in the global market include Cannabis Sativa, Inc., Aphria, Inc., Maricann Group, Inc., Tikun Olam, Lexaria Corp, Organigram Holding, Inc., GW Pharmaceuticals, plc., Canopy Growth Corporation, United Cannabis Corporation, The Cronos Group, Tilray, Ltd., Aurora Cannabis, and ABcann Medicinals, Inc.
Recent Developments
In 2022, HYTN Innovations Inc. forged a manufacturing and sales partnership with Promethean BioPharma, marking a significant milestone for the company. This collaboration enabled the successful development and exportation of cannabis nano-emulsions incorporating HYTN's proprietary Elevation Technology to the medical cannabis market in Australia.

In March 2022, Verano Holdings, a prominent multi-state operator in the cannabis industry, secured an additional USD 100 million through its credit agreement. This funding was designated for strategic initiatives and to support the company's expansion efforts.
Legal Marijuana Market Report Scope
| | |
| --- | --- |
| Report Attributes | Details |
| Market size value in 2023 | USD 16,372.95 million |
| Revenue forecast in 2032 | USD 61,927.86 million |
| CAGR | 15.9% from 2023 – 2032 |
| Base year | 2022 |
| Historical data | 2019 – 2021 |
| Forecast period | 2023 – 2032 |
| Quantitative units | Revenue in USD million and CAGR from 2023 to 2032 |
| Segments Covered | By Products, By Application, By Compound, By Mode of Delivery, By Region |
| Regional scope | North America, Europe, Asia Pacific, Latin America; Middle East & Africa |
| Key Companies | Cannabis Sativa, Inc., Aphria, Inc., Maricann Group, Inc., Tikun Olam, Lexaria Corp, Organigram Holding, Inc., GW Pharmaceuticals, plc., Canopy Growth Corporation, United Cannabis Corporation, The Cronos Group, Tilray, Ltd., Aurora Cannabis, and ABcann Medicinals, Inc. |