The global lithium-ion battery cathode market was valued at USD 5.01 billion in 2019 and is expected to grow at a CAGR of 12.4% during the forecast period. The factors contributing to the growth of lithium battery cathode are recent developments in battery technologies, the surge in sales of electric vehicles, and the development of next-generation consumer electronics products & services such as medical wearables.
Despite the introduction of technologically advanced features in modern electronic products, battery life has remained a perennial problem for consumer electronics brands. In addition, high power and energy density have become a crucial criterion for reliable and safe batteries in modern consumer electronics and smart devices. Thereby, the market witness exponential growth with a significant rise in its demand across the consumer electronics sector, as electronic device manufacturers are using li-ion batteries to introduce devices with a longer lifespan. Moreover, a growing need for automation and battery-operated, portable power tools in other industrial applications will power growth for li-ion batteries.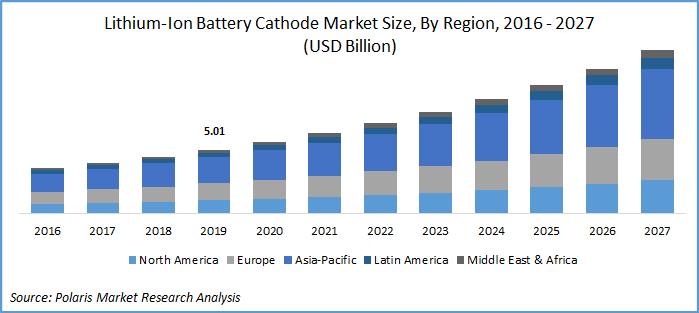 Know more about this report: request for sample pages
Industry Dynamics
Growth Drivers
Though their fast charging and lower self-discharge rate have retained the popularity of lithium-ion batteries as compared to other rechargeable batteries, manufacturers are constantly improving the performance characteristics of Li-ion batteries amidst the rising emergence of economical alternatives. The higher cost of these batteries and materials makes them un-reasonable for certain consumers and operations for prolonged usage and introducing competitive prices has remained a major challenge for li-ion battery and cathode material manufacturers.
Thereby, manufacturers and research organizations in the global market are likely to improve their focus on developing innovative ways to improve the cost-efficiency and reliability of Li-ion batteries. For instance, researchers at Dallas University announced that they are developing an innovative lithium-air battery technology to make use of oxygen as an oxidizer, which can improve the life cycle of the battery while reducing its production cost to make it nearly 5 times cheaper. The next area of innovation for the batteries is grid-scale battery installations to improve their energy storage capability. This can lead to improving the energy density of Li-ion batteries in comparison to other rechargeable batteries, which ultimately translates into reduced weight and size and improved energy storing capability of Li-ion batteries.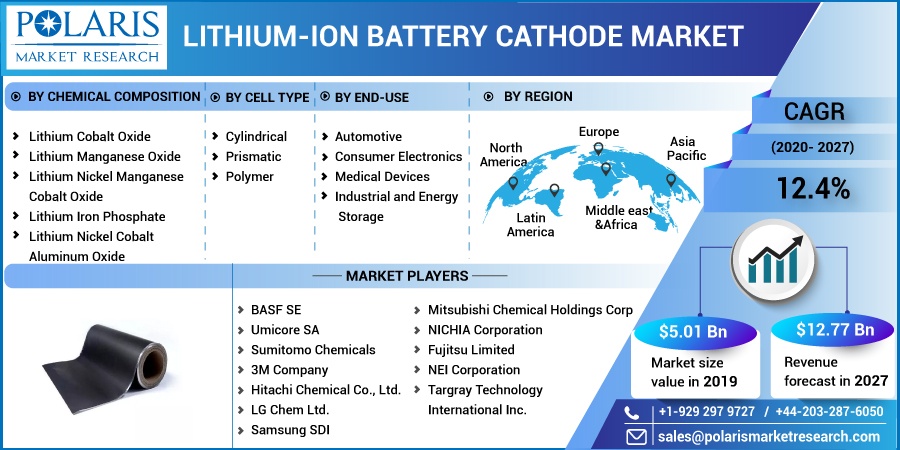 Know more about this report: request for sample pages
In addition to this, incorporating innovative materials for the manufacturing of Li-ion batteries to slash the production cost of Li-ion batteries is emerging as a popular trend among manufacturers. Thereby, customization achieved by reducing the quantity of cobalt proportionally inside the cathode is likely to become an integral part of the business strategies of most manufacturers in the li-ion battery cathode market in the upcoming years.
Lithium-Ion Battery Cathode Market Report Scope
The market is primarily segmented on the basis of chemical composition, cell type, end-use, and region.
By Chemical Composition

By Cell Type

By End-Use

By Region

Lithium Cobalt Oxide
Lithium Manganese Oxide
Lithium Nickel Manganese Cobalt Oxide
Lithium Iron Phosphate
Lithium Nickel Cobalt Aluminum Oxide

Cylindrical
Prismatic
Polymer

Automotive
Consumer Electronics
Medical Devices
Industrial and Energy Storage

North America (U.S., Canada)
Europe (France, Germany, UK, Italy, Spain, Netherlands, Russia)
Asia Pacific (Japan, China, India, Malaysia, Indonesia. South Korea)
Latin America (Brazil, Mexico, Argentina)
Middle East & Africa (Saudi Arabia, UAE, Israel, South Africa)
Know more about this report: request for sample pages
Insight by Cell Type
Based on the type, the global market is categorized into cylindrical, prismatic, and polymer. In 2019, the cylindrical cell segment accounted for the larger share. These types of batteries are highly preferred over others, as they radiate heat and do not have temperature control systems. These types of cells have tightly encased electrodes to control the tattering of electrode materials occurring due to mechanical vibrations. Moreover, its ideal weight is best under consumer electronics products.
Geographic Overview
Asia Pacific accounted for the highest revenue share in 2019 and expected to continue its dominance over the forecast period. The rising demand for batteries in consumer electronics and industrial applications is the major factor driving the demand for lithium battery cathodes in Asia Pacific. In addition, the increasing production of lithium batteries in the region to reduce cost is expected to drive the market growth for cathodes over the coming years.
North America and Asia Pacific are major vehicle producers that provide a lucrative opportunity for lithium-ion battery demand owing to their increasing demand in the automotive industry. The growing application in electric vehicles and advancement in battery technology is expected to drive the demand for cathodes in the said regions over the forecast period. Furthermore, increasing focus towards electric vehicles has led battery manufacturers to invest in research & development which is likely to have a positive impact on the demand for battery raw materials include cathodes.
Competitive Insight
Some major players operating in the market include BASF SE, Umicore SA, Sumitomo Chemicals, 3M Company, Hitachi Chemical Co., Ltd., LG Chem Ltd., Samsung SDI, Mitsubishi Chemical Holdings Corp, NICHIA Corporation, Fujitsu Limited, NEI Corporation, and Targray Technology International Inc. In 2018, Samsung SDI, a leader battery manufacturer has signed an agreement with South Korea's POSCO to build a manufacturing plant for cathode materials for the production of lithium-ion batteries for electric vehicles in Chile with a production capacity of 3,200 tons by 2021.