The global macadamia market was valued at USD 1.52 billion in 2022 and is expected to grow at a CAGR of 9.3% during the forecast period. It is anticipated that a rise in macadamia oil demand from the cosmetics industry will propel the market's expansion. As macadamia oil nourishes the skin and hair, it is increasingly used in the natural & organic cosmetics. The oil is ideal for usage in the creation of body lotions, sun care, & anti-aging creams due to its high oleic & palmitoleic acid content. For example, in March 2022, Milkadamia launched macadamia-based palm-oil free eco-friendly skincare line. Growing product development in the cosmetic industry is apparently broadening the market value worldwide.
To Understand More About this Research: Request a Free Sample Report
Macadamia nuts have a wide range of uses and applications in various industries, including food and beverage, cosmetic, and pharmaceutical. It is a popular ingredient in many food and beverage products, such as chocolates, cookies, snack bars, granolas, nut butters, and milk. They are valued for their rich and buttery flavor, crunchy texture, and nutritional value, which include healthy fats, fibre, and protein. Macadamia oil is used in many cosmetic products, such as lotions, creams, and hair care products. Further, the importance of macadamias lies in their nutritional value, versatility, and potential health benefits.
The COVID-19 pandemic has reduced demand for macadamia nuts from some sectors, such as the hospitality industry, which has been negatively impacted by lockdowns and travel restrictions. This has led to a decrease in demand and prices for some types of macadamia products. Disturbance in supply chain has also hampered the sales of macadamia across each industry. However, shift towards e-commerce has accelerated the demand for market as more consumers have turned to online shopping to avoid going to physical stores.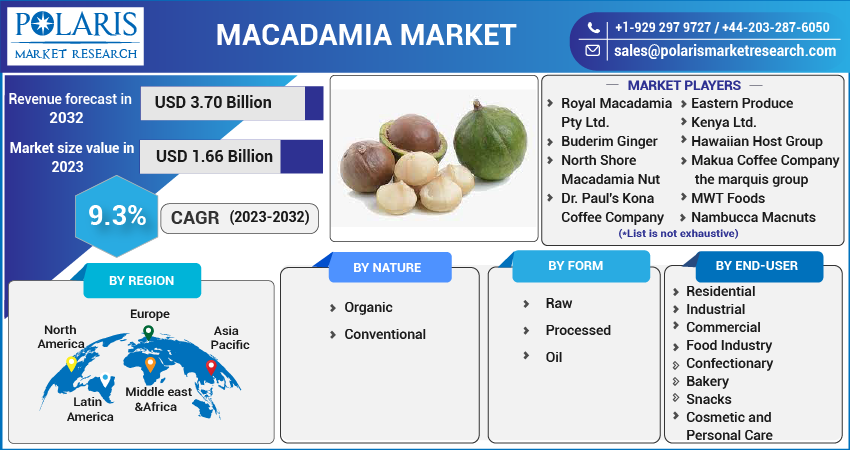 For Specific Research Requirements, Request for a Customized Report
Industry Dynamics
Growth Drivers
The public's growing understanding of nuts' health advantages has been a key factor in the industry's expansion. Macadamia nuts are also used to create the increasingly well-liked macadamia oil, which is favoured by both consumers and companies. Global tree nut production, according to the International Nut & Dried Fruit Organisation, has increased significantly over last 10 years, reaching over 5.3 Mn MT in season 2020-21, upto 15% from 2019-20 & 65% from 10 years ago. Numerous benefits of macadamia nuts include its high nutrient content, potential heart health benefits, abundance in antioxidants, and more. These benefits are making macadamia nuts considerably more well-liked, which will encourage the growth of the macadamia business.
Augmenting demand for macadamia across the food and beverages sector is another growth factor influencing the global market. Macadamia is gaining a huge momentum in this industry due to its versatility as an ingredient. For example, in December 2022, milkadamia released Macadamia milk tea. Milk tea is becoming increasingly more popular all around the world, especially among the incredibly powerful Millennial and Gen Z group. Instead of using single-serve packaging that is not cost- or environmentally-friendly, milkadamia's Milk Tea is sold in 32 oz cartons. Popularity of macadamia is drastically improving among massive population across various countries over the world. This is fundamentally intensifying the expansion of the global Macadamia market.
Report Segmentation
The market is primarily segmented based nature, form, end use, and region.
By Nature

By Form

By End Use

By Region

Residential

Industrial

Commercial

Food Industry

Confectionary

Bakery

Snacks

Other

Cosmetic and Personal Care

North America (U.S., Canada)

Europe (France, Germany, UK, Italy, Netherlands, Spain, Russia)

Asia Pacific (Japan, China, India, Malaysia, Indonesia. South Korea)

Latin America (Brazil, Mexico, Argentina)

Middle East & Africa (Saudi Arabia, UAE, Israel, South Africa)
To Understand the Scope of this Report: Speak to Analyst
Organic

segment held largest share in the global market in 2022
There has been a growing demand for organic and natural food products in recent years, as consumers become more health-conscious and seek out wholesome and sustainable options. Organic macadamias are grown without the use of synthetic pesticides, fertilizers, or GMOs, which makes them a popular choice among consumers who value natural and healthy foods.
For instance, in April 2022, Lechia introduced organic, zero-sugar chia, flax & macadamia milk products. Organic segment has access to premium markets, such as health food stores, gourmet shops, & specialty retailers, for the premium organic products. This has created new opportunities for macadamia producers to tap into these markets and expand their customer base.
Raw segment is dominating the global market in 2022
In 2022, raw segment held the largest global share in terms of volume and value as these nuts are versatile and can be used in a wide range of applications, including snacking, baking, cooking, and as an ingredient in various food products. They can be roasted, chopped, ground, or used whole, which makes them a popular ingredient in many recipes and food products. Furthermore, this type of macadamia nuts are considered to be one of the healthiest nuts, as they are high in monounsaturated fats, protein, and fiber, and are low in carbohydrates.
Food and Beverages segment is accounting highest share in the global market
Food and Beverages is accounting highest revenue compare to other function in fiscal year 2022. Macadamia nuts are versatile and can be used in a wide range of food and beverage applications, including bakery products, confectionery, snacks, dairy products, and beverages. They can be used as an ingredient to add flavor, texture, and nutritional value to various food and beverage products.
Due to remarkable health benefits, large numbers of consumers are opting macadamia at huge amount. To tap the consumer's demand, several businesses are working on development of innovative products. For example, in June 2021, Aloha Oat & Macadamia Nut Milk, a functional powder, was introduced by Laird Superfood, Inc. With the introduction of these new products, the plant-based, superfood brand is revolutionising the plant milk market.
Asia Pacific is expected to accounted the largest share in the global market
Asia Pacific is expected to lead the global market due to various factors such as rising product launches in the market, intensifying the development of macadamia across the food and beverages industry, and many other factors. Primarily, expanding pharmaceutical industry is one of the prime aspects augmenting the growth of the market.
For example, the size of the Chinese pharmaceutical market was close to USD 134 billion in 2018 and is predicted to increase to USD 154 billion by 2020. With this expansion, China's pharmaceutical market would overtake India as the second-largest in the world. By creating new opportunities for macadamia producers to supply the industry with high-quality, nutritious, and sustainable ingredients for use in the production of dietary supplements, nutraceuticals, and drugs, the market is dynamically driving in the region.
North America is accounting significant revenue of the global revenue. North American consumers are increasingly seeking out organic and natural products, which have created new opportunities for macadamia producers to supply the market with high-quality, organic, and natural macadamia nuts. The North American Free Trade Agreement (NAFTA) has created a favorable trade environment for the macadamia market in the region, making it easier and more cost-effective for macadamia producers to export their products to North America. As a result, this factor is driving the growth of market in the region.
Competitive Insight
The global players include Royal Macadamia, Buderim Ginger, North Shore Macadamia Nut, Dr. Paul's Kona Coffee, Ward Coffee, Eastern Produce, Hawaiian Host, Makua Coffee, the marquis group, MWT Foods, Nambucca Macnuts., Superior Nut, golden macadamias, Hamakua Macadamia, T.M. Wondaree Macadamias.
Recent Developments
In June 2021, ASX-listed Company Forbidden Foods introduced a line of walnut/macadamia oil supplemented with algal omega-3 in China and Australia based on customer trends observed on the influential e-commerce site Alibaba Tmall.
Macadamia Market Report Scope
| | |
| --- | --- |
| Report Attributes | Details |
| Market size value in 2023 | USD 1.66 billion |
| Revenue forecast in 2032 | USD 3.70 billion |
| CAGR | 9.3% from 2023– 2032 |
| Base year | 2022 |
| Historical data | 2019– 2022 |
| Forecast period | 2023– 2032 |
| Quantitative units | Revenue in USD million/billion and CAGR from 2023 to 2030 |
| Segments covered | By Nature, By Form, By End Use, By Region |
| Regional scope | North America, Europe, Asia Pacific, Latin America; Middle East & Africa |
| Key companies | Royal Macadamia Pty Ltd., Buderim Ginger, North Shore Macadamia Nut, Dr. Paul's Kona Coffee Company, Ward Coffee Company, Eastern Produce Kenya Ltd., Hawaiian Host Group, Makua Coffee Company, the marquis group, MWT Foods, Nambucca Macnuts., Superior Nut Company, golden macadamias, Hamakua Macadamia Nuts Company, T.M. Wondaree Macadamias Nuts, and other |