The global medical waste container market was valued at USD 1.68 billion in 2019 and is expected to grow at a CAGR of 5.9% during the forecast period. The factors boosting the market growth are rising investments in R&D for the development of innovative medical containers and increasing incidences of infections & chronic diseases, such as cancers, diabetes, Hepatitis A, and COVID-19.
Medical debris is generated from activities and potentially infectious materials produced by healthcare centers such as cotton, needles, syringes, bandages, etc. This type of waste is also referred to as infectious, biomedical, or biohazardous in nature. Among such types of waste, sharp wastes like blades, glass pipettes, needles, and others are highly dangerous as they can cause damage while handling and disposal.
Medical containers aid in collecting, storing, treating, and disposing of medical wastes, thus minimizing spill and exposure risk for laboratory professionals, service workers, and other healthcare professionals. According to World Health Organization (WHO), out of the total quantity of waste generated by medical activities, around 85% is general, non-hazardous waste, and nearly 15 percent is hazardous waste, containing infectious, toxic, or radioactive substances.
According to Water, Sanitation, and Hygiene (WASH) in healthcare facilities, 2019 report, one in four medical facilities worldwide lack basic waste management services, which means that medical personnel safely separate out waste into at least three containers and hazardous waste is treated and disposed of. With the outbreak of the COVID-19 pandemic, the amount of healthcare waste has rapidly increased, thus creating serious issues related to its proper disposal as well as the safety of waste management facility workers. Thus surge in COVID-19 cases, there is a need for proper disposal of materials such as masks, PPE kits, and syringes, among others.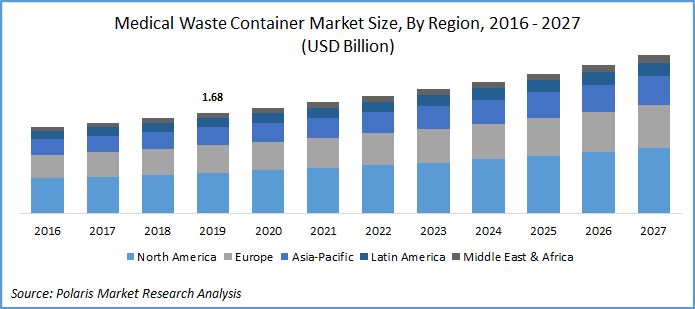 Know more about this report: request for sample pages
Industry Dynamics
Growth Drivers
The market is majorly driven due to the rising occurrence of infectious and chronic diseases, the growing requirement for well-organized medical waste management infrastructure, increasing awareness pertaining to medical waste disposal, and rising initiatives for decreasing the cases of hospital acquired infections. Few notable examples include:
In 2015, the WHO partnered with UNICEF (United Nations Children's Fund) to launch a global initiative to guarantee that all healthcare services have sufficient water for maintaining hygiene, sanitation as well as management of healthcare waste.
Moreover, the outbreak of novel coronavirus (COVID-19) was declared as a pandemic by the WHO on 11 March 2020. The rise of this infectious disease has given rise to the generation of huge loads of medical waste from the institutional quarantine centers, isolation zones, hospitals, and home quarantine across the world.
In September 2020, RLDatix, a foremost global supplier of patient safety services, has signed an agreement with the Hill Country Memorial (HCM), a Texas hospital, for implementing the company's Surveillance solution to adopt the full Applied Safety Intelligence framework. HCM has enhanced its patient safety initiatives by helping teams avert and lessen the spread of healthcare-associated infections (HAIs).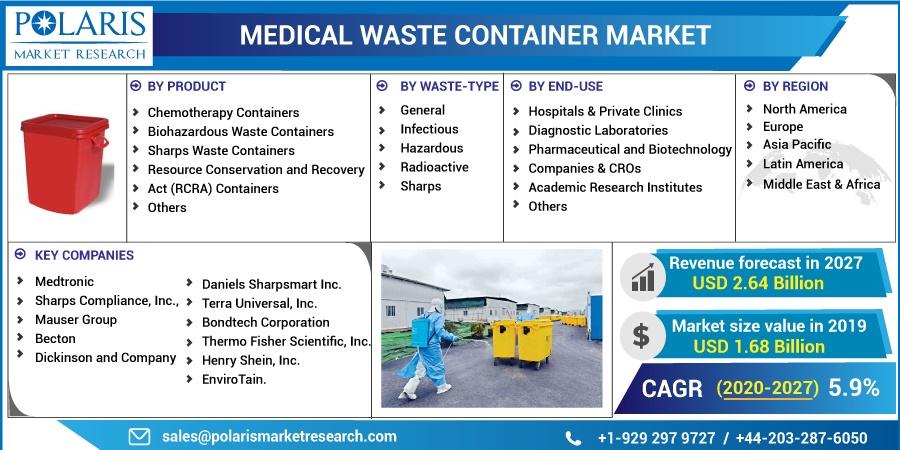 Know more about this report: request for sample pages
Medical Waste Container Market Report Scope
The market is primarily segmented on the basis of product, waste-type, end-use, and region.
By Product

By Waste-Type

By End-Use

By Region

Chemotherapy Containers
Biohazardous Waste Containers
Sharps Waste Containers
Resource Conservation and Recovery Act (RCRA) Containers
Others

General
Infectious
Hazardous
Radioactive
Sharps

Hospitals & Private Clinics
Diagnostic Laboratories
Pharmaceutical and Biotechnology Companies & CROs
Academic Research Institutes
Others

North America (U.S., Canada)
Europe (France, Germany, UK, Italy, Spain, Netherlands, Russia)
Asia Pacific (Japan, China, India, Malaysia, Indonesia. South Korea)
Latin America (Brazil, Mexico, Argentina)
Middle East & Africa (Saudi Arabia, UAE, Israel, South Africa)
Know more about this report: request for sample pages
Insight by Product
Based on the product, the market is categorized into chemotherapy containers, biohazardous medical containers, sharps medical containers, Resource Conservation and Recovery Act (RCRA) containers, and others. In 2019, the biohazardous medical containers segment accounted for the highest revenue share and is expected to witness substantial growth. Dominance can be attributed to growing infectious diseases and the need for proper disposal of hazardous waste generated during the treatment of diseases.
Insight by Waste-Type
On the basis of the waste-type, the market is categorized into general, infectious, hazardous, radioactive, and sharps. In 2019, the general segment grabbed the major share and is projected to lead the market growth during the forecast period. 85% of the overall waste generated is general/non-hazardous waste. As a result, the demand for containers used to dispose of general waste is expected to witness high growth.
Insight by End-Use
On the basis of end-use, the market is categorized into hospitals & private clinics, diagnostic laboratories, pharmaceutical, and biotechnology companies & CROs, academic research institutes, and others. In 2019, the hospitals & private clinics segment held the major share. This is mainly because hospitals and private clinics are the major sources of medical wastes and they require huge quantities of medical containers for proper disposal of waste. Hospitals generate nearly 33 lbs. of medical waste per day per hospital bed. Moreover, rising cases of infectious diseases worldwide is expected to drive the segment growth.
Geographic Overview
Geographically, the global market is bifurcated into North America, Europe, Asia Pacific, Latin America, and Middle East & Africa (MEA). North America accounted for the highest revenue share in 2019. This growth is mainly due to the greatly advanced healthcare industry, rising occurrence of chronic and infectious diseases such as COVID-19, growing need for advanced medical and surgical treatments, an increasing amount of medical waste, and the existence of significant market players in the region. For instance, players such as Rubber-maid Commercial Products had introduced "Resist", a waste and recycling services at NeoCon in the U.S., in June 2017.
Asia Pacific is expected to witness significant growth over the forecast period owing to the increasing awareness pertaining to medical waste management in developing economies and the implementation of stringent rules regarding medical waste disposal in the region. Moreover, rising quantities of medical waste generated in China and other Asia Pacific countries during the outbreak of the COVID-19 pandemic have surged the demand for proper medical containers in the region.
Competitive Insight
The global market is highly competitive with small- and large-scale players. Key players operating in the market include Medtronic, Sharps Compliance, Inc., Mauser Group, Becton, Dickinson and Company, Daniels Sharpsmart Inc., Terra Universal, Inc., Bondtech Corporation, Thermo Fisher Scientific, Inc., Henry Shein, Inc., and EnviroTain. These players are undertaking various activities such as new product launches, mergers & acquisitions, partnerships, etc. to gain a competitive edge. For instance, in 2017, Waste Connections, Inc., the U.S.-based medical waste management company acquired Groot Industries, Inc., an integrated solid waste management services company, to strengthen its dominance in Northern U.S.