The global mobile point-of-sale (mPOS) terminals market was valued at USD 35.29 billion in 2022 and is expected to grow at a CAGR of 11.3% during the forecast period. A smartphone, tablet, or wireless device that wirelessly performs the operations of cash registers or electronic POS terminals is referred to as a mobile POS terminal. Due to enhanced deployments in major retailers across a variety of shop layouts in regional markets, the market for mobile POS terminals has expanded recently. One of the factors propelling the use of mPOS terminals is the convergence of mobile and online payment channels at a time of rapid expansion in the mobile app and smartphone sector.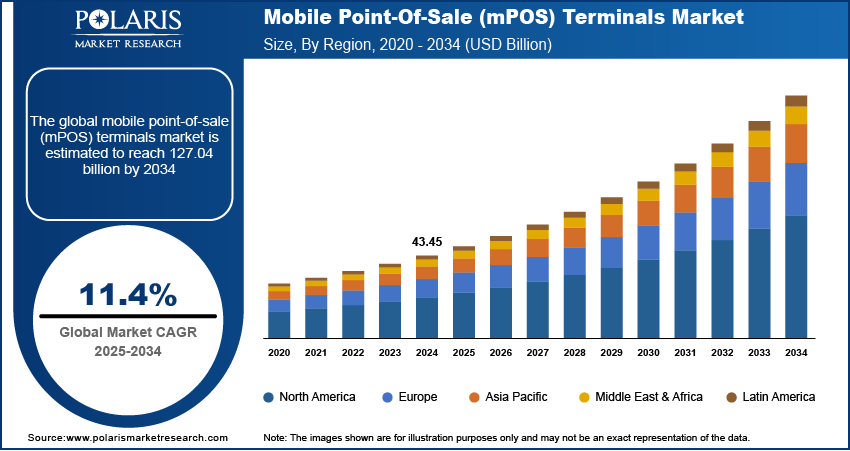 Know more about this report: Request for sample pages
The growing focus that businesses are placing on enhancing the customer experience is a significant element driving the market for mobile POS terminals. Long check-out lines in supermarkets and stores often frustrate customers and waste their time. To tackle this problem, mobile POS solutions are being implemented, allowing customers to purchase items directly from the main product area of the store and make digital payments, eliminating the need to wait in long lines. This improves customer satisfaction, leading to increased brand loyalty and trust. Therefore, businesses are quickly moving away from traditional systems and adopting smartphone and tablet POS options.
The mobile POS terminals market experienced a positive impact due to the COVID-19 pandemic. To promote social distancing and prevent the spread of the virus, there was a heightened focus on digitization in the hospitality and retail industries. Financial service providers raised the limits for contactless payments, enabling easier and smoother cashless transactions. This led to an increase in the popularity of mobile POS terminals as they provided a faster and more convenient payment option.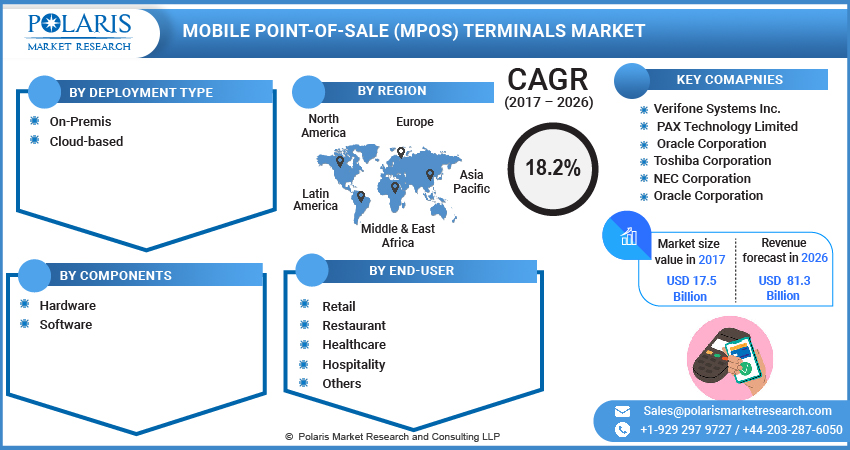 Know more about this report: Request for sample pages
Industry Dynamics
Growth Drivers
Cloud-based POS systems have become increasingly popular in the e-commerce and retail sectors due to their ability to provide businesses with more flexibility, scalability, and cost-effectiveness compared to traditional POS systems. These systems offer several benefits, such as automatic software updates, enhanced security features, and remote access to real-time data. Additionally, businesses can customize these systems to meet their specific needs, such as adding new payment methods or integrating with other software applications. This level of customization allows businesses to streamline their operations and improve their overall efficiency.
Another key advantage of cloud-based POS systems is their ability to integrate with other e-commerce and retail software applications. For instance, these systems can be easily integrated with inventory management software, customer relationship management software, and marketing automation software, among others. This integration allows businesses to centralize their data and manage their operations more efficiently, thereby improving their overall profitability. With the growing popularity of e-commerce and the increasing demand for omnichannel experiences, cloud-based POS systems have become a critical tool for businesses to remain competitive and meet the needs of their customers.
Report Segmentation
The market is primarily segmented based on component, deployment type, end-users, and region.
By Component

By Deployment Type

By End-Users

By Region

Retail

Restaurant

Healthcare

Hospitality

Others

North America (U.S., Canada)

Europe (France, Germany, UK, Italy, Netherlands, Spain, Russia)

Asia Pacific (Japan, China, India, Malaysia, Indonesia, South Korea)

Latin America (Brazil, Mexico, Argentina)

Middle East & Africa (Saudi Arabia, UAE, Israel, South Africa)
Know more about this report: Request for sample pages
Hardware segment dominates the market over the forecasted period
The mobile point-of-sale (mPOS) terminals market is expected to be dominated by the hardware segment, as there is a growing demand for portable payment devices that can reduce checkout time. Manufacturers such as Ingenico and VeriFone offer a range of devices such as tablets, handheld terminals, and mobile computers that operate wirelessly with the support of apps and contactless card readers.
Meanwhile, the software segment is anticipated to experience rapid growth due to its application in various functions such as inventory management, billing, and customer data collection for retail stores, restaurants, and healthcare sectors. QVS Software is a leading mPOS terminal software developer that creates software, apps, and storage mechanisms that offer various functionalities like managing customer data, inventory control, reporting capabilities, and sales transaction updates. Additionally, some providers offer analytics tools that identify system performance bottlenecks such as PLU response times, file I/O usage, and network traffic to improve overall system performance. The solutions are also designed to provide a secure environment for payments, with PCI compliance allowing for encrypted payments like chip cards and NFC payments like Apple Pay.
Cloud-based segment is projected to grow at the fastest rate
Cloud-based segment is the fastest-growing segment in the mPOS terminals market. This is due to the increasing adoption of cloud-based solutions in various industries. Cloud-based solutions provide businesses with several benefits, including lower upfront costs, faster implementation times, and improved scalability. These solutions are also highly customizable, allowing businesses to easily add new payment methods and integrate with other software applications. Additionally, cloud-based solutions offer enhanced security features, automatic software updates, and remote access to real-time data, which improves overall business operations.
On-premise solutions require significant upfront investments in hardware, software, and IT infrastructure, making them less attractive to small and medium-sized businesses. These solutions are also less flexible and scalable than cloud-based solutions, which limits their ability to meet the changing needs of businesses. As a result, many businesses are transitioning to cloud-based solutions for their mobile POS terminal needs to take advantage of the benefits that cloud-based solutions offer.
The healthcare segment dominates the market over the forecasted period
The healthcare industry is anticipated to maintain its dominance in the mPOS terminals market due to the increasing adoption of these terminals by hospitals and clinics. These payment terminals help healthcare facilities streamline the payment process for treatments and medications, and as the healthcare industry becomes more digitized, the adoption of these terminals is expected to increase further.
The retail sector, on the other hand, is expected to be the leading segment in the market over the forecast period. With the increasing popularity of digital payments and mobile payment wallets such as Apple Pay and Samsung Pay, the demand for mPOS terminals in retail has also grown. Retailers are leveraging these terminals to provide customers with a seamless shopping experience across all channels, both online and in brick-and-mortar stores. The use of mPOS terminals also helps retailers engage with customers and provides real-time assistance to sales associates, which ultimately results in improved customer satisfaction and increased sales.
North America dominated the global market in 2022
The market for mobile point-of-sale (mPOS) terminals is expected to be dominated by North America due to high demand from the retail and restaurant industries. The U.S. has a large number of restaurants and retailers that accept digital payments and are gradually adopting mPOS terminals for quick and secure transactions. While larger retailers are using mPOS in addition to fixed terminals, smaller businesses are more likely to only use mPOS.
In Asia Pacific, the mPOS terminal market is anticipated to experience significant growth due to lower manufacturing costs, increased demand from small and medium-sized businesses, and a reduction in total cost of ownership. The popularity of smartphones and tablets in countries such as India and China is expected to further boost the growth of the mPOS terminal market, along with initiatives to promote digital payments in developing countries.
Competitive Insight
Some of the major players operating in the global mobile point-of-sale (mPOS) terminals market include PAX Technology Limited, Oracle Corporation, Verifone Systems Inc, Hewlett-Packard Company, NEC Corporation, Ingenico Group, Toshiba Corporation, Panasonic Corporation, Posiflex Technology Inc., and Squirrel Systems.
Recent Developments
In March 2022, Ingenico formed a partnership with Bharatpe with the goal of offering cutting-edge payment and commerce services to businesses in India and promoting the use of point-of-sale technology.

In January 2022, Adyen launched mobile point-of-sale (POS) terminals for the U.S., U.K., and E.U. These POS terminals are powered by Android and provide an all-in-one payment platform, along with an app management system.
Mobile Point-of-Sale (mPOS) Terminals Market Report Scope
| | |
| --- | --- |
| Report Attributes | Details |
| Market size value in 2023 | USD 39.13 billion |
| Revenue forecast in 2032 | USD 102.73 billion |
| CAGR | 11.3% from 2023 – 2032 |
| Base year | 2022 |
| Historical data | 2019 – 2021 |
| Forecast period | 2023 – 2032 |
| Quantitative units | Revenue in USD billion and CAGR from 2023 to 2032 |
| Segments Covered | By Component, By Deployment Type, By End-Users, By Region |
| Regional scope | North America, Europe, Asia Pacific, Latin America; Middle East & Africa |
| Key Companies | PAX Technology Limited, Oracle Corporation, Verifone Systems Inc, Hewlett-Packard Company, NEC Corporation, Ingenico Group, Toshiba Corporation, Panasonic Corporation, Posiflex Technology Inc., and Squirrel Systems. |