The global molded pulp packaging market size was valued at USD 3.59 billion in 2020 and is expected to grow at a CAGR of 5.1% during the forecast period. Molded pulp packaging makes use of recycled paper, cardboard, and natural fibers such as wheat straw, sugarcane, and bamboo to provide blocking and cushioning protection, water resistance, and the ability to withstand extreme temperatures.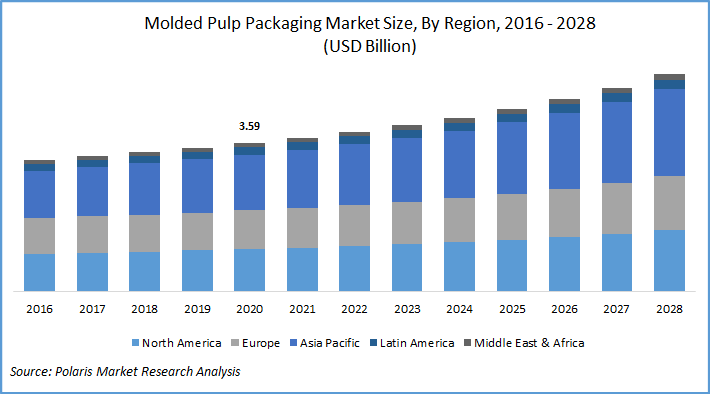 Know more about this report: request for sample pages
The increasing environmental concerns and rising awareness regarding the use of recycled packaging solutions are driving the growth of molded pulp packaging industry. The need to minimize the environmental impact of packaging and adopt sustainable packaging has encouraged many countries to introduce regulations regarding the use of eco-friendly packaging solutions.
Molded pulp packaging is increasingly being adopted in the food and beverage industry for containing, protecting, and preserving food products. Molded packaging involves a chemical-free pulping process, minimal manufacturing waste, and recyclable final packaging. It provides a simple and economical method for packaging food products, while also influencing the sale, consumption, use, and disposal of products.
Molded pulp packaging solutions can be laminated with a modified atmosphere barrier to maintain product integrity and prevent the entry of gases and water. Molded pulp packaging offers protection against mechanical damage while acting as a barrier to gas and vapors. The recycling process associated with molded packaging significantly reduces air and water pollution, while saving production phase energy and water, and lowering waste.
Industry Dynamics
Growth Drivers
The leading market players are expanding their presence across various geographies and entering new markets in developing regions through acquisition and new product launches to expand their customer base and strengthen their presence. In November 2019, Sabert Corporation announced the acquisition of LBP Manufacturing LLC to expand its offerings of environmentally progressive and sustainable food & beverage packing solutions.
The acquisition would enable Sabert Corporation to manufacture customized, sustainable, and molded pulp-based packaging solutions by leveraging LBP's technologies and equipment. LBP Manufacturing offers a wide portfolio of hot beverage solutions, catering trays, folding cartons, clamshells, and other containers. The acquisition would also strengthen Sabert Corporation's geographic presence.
The increasing market demand for consumer goods, electronics, and packaged food drives the growth of the molded pulp packaging market, especially in emerging economies. The increasing population and rising demand for sustainable solutions further boost its adoption.
The growing inclination of consumers towards beauty trends and the introduction of innovative personal care products in the market at competitive prices further augment market growth. Other factors driving the molded packaging market include improving lifestyles, rising health concerns, and increasing disposable income.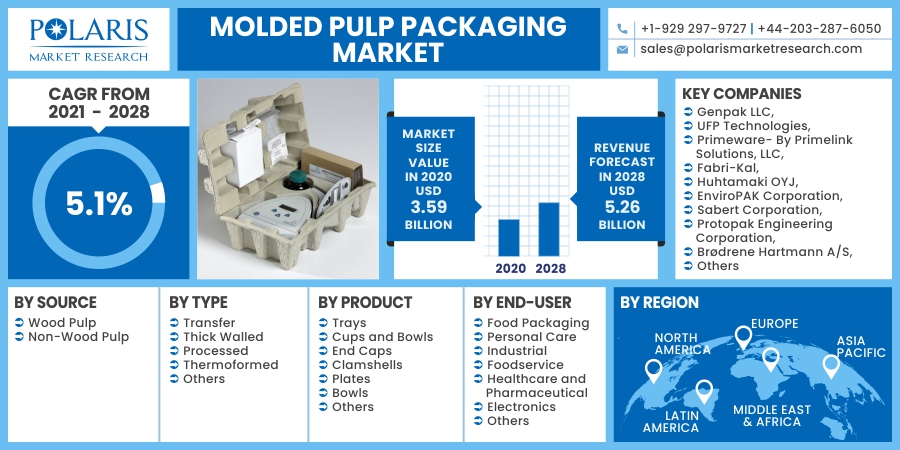 Know more about this report: request for sample pages
Molded Pulp Packaging Market Report Scope
The market is primarily segmented on the basis of source, type, product, end-use, and region.
By Source

By Type

By Product

By End-User

By Region

Transfer
Thick Walled
Processed
Thermoformed
Others

Trays
Cups and Bowls
End Caps
Clamshells
Plates
Bowls
Others

Food Packaging
Personal Care
Industrial
Foodservice
Healthcare and Pharmaceutical
Electronics
Others

North America (U.S., Canada)
Europe (Germany, UK, France, Italy, Spain, RoE)
Asia Pacific (China, India, Japan, South Korea, RoAPAC)
Latin America (Brazil, Mexico, Colombia, RoLATAM)
MEA (Saudi Arabia, South Africa, Israel, UAE, RoMEA)
Know more about this report: request for sample pages
Source Outlook
On the basis of Source, the market is segmented into wood pulp and non-wood pulp. In 2020, the wood pulp segment dominated the global market owing to its affordability and water resistance. Wood pulp solutions are increasingly being used to reduce shipping and storage costs, improve product shelf-life in extreme temperatures, and provide blocking and cushioning protection.
Type Outlook
On the basis of type, the market is segmented into transfer, thick-walled, processed, thermoformed, and others. In 2020, the transfer molded segment dominated the global market. Transfer molded packaging solutions have a wall thickness ranging from 1/8 to 3/16 inches. The increasing focus on sustainable packing solutions and the growing need for eco-friendly packaging has increased the demand for transfer molded packaging. The significant increase in packing waste across the globe necessitates the use of recyclable material along, supporting the growth of the market.
Product Outlook
On the basis of product, the market is segmented into trays, cups and bowls, end caps, clamshells, plates, bowls, and others. In 2020, the trays segment accounted for a significant share in the global market. Molded trays are used for the shipping of fragile items to ensure the safe delivery of products. Molded pulp trays are soft, strong, and capable of absorbing shocks and vibrations experienced during shipping. The demand for molded pulp packing has increased owing to its recyclability, lightweight, and durability.
End-User Outlook
On the basis of end-use, the market is segmented into food packing, personal care, industrial, food service, healthcare and pharmaceutical, electronics, and others. The demand from the food packing sector is expected to increase during the forecast period. Consumers are spending more time 'on-the-go', and the demand for street food, healthy snacks, and quick breakfasts has led to the rise in popularity of single-serve snacks packaged for on-the-go consumption. Growing demand from emerging economies, increasing consumer spending, and growth of e-commerce platforms are factors expected to provide numerous growth opportunities in the coming years.
Geographic Overview
Asia Pacific dominated the global molded pulp packaging market in 2020 owing to increasing population, growth in the food & beverages and personal care sectors and changing consumer preferences. The growth in e-commerce, driven by a rise in broadband internet penetration, use of smartphones, and increasing proportion of tech-savvy consumers would further support the growth in Asia Pacific. Increasing demand for sustainable packing solutions and stringent regulations against the use of non-biodegradable materials boosts the market growth of molded pulp packing solutions in the region.
Competitive Landscape
The leading players in the market include Genpak LLC, UFP Technologies, Primeware- By Primelink Solutions, LLC, Fabri-Kal, Huhtamaki OYJ, EnviroPAK Corporation, Sabert Corporation, Protopak Engineering Corporation, Brødrene Hartmann A/S, Henry Molded Products, Eco-Products, Pro-Pac Packaging Limited, Cellulose De La Loire, TEQ LLC, Pacific Pulp Molding, and Thermoformed Engineered Quality LLC. These companies are introducing new innovative products in the market to cater to the growing consumer demands. Partnerships & acquisitions further enable these companies to enhance their offerings and expand geographic presence.