The global monoclonal antibodies in veterinary health market was valued at 680.6 million in 2021 and is expected to grow at a CAGR of 16.8% during the forecast period. The main drivers for the market growth are the rising prevalence of atopic dermatitis and the rising rate of pet adoption. Additionally, increasing research & development spending by industry players for the development of cancer treatments is also anticipated to support monoclonal antibodies in veterinary health market expansion over the forecast period.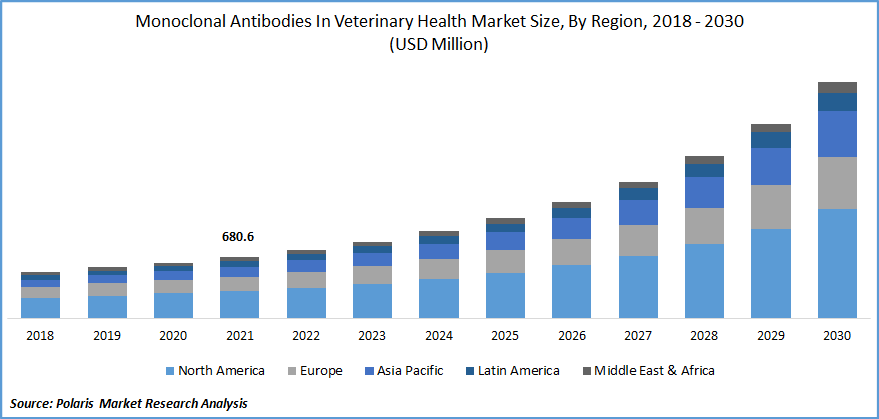 Know more about this report: Request for sample pages
Monoclonal antibodies are utilized in the animal world, particularly in research, to purify substances, track milk formation during lactation, and understand the origin and evolution of numerous disease-producing agents, including the function of specific proteins and enzymes in cancer. A strong track record in developing therapeutic mAbs for humans can be leveraged to sell mAbs for animal health.
Another application of monoclonal antibodies is in the quick diagnosis of animal diseases if animals fall sick, mainly with viral or parasitic diseases. Numerous chronic diseases, such as cancer, lymphoma, arthritis, allergic conditions, and chronic pain, affect dogs and cats. Antibody therapies may have a variety of advantages.
One of the most effective biotherapeutic medications for the treatment of various cancers and autoimmune diseases is monoclonal antibody therapy. It has been proven that their increased safety and reduced toxicity when compared to chemotherapy medications lessen unfavorable side effects and promote patient survival and well-being.
An "anti-idiotypic vaccination" is another way monoclonal antibodies are used in veterinary medicine. The vaccination is actually a monoclonal antibody made against the antigen-binding cleft (idiotype) of another monoclonal antibody. The lockdowns and supply chain interruptions caused by the COVID-19 pandemic; the animal health market has seen less economic slowdown than other sectors.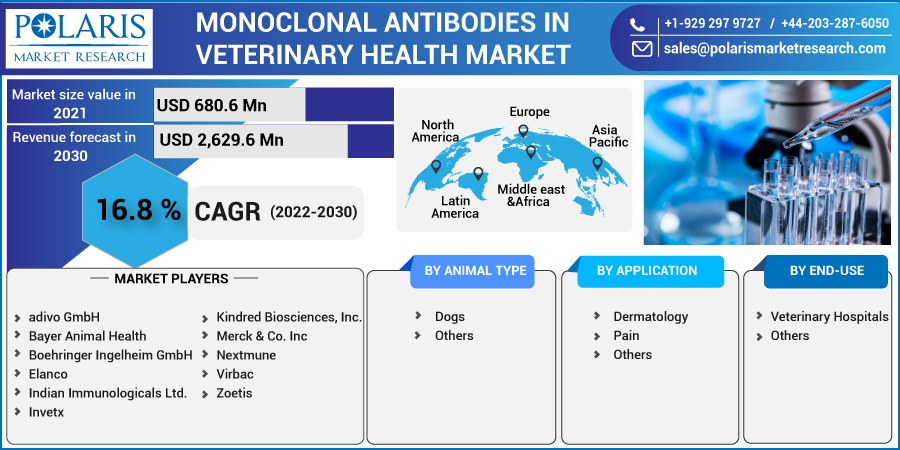 Know more about this report: Request for sample pages
Industry Dynamics
Growth Drivers:
The need for better companion animal treatment choices is being driven by a rise in the number of pet owners, which is leading to an increase in the cost of pet healthcare. The rising cost of pets is driving up demand for more effective therapies, which is expected to drive market growth.
For the treatment of allergic conditions in dogs, the rising importance of therapeutic monoclonal antibodies also help to boost the market growth. In the future, it is expected that industry will benefit from demand due to rising pet owner concerns and expanding pet insurance. Market growth is supported by various health initiatives which are promoted by government and private organizations, mostly focusing on cancer treatment.
Another factor which is positively influencing the market growth is the increasing incidences of cancer. A typical form of cancer in dogs is neoplasia. As per the AVMA (American Veterinary Medical Association) around 1 in 4 dogs are suffering for neoplasia at some point in their lives. The monoclonal antibodies therapy option can help to treat this kind of disease.
Report Segmentation
The market is primarily segmented based on animal type, by application, by end user, and by region.
By Animal Type

By Application

By End-Use

By Region

Veterinary Hospitals
Others

North America (U.S., Canada)
Europe (France, Germany, UK, Italy, Netherlands, Spain, Russia)
Asia Pacific (Japan, China, India, Malaysia, Indonesia, South Korea)
Latin America (Brazil, Mexico, Argentina)
Middle East & Africa (Saudi Arabia, UAE, Israel, South Africa)
Know more about this report: Request for sample pages
In 2021, dogs segment accounted for the highest revenue share
Due to the rising prevalence of various chronic diseases in animals, the rising adoption of pet insurance factors is increasing the revenue growth. Others segment include animals such as cats, horses, and livestock. In addition, the number of dogs as pets is growing, driving up the cost of maintaining their health which is further complementing industry growth.
Based on application, the dermatology segment held the largest revenue share in 2021
Growing incidences of dermatology diseases like fleas and ticks and also allergic dermatitis is expected to increase the industry growth. Some of the most commonly diagnosed dermatological conditions such as allergies, otitis externa, surface pyoderma, and seborrheic dermatitis.
Additionally, in the treatment of viral infections like HIV or hepatitis C that cannot be prevented by vaccination, antibodies may be the only suitable option. In these situations, antibodies may serve as neutralizing agents (by preventing interactions between cells and viruses) and/or aid in the removal of viral particles from the patient's body.
There is advancement in the development of novel pharmaceuticals for the veterinary industry as a result of the market's ongoing desire for significant advancement in the animal dermatological sector. In addition, the key factor driving the increase in demand for veterinary dermatological medications is the rising prevalence of skin-related disorders. Over the past years, increasing the number of cases in animal suffering from skin cancer and chronic skin diseases is also expected to drive demand.
In terms of end-use, veterinary hospitals held the highest revenue share in 2021
The number of veterinary hospitals and the number of veterinarians is responsible for positive industry growth. Due to the presence of novel therapies, Veterinary Hospitals generated the largest revenue share. Over the upcoming period, the others segment is also expected to witness revenue growth.
Other segments include research organizations and academic institutes, veterinary clinics, among others. The development of novel monoclonal antibody therapeutic factors is driving market growth. Additionally, rising awareness related to advanced veterinary therapeutic options is anticipated to fuel market expansion.
North America dominated a portion of the global market in 2021.
In 2021, North America was estimated to hold a significant revenue share of the global monoclonal antibodies in veterinary health market. This is because of government and corporate sector initiatives, as well as the rising popularity of pet insurance. Key market players in these regions are also boosting the industry growth.
Additionally, due to the rising number of local competitors and veterinary hospitals and clinics, the market in the Asia Pacific is expanding. The market is also expected to rise as a result of the rising adoption of pets, increased knowledge of their illnesses, and the availability of alternate forms of therapy.
Competitive Insight
Some of the major players operating in the global industry include adivo GmbH, Bayer Animal Health, Boehringer Ingelheim GmbH, Elanco; Indian Immunologicals Ltd., Invetx, Kindred Biosciences, Inc., Merck & Co. Inc, Nextmune, Virbac, Zoetis
Recent Developments
April 2019: Bayer Animal Health GmbH and adivo GmbH has been signed a global collaboration agreement to develop therapeutic antibodies for veterinary medicine
Dec 2020: Biosciences Inc. has initiated a study for tirnovetmab. Tirnovetmab (KIND-016), a fully canonized, high-affinity monoclonal antibody targeting interleukin (IL)-31 for the treatment of canine atopic dermatitis, has begun the pivotal efficacy study, according to Kindred Biosciences, Inc. (NASDAQ: KIN), a biopharmaceutical company focusing on saving and enhancing the lives of pets.
Aug 2021: Elanco Announces Agreement to Acquire Kindred Biosciences. The transaction includes three potential blockbusters in the development phase, fulfills the current pipeline, and strengthens the R&D capabilities for monoclonal antibodies.
Sept 2021: Boehringer Ingelheim, a global leader in veterinary medicine, and Invetx, a Boston-based leader in protein-based therapeutics for animal health, announced that they had worked together to develop novel, species-specific monoclonal antibody biotherapeutics that will initially target illnesses in dogs and cats.
Oct 2021: The largest animal health firm in the world, Zoetis Inc., is enlarging its manufacturing and research facilities in Tullamore, Ireland, which should eventually greatly boost its capacity for making veterinary monoclonal antibodies (mAbs). The innovative Zoetis product pipeline has produced these therapeutic biopharmaceuticals, which are the most recent innovations in animal medicine.
Monoclonal Antibodies In Veterinary Health Market Report Scope
| | |
| --- | --- |
| Report Attributes | Details |
| Market size value in 2021 | USD 680.6 million |
| Revenue forecast in 2030 | USD 2,629.6 million |
| CAGR | 16.8% from 2022 - 2030 |
| Base year | 2021 |
| Historical data | 2018 - 2020 |
| Forecast period | 2022 - 2030 |
| Quantitative units | Revenue in USD million and CAGR from 2022 to 2030 |
| Segments covered | By Animal Type, By Application, By End-Use, and By Region |
| Regional scope | North America, Europe, Asia Pacific, Latin America; Middle East & Africa |
| Key companies | adivo GmbH, Bayer Animal Health, Boehringer Ingelheim GmbH, Elanco; Indian Immunologicals Ltd., Invetx, Kindred Biosciences, Inc., Merck & Co. Inc, Nextmune, Virbac, Zoetis |