The global multispectral camera market was valued at USD 1,025.16 million in 2022 and is expected to grow at a CAGR of 8.9% during the forecast period. Growing research and development (R&D) activities play a significant role in driving the market's growth. Teledyne FLIR has witnessed considerable progress in its Thermal by FLIR program for small unmanned aircraft systems (sUAS).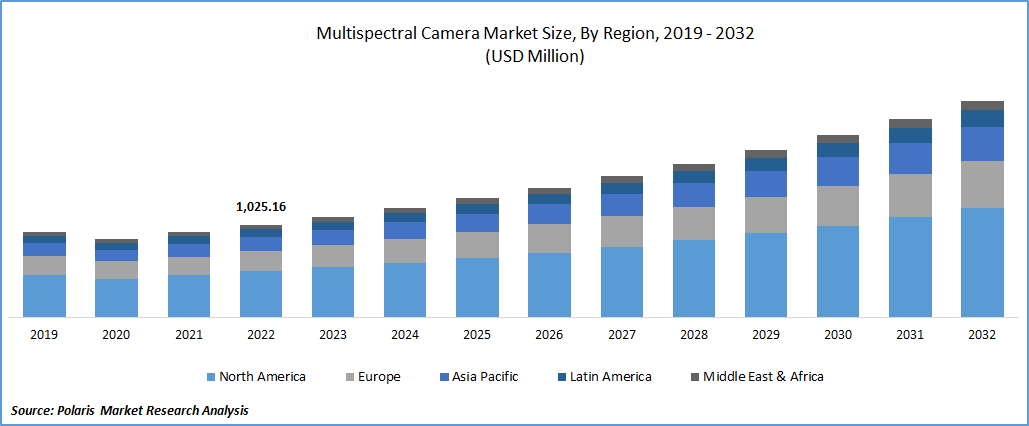 To Understand More About this Research: Request a Free Sample Report
The program has achieved notable milestones, including the successful integration of the Hadron 640R dual visible-thermal pay-load with the recently introduced "Teal 2 drone", as well as the integration of the Lepton 3.5 thermal micro camera with the BRINC LEMUR 2. These developments highlight the continuous advancement of the Thermal through the "FLIR program" and its relevance in enhancing the capabilities of sUAS, positioning it at the forefront of the market. This introduces multispectral camera technology to a broader customer base. As more industries recognize the value of multispectral imaging, the demand for these cameras expands, creating new opportunities for manufacturers and suppliers.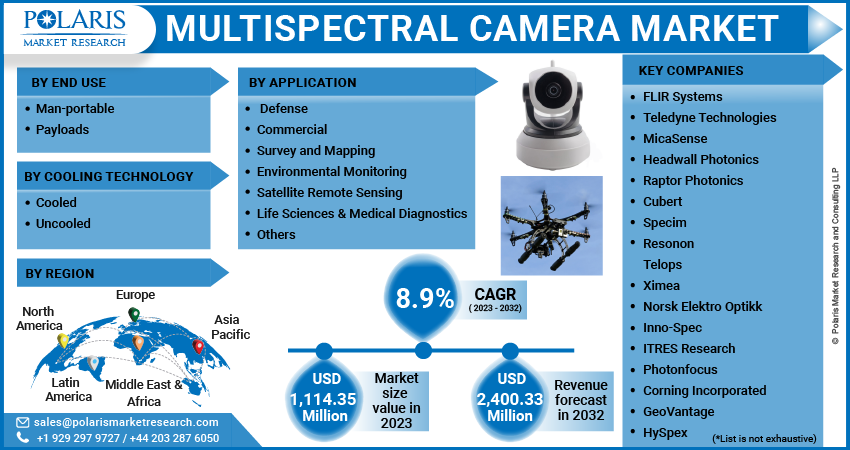 For Specific Research Requirements, Request for a customized e Report
Industry Dynamics
Growth Drivers
The growing research on the applications of multispectral cameras is a significant driver for the multispectral camera market growth. As researchers explore and discover new uses for multispectral imaging, the demand for these cameras increases. For instance, Researchers conducted a study focused on using Unmanned Aerial Vehicles (UAVs) equipped with multispectral sensors to assess water quality parameters in coastal areas. Furthermore, as the research expands the knowledge and understanding of multispectral imaging techniques and their potential applications, it fuels innovation and encourages the development of more advanced and specialized multispectral camera technologies. This, in turn, leads to a wider range of options and improved capabilities in the market.
Report Segmentation
The market is primarily segmented based on application, end use, cooling technology, imaging spectrum and region.
By Application

By End Use

By Cooling Technology

By Imaging Spectrum

By Region

Defense

Commercial

Survey and Mapping

Environmental Monitoring

Satellite Remote Sensing

Life Sciences & Medical Diagnostics

Others

Visible Light

Near-infrared

Short-wave infrared (SWIR)

Mid-wave infrared (MWIR)

Long-wave infrared (LWIR)

North America (U.S., Canada)

Europe (France, Germany, UK, Italy, Netherlands, Spain, Russia)

Asia Pacific (Japan, China, India, Malaysia, Indonesia. South Korea)

Latin America (Brazil, Mexico, Argentina)

Middle East & Africa (Saudi Arabia, UAE, Israel, South Africa)
To Understand the Scope of this Report: Speak to Analyst
Defense segment is projected to experience faster growth in upcoming years
The defense segment is expected to have faster growth in the market. They are widely used in defense applications for surveillance and reconnaissance purposes. These cameras capture images across multiple wavelengths, enabling military personnel to gather valuable information about the battlefield, potential threats, and terrain analysis. The ability to capture data in different spectral bands enhances situational awareness and aids decision-making. This camera helps with target identification and tracking, which is crucial for defense operations. These cameras can differentiate between objects and enhance imaging capabilities even in challenging environments, such as low-light or adverse weather conditions. They enable defense personnel to accurately identify targets, track their movement, and assess potential threats.
Payloads segment accounted for the largest market share in 2022
The payload segment holds the market's largest share in the study period. They are extensively used as payloads in UAVs and drones. These platforms have gained widespread adoption in various industries, including agriculture, environmental monitoring, and infrastructure inspection. Multispectral cameras serve as payloads, providing valuable data for precision agriculture, crop monitoring, vegetation analysis, and mapping.
The increasing demand for UAVs and drones in these sectors directly drives the market's growth. These cameras are deployed as payloads on satellites for remote sensing and Earth observation. Satellites equipped with multispectral cameras capture images across different spectral bands, enabling scientists, researchers, and government agencies to monitor environmental changes, weather patterns, natural resources, and land use. The growing demand for satellite imagery and the increasing number of satellite launches contribute to expanding the market.
Uncooled segment is expected to hold the largest revenue share in upcoming year
The uncooled segment will witness a larger revenue share in the coming years. They offer a cost-effective solution compared to cooled cameras. Uncooled cameras do not require cryogenic cooling systems, significantly reducing the camera design and manufacturing complexity and cost. The lower price makes uncooled cameras more accessible to a wider range of customers and applications, driving their adoption and market growth. These cameras operate at ambient temperature without cooling mechanisms, resulting in simplified operation and maintenance. The absence of cooling components makes uncooled cameras more compact, lightweight, and easier to integrate into various devices and systems. Their simplicity and ease of use contribute to their popularity and widespread adoption.
Short-wave infrared segment (SWIR) is expected to witness highest growth during forecast period
The short-wave infrared segment is expected to grow more in the forecast timeframe. SWIR imaging finds applications in various industries, including agriculture, defense and military, surveillance, manufacturing, and healthcare. The versatility of SWIR cameras allows them to be used in diverse fields, driving the demand for multispectral cameras in this segment. They offer several advantages over visible light and other infrared segments. They can capture images in the wavelength range of approximately 900 to 1700 nanometers, which enables them to see through certain materials and atmospheric conditions that limit the effectiveness of visible light cameras. SWIR imaging provides valuable information in scenarios where visibility is compromised, or specific materials must be analyzed.
APAC registered with the highest growth rate in the study period
APAC is projected to witness a higher growth rate for the market. This region has witnessed remarkable advancements in imaging technologies, including multispectral cameras. Local companies and research institutions have developed cutting-edge features and functionalities, such as improved sensor technologies, enhanced image processing algorithms, and compact design solutions. Paras Aerospace, a subsidiary of Paras Defence and Space Technologies, an innovative tier 2 defense engineering company in India, is poised to introduce an indigenous and cost-effective multispectral camera designed for Unmanned Aerial Vehicles (UAVs). This advanced camera is specifically tailored for agriculture, urban development, and forest survey applications. These technological innovations fuel the demand for multispectral cameras, attracting industries and organizations looking for state-of-the-art imaging solutions.
North America is expected to witness a larger revenue share in the market. It has a favorable regulatory environment that promotes the adoption of advanced imaging technologies, including multispectral cameras. Government initiatives, regulations, and funding support stimulate the market's growth and contribute to a larger revenue share. A collaborative project involving the Indian Institute of Technology (IIT) Indore, NASA-Caltech from the United States, and Sweden's University of Gothenburg has resulted in the developing of a low-cost camera setup. Using a single DSLR camera, this innovative system enables multispectral imaging of four chemical species within a flame. The technology offers an affordable solution for capturing detailed spectral data in flame analysis applications. Developing low-cost multispectral cameras opens new application areas that were previously financially inaccessible. This will further create growth potential for the market in the coming years.
Competitive Insight
Some of the major players operating in the global market include FLIR Systems, Teledyne Technologies, MicaSense, Headwall Photonics, Raptor Photonics, Cubert, Specim, Resonon, Telops, Ximea, Norsk Elektro Optikk, Inno-Spec, ITRES Research, Photonfocus, Corning Incorporated, GeoVantage, HySpex, HinaLea Imaging, ChemImage, Brandywine Photonics, Tetracam, Rikola, Pixelteq, SpecTIR, IMEC, Raptor Photonics, BaySpec, Surface Optics, APEX Technologies, Daylight Solutions, Gilden Photonics, Zolix Instruments, Vilber Lourmat & XENICS.
Recent Developments
In May 2023, Teledyne FLIR introduced an extensive online support series for their latest products, the Boson+ thermal camera & Hadron 640R camera module.

In January 2023, Raptor Photonics introduced the Hawk Indigo, a robust multi-spectral camera with a state-of-the-art 2/3" CMOS sensor. This advanced sensor enables exceptional UV sensitivity and boasts a high % quantum efficiency (QE) of 36% at 250 nm.
Multispectral Camera Market Report Scope
| | |
| --- | --- |
| Report Attributes | Details |
| Market size value in 2023 | USD 1,114.35 million |
| Revenue forecast in 2032 | USD 2,400.33 million |
| CAGR | 8.9% from 2023 - 2032 |
| Base year | 2022 |
| Historical data | 2019 - 2021 |
| Forecast period | 2023 - 2032 |
| Quantitative units | Revenue in USD million and CAGR from 2023 to 2032 |
| Segments covered | By Application, By End Use, By Cooling Technology, By Imaging Spectrum, By Region |
| Regional scope | North America, Europe, Asia Pacific, Latin America, Middle East & Africa |
| Key companies | FLIR Systems, Teledyne Technologies, MicaSense, Headwall Photonics, Raptor Photonics, Cubert, Specim, Resonon, Telops, Ximea, Norsk Elektro Optikk, Inno-Spec, ITRES Research, Photonfocus, Corning Incorporated, GeoVantage, HySpex, HinaLea Imaging, ChemImage, Brandywine Photonics. |