The global nafion market was valued at USD 787.85 million in 2022 and is expected to grow at a CAGR of 4.8% during the forecast period. Nafion is used for fluoropolymer-copolymers made from sulfonated tetrafluoroethylene. Nafion has the molecular formula C9HF17O5S. Nafion has a high level of chemical resistance. Because of the sulfonic acid group's very acidic characteristics and its use as an ion exchange resin in mixtures, Nafion also serves as an acid catalyst. Nafion is stable and won't alter chemically unless subjected to salty water solutions. Nafion has drawn much interest as a protons conduction for proton exchange membrane (PEM) energy storage.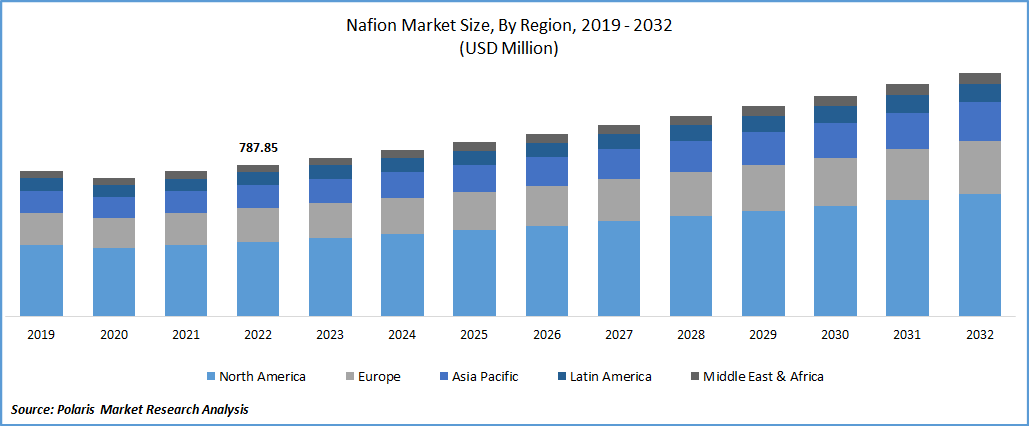 Know more about this report: Request for sample pages
The global market is expanding due to the rising demand for Nafion in various applications, including semiconductors, garbage recovery, and ion exchange resins. The performance and tensile strength required by demanding industrial applications are provided by Nafion ion exchange materials. The chemical manufacturing and processing, transportation, and energy sectors are just a few industries that can use these membrane surfaces, powders, and resins. Additionally, Nafion Chlor-alkali membranes throughout the membrane's lifetime provide stable voltage performance, coulombic efficiency, mechanical durability, and strong impurity resistance.
The market is also anticipated to develop due to the growing usage of fuel cells for various applications, including static electricity, transportation, and direct or transportable methanol fuel. Fuel cells, power storage, and hydrogen production are three main areas of the energy business undergoing radical change. Engineers can use any of these alternatives to take advantage of the distinctive properties of Nafion membranes, which include varied thickness, stiffness, conductivity, and longevity.
A new generation of fuel cells with a renewable energy source to drive anything that drives are built on Nafion membranes. Vehicles, including cars, buses, cranes, boats, aircraft, and spacecraft, benefit from using Nafion membrane in fuel cells for energy production because of its high resistance, reduced emissions, and quiet operation, among other advantages. Therefore, adopting Nafion across various applications drives the market's growth over the forecast period. However, during the projected period, it is anticipated that the high cost of nafion will restrain market expansion.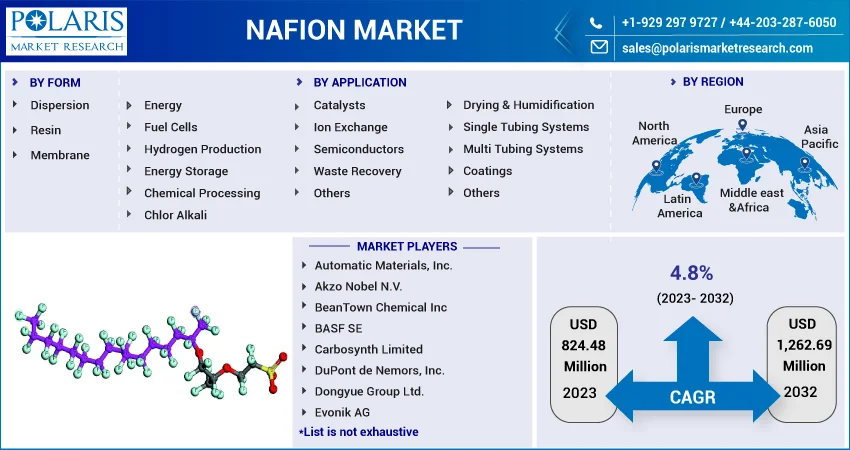 Know more about this report: Request for sample pages
Industry Dynamics
Growth Drivers
The nafion market expansion can be ascribed to the rising demand for ion exchange membranes used in fuel cell applications, the expanding usage of renewable energy sources for energy production, and the increased focus on emissions reduction by governmental and non-governmental organizations. For instance, according to International Energy Agency (IEA), In 2022, the capacity for renewable energy is predicted to grow by more than 8%, totaling over 320 GW. In the following years, it is anticipated that this will significantly drive market expansion. Additionally, it is expected that governments and fuel cell manufacturers' in-line activities will present numerous prospects for market expansion during the forecast period.
In addition, expanding partnerships between fuel cell and electric car makers are a factor anticipated to spur market expansion in the near term. As a result of its excellent resistance to contaminants and adequate power consumption, nafion is utilized in various electrochemical cells and electrolytic gadgets under different operating environments. The need for nafion will rise dramatically in the years to come due to its ability to improve production rates in an environmentally friendly way, making it the membrane of choice for Chlor alkali producers. Automobile companies have turned their attention to fuel cells, which appear to be a promising solution in heavy-duty cars to lower greenhouse gas emissions and meet strict government regulations. Fuel cells are a crucial application for nafion, and rising fuel cell demand is anticipated to propel market expansion.
Report Segmentation
The market is primarily segmented based on form, application, and region.
By Form

By Application

By Region

Dispersion

Resin

Membrane

Energy

Fuel Cells

Hydrogen Production

Energy Storage

Chemical Processing

Chlor Alkali

Catalysts

Ion Exchange

Semiconductors

Waste Recovery

Others

Drying & Humidification

Single Tubing Systems

Multi Tubing Systems

Coatings

Others

North America (U.S., Canada)

Europe (France, Germany, UK, Italy, Netherlands, Spain, Russia)

Asia Pacific (Japan, China, India, Malaysia, Indonesia. South Korea)

Latin America (Brazil, Mexico, Argentina)

Middle East & Africa (Saudi Arabia, UAE, Israel, South Africa)
Know more about this report: Request for sample pages
The Chemical Processing segment is expected to witness the fastest growth
The need for Chlor alkali as a feed in the vinyl chain has increased, driving up prices on a global scale for products like polyvinyl chloride, vinyl chloride monomer, and ethylene dichloride. Given that it contributes to more than one-third of the world's chlorine use, the situation is expected to persist. Because chlorine is heavily utilized in the building sector, the GDP and the sector are concurrently driving its demand. Organic chemical industries, including propylene oxide, TDI, MDI, epichlorohydrin, polycarbonate, and chlorinated compounds, are another significant user of chlorine.
Further, due to its superior neutralizing capacity as a strong base and absorbent, caustic soda has a broader range of uses than chlorine. The manufacture of alumina in industries including paper and pulp, cleansers and soap, chemical processing, and petroleum products, among others, has pushed the need for caustic soda. Membrane technology currently produces more than three-fourths of Chlor-alkali and is expected to become increasingly popular in the following years. Nafion membranes are poised to replace other membranes in the chlor alkali industries because of their excellent power consumption and susceptibility to contaminants.
The semi-conductor segment accounted for the largest market share in 2022
Nafion's markets have grown steadily in recent years owing to the burgeoning semiconductor industry, and it is predicted that this trend will continue throughout the projection period. The nafion is in high demand in the semiconductor industry because of its characteristics and uses in chip fabrication. Thus, the market's growth across the nation is boosted by demand exceeding that for semiconductors.
The demand in North America is expected to witness significant growth
The increased spending on infrastructure development and the rising demand for Nafion-based paint from the construction industry is primarily responsible for expanding the North American market. Due to its ability to quickly and easily fuse several thin-layered coatings with no or negligible blisters, Nafion-based paints are in great demand. Additionally, it serves as a weatherproofing layer to shield the wall from severe weather.
Moreover, in November 2021, the US built a new Westinghouse AP1000 reactor at Vogtle in Georgia, which started its operation. In April 2022, the Laboratory for Advanced Nuclear Power Generation at the Massachusetts Institute of Technology (MIT) claimed that an actual cost of USD 2900/KW for the upcoming AP1000 series in the country is feasible & will remain attractive for the US market. Thus, these advantages propel the nafion market's expansion in the area.
Furthermore, according to the International Energy Agency (IEA)India Energy report 2021, the energy demand in India is expected to increase more than in any other country owing to expanding urbanization and industrialization.
Competitive Insight
Some of the major players operating in the global market include Automatic Materials, Akzo Nobel, BeanTown Chemical, BASF, Carbosynth Limited, DuPont, Dongyue Group, Evonik, FUJIFILM Wako Pure Chemical, High Impact Technology, Haihang Industry, LyondellBasell, Spintech Holdings, SMP Technologies, Santa Cruz Biotechnology, Solvay, Thermo Fisher Scientific, and Chemours Company.
Recent Developments
In October 2022, The Chemours Company intends to form a partnership with the BWT FUMATECH Mobility which will be dedicated to producing fuel cell membranes. Chemours and BWT will combine their complementary skills, resources, & technical know-how through this agreement to speed up supply to OEMs & guarantee that long-term growth in demand is satisfied.
Nafion Market Report Scope
| | |
| --- | --- |
| Report Attributes | Details |
| Market size value in 2023 | USD 824.48 million |
| Revenue forecast in 2032 | USD 1,262.69 million |
| CAGR | 4.8% from 2023 – 2032 |
| Base year | 2022 |
| Historical data | 2019 – 2021 |
| Forecast period | 2023 – 2032 |
| Quantitative units | Revenue in USD million and CAGR from 2023 to 2032 |
| Segments Covered | By Form, By Application, By Region |
| Regional scope | North America, Europe, Asia Pacific, Latin America; Middle East & Africa |
| Key Companies | Automatic Materials, Inc., Akzo Nobel N.V., BeanTown Chemical Inc, BASF SE, Carbosynth Limited, DuPont de Nemors, Inc., Dongyue Group Ltd., Evonik AG, FUJIFILM Wako Pure Chemical Corporation, High Impact Technology, LLC, Haihang Industry Co Ltd, LyondellBasell Industries Holdings B.V., MERCK Kommanditgesellschaft auf Aktien, Spintech Holdings Inc., SMP Technologies Inc., Santa Cruz Biotechnology, Inc., Solvay S.A., Thermo Fisher Scientific Inc., and The Chemours Company |