The global nanomdicine market was valued at USD 178.97 billion in 2022 and is expected to grow at a CAGR of 11.6% during the forecast period.
One of the key factors driving the growth of nanomedicines is the development and commercialization of innovative products, such as mRNA and liposome-based vaccines. These advancements have revolutionized medicine by offering improved treatment options, targeted drug delivery, and enhanced therapeutic efficacy. Nanotechnology-based methods for drug delivery have gained traction in the medical industry due to their ability to improve the efficiency and effectiveness of therapeutics. Nanoparticles and nanocarriers can encapsulate drugs and transport them to specific target sites in the body, allowing for precise drug delivery and reduced side effects. This targeted approach holds great potential for treating various diseases, including cancer, cardiovascular disorders, and neurological conditions.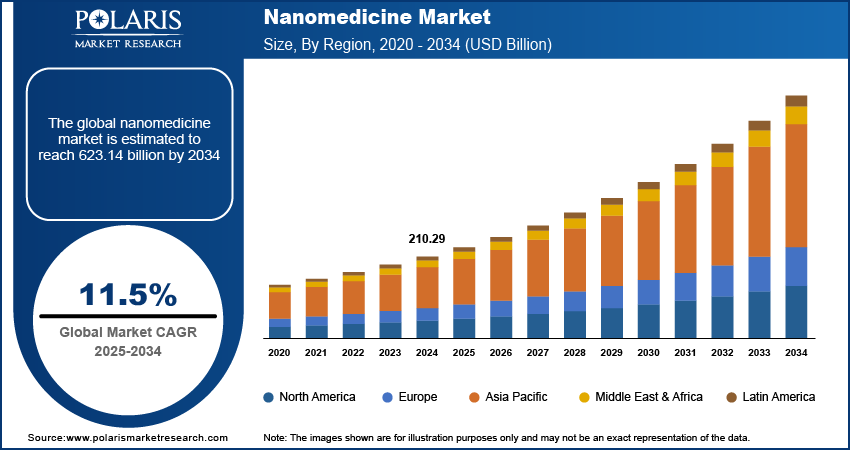 To Understand More About this Research: Request a Free Sample Report
Additionally, the inefficiency of conventional therapeutics has paved the way for the adoption of nanomedicine market. Many traditional drugs face challenges such as poor solubility, limited bioavailability, and rapid degradation. Nanotechnology offers solutions to these problems by improving drug stability, increasing the solubility, and enabling controlled release. These advancements can potentially enhance the efficacy of existing drugs and open new treatment avenues.
Nanotechnology has played a crucial role in the development of COVID-19 vaccines. mRNA-based vaccines, such as the Pfizer-BioNTech and Moderna vaccines, utilize lipid nanoparticles to deliver the genetic material into cells, triggering an immune response. This breakthrough has highlighted the potential of nanomedicine in vaccine development and has opened up new avenues for future vaccine technologies. Nanomedicine offers targeted drug delivery systems that can specifically deliver therapeutics to infected cells or tissues. This targeted approach can enhance the efficacy of antiviral drugs and reduce side effects. Researchers have been exploring nanotechnology-based techniques for delivering antiviral agents to combat viral infections, including COVID-19.
Nanomedicine has contributed to the development of innovative diagnostic tools for COVID-19. Nanoparticles can be engineered to detect viral particles or biomarkers associated with the disease. These nanosensors offer high sensitivity and specificity, enabling rapid and accurate virus detection, crucial for effective disease management and containment. Nanotechnology has been used to develop antiviral coatings for various surfaces, including personal protective equipment (PPE), medical equipment, and public spaces. These coatings can help reduce the transmission of viruses, including SARS-CoV-2, by preventing their adhesion and survival on surfaces.
The program aims to promote and facilitate collaborations between the nanomedicine industry and academia, fostering breakthrough innovations. Additionally, advancements in nanotechnology & implementation in disease diagnosis, & treatment of chronic and acute disorders, & prophylaxis are projected to expand the market. Manufacturers are capitalizing on the promising growth prospects in the global market due to the increasing demand for nanomedicines.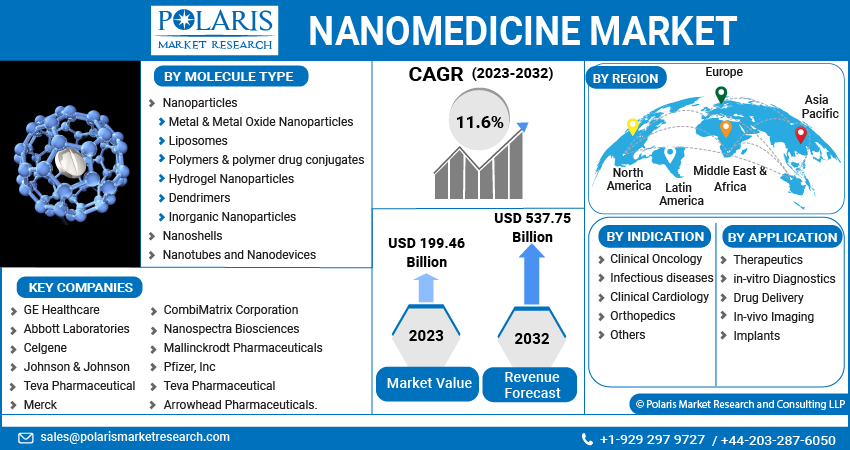 For Specific Research Requirements, Request for a Customized Report
Industry Dynamics
Growth Drivers
The nanomedicine industry is expected to experience growth opportunities as government organizations increase their funding for research and development (R&D) initiatives. Government funding plays a vital role in supporting capital-intensive projects and accelerating advancements in the field. For instance, the National Science Foundation (NSF) announced its commitment in August 2020 to invest USD 84 million over five years to re-establish the National Nanotechnology Coordinated Infrastructure. This initiative aims to advance nanoscale engineering, science, and technology, significantly boosting the nanomedicine sector. Similarly, the Canadian government funds nanomedicine and regenerative medicine research through organizations like the Canadian Institutes of Health Research (CIHR) and the Canadian Space Agency (CSA). This funding support facilitates exploring innovative solutions and technologies in the nanomedicine field, contributing to industry growth.
Report Segmentation
The market is primarily segmented based on by Application, Indication, Molecule Type, and region.
By Application

By Indication

By Molecule Type

By Region

Therapeutics

in-vitro Diagnostics

Drug Delivery

In-vivo Imaging

Implants

Clinical Oncology

Infectious diseases

Clinical Cardiology

Orthopedics

Others

Nanoparticles

Metal & Metal Oxide Nanoparticles

Liposomes

Polymers & polymer drug conjugates

Hydrogel Nanoparticles

Dendrimers

Inorganic Nanoparticles

Nanoshells

Nanotubes

Nanodevices

North America (U.S., Canada)

Europe (France, Germany, UK, Italy, Netherlands, Spain, Russia)

Asia Pacific (Japan, China, India, Malaysia, Indonesia. South Korea)

Latin America (Brazil, Mexico, Argentina)

Middle East & Africa (Saudi Arabia, UAE, Israel, South Africa)
To Understand the Scope of this Report: Speak to Analyst
Drug delivery segment garnered the largest share in 2022
The drug delivery segment held the largest revenue share in 2022. This significant share can be attributed to several factors, including the increasing prevalence of chronic and infectious diseases such as cancer and COVID-19, as well as the growing public awareness regarding nanomedicines' potential benefits. Furthermore, the segment is witnessing growth due to the escalating research activities focused on exploring the applications of nanomedicines in drug delivery.
Researchers are actively investigating novel approaches to improve drug delivery using nanotechnology. For instance, in March 2023, researchers at Memorial Sloan Kettering Cancer Center & Mount Sinai Health System developed a new drug delivery method specifically designed for targeted delivery of anti-cancer drugs to treat brain tumors in children. Such advancements in drug delivery technologies contribute to the growth of the segment.
The therapeutics segment is expected to witness steady growth. This growth can be attributed to the availability of a wide range of products that fall into this category and are used to treat various ailments. Therapeutics segment benefits from the continuous innovation and research in the field, leading to the introduction of new and improved nanomedicine-based treatments for multiple diseases. The availability of a diverse range of nanotherapeutics contributes to the growth of this segment as healthcare providers and patients seek innovative treatment options.
Clinical oncology accounted for the largest market share in 2022
The clinical oncology segment garnered the largest share in 2022. introduction of therapeutic particles and devices has contributed to the dominance of the clinical oncology segment. Nanoparticles, nanocarriers, and other nanoscale therapeutic particles can be designed to specifically target cancer cells, delivering therapeutic agents directly to the tumor site. These targeted approaches improve treatment efficacy and reduce off-target effects, driving the segment's growth.
The clinical oncology segment also encompasses various active and passive cancer-targeting techniques within the nanomedicine industry. Active targeting involves ligands or antibodies attached to nanocarriers to specifically bind to cancer cells, while passive targeting relies on the enhanced permeability and retention (EPR) effect to accumulate nanomedicines in tumor tissues. The availability of these techniques and their potential for improving cancer treatment outcomes contribute to the segment's growth.
North America is expected to witness significant growth during the forecast period
North America dominates the nanomedicine industry due to collaborations, partnerships between established businesses and start-ups, significant governmental support, and research and development expenditures. Authorities provide funding initiatives, grants, and regulatory frameworks to aid in developing and commercializing nanomedicine products, encouraging further investment in research and development. An example of this is Advanced NanoTherapies, which secured USD 5.3 million in seed-round financing in October 2020 to expedite the development of its drug delivery platform. In APAC, steady growth in the nanomedicine industry can be attributed to increased awareness and understanding of the region's nanomedicine and significant public engagement in scientific events focused on nanoscience and nanotechnology. Conferences such as the 9th International Conference on Nanoscience and Technology, China (ChinaNANO 2022) in Beijing contributed to the advancement and exploration of new possibilities and challenges in the field of nanomedicine.
Competitive Insight
Some of the major players operating in the global market include GE Healthcare, Abbott Laboratories, CombiMatrix Corporation, Celgene, Nanospectra Biosciences, Johnson & Johnson, Mallinckrodt Pharmaceuticals, Merck, Pfizer, Teva Pharmaceutical, and Arrowhead Pharmaceuticals.
Recent Developments
Modern entered a collaboration with Generation Bio in March 2023 to use their different cell-targeted lipid nanoparticle delivery system. The primary objective of this partnership is to create non-viral genetic medicines solely for treating immune systems and liver-related disorders.
Nanomedicine Market Report Scope
| | |
| --- | --- |
| Report Attributes | Details |
| Market size value in 2023 | USD 199.46 billion |
| Revenue Forecast in 2032 | USD 537.75 billion |
| CAGR | 11.6% from 2023 - 2032 |
| Base year | 2022 |
| Historical data | 2019 - 2021 |
| Forecast period | 2023 – 2032 |
| Quantitative units | Revenue in USD million/billion and CAGR from 2023 to 2032 |
| Segments Covered | By Application, By Indication, By Molecule Type, By Region |
| Regional scope | North America, Europe, Asia Pacific, Latin America; Middle East & Africa |
| Key Companies | GE Healthcare, Abbott Laboratories, CombiMatrix Corporation, Celgene, Nanospectra Biosciences, Johnson & Johnson, Mallinckrodt Pharmaceuticals, Merck, Pfizer, Inc., Teva Pharmaceutical, and Arrowhead Pharmaceuticals. |