The global neovaginal surgery market was valued at USD 1.07 billion in 2020 and is expected to grow at a CAGR of 3.7% during the forecast period. Neovaginal surgery processes include vagina restoration, often opted by transgender, rising cases of women suffering from vaginal agenesis. Key factors responsible for the market growth include a sudden spike in gender confirmation surgeries and legal applicability towards insurance coverage has boosted the neovaginal surgery market growth.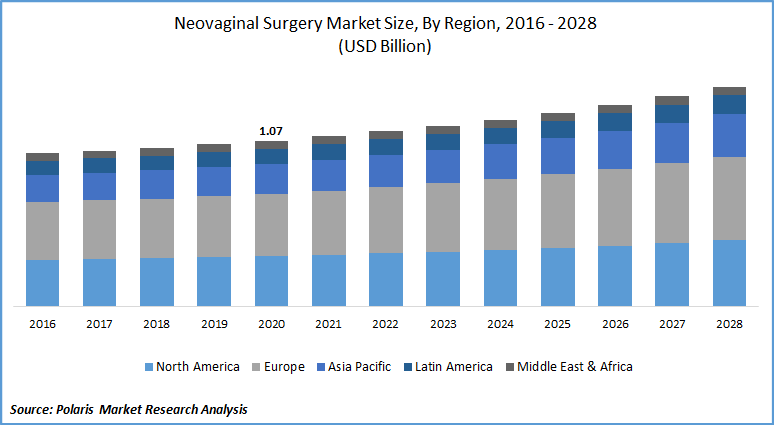 Know more about this report: Request for sample pages
In the last few years, there has been a rise in gender confirmation procedures and the social acceptance of transgender among society. As per the market estimates of the American Society of Plastic Surgeons (ASPS), there is a rise of more than 15 percent in gender confirmation surgeries from 2018, in the U.S.
Industry Dynamics
Growth Drivers
Many insurance firms in the developed regions are providing healthcare coverage including sex-change surgeries. For instance, an Australia-based Health Insurance Fund includes insurance coverage for neovaginal reconstruction and sex-change surgeries. Emerging countries such as India and China also provide financial assistance to individuals seeking such transformation surgeries.
Owing to such increased demand for neovaginal surgery, service providers are taking several positive initiatives to expand their geographic reach and patient inflow. For instance, in June 2018, Cedars Sinai increased their transgender services to other regions in the country.
The innovations in the surgical techniques reduce the patient journeys via reducing the time of the neovaginal surgery and its high cost. COVID-19 pandemic has also posed enormous challenges for the healthcare service providers and the patients involved in varied health conditions.
Owing to nationwide lockdown during the COVID-19 pandemic has canceled elective procedures such as sex-change surgeries to save resources and money. For instance, GRS Montreal has canceled gender-based surgeries last year to focus on COVID-19 patients. This temporary cancellation has led to fear in the mind of patients, as they are needed to go pre-authorization process, again from the beginning.

Know more about this report: Request for sample pages
Neovaginal Surgery Market Report Scope
The market is primarily segmented on the basis of product, treatment type, and geographic region.
By Product

By Treatment Type

By Region

Vaginal Dilators
Vaginal Stents
Laparoscopic Neovaginal Surgeries Kits

Vaginal Agenesis Treatment
Vaginal Atresia Treatment

McIndoe Technique
Vecchietti Technique

Sex Reassignment Surgery

North America (U.S., Canada)
Europe (France, Germany, UK, Italy, Spain, Netherlands, Austria)
Asia Pacific (Japan, China, India, Thailand, Indonesia. South Korea)
Latin America (Brazil, Mexico, Argentina)
Middle East & Africa (Saudi Arabia, UAE, Israel, South Africa)
Know more about this report: request for sample pages
Insight by Product
In 2020, the laparoscopic surgery kits market segment accounted for the majority of the share in the global market. The segment is also expected to grow at a lucrative growth rate over the assessment period owing to the rise in laparoscopic surgeries and growing preference towards minimally invasive surgeries for the treatment of vaginal agenesis in women.
The vaginal dilators market segment of neovaginal surgery industry is projected to register a lucrative growth rate over the assessment period. These dilators are used to restore damaged tissues of the vagina. Moreover, the rising adoption of silicone dilators for the women suffering from Mayer–Rokitansky–Küster–Hauser syndrome (MRKH), is continuously rising driving the overall market for neovaginal surgery.
In addition, growing patient's preference for laparoscopic surgeries for the vaginal reconstruction over traditional techniques, which includes colitis, scarring, prolonged recovery, and excess mucous secretion is also boosting the market segment's growth prospects in neovaginal surgery market.
Geographic Overview
In 2020, Europe accounted for a significant revenue share of the global market. The factors responsible for such a high market share include an increase in demand for vaginoplasty, awareness among patients regarding the pros of cosmetic surgeries and inclined safety concerns and rising disposable income among women in the region are the key factors responsible for the region's market growth for neovaginal surgery.
With rising social acceptance towards sex change and gender change surgeries among the population in the European market and an increase in the number of surgical procedures are driving the adoption of vaginal dilators, stents, and neovaginal surgery kits to perform such neovaginal surgery.
However, Asia Pacific neovaginal surgery demand is expected to witness a lucrative market growth rate over the study period. The major factors contributing to such growth of neovaginal surgery in the region include an increase in awareness regarding neovaginal surgeries and a surge in medical tourists in emerging countries, owing to a rise in healthcare costs. Moreover, rising insurance coverage and social acceptance in the region also contributing to the region's market growth prospects for neovaginal surgery procedures.
Competitive Insight
The prominent players operating in the market for neovaginal surgery are Chettawut Plastic Surgery Center, Vuvatech, Phuket Plastic Surgery Institute (PPSI), González-Fontana, Owen Mumford Ltd., KESSEL medintim GmbH, and Icahn School of Medicine at Mount Sinai.