The nut products market was valued at USD 6.33 billion in 2021 and is expected to grow at a CAGR of 5.8% during the forecast period. The nut is a type of fruit with a thick or hard nutshell protecting a typically edible kernel, and the product derived from the different nut is referred to as nut products that include nut pastes, nut butter, caramelized nuts, and others.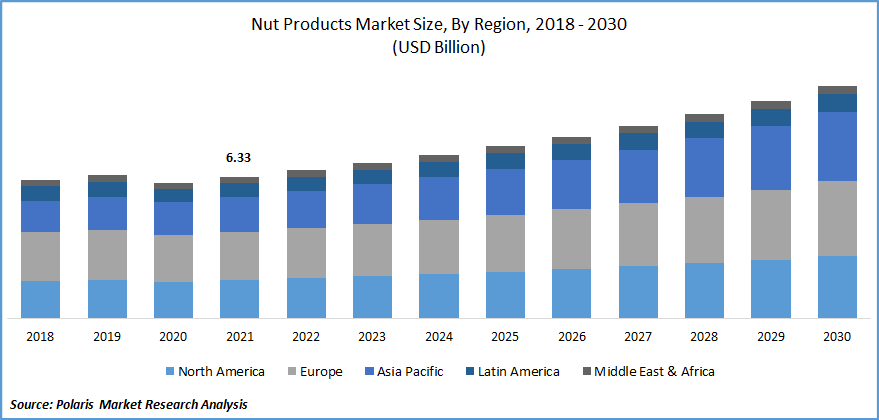 Know more about this report: Request for sample pages
Nuts are a rich source of vitamins, antioxidants, proteins, fibers, and other essential minerals and are considered a microbiologically safe product due to their low moisture content. Although, high amount of nut consumption can lead to diarrhea. The rising awareness of the health benefits among the consumers of rich sources has driven the nut product market's growth.
Several factors, such as the expansion of the snack food industry, use of healthy ingredients, and consumer awareness of healthy lifestyles is expected to contribute to the market's growth. Furthermore, the growth of the market is attributed to the increased demand for natural and low-sugar food products across the globe.
Additionally, various nuts are used in the food industry, such as, cashew kernels are preffered for ice cream topping and are frequently utilized by industrial consumers in cereals, cookies, and other baked goods, which have augmented the market growth.
The COVID-19 pandemic lockdown disrupted transportation, interrupted the supply chain of nuts and related products, and negatively influenced the global export and import of the nuts industry. In the meantime, a healthy eating pattern that includes the consumption of almonds, peanuts, cashews, and other items has led to the protection of the human immune system, which provided opportunities for market players during the COVID-19 pandemic. Consequently, the market is expected to witness healthy growth over the forecast period.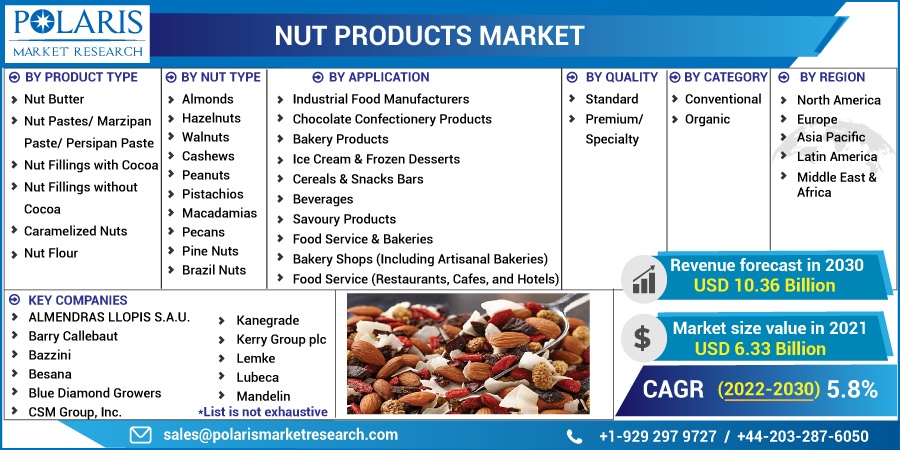 Know more about this report: Request for sample pages
Industry Dynamics
Growth Drivers
Growing awareness of nutrition beyond the usual diet and a trend toward a healthy lifestyle is expected to drive the global market. Demand for nut products is increasing due to changing consumer preferences for convenience products. Additionally, consumer dietary choices are changing to support better health. Almonds, walnuts, macadamia nuts, hazelnuts, and pecans are rich in omega-3 fatty acids, which are necessary for joint and bone maintenance and cognitive health.
Nuts are specially valued in vegan, vegetarian, flexitarian, gluten-free, and paleo diets. They contain bioactive compounds such as energy sources for a healthy diet, unsaturated fats and oils, fiber, proteins, vitamins, minerals, and antioxidants. As healthy dietary it appeals to people who work from home, instead of sweets and biscuits. Nuts are rich in antioxidants, which help reduce the risk of diabetes, regulate blood sugar levels, and reduce the risk of heart disease.
People who do not eat meat, they consume nuts or nut products as an alternative for meat protein, which has contributed to the expansion of the market for nut products. In addition, the increasing use of raw nuts and nut flours in cooking or blended into savory dishes has attracted many significant players in the market along with new product development as a strategic approach by most of the major players, boosting the nut products market globally.
Increasing demand for ready-to-eat snack foods is estimated to drive the growth of the nut products market. In addition, bakeries and confectioners commonly use nut-based butter, pastes, fillings, and flour-containing products. Almonds, walnuts, and hazelnuts are most frequently used to produce various nut products.
Report Segmentation
The market is primarily segmented based on product type, nut type, application, quality, category, and region.
By Product Type

By Nut Type

By Application

By Quality

By Category

By Region

Nut Butter
Nut Pastes/ Marzipan Paste/ Persipan Paste
Nut Fillings with Cocoa
Nut Fillings without Cocoa
Caramelized Nuts
Nut Flour

Almonds
Hazelnuts
Walnuts
Cashews
Peanuts
Pistachios
Macadamias
Pecans
Pine Nuts
Brazil Nuts

Industrial Food Manufacturers
Chocolate Confectionery Products
Bakery Products
Ice Cream & Frozen Desserts
Cereals & Snacks Bars
Beverages
Savoury Products
Food Service & Bakeries
Bakery Shops (Including Artisanal Bakeries)
Food Service (Restaurants, Cafes, and Hotels)

Standard
Premium/Specialty

North America (U.S., Canada)
Europe (France, Germany, UK, Italy, Netherlands, Spain, Russia)
Asia Pacific (Japan, China, India, Malaysia, Indonesia. South Korea)
Latin America (Brazil, Mexico, Argentina)
Middle East & Africa (Saudi Arabia, UAE, Israel, South Africa)
Know more about this report: Request for sample pages
Nut pastes is expected to account for the largest market share
The nut pastes/marzipan pastes/persipan pastes is projected to account for the largest market share during the forecast period as it shows the increased application in several food industries. Nut paste is a rich energy source made from raw or roasted natural or blanched nuts. It's made with a fair amount of sugar and vegetable fat to form a thick, pasty consistency.
Marzipan pastes are used for cakes and pastries filling and as an ingredient in ice cream and vegetable drinks. Additionally, its darker color is also used in chocolate preparation. This paste's main advantage is that it is considered the most versatile and decorative medium in masking cakes.
Persipan pastes are made from apricot kernels, peanuts, and very few almonds and are less expensive than marzipan paste. Plumpy nut pastes are used to treat acute malnutrition. It supports rapid weight gain derived from overall nutrient intake, which can alleviate a starving child from impending illness or death.
Hazelnuts segment is anticipated to acquire the largest market share
Hazelnuts segment is projected to account for the largest market share as they are easy-to-consume, calorie-dense food made available to consumers through retail channels. Hazelnuts are the main ingredient used in the confectionery industry to make chocolates, hazelnut spreads, pastes, and meals. These are the highest quality nuts sold at the best prices and are sold either unpeeled or in processed form.
Diced, ground, and pastes are used in baked products and ice cream. Turkey is a significant producer of the world's hazelnut crop. Additionally, hazelnut trees are an ideal crop as they can thrive despite rough soils types, drought, and other harsh growing conditions and do not require pesticides. They also segregate more carbon than annual crops, reduce soil erosion, and filter pollutants from groundwater.
Moreover, the hazelnut has numerous medical applications, such as it supports bowel movements, protects against cell damage, lowers cholesterol, improves insulin sensitivity, and reduces inflammations, which is used in many ayurvedic medications. These factors are anticipated to propel the segment's growth.
Industrial food manufacturers hold significant revenue share
In the chocolate and confectionery industry, nuts are used due to their crunchy texture, great taste, and health benefits. About one-third of confectioneries contain ingredients such as almond flakes, walnut halves, or pecan nut pieces. Chocolate confectionery works hard to innovate chocolate with nuts to enhance the sensory experience. Walnuts, hazelnuts, and almonds are the most popular nut inclusions. Hazelnuts are popular in the European chocolate industry.
The bakery product is expected to grow fastest over the forecast period as nuts is a great way to add flavor and texture to baked products. Pecans gives a rich flavor, and brittle, crunchy texture when baked. Similarly, pistachios are used to garnish for many desserts because of their bright green color.
Organic segment dominated the market in 2021
The organic segment accounted for the largest market share due to the absence of chemicals in organic nuts, which makes them different from conventional nuts. Organic nuts are used in producing biscuits, muffins, brownies, and cookies. It is also used as a topping to create a premium look for bakery products such as cakes and pancakes. Rather it's more expensive than conventional nuts but gives the highest and purest quality nutrients.
Conventional nut cultivation involves synthetic chemical fertilizers, pesticides, herbicides, and other continuous inputs. Conventional cultivation of nuts is typically very resource and energy-intensive, increasing overall production costs. At the same time, conventional farming is more productive than organic farming which has influenced the growth of conventional segment.
Standard quality accounted for largest market in 2021
The standard quality nuts accounted for the most significant market revenue. Edible nuts are recognized for their health benefits. Providing safe, high-quality nuts is of great concern. Manufacturers ensure that nut products meet the highest standards before putting them on the market. There are requirements for sustainable products to appeal to consumers, especially when edible nuts come from developing countries.
The United Nations Economic Commission for Europe (UNECE) and Working Group on Agricultural Quality Standards describe product and quality requirements at the export control stage that affect appearance, moisture content, size, presence, prevalence, and impact of defects, scratches along with packing requirements.
Europe acquired the major market share in 2021
Europe is the largest contributor to the global nut market share. Growing awareness of the health benefits of consuming nuts in the region is driving market growth. Additionally, rapid changes in consumer lifestyles that place greater emphasis on health and well-being will spur industry growth in the coming years. Due to the presence of nutritious low-carb nut products, market growth is projected to increase due to increased consumption of almonds, walnuts, and cashew products in Germany and the UK.
Competitive Insight
Some of the major players operating in the global market ALMENDRAS LLOPIS S.A.U., Barry Callebaut, Bazzini, Besana, Blue Diamond Growers, CSM Group, Inc., Kanegrade, Kerry Group plc, Kondima Engelhardt GmbH & Co. KG, Lemke, Lubeca, Mandelin, Moll Marzipan GmBH, Mount Franklin Foods, Olam Group, PURATOS, Royal Nut Company, Stelliferi & Itavex S.p.A, TREEHOUSE ALMONDS, Zentis GmbH & Co. KG.
Recent Developments
In October 2019, Olam International Limited announced that they had signed a purchase agreement to acquire 100% interest in leading California almond processor and ingredient manufacturer Hughson Nut, which can help Olam increase its footprint in the global market.
In November 2011, Olam announced the acquisition of 100% of equity interests in the Progida Group, in which transaction involved the purchase of Progida's key assets and processing capabilities, which comprise an ingredients processing facility in the Giresun region of Turkey with a total capacity of 40,000 metric tonnes of kernel per annum and two leased cracking units in the Ordu region.
Nut Products Market Report Scope
| | |
| --- | --- |
| Report Attributes | Details |
| Market size value in 2021 | USD 6.33 billion |
| Revenue forecast in 2030 | USD 10.36 billion |
| CAGR | 5.8% from 2022 - 2030 |
| Base year | 2021 |
| Historical data | 2018 - 2020 |
| Forecast period | 2022 - 2030 |
| Quantitative units | Revenue in USD billion and CAGR from 2022 to 2030 |
| Segments covered | By Product Type, By Nut Type, By Application, By Quality, By Category, By Region |
| Regional scope | North America, Europe, Asia Pacific, Latin America; Middle East & Africa |
| Key companies | ALMENDRAS LLOPIS S.A.U., Barry Callebaut, Bazzini, Besana, Blue Diamond Growers, CSM Group, Inc., Kanegrade, Kerry Group plc, Kondima Engelhardt GmbH & Co. KG, Lemke, Lubeca, Mandelin, Moll Marzipan GmBH, Mount Franklin Foods, Olam Group, PURATOS, Royal Nut Company, Stelliferi & Itavex S.p.A, TREEHOUSE ALMONDS, Zentis GmbH & Co. KG. |