Nutricosmetics are supplements, that are oral based and are used for maintaining skin health that is an essential part of overall beauty of the body. One of the major factors driving the growth of global nutricosmetics market is the growing consumer awareness in case of personal care and grooming coupled with increasing disposable income. Nutricosmetics are substances which are majorly used to treat skin, hair and nail defects among others. In addition, this supplement is also used to protect the body from UV ray. Different substances which are used as nutricosmetics are vitamin C and E, beta carotene, polypodium leucotomes and tea polyphenols among others. Europe has held the largest market for nutricosmetics in 2017 and is expected to top the market over the forecast period.
The global nutricosmetics market was valued at USD 4.73 billion in 2016 and is estimated to reach USD 14.12 billion by the end of 2026. Europe held a market share of more than 30% during 2016, followed by North America (24%). However, Asia-Pacific is expected to be the fastest growing market for nutricosmetics over the forecast period.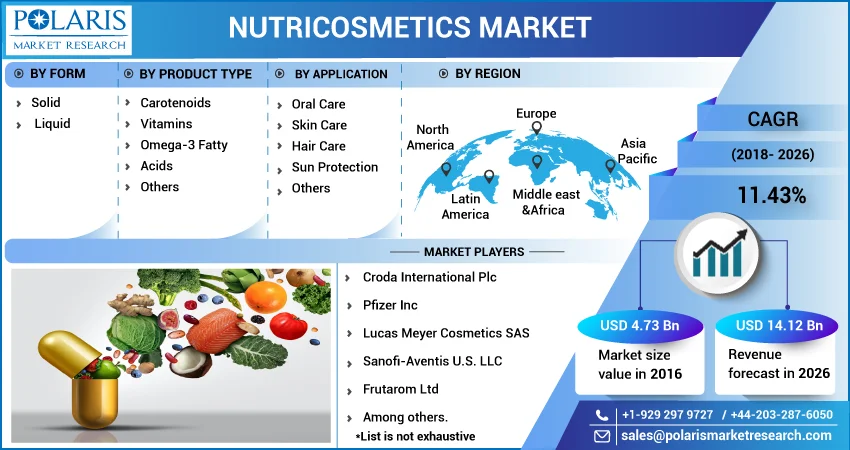 Segment Analysis
The global nutricosmetics market is segmented on the basis of product types, forms and application. In case of product types, vitamins held the largest market share in 2016 and is expected to hold the largest market share over the forecast period, followed by omega-3, fatty acids. Skin care is expected to hold the largest market share among the application segments throughout the forecast period of more than 35%. Rising consumer awareness regarding grooming and skin health coupled with busy lifestyle is having an impact on the growing skin care nutricosmetics segment.
Regional Analysis
Europe is expected to be largest market for nutricosmetics over the forecast period, registering market share of more than 30% from 2018 to 2026. The growth of nutricosmetics market in Europe is majorly driven by the increasing demand of grooming and skin care products in this region as well as growing personal care products manufacturers in different countries in Europe including U.K, Germany, France and Russia among others. Growing awareness towards men's grooming, increasing disposable income and growing retail industry is expected to boost the nutricosmetics market in Asia-Pacific, majorly driven by China, India and Japan. Asia-Pacific is estimated to resister the highest growth rate among all the regions for global nutricosmetics market.
Competitive Analysis
Some of leading industry participants in the nutricosmetics market include Croda International Plc, Pfizer Inc, Lucas Meyer Cosmetics SAS, Sanofi-Aventis U.S. LLC and Frutarom Ltd. Among others.