The global oil and gas descaler market was valued at USD 356.89 million in 2022 and is expected to grow at a CAGR of 3.0% during the forecast period. The growing awareness among consumers regarding the damages happened due to scaling issues, especially in underdeveloped and developing nations, and demand for innovative modern residential water treatment systems along with the increasing government regulations to reduce emissions and protect the environment by using descalers that do not harm environment has been propelling the global market growth.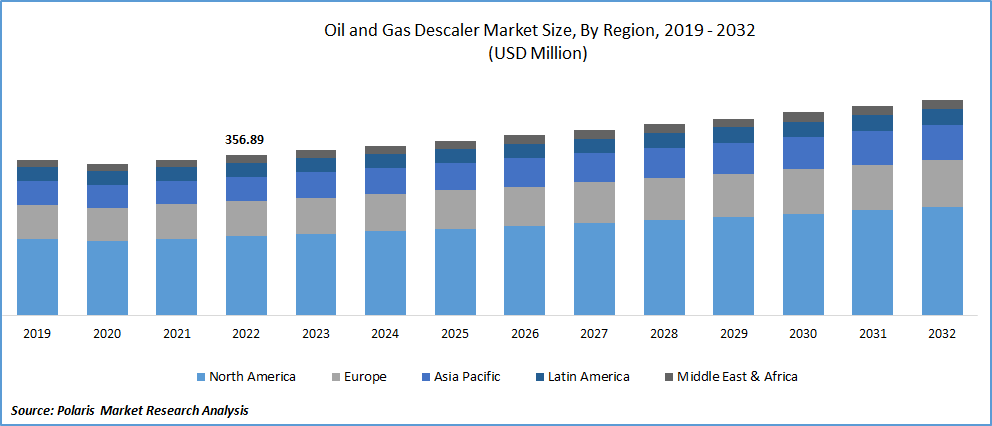 To Understand More About this Research: Request a Free Sample Report
With the extensive rise in the advancements of technology and incorporation of several new features and improved capabilities in descaling solutions that make them more efficient and cost-effective and several business expansion strategies that are being undertaken by major players operating in the market, is likely to create huge growth opportunities for the market.
For instance, ACSI Mechanical Group announced that the company will now offer a full suite of boiler services with the addition of American Boiler & Tank Repair, including boiler repairs, boiler descaling, tank repairs, and others. With the expansion of its services portfolio, the company will strengthen its market position, help customers reduce their expenses, and improve equipment efficiency.
Moreover, the unavoidable use of seawater with significant concentrations of ions as a by-product of water evaporations and marine life for maintaining pressure and improving production causes the precipitation of scale, which decreases the overall flow area and results in a decrease in production as well as leads to the costly downtime for removal. Thus, the need and demand for efficient descaler solutions have grown drastically worldwide.
The outbreak of the COVID-19 pandemic has significantly impacted the growth of the oil and gas descaler market. The emergence of lethal coronavirus across the globe has resulted in the shutting down various end-use industries mainly due to imposed lockdowns and other trade restrictions that led to a significant decline for these chemicals. The highly disrupted global supply chains that result in an inadequate supply of raw materials and labor shortages in manufacturing facilities also negatively influenced the market.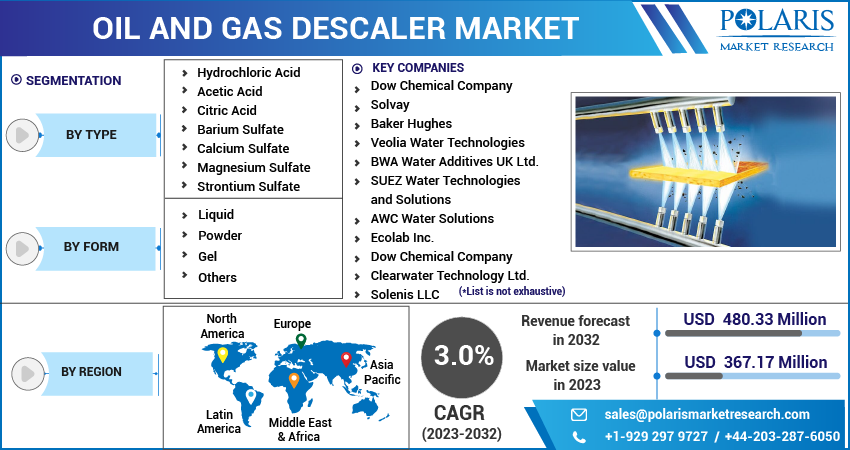 For Specific Research Requirements, Request for a Customized Report
Industry Dynamics
Growth Drivers
The widespread usage of these cleaners across numerous applications, including food & beverage industries, petrochemical plants, the construction sector, and refineries, among others, as almost all these industry sectors have similar issues of formation of scale on valves, boilers, lifts, pipelines, pumps, and several other industry equipments because of high contact with oil and other related products, which are the primary factors driving the global oil and gas descaler market demand and growth.
Furthermore, the rapid increase in the popularity of descalers like citric acid is largely used in households for floor cleaning and kitchen cleaning, and they are also being widely used for removing excess grout and hard water scales on the tiles, which has also been pushing the market growth forward at a rapid pace.
Report Segmentation
The market is primarily segmented based on type, form, and region.
By Type

By Form

By Region

Hydrochloric Acid

Acetic Acid

Citric Acid

Barium Sulfate

Calcium Sulfate

Magnesium Sulfate

Strontium Sulfate

Others

North America (U.S., Canada)

Europe (France, Germany, UK, Italy, Netherlands, Spain, Russia)

Asia Pacific (Japan, China, India, Malaysia, Indonesia. South Korea)

Latin America (Brazil, Mexico, Argentina)

Middle East & Africa (Saudi Arabia, UAE, Israel, South Africa)
To Understand the Scope of this Report: Speak to Analyst
The hydrochloric acid segment accounted for the largest market share in 2022
The hydrochloric acid segment accounted for the largest market share in 2022. The growth of the segment market can be highly attributed to its wide range of benefits, including cost-effectiveness and continuous expansion in the global oil & gas industry, which requires products like this to manage the descaling agents. The significant advancements in technology that have led to the development of more efficient and effective descaling agents, including hydrochloric acid, along with the growing need to comply with strict regulations to ensure safety and environmental protection, have also created huge growth opportunities for the segment market.
The acetic acid segment is expected to exhibit a significant growth rate over the coming years due to a surge in the cost of repairs and downtime associated with equipment failure, encouraging companies to focus more on preventive maintenance to keep their equipment and pipelines in good working condition as acetic acid-based descalers are often used as part of preventive maintenance programs to keep equipment and pipelines clean and free of deposits that can cause damage and reduce the efficiency of the system.
The powder segment is expected to witness the highest growth over the forecast period
The powder segment is projected to grow during the forecast period, which can be largely accelerated due to its high effectiveness in removing scale, rust, and other oil and gas equipment deposits. They can also clean hard-to-reach areas ensuring that equipment is thoroughly cleaned.
Additionally, powder-based descalers are often environmentally friendly and biodegradable, which makes them a safer choice for the environment, as it does not contain harsh chemicals that can harm the equipment or the environment and can be applied using a variety of methods, including sprinkling, spraying, or immersion, which is contributing significantly towards the segment growth.
The liquid segment led the industry market with substantial revenue share in 2022, mainly due to the increasing demand for crude oil and natural gas globally, fueling the need for efficient oil and gas descaling solutions. Oil and gas extraction and processing operations generate scale and deposits that can reduce the efficiency of equipment and pipelines and further increase maintenance costs.
North America dominated the global market in 2022
North America dominated the global market with a considerable market share. The robust presence of one of the world's largest producers and consumers countries of oil and gas in the region has led to an increase in the exploration and production of oil and gas, which in turn has created a demand for descaling solutions to maintain the efficiency and productivity of equipment, are key factors fueling the growth of the market. For instance, according to the Energy Information Administration, crude oil production stood at an average of estimated 11.9 million b/d in 2022 in the United States, and it is forecasted that the crude oil production will reach an average of 12.4 million b/d in 2023 and 12.8 million b/d in 2023.
The Asia Pacific region is anticipated to be the fastest growing region with a healthy CAGR over the coming years, which can be largely attributed to widespread aging oil and gas infrastructure across the region, which leads to corrosion and scaling in pipelines and equipment that requires descaling equipment to prevent downtime and maintain the equipment efficiency. In addition, the APAC region has been witnessing rapid industrialization in recent years, due to which energy consumption has drastically increased, which also fueled the demand for descaling products.
Competitive Insight
Some of the major players operating in the global market include Dow Chemical, Solvay, Baker Hughes, Veolia Water Technologies, BWA Water Additives, SUEZ Water Technologies, AWC Water Solutions, Ecolab Inc., Dow Chemical Company, Clearwater Technology, Solenis, GE Water & Process Technologies, Enercleanse, AkzoNobel, and Clariant.
Recent Developments
In December 2021, KCM Capital Partners announced that it has successfully acquired the assets of Automatic Filters, California. With this acquisition, the company will help Tekleen to enhance its product portfolio of wastewater treatment, de-scaling, municipal reuse, & recycling.

In April 2022, A. O. Smith introduced "X3 Scale Prevention Technology" for its residential gas tank-less water heaters. The product is designed for contractors and consumers, preventing the scale build-up in a tank-less unit, eliminating the need for regular descaling maintenance and boosting performance and efficiency.
Oil and Gas Descaler Market Report Scope
| | |
| --- | --- |
| Report Attributes | Details |
| Market size value in 2023 | USD 367.17 million |
| Revenue forecast in 2032 | USD 480.33 million |
| CAGR | 3.0% from 2023 – 2032 |
| Base year | 2022 |
| Historical data | 2019 – 2021 |
| Forecast period | 2023 – 2032 |
| Quantitative units | Revenue in USD million and CAGR from 2023 to 2032 |
| Segments covered | By Type, By Form, By Region |
| Regional scope | North America, Europe, Asia Pacific, Latin America; Middle East & Africa |
| Key companies | Dow Chemical Company, Solvay, Baker Hughes, Veolia Water Technologies, BWA Water Additives UK Ltd., SUEZ Water Technologies and Solutions, AWC Water Solutions, Ecolab Inc., Dow Chemical Company, Clearwater Technology Ltd., Solenis LLC, GE Water & Process Technologies Kemira Oyj, Enercleanse, AkzoNobel N.V., and Clariant AG. |