The global packaged sprouts market was valued at USD 5.15 billion in 2022 and is expected to grow at a CAGR of 10.1% during the forecast period.
The emergence of busy consumer lifestyles around the world leading to increased consumption of on-the-go eatables and ready-to-eat products like packaged sprouts and surging trend of fitness and health consciousness among consumers that encouraging them to organic sprout products with a range of health benefits are among the leading factors propelling the global market growth. In addition, the widespread use of the product by leasing food service businesses and commercial spaces like cafes, restaurants, and others because of their significant use in salads, wraps, and several other dishes is further likely to drive market growth at a rapid pace.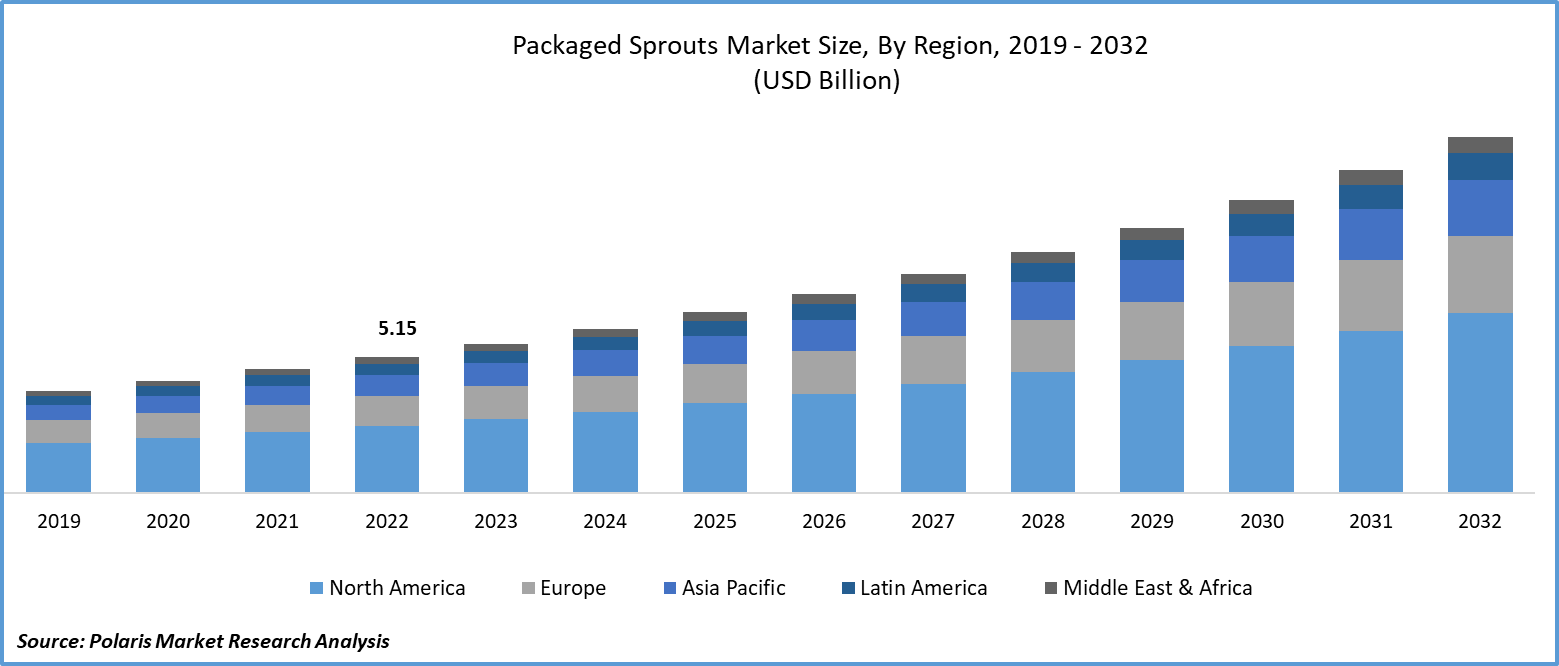 To Understand More About this Research: Request a Free Sample Report
For instance, in March 2023, Meati Foods expanded its new retail partnership with the Sprouts farmer's market. Under this partnership, Eat Meati's complete product line will be available to purchase in two different packages at the concerned market locations, including Crispy Outlet, Classic Steak, & Classic Outlet.
Moreover, several leading companies across the globe are focusing on offering a wider variety of sprouts and sprout mixes, which includes not only the traditional alfalfa and mung bean sprouts but also more exotic options such as broccoli sprouts, lentil sprouts, and radish sprouts, that help them to cater to consumers looking for unique flavors and nutritional profiles and creating ample revenue opportunities for the packaged sprouts market.
The outbreak of the COVID-19 pandemic has significantly impacted the growth of the packaged sprouts market. The emergence of the deadly virus across the globe has forced countries to take stringent actions like lockdown measures, social distancing, and trade restrictions that led to huge disruptions in manufacturing and processing facilities and also impacted the global supply chains, due to which the product availability across regions was significantly disrupted.
Industry Dynamics
Growth Drivers
Rising demand for functional foods and increasing health consciousness
There has been a rapid increase in the demand for functional foods due to a growing health consciousness among people. As a result, more people are seeking natural and nutritious food products, and are becoming aware of the benefits of sprouts, such as their high nutritional density and health-promoting properties. This has become the leading factor for growth in the sprouts market.
Additionally, the rise in urbanization rates and the demand for convenient and ready-to-eat food options worldwide have also contributed to increased demand for sprouts. Innovations in packaging technologies, such as modified atmosphere packaging and vacuum sealing, have significantly extended the shelf life of sprouts, further contributing to the expansion of the global market.
Report Segmentation
The market is primarily segmented based on type, category, distribution channel, and region.
By Type

By Category

By Distribution Channel

By Region

Bean Sprouts

Brussel Sprouts

Broccoli Sprouts

Alfalfa Sprouts

Others

Supermarkets & Hypermarkets

Convenience Stores

Specialty Stores

Online Retail

North America (U.S., Canada)

Europe (France, Germany, UK, Italy, Netherlands, Spain, Russia)

Asia Pacific (Japan, China, India, Malaysia, Indonesia. South Korea)

Latin America (Brazil, Mexico, Argentina)

Middle East & Africa (Saudi Arabia, UAE, Israel, South Africa)
To Understand the Scope of this Report: Speak to Analyst
By Type Analysis
Brussel sprouts segment accounted for the noteworthy market share in 2022
The brussel sprouts segment accounted for a noteworthy market share. The growth of the segment market can be mainly attributed to growing product adoption as a nutrient-dense vegetable that is rich in fiber, vitamins, and various types of antioxidants, along with its ability to offer higher convenience and reduce overall food preparation time for consumers.
The alfalfa sprouts segment is anticipated to grow at the fastest growing rate with a significant CAGR over the next coming years on account of growing popularity and penetration for alfalfa sprouts, as they can be easily incorporated into several types of dishes, including sandwiches, wraps, salad, and stir-fries among others.
By Category Analysis
Organic segment expected to hold substantial market share
The organic segment is expected to hold a substantial market share throughout the study period, which is majorly driven by the growing popularity of vegan diets and the surge in the number of vegetarians across the world, leading to higher demand for plant-based protein sources and growing proliferation among consumers worldwide towards adventurous with their culinary choices. Besides this, the overall demand for organic products has been steadily increasing in the last few years as consumers are constantly becoming more aware of the potential health benefits associated with organic foods, which has led to a surge in demand for organic sprouts worldwide.
By Distribution Channel Analysis
Online retail segment is expected to witness highest growth
The online retail segment is expected to grow at the highest growth rate during the projected period on account of the emergence of various new online shopping platforms that have made it easier for consumers to access packaged sprouts at the convenience of their homes and a drastic increase in a number of digital buyers preferring online shopping models over conventional retail platforms like supermarkets and specialty stores. Apart from this, the adoption of effective online marketing strategies, including social media marketing, influencer collaborations, and targeted advertising, also plays a crucial role in driving consumer awareness and interest in packaged sprouts available through e-commerce channels.
The supermarkets & hypermarkets segment held the largest market share in 2022, which is largely attributed to a higher preference for these shopping destinations as one-stop destinations for all consumer needs and demand because of the wide availability of products from different brands at very competitive prices and presence of staff to make the consumer aware about the potential benefits of products they are looking for.
Regional Insights
North America region dominated the global market in 2022
North America dominated the global market. The regional market growth is highly attributable to an increased number of consumers seeking natural and plant-based products with a wide range of potential health benefits and the constantly emerging trend of adopting ready-to-eat and convenient food products, as consumers are getting more inclined in busy life schedules and have less time to prepare food at their home.
Asia Pacific will grow at a rapid pace, owing to an increase in the rate of industrialization and urbanization that led to higher consumption of convenient products, particularly in developing economies. Apart from this, the surging availability of packaged sprouts in a variety of retail channels, including supermarkets, health food stores, and online platforms, which makes them more accessible to consumers across the region, is further escalating product demand.
Key Market Players & Competitive Insights
The packaged sprouts market is highly consolidated with the presence of several regional and global market companies worldwide. The top companies in the market are significantly focusing on improving their food production and packaging technologies to meet growing clean label product demands and implementing of various business expansion strategies including collaborations, acquisitions, partnerships, and mergers with local vendors.
Some of the major players operating in the global market include:
Fuji Natural Foods Inc.

Hangzhou zgf Group Co. Ltd.

International Specialty Supply

Ippolito International

Jonathan Sprouts

Misionero Vegetables

NARITA Foods Co. Ltd.

Ocean Mist Farms

Organic Valley

Pulmuone Co. Ltd.

Sprouts Farmers Market Inc.

Van der Plas Sprouts
Recent Developments
In April 2022, Ra Foods LLC About Sprouts announced the launch of its newly developed packaging labels, which clearly highlight every variety option that attracts consumer attention to the packaging. The newly launched Wild About Sprouts comes in six different varieties, including 100% clover, broccoli blend, radish blend, 100% alfalfa, alfalfa blend, and 100% broccoli.

In November 2022, Sprouts Farmer Market, one of the fastest-growing and leading specialty retailers of natural, fresh, and organic food products in the United States, announced the expansion of its on-demand delivery through the partnership with DoorDash, which will make consumers able to order thousands of products from the company conveniently.
Packaged Sprouts Market Report Scope
| | |
| --- | --- |
| Report Attributes | Details |
| Market size value in 2023 | USD 5.66 billion |
| Revenue forecast in 2032 | USD 13.49 billion |
| CAGR | 10.1% from 2023 – 2032 |
| Base year | 2022 |
| Historical data | 2019 – 2021 |
| Forecast period | 2023 – 2032 |
| Quantitative units | Revenue in USD billion and CAGR from 2023 to 2032 |
| Segments covered | By Type, By Category, By Distribution Channel, By Region |
| Regional scope | North America, Europe, Asia Pacific, Latin America; Middle East & Africa |
| Customization | Report customization as per your requirements with respect to countries, region and segmentation. |