The global pectin market size was valued at USD 1.06 billion in 2017 and is forecasted to grow at a CAGR of 6.4 % from 2018 to 2026. Pectin are biopolymers that are used in several applications mainly in the food and medical industry. The major raw material used for pectin production is apple and dried citrus peel. Other raw materials, which contain the substance in a large amount, are pears, guavas, plums, quince, oranges, & gooseberries and other citrus fruits. While soft fruits such as grapes, cherries, and strawberries contain fewer amounts.
Pectin can be produced commercially and naturally. Commercially, it is produced as a white to light brown powder, extracted mainly from citrus fruits. It is added in food & confectionery mainly because it lessens cooking time, enhances color & texture and also enhances shelf life for jellies and jams. Industry participants are focused on development of new and novel technologies to enhance product differentiation. Multinationals enjoy their advantage and power of investing huge funds in research & development activities and develop novel and enhanced products for the end-user industries and hence are moving ahead of the small-scale market participants. The companies are involved in development of new microwave-based technology. This technology could help to generate the starch and other valuable food ingredients from drinks and food processing waste.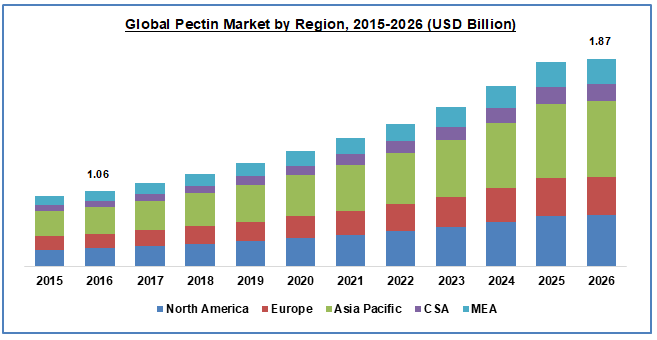 Know more about this report: request for sample pages
Segment Analysis
Thickener was the major function segment of the global pectin market. In terms of penetration, stabilizer followed thickener segment in the same year. Pectin is generally used as a thickener in a broad range of fruit-based products, for instance jams & jellies, marmalades, fruit preparations specified for yoghurts & desserts & fruit filling for bakery products. Pectin is used to improve pulp stability for juice-based drinks. In addition, it is also used as a stabilizer for acidic protein beverages.
The surge in the demand for healthy, organic, and natural backed products, in bakery industry is the major trend in the market. The significant increase in the consumption of cheese (due to its versatility) and yogurt (due to its healthier profile) globally, in comparison to all other dairy products is a major key driving factor got the industry. The various advantages of the usage of pectin in dairy, bakery and other end use industries is expected to benefit the market.
The rising demand in various end use industries is increasing the trade of the product. Germany and Mexico are the major exporter of pectin globally. Whereas, the U.S. is the major importer for the product. The growing awareness and various health benefit of the product is the major factor for the pectin market growth. The shortage and increased pectin prices is also contributing to the growth in the substitute (natural gums, guar and xanthan) products. These products can be a substitute of pectin in the food & beverage and health care industry, owing to their superior binding nature.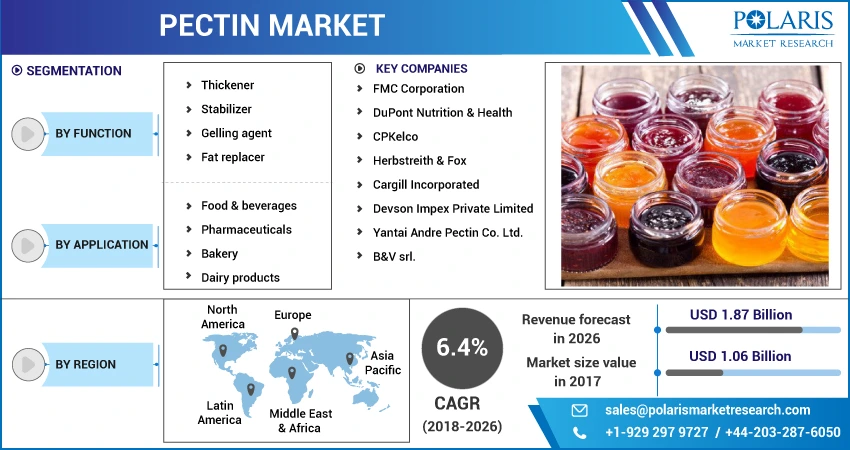 Know more about this report: request for sample pages
Pectin Market Report Scope
By Function

By Application

By Region

Thickener
Stabilizer
Gelling agent
Fat replacer
Others

Food & beverages
Pharmaceuticals
Bakery
Dairy products
Others

North America (U.S., Canada)
Europe (Germany, UK, France, Italy, Spain, Russia)
Asia-Pacific (China, Japan, India, Australia, Korea, Singapore)
Latin America (Brazil, Mexico, Argentina)
Middle East and Africa
Know more about this report: request for sample pages
Regional Analysis
Asia-Pacific is expected to witness the highest growth rate in terms of market revenue. Strong demand and availability of raw material in the countries such as China and India are expected to benefit the market in the region. The supply of major raw materials such as citrus, apple pomace, and other raw materials are currently squeezed. In the first quarter of 2016, there was an estimated shortage of over 400-500 metric ton in the North America region alone. The massive shortage in the production and supply globally is expected to result in the rise of cost of the product. In addition, various pectin producers globally have also proposed a rise in the pricing by 30% in the following years.
From past two to three years, the import from Brazil has increased significantly. The nation is the largest producer of pectin, followed by Denmark and Mexico. Argentina is also one of the major countries for the production of raw material citrus fruits. However, unfavorable weather patterns and reducing demand for lime in the country has resulted in fewer lime trees plantation.
Competitive Analysis
Major industry participants are focusing and investing in the R&D activities characterizes the global pectin market. In addition, to capture the emerging opportunities in regions such as Asia Pacific, companies are setting up manufacturing facilities to increase the regional footprint. The market value chain consists of raw material producers, manufacturers, packaging & product, suppliers, and end-use industries. The players in the industry invest broadly in R&D activities in order to develop their broad product portfolio with superior product properties which can meet the growing market demand. Herbstreith & Fox is one such manufacturer, engaged in research activities and product development. Numerous participants also incorporate third-party R&D companies to gain a competitive advantage.
Some of the major players in the market are FMC Corporation, DuPont Nutrition & Health, CPKelco, Herbstreith & Fox, Cargill Incorporated, Devson Impex Private Limited, Yantai Andre Pectin Co. Ltd., and B&V srl.