The global phenolic resins market was valued at USD 14.55 billion in 2022 and is expected to grow at a CAGR of 5.2% during the forecast period.
The phenolic resin market is a rapidly growing sector within the chemical industry. Phenolic resins are synthetic polymers derived from the reaction of phenol with formaldehyde. They possess excellent heat resistance, chemical resistance, mechanical strength, and flame retardancy, making them highly desirable for various industrial applications.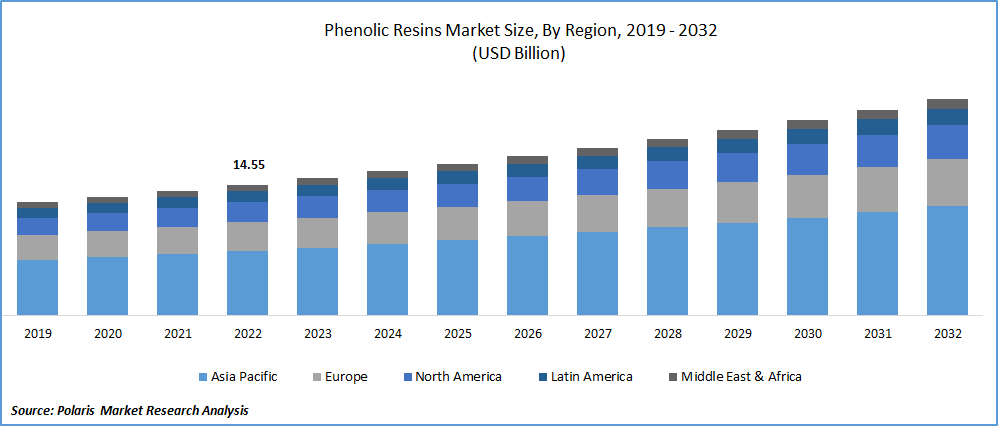 To Understand More About this Research: Request a Free Sample Report
With the increasing demand from the automotive sector due to their exceptional heat resistance and frictional properties, phenolic resins are extensively used to produce brake pads, clutch facings, and other friction materials. With the growth of the automotive industry in emerging economies, the demand for phenolic resins is expected to surge.
Another significant factor contributing to the phenolic resins market growth is the construction industry. Phenolic resins are widely employed in manufacturing insulation foams, laminates, and coatings for construction materials. Their superior fire resistance, durability, and thermal insulation properties make them ideal for construction applications.
Furthermore, the electronics industry is also a major consumer of phenolic resins. Due to their excellent electrical insulation and flame-retardant properties, these resins find applications in printed circuit boards (PCBs), electrical laminates, and encapsulation materials. With the continuous advancements in the electronics sector, the demand for phenolic resins is projected to increase. Additionally, the increasing focus on sustainable and eco-friendly materials drives the demand for bio-based phenolic resins. These resins are derived from renewable sources such as lignin, a pulp and paper industry byproduct. Bio-based phenolic resins offer similar properties to their petroleum-based counterparts while reducing the environmental impact.
The COVID-19 pandemic has significantly impacted the market, causing disruptions in global supply chains and reduced demand from the automotive, construction, and electronics industries. However, the market experienced application shifts, with increased demand for phenolic resins in producing PPE and cleaning agents. As restrictions eased and construction activities resumed, the construction sector, a major consumer of phenolic resins, showed signs of recovery. Despite the short-term challenges, the market is expected to rebound and grow in the long term, driven by demand from various sectors and emerging applications in the renewable energy and aerospace industries.
Industry Dynamics
Growth Drivers
Rising demand from end-use industries
The market experiences growth driven by the increasing demand from end-use industries such as automotive, construction, electronics, and furniture contribute significantly to market growth. Phenolic resins possess properties like heat resistance, mechanical strength, and flame retardancy, making them suitable for various industrial applications.
There is a growing emphasis on sustainable and eco-friendly materials, driven by environmental concerns and stringent regulations. Phenolic resins offer low VOC emissions, recyclability, and excellent fire-resistant properties. As industries strive to meet sustainability goals, the adoption of phenolic resins in applications like construction, automotive, and consumer goods increases, propelling the market growth.
Furthermore, technological advancements and product innovations are crucial in driving the market. Manufacturers invest in research and development to enhance the properties of phenolic resins, including improved mechanical strength, heat resistance, and electrical insulation. These advancements led to the developing of new formulations and customized solutions, expanding the market opportunities for phenolic resins.
Moreover, the rapid industrialization observed in emerging economies, particularly in the Asia-Pacific region, significantly contributes to market growth. The increasing manufacturing activities, infrastructure development, and rising consumer demand in these regions create a favorable environment for the consumption of phenolic resins. Additionally, the expanding electrical and electronics sector drives the demand for phenolic resins as they are widely used in electronic components, circuit boards, insulation materials, and laminates due to their excellent electrical insulation properties.
Report Segmentation
The market is primarily segmented based on product, application, end-use, and region.
By Product

By Application

By End-Use

By Region

Novolac

Resols

Solid Resols

Liquid Resols

Others

Wood Adhesives

Molding

Insulation

Laminates

Paper Impregnation

Coatings

Refractory Materials

Friction Materials

Rubber & Tire

Electronics

Abrasives

Building & Construction

Automotive

Electrical & Electronics

Furniture

Others

North America (U.S., Canada)

Europe (France, Germany, UK, Italy, Netherlands, Spain, Russia)

Asia Pacific (Japan, China, India, Malaysia, Indonesia, South Korea)

Latin America (Brazil, Mexico, Argentina)

Middle East & Africa (Saudi Arabia, UAE, Israel, South Africa)
To Understand the Scope of this Report: Speak to Analyst
By Product Analysis
Novolac segment dominated the market in largest revenue share in 2022
The Novolac segment dominated the market with largest revenue shares in 2022 and is poised for significant growth throughout the forecast period. This growth is driven by the increasing awareness of the exceptional properties offered by novolac, including its lightweight composition, high thermal stability, and improved heat resistance. These unique attributes have garnered attention from various end-use industries, such as marine and construction, leading to a surge in demand for novolac.
Furthermore, the automotive sector is expected to contribute substantially to the market's expansion, owing to the high molding capacity of novolac resins. These favorable factors are projected to propel the novolac market's growth trajectory.
By Application Analysis
Wood adhesives segment dominated the market and holds majority of market share
Wood adhesives dominate the market and are projected to maintain majority shares over the forecast period. The growing demand for wood adhesives in the domestic furniture sector is a key driver of this trend. Additionally, increasing awareness among end-use industries about the beneficial properties of wood adhesives, including moisture and water resistance, is expected to create promising growth opportunities for the market. As a result, the wood adhesives market is anticipated to experience sustained growth in the coming years.
The demand for wood adhesives in the domestic furniture sector drives the market. The furniture industry is witnessing steady growth due to increasing urbanization, rising disposable income, and changing consumer lifestyles. As a result, there is a growing need for reliable and high-quality wood adhesives to bond various wooden components used in furniture manufacturing.
By End-Use Analysis
Automotive segment is anticipated to hold largest revenue share of the market
The automotive segment is expected to hold the largest revenue share of the market over the forecast period. The automotive industry is a significant consumer of phenolic molding materials, as they have many applications in this sector. The growing popularity of lightweight materials and electric vehicles, aimed at reducing oil consumption and enhancing vehicle performance, is expected to drive the demand for these materials in the automotive industry.
Additionally, phenolic molding materials are used in household appliances and goods, including steaming iron skirts, cookware knobs and handles, ovens, toasters, and more, where protection against heat is crucial.
Regional Analysis
Asia Pacific is anticipated to grow significantly over the forecast period
Asia Pacific experienced significant growth and is projected to maintain its dominant position in the forecast period. These resins are extensively utilized in manufacturing various automotive components such as braking pads, disc brakes, and disk linings, among others. The region's economic development and consequent rise in disposable income are expected to drive market growth.
Moreover, the demand for consumer electronics and electrical products is rising, further contributing to the increased demand for phenolic resins. These resins are commonly used in the production of circuit boards due to their excellent heat resistance and other functional properties.
In North America, the market is expected to grow substantially during the forecast period, primarily due to its expanding application in the automotive sector. Additionally, the growing production of engineering wood for improving household infrastructure is anticipated to bolster market growth in this region.
Key Market Players & Competitive Insight
The phenolic resins market is highly competitive, with several players vying for market share. Established companies like BASF SE, Hexcel Corp., Owens Corning, and Momentive Specialty Chemicals leverage their extensive experience and global presence to maintain a strong foothold. They focus on product innovation, research and development, and expanding their product portfolios to cater to diverse industrial applications. Emerging players, including Red Avenue New Materials and Zhejiang Hangmo, are gaining prominence by offering eco-friendly solutions and customized formulations to meet specific industry needs. The market's growth is driven by the pursuit of sustainability, technological advancements, and the increasing demand for phenolic resins in various sectors like construction, electronics, and automotive.
Some of the major players operating in the global market include:
Arclin Inc.

Arizona Chemical Company LLC

Asahi Kasei

BASF SE

Changchun Group

DIC Corporation

DYNEA

Georgia Pacific Chemicals

GUN EI Chemical Industry

Hexcel Corp.

Hitachi Chemical Co. Ltd.

Hexion

Kangnam Chemical Co. Ltd.

Kolon Industries Inc.

Momentive Specialty Chemicals

Olympic Panel Products LLC

Owens Corning

Red Avenue New Materials

SI Group Inc.

Sumitomo Bakelite Co. Ltd.

Yushiju Chemical

Zhejiang Hangmo
Recent Developments
In July 2022, DIC Corporation acquired Guangdong TOD New Material Co., Ltd., a prominent Chinese manufacturer of coating resins. This strategic acquisition is expected to significantly enhance DIC Corporation's phenolic resins capacity in the region, enabling them to operate at nearly full production capacity in Asia. By expanding its capabilities, DIC Corporation aims to meet the growing demand for phenolic resins and strengthen its position in the market.

In November 2022, ASK Chemicals Group acquired SI Group's industrial resins business. This purchase includes resin manufacturing sites in Brazil, India, and South Africa and licensed technology and tolling agreements. The acquisition strengthens ASK Chemicals' position in the foundry market and marks its entry into the phenolic industrial resin business.
Phenolic Resins Market Report Scope
| | |
| --- | --- |
| Report Attributes | Details |
| Market size value in 2023 | USD 15.28 billion |
| Revenue forecast in 2032 | USD 24.07 billion |
| CAGR | 5.2% from 2023 – 2032 |
| Base year | 2022 |
| Historical data | 2019 – 2021 |
| Forecast period | 2023 – 2032 |
| Quantitative units | Revenue in USD billion and CAGR from 2023 to 2032 |
| Segments Covered | By Product, By Application, By End-Use, By Region |
| Regional scope | North America, Europe, Asia Pacific, Latin America; Middle East & Africa |
| Customization | Report customization as per your requirements with respect to countries, region and segmentation. |