The global plasma fractionation market was valued at USD 25.55 billion in 2021 and is expected to grow at a CAGR of 6.8% during the forecast period. The increasing geriatric population, high prevalence of infectious diseases, increasing disorders related to blood, and growing population of older adults who can get infected easily are the drivers for the market growth.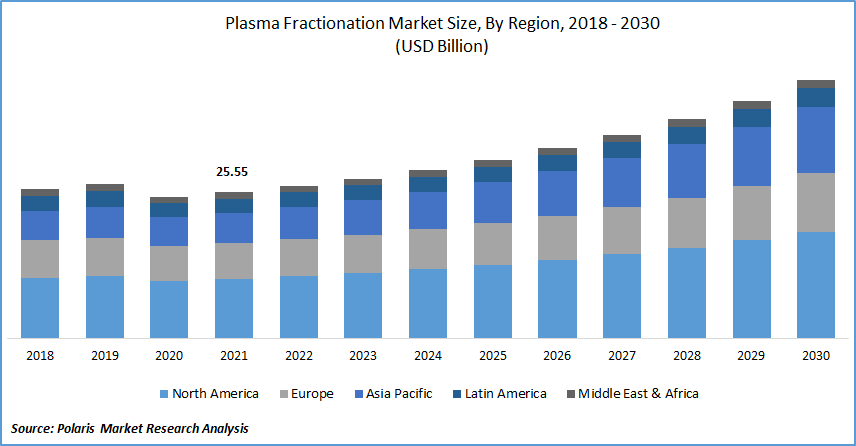 Know more about this report: Request for sample pages
Plasma fractionation is a process of segregating the derivatives of plasma. Many blood collection facilities are available around the globe, and with new technological advancements, blood collection is increasing. The rising government initiatives and investment in R&D in the biotechnology and pharmaceutical sectors are anticipated to boost industry growth.
The growth of the plasma fractionation market was negatively impacted during the COVID-19 pandemic. Raw material shortage and slowdown of supply chain at several places hampered the industry growth. Worldwide lockdown and social distancing impacted the blood donation camp; a shortfall was seen in the blood donation programs; thus, the availability of plasma was restrained. This fractionation therapy was also used in the treatment of COVID-19 and showed a high success rate. However, as activities resumed, the rise in blood donation was noticed and is further expected to grow over the forecast period.
As the R&D in the pharmaceutical & biotechnology sectors is increasing involving plasma treatments, many major players have started working together. The treatment of COVID-19 through plasma fractionation was conducted, and observed that people were fully recovered through this fractionation therapy. It is anticipated that the cost of the fractionation therapy will rise owing to decreasing number of blood donors prone to various diseases.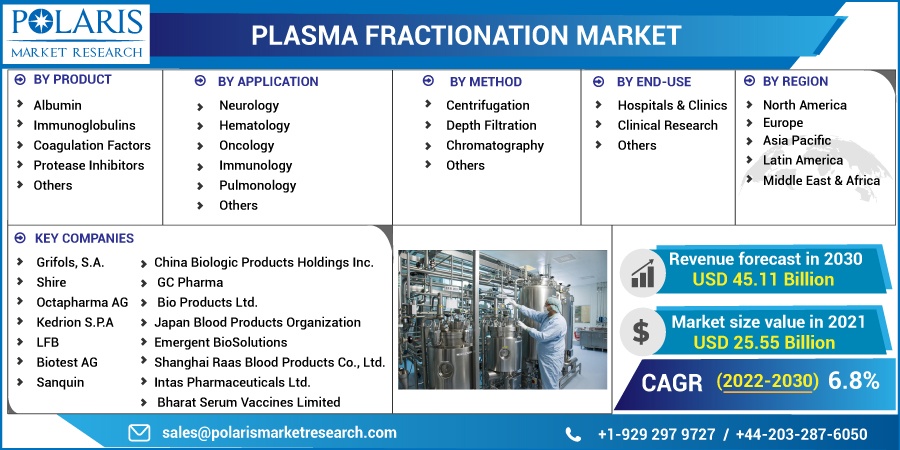 Know more about this report: Request for sample pages
Industry Dynamics
Growth Drivers
Collaboration of significant players in the market for producing plasma-based products, with many governments and corporate initiatives and investments, and increasing R&D activities in various sectors are the major drivers of the industry's growth. Many awareness programs are conducted to encourage people to blood donation. Government and corporates are taking initiatives to increase the awareness among people regarding the use of this fractionation therapy-based products.
The increasing prevalence of infectious diseases among the geriatric population across the globe has initiated much R&D in the sector. Many respiratory infections are increasing due to the changing lifestyle and spreading of disease. New methods are used for treating diseases, and with technological advancement, the industry is expected to flourish. This fractionation therapy is now used for many treatments, and positive success has been noticed.
Report Segmentation
The market is primarily segmented based on product, application, method, end-use, and region.
By Product

By Application

By Method

By End-Use

By Region

Albumin
Immunoglobulins
Coagulation Factors
Protease Inhibitors
Others

Neurology
Hematology
Oncology
Immunology
Pulmonology
Others

Centrifugation
Depth Filtration
Chromatography
Others

Hospitals & Clinics
Clinical Research
Others

North America (U.S., Canada)
Europe (France, Germany, UK, Italy, Netherlands, Spain, Russia)
Asia Pacific (Japan, China, India, Malaysia, Indonesia, South Korea)
Latin America (Brazil, Mexico, Argentina)
Middle East & Africa (Saudi Arabia, UAE, Israel, South Africa)
Know more about this report: Request for sample pages
Immunoglobulin segment accounted for the largest share in 2021
The immunoglobulins market segment accounted for the highest revenue share in 2021, owing to the use of immunoglobulins products in primary and secondary immunodeficiency disorders. Immunoglobulin has various benefits in drug applications, including immunosenescence, administration, identifying metabolic disorders, curing, and immunity-based changes. With the increasing prevalence of infectious diseases, the use of immunoglobulins is expected to expand over the forecast year.
Furthermore, it is also expected that the market for coagulation factors will expand with high blood donation or transplantation, approvals of new medicines, and high bleeding disorders. The coagulation factors are majorly used in bleeding disorders like Hemophilia and Von Willebrand disease.
Oncology segment are expected to spearhead the market growth
Based on application, neurology accounted for the highest share, with an increasing prevalence of neurological diseases and treatment of those by fractionation therapy. Additionally, the rising neurovascular illness like strokes and Alzheimer's in older people is leading to the increased use of plasma-based products for treatment.
Additionally, the oncology segment is expected to grow at a faster CAGR during the forecast period with the use of therapies for the treatment of cancer. The targets can be easily treated and cured through this fractionation therapy, which was not curable before.
Centrifugation segment shared highest revenue
The centrifugation segment dominated the market with a higher revenue share in 2021 and the fastest growth rate over the forecast period. Getting high-quality blood supernatant requires centrifugation. It also helps researchers separate blood consistently, which improves patient clinical outcomes. Thus, the industry expansion would be aided by the rising need for centrifugation tools.
Recently, the use of purification methods and industrial-scale chromatographic fractionation has risen. Coagulation factors, protease inhibitors, and anticoagulants are some of the new therapeutic plasma products that have been created. As a result, chromatography has enabled the development of novel therapeutics for treating patients with congenital or acquired abnormalities in plasma protein levels. It will therefore spur industry expansion.
Hospitals & Clinics segment is supposed to be bolstering growth of the market
In 2021, the hospitals & clinics segment had the most significant revenue share and is expected to grow during the forecast period. The category is predicted to grow considerably because of the rising off-label use of fractionation market products in hospitals to treat several ailments, improved infrastructure, and healthcare services. Furthermore, there is a high demand for these products due to the complicated illnesses that can be addressed in contemporary clinical settings.
Asia Pacific is expected to witness fastest growth over the forecast period
North America dominates the regional market with the highest share owing to increasing awareness and numerous advantages of plasma fractionation market among people and increasing respiratory disorders. The expansion of the regional market is also aided by the existence of key players, an increase in the quantity of blood collection facilities, a rise in the consumption of immunoglobulin, and the availability of plasma due to the viability of plasma collections & distribution.
Asia Pacific is expected to expand the plasma fractionation market due to increasing government, private and public investment in R&D, favorable government regulations, an aging population with blood-related disorders, increased immunoglobulin use, and rising target disease prevalence are all contributing factors to the development of therapies.
Competitive Insight
Some of the major players operating in the global market include CSL, Grifols, S.A., Shire, Octapharma AG, Kedrion S.P.A, LFB, Biotest AG, Sanquin, China Biologic Products Holdings Inc., GC Pharma, Bio Products Ltd., Japan Blood Products Organization, Emergent BioSolutions, Shanghai Raas Blood Products Co., Ltd., Intas Pharmaceuticals Ltd., Bharat Serum Vaccines Limited, SK Plasma, Sichuan Yuanda Shuyang Pharmaceutical Co., Ltd., KabaFusion, Centurion Pharma, ADMA Biologics, Inc., PlasmaGen BioSciences Pvt. Ltd., Virchow Biotech Private Limited, Fusion Healthcare, and Hemarus Therapeutics Limited.
Recent Developments
In April 2022, Octapharma AG addressed the unmet needs of Von Willebrand disease, which is a type of bleeding disorder, as a sponsor of the World Federation of Haemophilia (WFH) 2022.
In June 2022, Permira introduced a new drug in the market against immunodeficiency disorders made with plasma-based products, which are more efficient and quick results.
In September 2022, Grifols made an agreement with Canadian Blood services to expand the business of Immunoglobulins in Canada and help to be self-sufficient.
Plasma Fractionation Market Report Scope
| | |
| --- | --- |
| Report Attributes | Details |
| Market size value in 2021 | USD 25.55 billion |
| Revenue forecast in 2030 | USD 45.11 billion |
| CAGR | 6.8% from 2022 - 2030 |
| Base year | 2021 |
| Historical data | 2018 - 2020 |
| Forecast period | 2022 - 2030 |
| Quantitative units | Revenue in USD billion and CAGR from 2022 to 2030 |
| Segments covered | By Product, By Application, By Method, By End-Use, By Region |
| Regional scope | North America, Europe, Asia Pacific, Latin America; Middle East & Africa |
| Key companies | Grifols, S.A., Shire, Octapharma AG, Kedrion S.P.A, LFB, Biotest AG, Sanquin, China Biologic Products Holdings Inc., GC Pharma, Bio Products Ltd., Japan Blood Products Organization, Emergent BioSolutions, Shanghai Raas Blood Products Co., Ltd., Intas Pharmaceuticals Ltd., Bharat Serum Vaccines Limited |