The global pressure transmitter market was valued at USD 2.7 billion in 2021 and is expected to grow at a CAGR of 3.8% during the forecast period. The market is also driven by the tendency of discrete and process industries to use automated systems & digital communication interfaces in place of old analog transmitters in order to employ remote calibration & diagnostics that improve plant efficiency.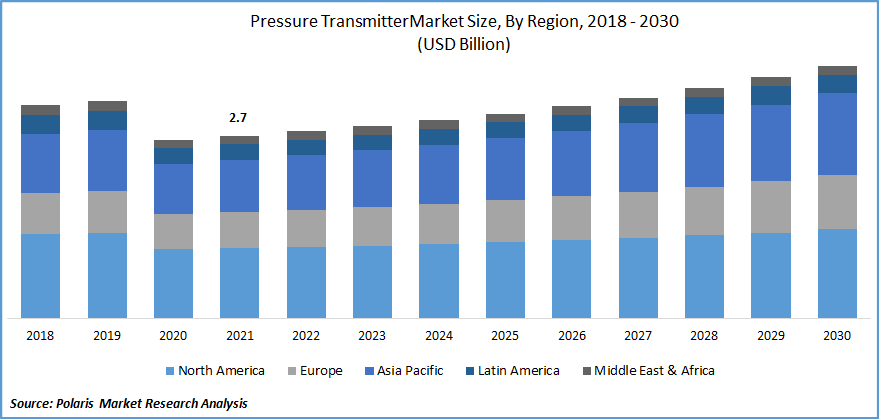 Know more about this report: Request for sample pages
Pressure transmitters are used in the consumer electronics industry for indoor navigation and user-friendly interfaces. They are also used in the healthcare industry to transmit blood pressure data from the catheter to a patient's monitoring system, which spurs the growth of the market.
The term "pressure transmitter" refers to a pressure sensor instrument widely used in industrial and automotive industries that helps detect pressure in fluids, gases, and liquids. They use a variety of techniques to assess the pressure inside the equipment in order to warn about potential disaster circumstances in advance. These monitor heights, depth, pressure loss, and water flow in conjunction with other equipment to stop leaks in the industrial system.
In the industrial and automotive fields, pressure transmitters are commonly used pressure sensor tools that help detect pressure in fluids, gases, and other media. They use various systems to gauge the pressure inside the machinery and send out alerts to warn of potential disaster circumstances.
Additionally, technical developments that reduce human error and increase energy sector investment have a beneficial impact on the market for pressure transmitters.
On the other side, expanding the market is anticipated to be hindered by changing market patterns in the end customer industries. During the projection period of 2021–2030, market development is expected to be hampered by worries about product growth in emerging nations and a rise in the commissioning of "Greenfield" projects.
The worldwide economy and all global industries have been greatly influenced by COVID-19. In the first one to two months of 2020, the COVID-19 epidemic had a negative impact on the market's expansion. A few businesses have experienced significant income losses and have been forced to cease operations. According to estimates, most businesses operate using the just-in-time (JIT) paradigm and are micro, small, & medium-sized businesses (MSMEs). In addition, the epidemic has disrupted the supply chain, which has cost some businesses money.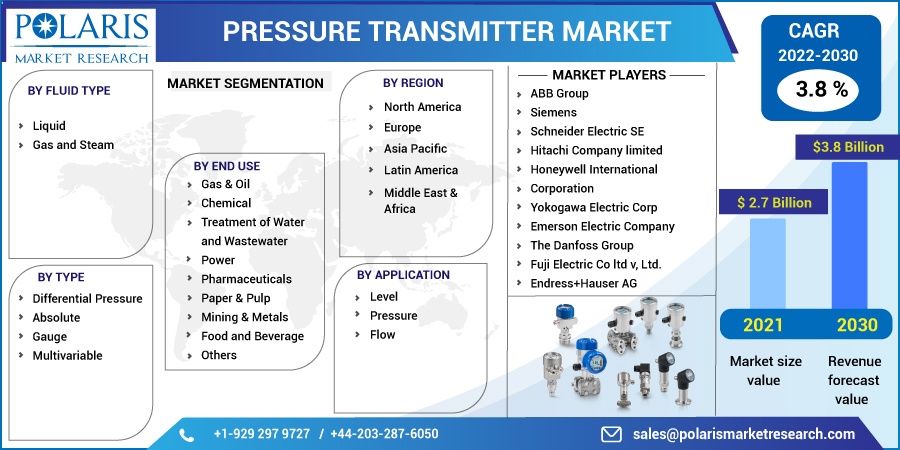 Know more about this report: Request for sample pages
Industry Dynamics
Growth Drivers
Industrial automation systems take out human intervention, which lowers costs associated with labor, waste, and downtime, minimizes errors, improves process quality, and speeds up response and processing times.
One of the essential field instruments used by the measurement & analytics division of an industrial automation suite to provide precise process measurements and improve productivity and safety is a pressure transmitter. These transmitters track and store crucial data that may be used to boost production, spot trends, and adjust to stop reoccurring problems. This improves the effectiveness of manufacturing techniques, lowers the need for maintenance, and boosts overall productivity.
Report Segmentation
The market is primarily segmented based on fluid type, application, type, end use, and region.
By Fluid Type

By Application

By Type

By End Use

By Region

Differential Pressure
Absolute
Gauge
Multivariable

Gas & Oil
Chemical
Treatment of Water and Wastewater
Power
Pharmaceuticals
Paper & Pulp
Mining & Metals
Food and Beverage
Others

North America (U.S., Canada)
Europe (France, Germany, UK, Italy, Netherlands, Spain, Russia)
Asia Pacific (Japan, China, India, Malaysia, Indonesia, South Korea)
Latin America (Brazil, Mexico, Argentina)
Middle East & Africa (Saudi Arabia, UAE, Israel, South Africa)
Know more about this report: Request for sample pages
Gas and steam accounted for the largest market share in 2021
In terms of revenue, the gas and steam sector led the pressure transmitter markets in 2021. Gas pressure transmitters, for example, are transducers that produce an electrical signal in direct proportion to the pressure they sense. Pressure may now be monitored by computers, programmable controllers, microprocessors, and other electronic devices connected to the sensor. Pressure transmitters transfer gas pressure readings to a control or show device via the current output.
Flow is expected to witness significant growth
In 2021, the flow segment's share of revenue in the market was significant. In many sectors, including the food and beverage sector, the result of a procedure is entirely contingent on many factors. Among these factors, the liquid, vapor, or gas flow rate is an important one. Several tools are used to gauge the fluid's flow. Flow transmitter is one of the most crucial equipment. These gadgets, which include sensors, transmit an electronic signal to show whether liquid, gas or a combination of both is flowing.
Multivariable accounted for the largest market
The multivariable category accounted for a sizeable portion of the markets in 2021. The multivariable transmitter measures and computes the mass flow based on temperature, total pressure, & differential pressure. It does away with the requirement for several transmitters and a field mass transfer calculator.
The transmitters significantly reduce ownership costs while enhancing productivity, process efficiency, & plant safety. By integrating integrated sensors, cutting-edge microprocessor technology, and dynamic flow correction, multivariable transmitters offer the most accurate and dependable flow measurement.
Chemical expected to witness significant growth
In terms of revenue, the chemical sector significantly dominated the pressure transmitter markets in 2021. Using remote chemical sealing, pressure transmitters can measure the pressure of very corrosive industrial fluids. The only components of the instruments that contact fluid medium are the housings and diaphragms of the seal elements. Only pure oil is present in the capillary tubes connecting the seals to a transmitter and throughout the transmitter itself.
The demand in Asia Pacific is expected to witness significant growth
Regarding revenue, the Asia Pacific region accounted for a sizeable portion of the markets in 2021. Due to growing energy consumption, increased chemical exports, and the building of industrial- & utility-grade wastewater treatment facilities, pressure transmitter sales are expected to rise in the Asia Pacific area. The region's growing chemical & beverage & food industries are another important factor driving the rise of markets there.
Competitive Insight
Some of the major players operating in the global market include ABB Group, Siemens, Schneider Electric SE, Hitachi, Company limited, Honeywell International, Corporation, Yokogawa Electric Corp, Emerson Electric Company, The Danfoss Group, Fuji Electric Co ltd v, Ltd., and Endress+Hauser AG.
Recent Developments
Mar-2021: KROHNE Group offers two new pressure transmitters Fiplex OPTIBAR PSM 1010 & OPTIBAR PSM 2010. They are primarily intended for gauge & absolute pressure monitoring for liquids and gases.
In January 2022, Danfoss introduced DST P650 pressure transmitter, built for harsh conditions and including a scalable and intelligent diagnostics platform.
In June 2021, Huba Control introduced the 555-pressure transmitter, intended for alternative-drive systems & suitable for high-temperature applications.
Pressure Transmitter Market Report Scope
| | |
| --- | --- |
| Report Attributes | Details |
| Market size value in 2022 | USD 2.8 Billion |
| Revenue forecast in 2030 | USD 3.8 Billion |
| CAGR | 3.8% from 2022 – 2030 |
| Base year | 2021 |
| Historical data | 2017 – 2021 |
| Forecast period | 2022 – 2030 |
| Quantitative units | Revenue in USD billion and CAGR from 2022 to 2030 |
| Segments Covered | By Fluid Type, By Application, By Type, By End Use, By Region |
| Regional scope | North America, Europe, Asia Pacific, Latin America, Middle East & Africa |
| Key Companies | ABB Group, Siemens, Schneider Electric SE, Hitachi, Company limited, Honeywell International, Corporation, Yokogawa Electric Corp, Emerson Electric Company, The Danfoss Group, Fuji Electric Co ltd v, Ltd., and Endress+Hauser AG |