The global primary cells market size was valued at USD 955.0 million in 2020 and is expected to grow at a CAGR of 8.4% during the forecast period. The primary cell culture market is experiencing growth owing to the increasing geriatric population, rising cases of chronic diseases, and advancements in research and development. The pharmaceutical market worldwide is attracting significant investments for advanced drug development and testing.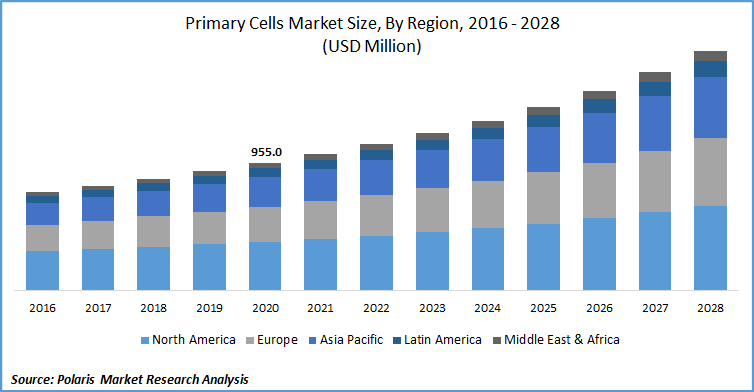 Know more about this report: Request for sample pages
Primary cells are widely used in applications such as 3D cell culture, virology, cancer research, stem cell therapy, and tissue replacement among others. Researchers are increasingly using the product for 3D cell culture to analyze cell biology and biochemistry, the effect of drugs, cell signaling, and cell & pathogen interaction.
The pharmaceutical sector uses of the product for examining cytotoxicity of drugs, production of biomolecules, and vaccine development. The use of primary cells prevents the use of animal models for the production of vaccines. Viruses can be detected and isolated through primary cells to analyze the mode of infection.
Industry Dynamics
Growth Drivers
There has been a rising occurrence of cancer and associated disorders, thereby increasing the adoption of primary product. Primary cells are imparted cancerous properties through exposure to chemicals and radiation for analysis of drug performance, signaling pathways, and side effects of treatments. Genetically engineered proteins such as insulin and monoclonal antibodies can also be developed through primary cells.
The increasing adoption of stem cell therapy for the treatment of cancer and genetic disorders has increased the demand for primary cells across the globe. Primary cell cultures are used for the development of cells for tissue regeneration or replacement of deficient cells.
The primary cell culture market is expected to be driven by factors such as technological advancements, rising cases of cancer-related disorders, and the growing need to develop drugs for the treatment of cancer and genetic disorders. The increasing requirement of monoclonal antibodies, growing application in genetic engineering and virology, and rising demand from developing countries are fueling the market growth.
Governments across the globe are introducing regulations to support the growth of the primary cell culture market. The global primary cell culture market is also influenced by the economic growth in countries such as China, Japan, and India, rising healthcare and pharmaceutical expenditure. Global players are expanding into these countries to tap market potential, further boosting the market growth.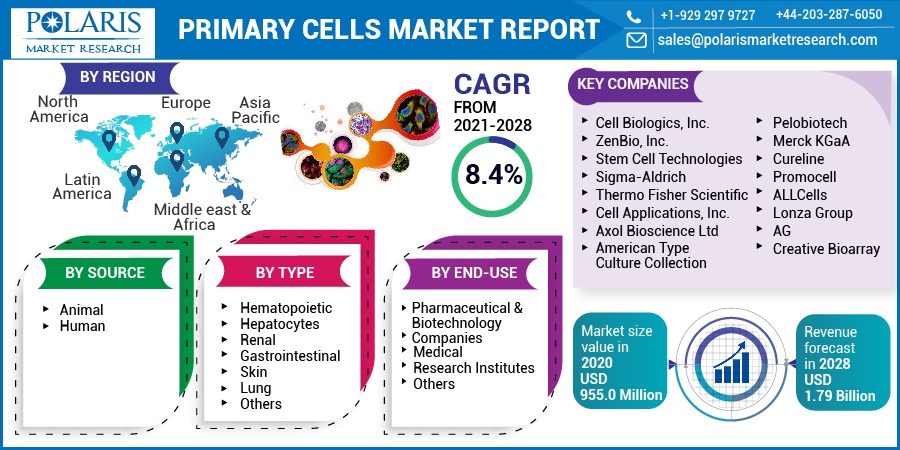 Know more about this report: Request for sample pages
Primary Cells Market Report Scope
The market is primarily segmented on the basis of source, type, end-use, and region.
By Source

By Type

By End-Use

By Region

Hematopoietic
Hepatocytes
Renal
Gastrointestinal
Skin
Lung
Others

Medical
Pharmaceutical & Biotechnology Companies
Research Institutes
Others

North America (U.S., Canada)
Europe (Germany, UK, France, Italy, Spain, RoE)
Asia Pacific (China, India, Japan, South Korea, RoAPAC)
Latin America (Brazil, Mexico, Colombia, RoLATAM)
MEA (Saudi Arabia, South Africa, Israel, UAE, RoMEA)
Know more about this report: request for sample pages
Source Outlook
On the basis of source, the market is segmented into animal and human. The human primary cells segment accounted for a major share owing to significant growth in cancer cases worldwide. Human primary cells provide a superior cell culture system capable of generating physiologically relevant data. The increasing need for human source for providing in vivo state for various applications such as drug discovery, gene therapy, and cancer research among others increases its demand.
Type Outlook
The type market segment has been divided into hematopoietic, hepatocytes, renal cells, gastrointestinal cells, skin cells, lung cells, and others. The hematopoietic cells accounted for a major share of the global primary cell culture market. Increasing application in cancer-based research, toxicology screening programs, drug development, and environmental testing has increased the demand for these cells. The growing adoption of hematopoietic cells in stem cell therapy further boosts its demand.
End-Use Outlook
On the basis of end-use, the market is segmented into medical, pharmaceutical & biotechnology companies, research institutes, and others. Pharmaceutical and biotechnology companies are increasingly using of the product for pharmaceutical drug discovery to address genetic and autoimmune disorders, injury, and inflammation. Pharmaceutical companies also use primary cells for cytotoxicity of new drugs and drug carriers. The market demand for primary cells has increased from this segment as a replacement for animal testing models for testing new drugs and chemicals.
Regional Outlook
North America dominated the global primary cells market in 2020. The increasing occurrence of cancer and related diseases, growing research and development activities, and technological advancements are some factors attributed to the growth of this regional segment. The established healthcare infrastructure and increasing investments in research, technological innovation, and clinical trials drive the growth of this region. Public-private collaborations for advancements in biotechnology and biopharmaceutical sectors further supplement the growth of the primary cell culture market.
Competitive Landscape
The leading players in the primary cells market include Cell Biologics, Inc., ZenBio, Inc., Stem Cell Technologies, Sigma-Aldrich, Thermo Fisher Scientific, Cureline, American Type Culture Collection, Cell Applications, Inc., Pelobiotech, Merck KGaA, Axol Bioscience Ltd, Promocell, ALLCells, Lonza Group, AG, and Creative Bioarray.