The global radiation oncology market was valued at USD 6.83 billion in 2020 and is expected to grow at a CAGR of 7.1% during the forecast period. The increasing acceptance of radiation treatment, rising cancer prevalence, advent of innovative technologies, increasing elderly population, and widening medicinal services awareness, are some of the key factors that will possibly increase the growth of the global oncology market during the forecasted period.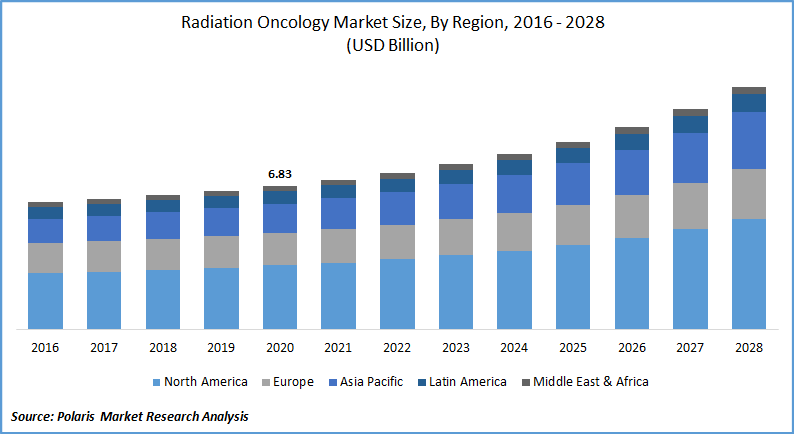 Know more about this report: request for sample pages
Government funding through constant reimbursement and research and development applied to various applications are other factors driving the concerned oncology market growth. The markets in the emerging economies are projected to expand during the forecasted era due to rising medical spending, an increasing patient pool, and increased public knowledge of healthcare.
One of the primary driving forces behind the radiation oncology market's expansion is the rising incidence of cancer. According to the World Health Organization, the number of new cancer patients is projected to increase by 70% in the next two decades. Furthermore, during the forecast period, technological advances to improve the efficient treatment through medical oncology are expected to fuel the global oncology market.
The advances aided the development of more efficient radiotherapy products by making them easier to use, less expensive, and more accessible. Also, the combination of 2D and 3D conformal radiotherapy and real-time imaging enhanced the diagnosis of a tumor.
Industry Dynamics
Growth Drivers
The rise in cancer cases across the globe is the major factor that is driving the growth of the global concerned oncology market. The cancer burden across the globe has seen a significant rise in the past decade owing to unhealthy diets and tobacco consumption. It is projected that over 27 million cases will be diagnosed every year, by 2040. Lung cancer and breast cancer are the most common type of cancers diagnosed worldwide.
Lung cancer contributes to over 10% of all cancer cases and it affects over 2 million people per annum. Breast cancer is the major type of cancer affecting the global population and it was diagnosed in estimated 2.3 million people. Radiation therapy is one of the major kinds of treatment methods to cure cancer and it is employed in the treatment of over half of patients.
In recent years there is a huge leap in technology in oncology treatment methods such as 4D radiation therapy. It is a kind of radiotherapy that uses high-energy radiation beams to kill cancer cells and it reduces side effects as it will cause minimal damage to the surrounding healthy tissues.
There is also increased adoption of techniques such as Surface Guided Radiation Therapy (SGRT). SGRT is an imaging technique that will help in the positioning of patients along with real-time feedback. Recent developments in SGRT include accelerated partial breast irradiation, pediatrics, and particle radiotherapy.
The increase in cancer cases has increased the demand for cancer treatment procedures which has resulted in the launch of new oncology products. Recently, in August 2020, Accuray Incorporated launched CyberKnife S7 System. It is an innovative CyberKnife platform that delivers accurate robotic precision and integrated, AI-driven, real-time motion synchronization for stereotactic radiosurgery (SRS) and SBRT therapies everywhere in the body.
Elekta launched Harmonylinear accelerator in, September 2020. This LINAC system has increased precision and versatility that will help in the treatment of various kinds of cancer. Healthcare facilities are increasingly installing new radiotherapy solutions. For instance, the ProBeam Compact single-room proton therapy system was installed by Varian at the University of Miami Miller School of Medicine.
The funding is also increased for radiation oncology solutions to develop innovative products. Cancer Research UK funded £56m to develop proton beam technology in, November 2019. The funding was given to seven UK centers that include Manchester University that was given £16.5m along with other Universities such as Oxford, Leeds, Cambridge, and Glasgow universities.
The COVID-19 pandemic is expected to have minimal effect on the growth of the global radiation oncology market since cancer treatments across the globe are deemed extremely critical and even during the peak of the pandemic, cancer treatments were conducted in hospitals.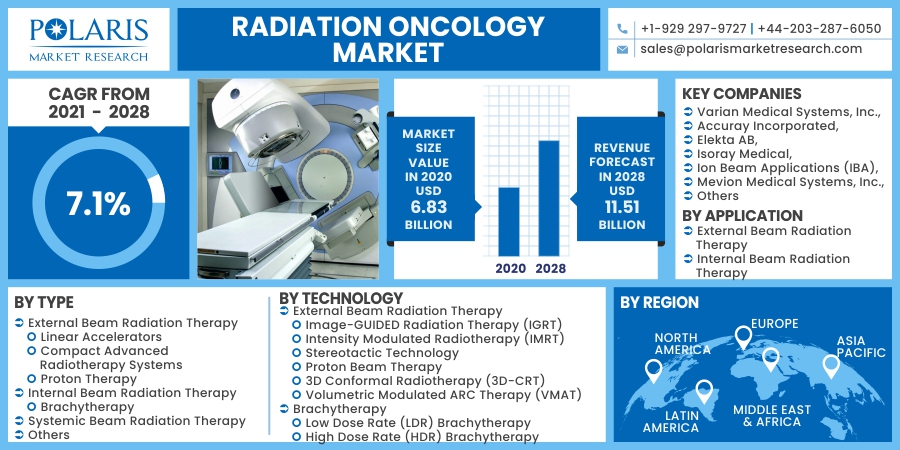 Know more about this report: request for sample pages
Radiation Oncology Market Research Scope
The market is primarily segmented on the basis of type, technology, application and region.
By Type

By Technology

By Application

By Region

External Beam Radiation Therapy

Linear Accelerators
Compact Advanced Radiotherapy Systems

Cyberknife
Gamma Knife
Tomotherapy

Proton Therapy

Internal Beam Radiation Therapy

Brachytherapy

Seeds
Applicators and Afterloaders
Electronic Brachytherapy

Systemic Beam Radiation Therapy
Others

External Beam Radiation Therapy

Image-GUIDED Radiation Therapy (IGRT)
Intensity Modulated Radiotherapy (IMRT)
Stereotactic Technology
Proton Beam Therapy
3D Conformal Radiotherapy (3D-CRT)
Volumetric Modulated ARC Therapy (VMAT)

Brachytherapy

Low Dose Rate (LDR) Brachytherapy
High Dose Rate (HDR) Brachytherapy

External Beam Radiation Therapy

Prostate Cancer
Breast Cancer
Lung Cancer
Head and Neck Cancer, Colorectal Cancer
Others

Internal Beam Radiation Therapy

Prostate Cancer
Gynecological Cancer
Breast Cancer
Cervical Cancer
Penile Cancer
Others

North America (U.S., Canada)
Europe (France, Germany, Italy, Spain, UK, Netherlands, Austria)
Asia Pacific (China, India, Japan, South Korea, Indonesia, Malaysia)
Latin America (Argentina, Brazil, Mexico)
Middle East & Africa (Israel, Saudi Arabia, South Africa, UAE)
Know more about this report: request for sample pages
Insight by Type
The External Beam Radiation Therapy (EBRT) segment generated the highest market revenue in 2020, due to the comparatively higher price of the equipment, and large installed base of EBRT equipment. The most commonly used form of radiation therapy is EBRT.
Brachytherapy is expected to gain a substantial share of the global concerned oncology market during the forecast timeframe owing to factors such as shorter hospital stays and quicker recovery. The segment is also expected to expand, leading to the advent and approval of innovative brachytherapy devices for the treatment of various cancer types. For instance, GT Medical Technologies announces FDA clearance of extended application for GammaTile Therapy, in January 2020.
Insight by Application
The EBRT segment generated the highest revenue in 2020. EBRT-based breast cancer treatment accounted for a large share in 2020 owing to its high efficacy and support awareness campaigns. Additionally, due to the rising prevalence of lung cancer, EBRT-based lung cancer treatment is expected to rise at the fastest market growth.
Lung cancer is forecast to rise from 2.21 million cases in 2020 to 2.9 million cases, by 2030, according to the International Agency for Research on Cancer. Radiotherapy is used to treat non-small cell lung cancer and small cell lung cancer, either alone or in combination with chemotherapy, pre-or post-surgery.
Geographic Overview
North America will be the biggest market for the concerned oncology products during the forecast timeframe, owing to an increase in cancer cases, adoption of modern technologies along favorable reimbursement policies. In 2020, the U.S. alone accounted for nearly 1.8 million cases and over 0.6 million deaths. The number of new lung cancer cases was estimated to be 235,760, in 2020.
In addition, over 3 million people are living with prostate cancer in the US, in 2018. In the past decade, there is a significant rise in radiation facilities in the U.S. The number of such facilities has jumped from 1,987 in 2005 to 2,332, in 2020.
The Asia Pacific will be the fastest-growing market over the forecast period, owing to increased healthcare spending, improved healthcare infrastructure, and increased cancer cases. China alone accounts for 24% of all cancer cases globally.
Nearly 13.9 lakh cancer cases were diagnosed in India, in 2020, and the number of new cases per year is expected to be 1.57 million, by 2025. China and India are expected to install 3,800 and 1,200 additional machines respectively, by 2035.
Competitive Insight
The companies involved in the development and manufacturing of radiation oncology solutions are significantly investing in R&D for developing new innovative products. Many new products are coming into the market and companies have raised funds and have entered into collaborations to increase their global presence.
Some of the major players operating in the oncology market include Varian Medical Systems, Inc., Accuray Incorporated, Elekta AB, Isoray Medical, Ion Beam Applications (IBA), Mevion Medical Systems, Inc., C.R. BARD, INC. (BD), NTP Radioisotopes SOC Ltd., Nordion Inc., Nordion Inc., and Viewray Technologies, Inc.