The global rain barrels market was valued at USD 2,068.43 million in 2022 and is expected to grow at a CAGR of 5.5% during the forecast period.
Growing government initiatives in countries like India are creating new growth potential for the rain barrels market. The Ministry of Jal Shakti, Department of Water Resources, RD & GR, is actively implementing the Atal Bhujal Yojana (Atal Jal) to promote sustainable groundwater management with community participation.

To Understand More About this Research: Request a Free Sample Report
This scheme focuses on addressing water stress issues in 81 water-stressed districts and 8,774 Gram Panchayats across seven states. It integrates innovative recharge structures, including rainwater harvesting structures, to effectively manage and replenish groundwater resources. The emphasis on rainwater harvesting creates awareness and promotes the adoption of rainwater harvesting systems, including rain barrels. As a result, the demand for rain barrels is expected to increase, driving market growth.
Industry Dynamics
Growth Drivers
Growing awareness program on rain barrels is fuelling the growth and demand for the product.
The partnership between the Village of Itasca and the Conservation Foundation is driving the growth and demand for rain barrels in the market. By promoting the purchase of rain barrels, the Conservation Foundation and the Village of Itasca are actively encouraging residents to embrace eco-friendly practices. Rain barrels offer cost savings for residents and have positive environmental benefits. Through this partnership, residents can save up to 60% on the purchase of their rain barrels, making them more affordable and accessible. The availability of a subsidy specifically for Village of Itasca water customers further incentivizes residents to invest in rain barrels. This financial assistance reduces the barrier to entry and encourages greater participation in rainwater harvesting initiatives. As more residents participate in rainwater harvesting by purchasing rain barrels, it creates a ripple effect within the community, driving sustained market growth through positive word-of-mouth and shared experiences.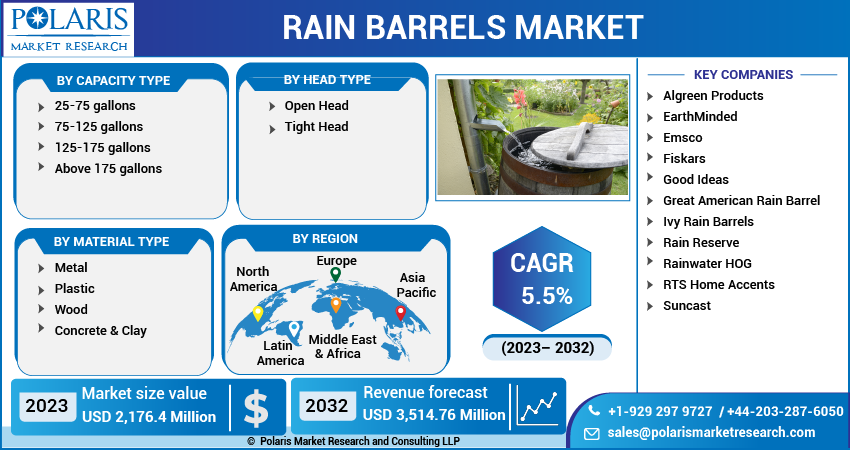 For Specific Research Requirements, Speak With Research Analyst
Report Segmentation
The market is primarily segmented based on capacity type, material type, head type and region.
By Capacity Type

By Material Type

By Head Type

By Region

25-75 gallons

75-125 gallons

125-175 gallons

Above 175 gallons

Metal

Plastic

Wood

Concrete & Clay

North America (U.S., Canada)

Europe (France, Germany, UK, Italy, Netherlands, Spain, Russia)

Asia Pacific (Japan, China, India, Malaysia, Indonesia, South Korea)

Latin America (Brazil, Mexico, Argentina)

Middle East & Africa (Saudi Arabia, UAE, Israel, South Africa)
To Understand the Scope of this Report: Speak to Analyst
By Capacity Type Analysis
25-75 segment is expected to witness fastest growth over the forecast period
25-75 segment is expected to have faster growth for the market. This capacity range is particularly suitable for residential use. Many homeowners with smaller gardens or limited outdoor space find this size range practical and convenient. As more households recognize the benefits of rainwater harvesting for watering plants, gardens, and other outdoor uses, the demand for rain barrels within this capacity segment grows. Rain barrels in the 25-75 gallons range are generally more accessible and easier to install compared to larger capacities. They can be set up near downspouts or in smaller areas, making them a popular choice for homeowners who want to start harvesting rainwater without significant modifications or space requirements. The ease of installation encourages more people to adopt rainwater harvesting, driving the growth of the market.
By Material Type Analysis
Plastic segment projected to register with the largest market share
Plastic segment holds the largest market share for the market in the study period. These types of barrels are widely available in the market, making them easily accessible to consumers. They are often more affordable compared to rain barrels made of other materials such as metal, wood, or concrete. The lower price point attracts a larger customer base, including budget-conscious individuals, thereby driving the growth of the market. These are lightweight, making them easier to handle, transport, and install. This characteristic is particularly advantageous for homeowners who may need to move or reposition the rain barrel as per their requirements. The ease of installation encourages more people to adopt rainwater harvesting, contributing to the growth of the market. Plastic rain barrels are designed to be durable and long-lasting. They are resistant to rust, corrosion, and rotting, making them suitable for outdoor use. Additionally, plastic rain barrels require minimal maintenance compared to other materials. These qualities make plastic rain barrels a popular choice among consumers seeking a low-maintenance and durable rainwater harvesting solution.
By Head Type Analysis
Open Head segment is expected to hold the larger revenue share
Open Head segment is projected to witness a larger revenue share in the coming years. These rain barrels are designed with a removable lid or top, providing easy access to the interior for filling, cleaning, and maintenance. This convenience appeals to homeowners who value easy access to the stored rainwater and prefer a hassle-free experience. They offer versatility in water collection methods. They can be easily connected to downspouts or other rainwater collection systems, allowing efficient water flow into the barrel. This flexibility makes open head rain barrels suitable for various rainwater harvesting setups, including both residential and commercial applications. This rain barrels are available in various colors, styles, and designs, allowing homeowners to choose a rain barrel that matches their aesthetic preferences. This visual appeal makes open head rain barrels more attractive and desirable, contributing to their growing popularity.
Regional Insights
Asia Pacific registered with the highest growth rate in the study period
APAC is projected to witness a higher growth rate for the market. Many countries in the Asia Pacific region face water stress and scarcity due to various factors, including population growth, urbanization, and climate change. Limited access to clean and sufficient water resources creates a need for alternative water management solutions. Rainwater harvesting using rain barrels provides a decentralized and sustainable approach to mitigate water scarcity by utilizing rainwater as a valuable resource.
According to the Asian Development Bank, 1.2 billion people in the region lack access to basic sanitation, and despite improvements in the water sector over the past 20 years, about 500 Mn people across the region lack access to basic water needs. The significant number of people without access to basic water supplies underscores the region's water scarcity challenges.
Rain barrels provide an accessible solution for individuals and communities to collect and store rainwater, ensuring a more reliable water source during dry spells or when access to clean water is limited. The use of rain barrels helps mitigate the impact of water scarcity, driving the demand for such solutions in the market.
North America garnered with the larger revenue share in the forecast time frame
North America is expected to witness a larger revenue share for the market. Governments at various levels, including local, state, and federal, are promoting rainwater harvesting and providing incentives to encourage its adoption. These incentives can include tax credits, rebates, or subsidies for the purchase and installation of rain barrels.
For instance, the City of Austin provides generous incentives and rebates to promote the adoption of rainwater harvesting systems. They offer rebates of up to USD 5,000 per site for rainwater harvesting systems, with different rebate rates depending on the type of system. For rain tank systems without a pump, the rebate is up to USD 0.5/gallon, while for rain tank systems with a pump, the rebate goes up to USD 1/gallon.
These incentives make rainwater harvesting systems more accessible and affordable for residents, incentivizing them to invest in these systems and contribute to sustainable water management practices. Such support from governments acts as a driving force for the growth of the rain barrels market.
Key Market Players and Competitive Insight
Key players in the market are constantly upgrading their technologies to stay ahead of the competition and to ensure efficiency, integrity, and safety. They providing a variety of rain barrels to their customers to fulfill their needs. These players focus on partnership, product upgrades, and collaboration to gain a competitive edge over their peers and capture a significant market share.
Some of the major players operating in the global market include
Algreen Products

EarthMinded

Emsco

Fiskars,

Good Ideas

Great American Rain Barrel

Ivy Rain Barrels

Rain Reserve

Rainwater HOG

RTS Home Accents

Suncast
Recent Developments
In May 2023, The City of Cedar Park introduced the Rain Barrel Credits Program. This program is exclusively available to the residential water customers residing within the corporate City limits of the Cedar Park.

In February 2023, The Regional Water Authority (RWA) initiated its yearly rain barrel sale, providing customers with an opportunity to purchase barrels at the manufacturer's cost. This discount, aims to encourage customers to utilize water in a more responsible and sustainable manner.
Rain Barrels Market Report Scope
| | |
| --- | --- |
| Report Attributes | Details |
| Market size value in 2023 | USD 2,176.4 million |
| Revenue forecast in 2032 | USD 3,514.76 million |
| CAGR | 5.5% from 2023 - 2032 |
| Base year | 2022 |
| Historical data | 2019 - 2021 |
| Forecast period | 2023 - 2032 |
| Quantitative units | Revenue in USD million and CAGR from 2023 to 2032 |
| Segments covered | By Capacity Type, By Material Type, By Head, By Region |
| Regional scope | North America, Europe, Asia Pacific, Latin America, Middle East & Africa |
| Customization | Report customization as per your requirements with respect to countries, region and segmentation |