The global rare disease genetic testing market was valued at USD 784.32 million in 2021 and is expected to grow at a CAGR of 13.9% during the forecast period. Rising technological advancements, the increasing prevalence of chronic disorders, and the development of customized testing kits for specific therapeutic areas are the reasons for boosting the market's growth.

Know more about this report: Request for sample pages
The increased higher-quality registries, advanced data collection, and interpretation technologies used in clinical practices are collectively expanding the market growth. For instance, Centogene N.V. combines genetic testing with metabolomics or proteomics to increase the effectiveness of the data analysis. Additionally, a system was created to facilitate sample collection, which encouraged the use of genetic tests to identify rare disorders, which as a result, accelerated the market's growth.
Growing government and regulatory support in emerging countries have brought lucrative opportunities for researchers, as well as patients. For instance, in March 2021, the Indian government launched the National Policy for Rare Diseases (NPRD), which supports up to Rs.50 lakhs for patients suffering from any rare disease listed in the Centre of Excellence (COE) of NPRD. However, lack of a regulatory framework in emerging economies, combined with a shortage of trained healthcare personnel, is limiting the market's growth.
The Covid-19 pandemic has negatively impacted the global market as the rare disease condition needs specialized clinical trials. Also, the patient suffering from the rare disease needs special attention. Due to the pandemic, they have experienced a severe lack of necessary routine clinical treatments, counseling, and therapies, which has increased their vulnerability and made them feel more marginalized. Additionally, there was a disruption in clinical trials of rare diseases, as all the attention of researchers was shifted toward Covid-19.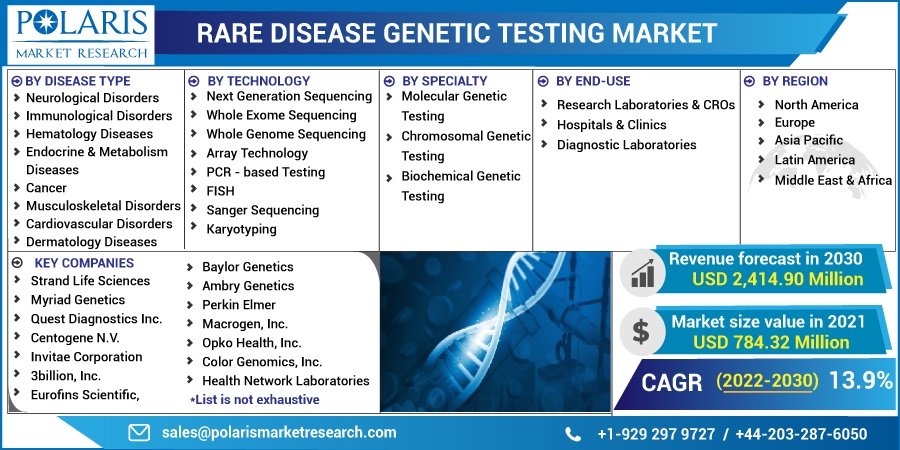 Know more about this report: Request for sample pages
Industry Dynamics
Growth Drivers
The growing demand for early diagnosis, technological advancements such as NGS and microarray, and declining sequencing prices are major factors driving industry growth. In addition, the rapidly increasing translational research activities to enhance the analysis and identification of novel mutations are expected to contribute to industry growth.
Moreover, increased product innovations for rare disease diagnosis have driven the market's growth. For instance, Illumia SPA developed a whole-genome sequencing (WGS) test for rare disease diagnosis, which offers key advantages such as greater diagnostic yield, improved operational efficiency, and cost-effectiveness. Such innovations are anticipated to drive the market's growth.
Report Segmentation
The market is primarily segmented based on disease type, technology, specialty, end-use, and region.
By Disease Type

By Technology

By Specialty

By End-use

By Region

Neurological Disease
Immunological Disorders
Hematology Diseases
Endocrine & Metabolism Diseases
Cancer
Musculoskeletal Disorders
Cardiovascular Disorders
Dermatology Disease
Others

Next-Generation Sequencing
Whole Exome
Whole Genome
Array Technology
PCR-based Testing
FISH
Sanger Sequencing
Karyotyping

Molecular Genetic Tests
Chromosomal Genetic Tests
Biochemical, Genetic Tests

Research Laboratories & Cros
Hospitals & Clinics
Diagnostic Laboratories

North America (U.S., Canada)
Europe (France, Germany, UK, Italy, Netherlands, Spain, Russia)
Asia Pacific (Japan, China, India, Malaysia, Indonesia. South Korea)
Latin America (Brazil, Mexico, Argentina)
Middle East & Africa (Saudi Arabia, UAE, Israel, South Africa)
Know more about this report: Request for sample pages
Endocrine and metabolism diseases accounted for the largest market share in 2021
Endocrine and metabolism diseases acquired the largest market revenue. Increasing need for molecular and genetic causes of endocrine diseases such as Cushing's syndrome boost segment growth. Furtherly, identifying inherited mutations in primary pigmented nodular adrenocortical disease and bilateral macronodular adrenal hyperplasia is anticipated to accelerate the segment.
The immunological disorders segment is expected to account for the second-highest revenue share, as Multiple Sclerosis (MS) is one of the most prevalent rare diseases. Its genetic profile is one of the critical focus areas among researchers in this area, primarily obtaining relevant insights into the causes and underlying physiology of diseases, leading to market growth.
Next-generation sequencing technology holds a significant market share
The next-generation sequencing segment will account for a considerable market share in 2021. The growing use of next-generation sequencing-based gene panels for neurologic disease, cancer, pediatric conditions, cardiovascular disease, psychiatric disorders, and other disease testing has fueled the segment's expansion.
Next-generation sequencing is further categorized as whole exome and whole genome. The medical acceptance of whole exome sequencing-based gene tests has fueled the development of next-generation sequencing technology, propelling the rare disease genetic testing market.
Molecular genetic tests are expected to hold the considerable revenue share
The molecular genetic tests segment is expected to account largest market share. It is also the fastest-growing segment during the forecast period due to advanced technologies and expertise in managing high throughput technologies in clinical settings.
To find the mutations or other abnormalities that cause genetic illnesses, molecular genetic testing techniques look at single genes and short lengths of DNA. This approach can be used for rare and ultra-rare diseases, which are expected to drive the market for rare disease genetic testing as well as the expansion of the molecular genetic tests segment.
Genome sequencing is the most common advanced testing technique. It is easily available in both research and clinical settings with low-cost sequencing tests and promotes the ongoing creation of new tests based on next-generation sequencing.
The biochemical and genetic tests segment is expected to grow fastest over the forecast period as it can identify alterations in DNA that could result in metabolic diseases, as well as the quantity, activity, and related abnormalities of proteins.
Research lab & CROs segment is accounted for the largest growth rate
Research lab and CROs account for the most significant revenue for the rare disease genetic testing market share. In many instances, laboratories are the primary end users. They offer many testing specialties, including molecular genetic tests, chromosomal genetic tests, and biochemical, genetic tests.
Furthermore, molecular genetic testing-based laboratory testing is expanding rapidly globally. Numerous labs do genetic testing, including CLIA-approved, for characteristics including clinical cytogenetics, pathology, and chemistry, among others.
The diagnostic laboratories segment is anticipated to grow fastest over the forecast due to increased collaborations and partnership activities of diagnostic laboratories with genetic testing companies.
North America is projected for the largest market share
North America is projected for largest market share due to the growing prevalence of rare diseases, numerous disease registries, a considerable number of R&D centers for ultra-rare diseases, and huge investments in disease detection.
According to the National Institutes of Health, almost 30 million Americans are diagnosed with one of the 7,000+ rare diseases. An increase in patients undergoing disease testing has increased the market's growth.
Competitive Insight
Some of the major players operating in the global market include 3billion, Inc., Ambry Genetics, Artemis DNA, Arup Laboratories, Baylor Genetics, Centogene N.V., Color Genomics, Inc., Coopersurgical, Inc., Eurofins Scientific, Fulgent Genetics Inc., Genomenon, Health Network Laboratories, Invitae Corp., Laboratory Corporation of America Holdings, Macrogen, Inc., Myriad Genetics, Inc., Opko Health, Inc., Perkin Elmer, Inc., PreventionGenetics, Progenity, Inc., Quest Diagnostics Inc., Realm IDX, Inc., and Strand Life Sciences.
Recent Developments
In November 2021, Genomenon collaborated with Alexion to empower the genetic testing laboratories with the data they need to diagnose rare diseases.
Rare Disease Genetic Testing Market Report Scope
| | |
| --- | --- |
| Report Attributes | Details |
| Market size value in 2022 | USD 852.32 million |
| Revenue forecast in 2030 | USD 2,414.90 million |
| CAGR | 13.9% from 2022 - 2030 |
| Base year | 2021 |
| Historical data | 2018 - 2020 |
| Forecast period | 2022 - 2030 |
| Quantitative units | Revenue in USD million and CAGR from 2022 to 2030 |
| Segments Covered | By Disease Type, By Technology, By Specialty, By End-Use, By Region |
| Regional scope | North America, Europe, Asia Pacific, Latin America; Middle East & Africa |
| Key Companies | 3billion, Inc., Ambry Genetics, Artemis DNA, Arup Laboratories, Baylor Genetics, Centogene N.V., Color Genomics, Inc., Coopersurgical, Inc., Eurofins Scientific, Fulgent Genetics Inc., Genomenon, Health Network Laboratories, Invitae Corp., Laboratory Corporation of America Holdings, Macrogen, Inc., Myriad Genetics, Inc., Opko Health, Inc., Perkin Elmer, Inc., PreventionGenetics, Progenity, Inc., Quest Diagnostics Inc., Realm IDX, Inc., Strand Life Sciences. |