The global recloser market was valued at USD 1,019.33 million in 2022 and is expected to grow at a CAGR of 5.6% during the forecast period. The recloser market is witnessing steady growth due to increasing demand for automated electric switches used to detect and resolve issues in high-voltage electrical lines. Reclosers play a crucial role in identifying and fixing outages or defects, resetting temporary situations, and protecting power lines from incidents, making their usage essential in ensuring uninterrupted power supply and the efficient functioning of electric grids. Increase in investments in distribution automation and grid modernization, technological development, and improvements in power quality and reliability, propelling the market growth at a rapid pace.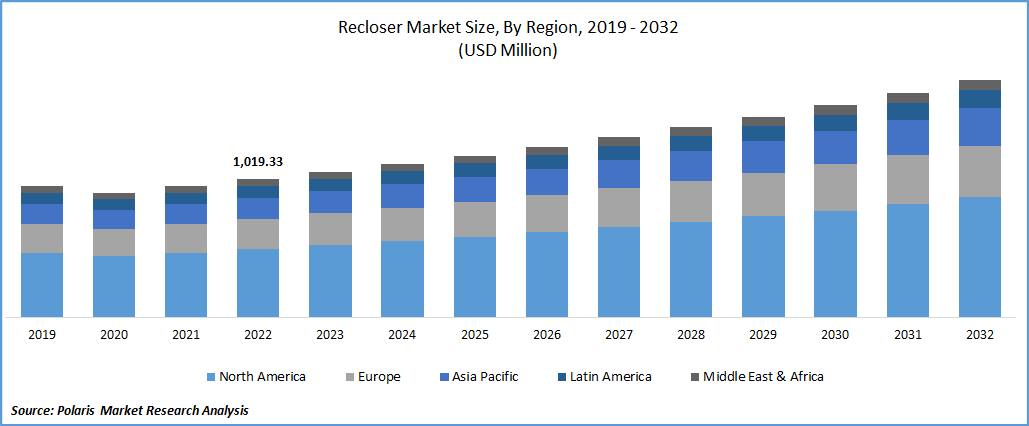 Know more about this report: Request for sample pages
Additionally, the market is witnessing significant growth due to various factors, including technological advancements, industrialization, transmission and distribution networks, urbanization, industry development, and economic growth. The increasing need for automated power circulation systems that can reduce manual intervention and strengthen power distribution infrastructure contributes to this growth. Thus, the market is expected to grow steadily in the coming years.
For instance, In January 2021, ABB Ltd. delivered medium and low-voltage digital solutions and a custom power management scheme for the Shanghai Bailonggang Wastewater Treatment plant expansion. Due to increased continuous and interrupting requirements, reclosers are now commonly found on feeders. ABB's reclosers are equipped with embedded sensors that have demonstrated reliable performance in the field for over 15 years and are highly accurate and environmentally resistant.
The COVID-19 pandemic has had a significant impact on the global market. Lockdowns and restrictions imposed during the pandemic have reduced demand for pole-mounted reclosers across various regions, presenting challenges for market players to adjust to these changes. However, the pandemic has also created opportunities for growth and innovation in this sector. Businesses are urged to continue adapting their practices to remain competitive and meet the evolving needs of their customers.
Industry Dynamics
Growth Drivers
Public finance institutions' investments in renewable energy have supported the power sector. This has resulted in increased investment in infrastructure projects relating to electricity distribution networks and power transmission lines overseas, which is expected to drive growth in the global recloser market. The renewable energy sector, including new energy storage and hydrogen, has received substantial funding in various regions. Governments provide strong policy support, accounting for over 60% of investment in renewable energy, creating significant opportunities for the recloser industry. The global recloser industry is expected to experience growth due to the increasing significance of green and clean energy.
The need for continuous power supply has resulted in the rapid expansion of transmission and distribution networks to manage power consumption surges. Investment in the T&D sector is likely to positively impact market revenue in various regions and fuel growth in the global market driven by the expansion of T&D networks. The increasing demand for cleaner energy sources, such as hydroelectricity, gas turbines, and nuclear power, has prompted many countries to invest significantly in their electrical grid infrastructure, indicating positive market growth during the forecast period.
Report Segmentation
This market is based on the phase type, control type, voltage rating, insulation medium and by region.
By Phase type

By Control Type

By Voltage Rating

By Installation Medium

By Region

Single Phase

Three Phase

Triple-single Phase

Electronic

Hydraulic

Micro-processor Base

0-15 kV

16-27 kV

28-38 kV

North America (US, Canada, Mexico)

Europe (Germany, UK, France, Italy, Spain, Russia, Austria, Romania, Poland, Netherlands)

Asia Pacific (China, Japan, India, South Korea, Australia, Malaysia, Singapore)

South America (Brazil, Colombia, Argentina)

Middle East & Africa (MEA) (Saudi Arab, South Africa, UAE, Qatar)
Know more about this report: Request for sample pages
0-15 kV segment garnered the largest share in 2022
The largest share in the recloser market is expected to be held by up to 15kV segment during the forecast period owing to the demand for safe substation equipment, especially automatic circuit reclosers. The ability of these products to operate in various low-voltage ranges is expected to boost market growth, propelled by the increasing construction of residential and commercial properties and urbanization. Infrastructure and power industry applications are anticipated to fuel the growth of 38 kV reclosers.
Electronic segment is projected to hold the largest segment in 2022
The electronic segment is expected to hold the largest share of the recloser market in the coming years, given its extensive use in energy infrastructure and devices. The growth of electronic reclosers is attributed to various factors, including the increasing adoption of smart grids, distribution automation systems, and the growing demand for voltage disturbance protection. On the other hand, hydraulic reclosers are expected to contribute to the market growth, given their cost-effectiveness, low maintenance, and reliability in areas with limited access to power sources.
The vacuum-type segment has registered significant market growth due to its superior worthwhile properties, improved reliability, cost-efficiency, environmental friendliness, and recycling ability. This type of recloser is more durable, has lower mechanical stress levels, reduces costs, and provides maximum operational safety, making it a popular choice among consumers. The recloser market is driven by various factors, including the availability of different types, such as oil-insulated, gas-insulated, and epoxy-insulated. Among these types, the epoxy insulation medium is expected to experience the fastest growth due to its hydrophobicity and permanent flexibility, which require minimal routine maintenance in distributed feeders and substations.
Single-phase category to hold a significant share during the forecast period
The transmission and distribution sectors of the power industry are expected to be a significant growth factor segment in the three-phase recloser market due to the advantages they offer over single-phase reclosers, including the ability to handle high currents, smaller conductor size, and lower installation costs, making them more suitable for high voltage industrial and utility distribution networks. While the single-phase recloser market remains significant due to its versatile application in various areas, such as education, communication, data centers, and public departments, where they protect three-phase feeder branches and taps.
Asia Pacific is expected to have the largest market share during the forecast period
The recloser market is expected to be dominated by the Asia Pacific region during the forecast period due to the growing demand for electricity, reliable power supply, and increasing investments in grid infrastructure. The region has the largest population in the world, and the electricity demand is expected to continue to grow due to urbanization and industrialization. Investments in grid infrastructure, such as smart grids and distribution automation, are expected to drive the growth of the recloser market. Adopting new technologies, such as IoT and cloud-based solutions, is also expected to increase demand for advanced recloser devices that can provide more accurate and efficient control of power distribution networks.
Moreover, the fastest growth is witnessed by North America, which is being driven by the rising adoption of smart grid technologies, government initiatives to enhance grid reliability and the replacement of aging infrastructure. Digital reclosers and distribution automation will improve grid efficiency and reliability. Infrastructure upgrades are needed for the region's mature power grid. Companies operating in the recloser market will benefit from the growing investment in renewable energy sources. Further, S&C Electric Company and Hubbell Power Systems innovate products to contribute to market growth. The North American recloser market is expected to grow due to the demand for reliable and efficient power distribution networks.
Competitive Insight
Some of the major key players operating in the market are ABB Ltd., Eaton, Siemens, G&W Electric, General Electric, Schnieder Electric, NOJA Power, Stelmec, Arteche, Entec Electric & Electric, Hubbell, Brush Group, Tavrida Electric, and Elektrolites.
Recent Developments
In February 2022, LG electronics and Eaton announced their partnership to deliver flexible load management and further integrate its incorporated power management technology, including its EV and smart breakers.
Recloser

Market Report Scope
| | |
| --- | --- |
| Report Attributes | Details |
| Market size value in 2023 | USD 1,073.96 million |
| Revenue forecast in 2032 | USD 1,755.22 million |
| CAGR | 5.6% from 2023– 2032 |
| Base year | 2022 |
| Historical data | 2019-2021 |
| Forecast period | 2023– 2032 |
| Quantitative units | Revenue in USD million and CAGR from 2023 to 2032 |
| Segments covered | Phase Type (Three Phase, Single Phase, Triple-single Phase), Control Type (Electronic, Micro-processor Base and Hydraulic), Voltage Rating (0-15 kV, 16-27 kV, 28-38 kV), Insulation Medium (Oil, Air and Epoxy), Region |
| Regional scope | North America, Europe, Asia Pacific, South America, and Middle East & Africa (MEA) |
| Key companies | ABB Ltd., Eaton, Siemens, G&W Electric, General Electric, Schnieder Electric, NOJA Power, Stelmec, Arteche, Entec Electric & Electric, Hubbell, Brush Group, Tavrida Electric, Elektrolites |