The global refsum disease treatment market was valued at USD 1.49 billion in 2022 and is expected to grow at a CAGR of 5.6% during the forecast period.
The increasing consumer awareness regarding the several types of rare genetic disorders and the constant increase in the number of people suffering from diseases such as night blindness, anosmia, deafness, weakness in arms, ichthyosis, and cerebellar ataxia coupled with the drastic growth in consumer disposable income that led to higher spending on such kind of treatments, are key factors driving the global market growth. Additionally, the integration of telemedicine and remote monitoring technologies in these treatment techniques makes it more convenient for patients to get regular check-ups and consultations.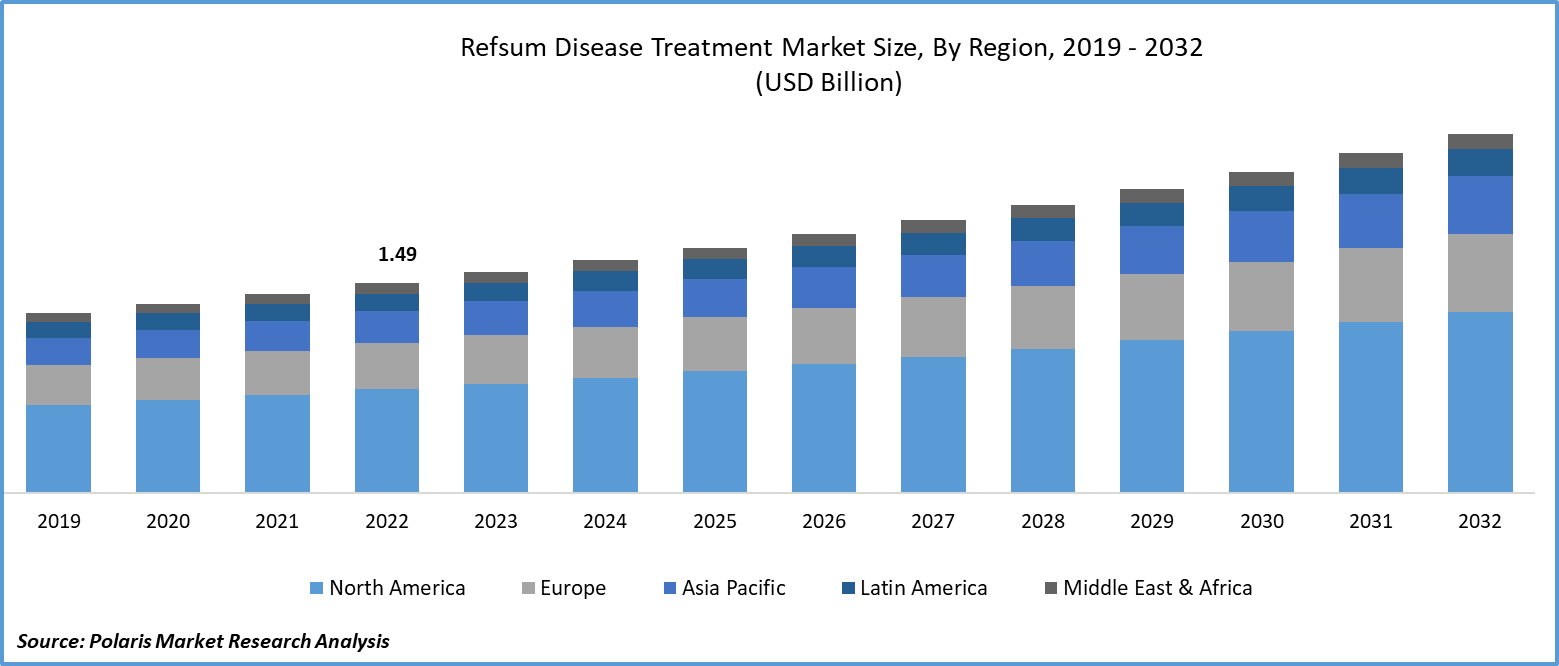 To Understand More About this Research: Request a Free Sample Report
For instance, according to the National Institute on Deafness and Other Communication Disorders, almost 1 in every 5 Americans over 40 years of age report some alteration in their sense of taste. Approximately 3 percent of Americans have anosmia or several hyposmia.
Moreover, there has been a rising prevalence and proliferation of gene therapy in treating various genetic disorders in recent years. As, researchers around the world are investigating gene therapy techniques to correct the genetic mutation responsible for refsum disease, which could also offer a more permanent and potential solution to the underlying cause of the condition.
However, as the refsum disease is a very rare condition, with a limited number of patients all over the world makes it a less attractive or not suitable for pharmaceutical companies to invest in research & development along with the high cost associated with the development of therapies for rare diseases, leading to fewer investments and acting as major factors restraining the global market growth.
The outbreak of the COVID-19 pandemic has significantly impacted the growth of the refsum disease treatment market. The rapid spread of the deadly coronavirus globally has affected the conduct of clinical trials for various diseases, including refsum disease. It has also disrupted the global supply chains for pharmaceuticals, as several countries have imposed stringent regulations like lockdowns, trade restrictions, and social distancing measures.
Industry Dynamics
Growth Drivers
Increasing concerns related to various rare and genetic disorders
In recent years, concerns have grown regarding various rare and genetic disorders. Leading healthcare and research organizations worldwide have responded by investing heavily in treatment and medications. Furthermore, the prevalence of genetic mutations caused by environmental factors has surged, further driving global refsum disease treatment market growth.
Clinical trials have become essential for testing the safety and efficacy of potential treatments, including those for Refsum disease. Researchers are being encouraged to conduct more clinical trials for Refsum disease, in order to provide valuable data and potential treatment options for patients. This, in turn, has led to an increase in demand for such treatments and contributed to the growth of the market.
Report Segmentation
The market is primarily segmented based on type, end user, age group, and region.
By Type

By End User

By Age Group

By Region

Hospitals

Clinics

Research Centers

Homecare

North America (U.S., Canada)

Europe (France, Germany, UK, Italy, Netherlands, Spain, Russia)

Asia Pacific (Japan, China, India, Malaysia, Indonesia. South Korea)

Latin America (Brazil, Mexico, Argentina)

Middle East & Africa (Saudi Arabia, UAE, Israel, South Africa)
To Understand the Scope of this Report: Speak to Analyst
By Type Analysis
Surgery segment accounted for the largest market share in 2022
The surgery segment accounted for notable market revenue share in 2022, and is also expected to retain its position over the forecast period on account of the increased number of patients worldwide seeking surgical solutions for such diseases to improve their quality of life along with the higher penetration for the establishment of specialized centers or hospitals offering surgical expertise to treat refsum disease-related complications effectively.
The medication segment is anticipated to register the highest growth rate over the projected period, mainly due to the widespread availability of these treatments in different forms, including pills and capsules, and their ability to help slow down or delay the symptoms of disease more efficiently as compared to other treatment types available in the market.
By End User Analysis
Hospitals segment held the significant market share in 2022
The hospitals segment held a significant market share in terms of revenue in 2022, which is majorly driven by a significant number of hospitals offering this treatment and the availability of various highly qualified and experienced doctors as well as scientists that offer proper diagnosis and care. Additionally, hospitals have access to various specialized medical equipment and facilities that are essential for diagnosing and monitoring refsum diseases, such as genetic testing, MRI machines, and ophthalmic tools, which are difficult to access through small clinics and centers.
Also, several large hospitals around the world collaborate with research institutions and pharmaceutical companies in order to advance the development of new treatments for rare diseases like refsum and lead to the easier availability of cutting-edge therapies for numerous rare disorders that will positively influence the segment market.
By Age Group Analysis
Adult segment is expected to witness highest growth throughout the forecast period
The adult segment is projected to grow at the highest growth rate during the anticipated period, which is significantly driven by a drastic increase in the global adult population who are more prone to such rare disorders and a surge in the number of adult people suffering from lots of diseases, including loss of taste and smell, blindness, and weakness among others could lead to increased need and prevalence of this treatment options over the years. Diseases like refsum manifest in adulthood, often after the age of 20, which leads to delayed diagnosis and can result in higher demand for treatments tailored to adult patients, thereby fostering the segment market.
For instance, according to our findings, the number of people aged between 25 to 64 years was 171,713,747 in 2022 in the United States, which makes approx. 66% of the total population, and was up from 170,969,676 people in 2019.
Regional Insights
North America region dominated the global market in 2022
The North America region dominated the global market. The regional market growth is highly attributable to increased awareness about the prevalence of refsum disease among people in countries like the United States and Canada, along with the rising healthcare spending or expenditure, leading to an upsurge in demand for efficient treatment options for different types of disorders, including refsum.
Besides this, the active engagement of patients and their families in developed countries in advocating for their needs and increasingly participating in clinical trials, driving research and the development of targeted therapies for rare diseases, which in turn, generate huge growth potential for the region's market growth.
Asia Pacific will grow at a rapid pace, owing to the emergence of countries with growing consumer disposable income and healthcare expenditure as prominent markets for healthcare treatments due to their vast and dense population and growing incidences of such diseases among the population.
Key Market Players & Competitive Insights
The refsum disease treatment market is moderately competitive in nature with the presence of various large companies worldwide. Top companies in the market are significantly investing their money and focus on research & development activities in order to bring new innovations in their treatment portfolio and offerings and expanding their presence and footprints across new geographies around the world.
Some of the major players operating in the global market include:
Agilent Technologies

B. Braun Medical Inc.

BioRad Laboratories Inc.

Ceuta Healthcare Limited

Cochlear Ltd.

Cook

Fresenius Kabi

Fresenius Kabi

Igenomix

Illumina Inc.

Medline Industries Inc.

Nurotron Biotechnology Co. Ltd.

Sequenom

Sonova

William Demant Holding A/S
Recent Developments
In December 2022, Opus Genetics, received the authorization from the US Food & Drug Administration to launch a new clinical trial for their emerging gene therapy. The therapy will use a man-made adeno-associated virus to deliver healthy copies of the LCA5 gene to the retinas of the patients.
Refsum Disease Treatment Market Report Scope
| | |
| --- | --- |
| Report Attributes | Details |
| Market size value in 2023 | USD 1.57 billion |
| Revenue forecast in 2032 | USD 2.55 billion |
| CAGR | 5.6% from 2023 – 2032 |
| Base year | 2022 |
| Historical data | 2019 – 2021 |
| Forecast period | 2023 – 2032 |
| Quantitative units | Revenue in USD billion and CAGR from 2023 to 2032 |
| Segments covered | By Type, By End User, By Age Group, By Region |
| Regional scope | North America, Europe, Asia Pacific, Latin America; Middle East & Africa |
| Customization | Report customization as per your requirements with respect to countries, region and segmentation. |