The global ring lights market was valued at USD 7.91 billion in 2022 and is expected to grow at a CAGR of 14.3% during the forecast period.
Ring lights have gained immense popularity among photographers, videographers, content creators, and influencers. The demand for high-quality lighting solutions for capturing professional-grade photos and videos is a significant driving factor for the ring lights market.

To Understand More About this Research: Request a Free Sample Report
For example, every year, 1.81 trillion photos are taken worldwide, which works out to 57,000 images every second or 5.0 billion images every day, as per the report published in June 2023. The even and diffused lighting provided by ring lights enhances the overall visual appeal and clarity of images and videos. This factor is dynamically driving the development of the global market.
The COVID-19 pandemic has had significant impact on the global market. With remote work and online content creation becoming more prevalent during the pandemic, there has been a surge in demand for ring lights. The restrictions imposed on physical retail stores during the pandemic led to a significant shift towards online shopping. As a result, the online sales of ring lights witnessed a boost, with consumers turning to e-commerce platforms to purchase products conveniently and safely from their homes. The increased usage of social media platforms and live streaming during lockdowns and restrictions created a higher demand for ring lights.
Apart from this, the limited availability of raw materials and components, as well as logistical challenges, resulted in delayed deliveries and limited stock, negatively impacting the market. With the focus on essential goods and services during the pandemic, consumers may have shifted their priorities and allocated their budgets to more critical needs. As a result, the demand for ring lights may have been impacted as they are considered non-essential or discretionary items. However, the cancellation or postponement of events, weddings, and photo shoots during the pandemic significantly impacted the demand for ring lights.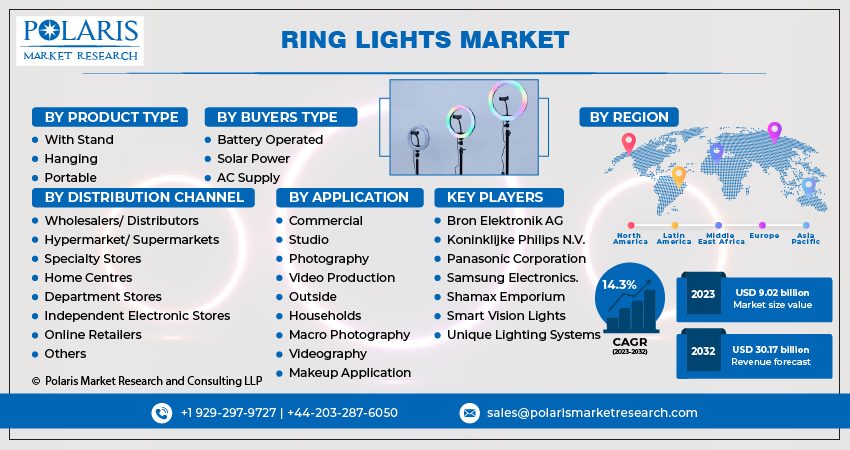 For Specific Research Requirements, Request for a Customized Report
Industry Dynamics
Growth Drivers
Social Media Influence
Increasing use in social media and content creation is one of the primary factors augmenting the growth of the ring lights market worldwide. With the rise of social media platforms and the growing importance of visual content, individuals and businesses are investing in ring lights to improve the quality of their social media posts, live streams, and video content.
For instance, the report published in January 2023, the number of social media users worldwide is 4.74 billion. Social media users increased in number by 4.2% in 2022. Social media is used by over 93% of internet users.
Ring lights provide flattering and well-balanced lighting, which is crucial for creating aesthetically pleasing and engaging content. Surge in social media across many regions is apparently escalating the expansion of the market throughout the world.
Report Segmentation
The market is primarily segmented based on product type, distribution channel, application, buyer type, and region.
By Product Type

By Distribution Channel

By Application

By Buyers Type

By Region

With Stand

Hanging

Portable

Wholesalers/ Distributors

Hypermarket/ Supermarkets

Specialty Stores

Home Centres

Department Stores

Independent Electronic Stores

Online Retailers

Others

Commercial

Studio

Photography

Video Production

Outside

Households

Macro Photography

Videography

Makeup Application

Battery Operated

Solar Power

AC Supply

North America (U.S., Canada)

Europe (France, Germany, UK, Italy, Netherlands, Spain, Russia)

Asia Pacific (Japan, China, India, Malaysia, Indonesia. South Korea)

Latin America (Brazil, Mexico, Argentina)

Middle East & Africa (Saudi Arabia, UAE, Israel, South Africa)
To Understand the Scope of this Report: Speak to Analyst
By Product Type Analysis
Portable segment is dominating the market in 2022
In fiscal year 2022, the portable segment is anticipated to record the largest market share. This offer users the flexibility to use them in various settings and locations. They are designed to be lightweight, compact, and easy to carry, allowing photographers and content creators to take them on the go. Portable ring lights can be easily transported to different shooting locations, whether it's for outdoor shoots, on-location projects, or travel purposes. Furthermore, portable ring lights are compatible with a wide range of devices, including smartphones, cameras, and laptops. They often come with adjustable mounts or attachments that can be easily connected to different equipment.
By Distribution Channel Analysis
Online retailers segment is projected to expand with fastest CAGR over the forecast period
These lights offer a vast range of ring lights from various brands and manufacturers. They provide a comprehensive selection of products with different features, sizes, and price ranges, catering to the diverse needs and preferences of customers. This extensive product assortment attracts consumers who are looking for specific specifications or unique offerings in their ring lights. Furthermore, online shopping provides convenience and accessibility to customers and offer 24/7 accessibility, allowing customers to shop at their preferred time without being restricted by physical store operating hours. This provides detailed product information, specifications, and comparison tools that enable customers to evaluate different ring lights easily.
By Application Analysis
Photography application is leading the global market
Photography application is gaining a huge traction and leading the global market in year of 2022. They provide even and diffused lighting, reducing shadows and enhancing the overall quality of photographs. The circular shape of the ring light produces a distinctive ring-shaped catchlight in the subject's eyes, which is often desired for portrait photography. Moreover, ring lights are particularly popular in portrait and fashion photography. They help to create a flattering and evenly lit environment, highlighting the subject's features and minimizing imperfections. The soft and balanced lighting produced by ring lights enhances skin tones, resulting in stunning and professional-looking portraits. These lights are highly effective for product photography, especially for capturing small items or achieving a shadowless lighting effect. Ring lights have also become popular among DIY photographers and photography enthusiasts.
By Buyer Type Analysis
Battery operated segment held largest share of the global revenue
Battery operated segment is dominating the global market in the fiscal year 2022. Battery-operated ring lights are easy to set up and use. They eliminate the need for complicated wiring or the use of extension cords, providing a hassle-free experience. Users can simply charge or replace the batteries as needed, making them convenient and user-friendly. These ring lights are versatile in their application. They can be used with different types of cameras, smartphones, and other devices, allowing users to adapt them to their specific needs. These ring lights are compact and lightweight, making them easy to carry during travel. Moreover, with advancements in battery technology, modern ring lights are designed to be energy-efficient.
Regional Insights
North America is accounting the largest share in the global market in 2022
In the fiscal year 2022, North America is expected to lead the global market revenue. The region has a well-established and thriving photography and content creation industry. The region is home to numerous professional photographers, videographers, content creators, influencers, and social media platforms. For example, in accordance with the report released in December 2022, NeoReach discovered that 21% of respondents make a comfortable annual income of at least USD 50,000 in a poll of 2,000 content creators. About 1.4% of people make more than USD 1 million annually. The demand for high-quality visuals and professional lighting equipment is high, enhancing the demand for ring lights. This is dramatically responsible for the highest sales of ring lights in the region.
Asia Pacific is one of the fastest growing regions during the assessment period. The rise of e-commerce platforms and social media usage has also created a lucrative environment. Also, the region has a large population of influencers, vloggers, and content creators who require high-quality lighting equipment like ring lights to enhance their videos and live streams. For instance, according to the data released in March 2022, celebrities represented around 27 percent of the market, influencers easily make around 73 percent, and approximately 2-3rd of Indians follow influencers for product purchase. Consumers in the region are increasingly purchasing ring lights online.
Key Players and Competitive Insight
Key players in the market are constantly upgrading their technologies to stay ahead of the competition and to ensure efficiency, integrity, and safety. These players focus on partnership, product upgrades, and collaboration to gain a competitive edge over their peers and capture a significant market share
The global ring lights market involves
Bron Elektronik AG

Koninklijke Philips N.V.

Panasonic Corporation

Samsung Electronics.

Shamax Emporium

Smart Vision Lights

Unique Lighting Systems
Recent Developments
In August 2022, in order to assist producers in producing quality video content, Krazyfox and & short video app, Moj, established new studio in Mumbai. It is equipped with all the tools required for a smooth shot, including tripods, ring lights, a DOP, and expert camera setups.
Ring Lights Market Report Scope
| | |
| --- | --- |
| Report Attributes | Details |
| Market size value in 2023 | USD 9.02 billion |
| Revenue forecast in 2032 | USD 30.17 billion |
| CAGR | 14.3% from 2023 – 2032 |
| Base year | 2022 |
| Historical data | 2019– 2022 |
| Forecast period | 2023– 2032 |
| Quantitative units | Revenue in USD million/billion and CAGR from 2023 to 2030 |
| Segments covered | By Product Type, By Application, By Distribution Channel, By Buyer Type; By Region |
| Regional scope | North America, Europe, Asia Pacific, Latin America; Middle East & Africa |
| Customization | Report customization as per your requirements with respect to countries, region and segmentation. |