The safety helmets market was valued at USD 3.88 billion in 2021 and is expected to grow at a CAGR of 7.7% during the forecast period. The major drivers anticipated to drive revenue growth include the rise in head injuries at work and the increasing demand for safety helmets in industries such as mining, building & construction, and other manufacturing operations.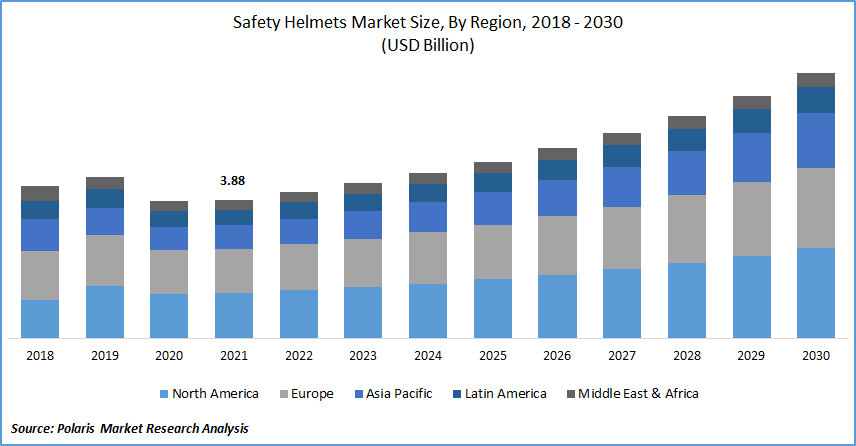 Know more about this report: Request for sample pages
Safety helmets are made with the express useful for the purpose of protecting employees from penetrating injuries, electric injuries, and powerful head impacts that may be brought on by flying or falling objects. These safety helmets also offer defence against injury-causing fixed objects and electrical conductors. There are various different colours of helmets, and helmets style attracts commuters and sports athletes.
Even different aerospace, military & defence application is one of the factors that drive the growth of the market. However, it is expected that the premium helmets' high price may impede market expansion. The COVID-19 pandemic has forced individuals to stay at home for infection control measures, which has temporarily decreased people's leisure activities and the need for helmets.
The pandemic had badly impacted the building sector in Asia Pacific in 2020. Governments and regulatory organizations implemented a lockdown that temporarily halted construction work in countries like Australia, China, and India. This decreased the requirement for helmets and other safety equipment on construction sites. As a result, this impacted the growth of the safety helmets market during the course of the pandemic.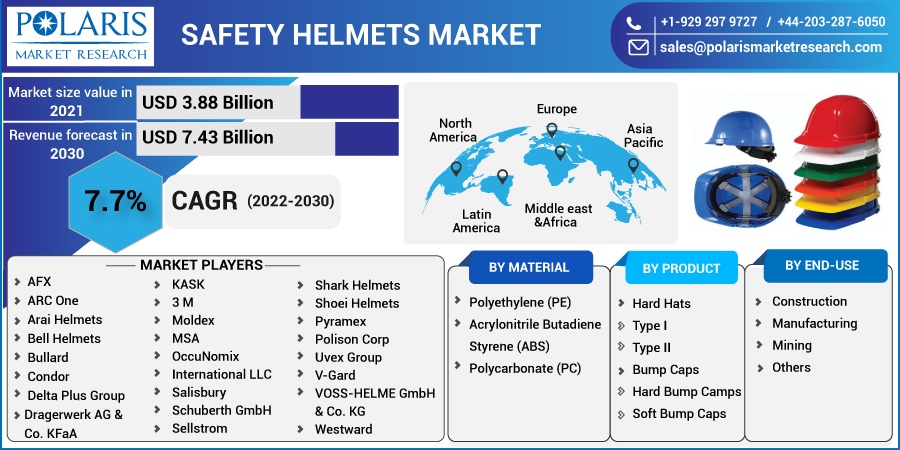 Know more about this report: Request for sample pages
Industry Dynamics
Growth Drivers
Market growth in European markets like Germany, France, and UK is projected to be fueled by customer preferences and a desire for helmets that mix fashion with protection. Additionally, technological developments in the form of extra product features like a built-in torch, face shields, and ear protection would boost the market growth.
Over the period, developing nations such as China and India are anticipated to drive the market due to increased manufacturing, mining, and infrastructure development. Other variables that are likely to enhance future revenue growth of this market are the industrialization of developing countries and growing awareness of the significance of employee safety when involved in various operations like mining, building, etc.
Additionally, the continued rise of end-use sectors such as manufacturing, mining, construction, etc., is anticipated to have a significant impact on the trajectory of revenue growth for the worldwide safety helmet market over the coming years.
Report Segmentation
The market is primarily segmented based on material, product, end-use, and region.
By Material

By Product

By End-Use

By Region

Polyethylene (PE)
Acrylonitrile Butadiene Styrene (ABS)
Polycarbonate (PC)

Hard Hats
Bump Caps

Hard Bump Camps
Soft Bump Caps

Construction
Manufacturing
Mining
Others

North America (U.S., Canada)
Europe (France, Germany, UK, Italy, Netherlands, Spain, Russia)
Asia Pacific (Japan, China, India, Malaysia, Indonesia, South Korea)
Latin America (Brazil, Mexico, Argentina)
Middle East & Africa (Saudi Arabia, UAE, Israel, South Africa)
Know more about this report: Request for sample pages
The polyethylene segment accounted for the largest revenue share in 2021
The polyethylene market segment accounted for the highest revenue share in 2021. Due to the low cost of polyethylene in comparison to other materials used to make safety helmets. This is expected to lead to the polyethylene segment's sustained dominance over the upcoming period.
Additionally, the ABS (Acrylonitrile Butadiene Styrene) helmet market would expand over the course of the period due to increased usage in sectors like manufacturing, oil & gas, and power generation.
As manufacturers develop products using the aforementioned materials that offer more head protection and as worker safety concerns grow. As a result, the Polycarbonate (PC) and Acrylonitrile Butadiene Styrene (ABS) material sectors are likely to expand.
In 2021, hard hats segment dominated the market share
In various economies such as North America and Europe, the demand for hard hats is rising in the construction, manufacturing, and mining. Additionally, the ability of these helmets to prevent electrical shock for workers who are near exposed to electrical shock would drive market expansion.
An additional factor driving the expansion of this market segment is the product's accessibility in a range of styles and specifications. In addition, using highly functional industrial safety helmets across various sectors is anticipated to accelerate overall industry growth over the coming years.
Due to its widespread use in environments with lower employee accident risks, the bump caps product segment is expected to witness growth. The bump caps are primarily used to prevent accidental head bumping to large overhead items at work or on the shop floor.
In 2021 the construction end-user segment dominated the industry.
Construction accounted for a substantial revenue share of the global market in 2021. The revenue resulting from the rising demand for better public infrastructure, such as roads, airports, rail systems, and harbors is expected to increase over the years, driving up the demand for safety helmets.
Robust growth in the construction industry is one of the significant factors that drive the market growth. The construction industry will see rising investment over the coming years in Asia Pacific nations. The potential for growth is significant due to the ASEAN government's strong drive to advance the construction sector through the strengthening of infrastructure development and fostering closer inter-regional cooperation between ASEAN and China.
The country's expanding population will also drive up the demand for housing, which will support the growth of the residential construction industry. These factors boost the demand for construction safety helmets.
The mining segment is also expected to drive the revenue growth over the next few years due to increasing activities in this respective industry. As there is an increasing need for natural resources across a range of end-use sectors; this is anticipated to increase demand for safety helmets as mineworkers are exposed to wide range of accidents.
Europe is expected to dominate and witness fastest growth over the forecast period
In 2021, Europe dominated the global market in terms of revenue. The need for helmets that reduce workplace accidents and enhance worker safety is projected to increase as vehicle manufacturing is likely to witness rapid growth. Full-face smart helmets have dominated the European market for smart helmets among several helmet types. The industrial application segment of the market is also anticipated to experience considerable expansion, with popularity in the manufacturing and mining sectors.
Due to the rise in occupational head injuries and fatalities in countries like China and India, the Asia Pacific is expected to have the greatest market growth. Additionally, the region's expanding industrial and construction sectors will boost helmet demand over the forecast period. The region's expansion will be fuel by the rising need for effective safety helmets in North America across several important industries, including metal manufacturing and construction.
Competitive Insight
Some of the major players operating in the global market include AFX, ARC One, Arai Helmets, Bell Helmets, Bullard, Centurion Safety Products Ltd., Concord Helmet & Safety Products Pvt. Ltd., Condor, Delta Plus Group ,Dragerwerk AG & Co. KFaA , Jackson Safety, JSP, HJC Helmets, Honeywell International Inc., KASK, 3 M, Moldex, MSA , OccuNomix International LLC, Salisbury, Schuberth GmbH, Sellstrom, Shark Helmets, Shoei Helmets, Pyramex, Polison Corp, Uvex Group, V-Gard, VOSS-HELME GmbH & Co. KG, Westward,.
Recent Developments
March 2022: Radians launches Titanium climbing-style helmet. Titanium helps protect employees from head injuries caused by falls from heights or by falling objects like tape measures, hand-held radios, conventional hard hats that fall off, and other tools dropped at heights.
March 2022: The new FlexGenTM ratchet suspension for Bullard's industrial safety helmets has been introduced.
June 2021: The GALLET F2XR rescue helmet has been introduced by MSA Safety, a world-renowned designer, manufacturer, and distributor of safety goods. It is the first and only firefighters helmet on the market that can be used for a variety of tasks, such as technical rescue operations, high-altitude rescue, and water rescue, as well as wildland firefighting and responding against to traffic accidents.
July 2020: The Ridgeline XR7, a new safety helmet from Pyramex Safety, was introduced. The lightweight polycarbonate/acrylonitrile butadiene/styrene material used to make the helmet provides greater strength and heat resistance.
April 2020: Agreement was made by Honeywell to acquire Norcross Safety Products, a top producer of personal protective equipment (PPE). With this acquisition, Honeywell would have a complete platform in a dispersed global segment.
Safety Helmets Market Report Scope
| | |
| --- | --- |
| Report Attributes | Details |
| Market size value in 2021 | USD 3.88 billion |
| Revenue forecast in 2030 | USD 7.43 billion |
| CAGR | 7.7 % from 2022 - 2030 |
| Base year | 2021 |
| Historical data | 2018 - 2020 |
| Forecast period | 2022 - 2030 |
| Quantitative units | Revenue in USD billion and CAGR from 2022 to 2030 |
| Segments covered | By Material, Product, End-Use, and Region. |
| Regional scope | North America, Europe, Asia Pacific, Latin America; Middle East & Africa |
| Key companies | AFX, ARC One, Arai Helmets, Bell Helmets, Bullard, Centurion Safety Products Ltd., Concord Helmet & Safety Products Pvt. Ltd., Condor, Delta Plus Group ,Dragerwerk AG & Co. KFaA , Jackson Safety, JSP, HJC Helmets, Honeywell International Inc., KASK, 3 M, Moldex, MSA , OccuNomix International LLC, Salisbury, Schuberth GmbH, Sellstrom, Shark Helmets, Shoei Helmets, Pyramex, Polison Corp, Uvex Group, V-Gard, VOSS-HELME GmbH & Co. KG, Westward,. |