The global smart helmets market was valued at USD 664.85 million in 2022 and is expected to grow at a CAGR of 16.9% during the forecast period. Increasing emphasis on safety and security and the advancements in smart wearable technology. Smart helmets, equipped with electronic devices and sensors, provide users with real-time data, enhancing their safety and reducing operational risks. These technological advancements in smart helmets contribute to the growth of the market.

To Understand More About this Research: Request a Free Sample Report
Furthermore, the implementation of stringent road safety regulations by governments worldwide plays a significant role in driving market growth. These regulations prioritize the safety of individuals, particularly those engaged in activities such as cycling, motorcycling, or any other adventure sports where helmets are necessary. The enforcement of such regulations creates a demand for technologically advanced and compliant smart helmets, further fueling the market growth.
Smart helmets provide enhanced safety and protection for individuals using automobiles or working in construction sites. These modern helmets incorporate a wide range of advanced features, including GPS, map navigation, health monitoring, humidity & air quality checks, live streaming cameras, & better connectivity. Market-leading companies are continually introducing innovative solutions with revolutionary features. For example, in May 2022, Sena Technologies, unveiled the OutForce, a full-face motorcycle smart helmet. This helmet offers Bluetooth 5.0 connectivity, Intercom, compatibility with smartphone apps, and integrated speakers and microphones. These product launches showcase the industry's commitment to innovation, driving growth in the smart helmets market.
Smart helmet technology providers are actively investing in research and development to drive innovation and expand their product portfolios. These investments aim to develop new and improved products that enhance the efficiency of smart helmets and provide an enhanced customer experience. As part of these efforts, companies regularly launch new products with advanced features to cater to the evolving needs of users. For example, in November 2021, Huawei, a prominent technology provider, introduced the Helmetphone BH51M Neo in China. This smart helmet offers a range of intelligent features, including voice commands and Bluetooth calling. It is powered by Huawei's HarmonyOS operating system and is specifically designed for activities such as biking, skateboarding, roller skating, and electric bicycling.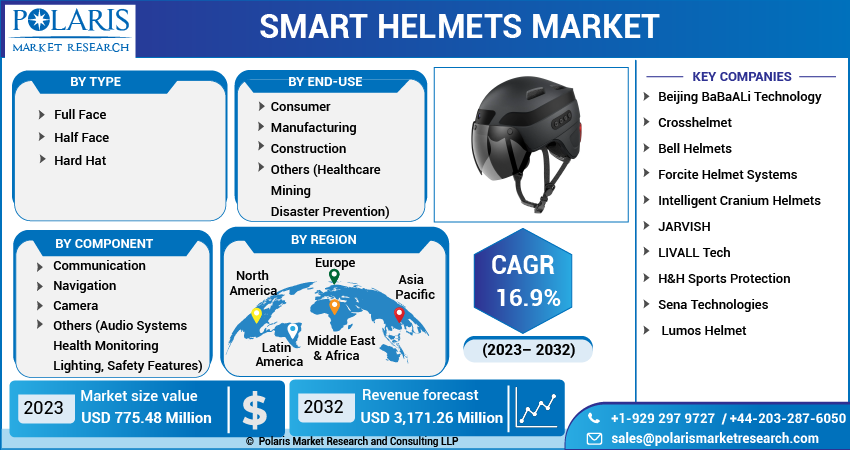 For Specific Research Requirements, Speak With a Resaerch Analyst
Industry Dynamics
Growth Drivers
Road traffic accidents pose a significant global public safety concern and are a leading cause of disability and fatalities. According to the World Health Organization (WHO), approximately 1.2 million people lose their lives each year due to traffic accidents, with many more sustaining injuries or becoming disabled. Additionally, the National Highway Traffic Safety Administration (NHTSA) reported that in 2020, 5,579 motorcyclists lost their lives and another 82,528 were injured in the United States alone. Speeding, distracted driving, alcohol and drug impairment, and improper lane use were identified as the most common causes of motorcycle accidents.
By addressing the critical need for improved safety in the context of road accidents, smart helmets play a crucial role in mitigating risks and protecting individuals. The increasing emphasis on helmet usage mandated by governments creates a favorable environment for the growth of the smart helmet industry, as individuals seek technologically advanced solutions to enhance their safety while on the road.
According to the National Highway Traffic Safety Administration (NHTSA), motor-cycle helmets are reducing fatal injuries, with a reported reduction of 37% for riders and 41% for passengers. It is estimated that motorcycle helmets have saved around 25,000 lives. However, the growth of the smart helmet industry may face certain obstacles, including high costs, substantial investments required for research and development, concerns about potential vision obstruction, and limited awareness about the safety benefits of smart helmets.
Report Segmentation
The market is primarily segmented based on type, component, end use, and region.
By Type

By Component

By End Use

By Region

Full Face

Half Face

Hard Hat

Communication

Navigation

Camera

Others (Audio Systems, Health Monitoring, Lighting, Safety Features)

Consumer

Manufacturing

Construction

Others (Healthcare, Mining, Disaster Prevention)

North America (U.S., Canada)

Europe (France, Germany, UK, Italy, Netherlands, Spain, Russia)

Asia Pacific (Japan, China, India, Malaysia, Indonesia. South Korea)

Latin America (Brazil, Mexico, Argentina)

Middle East & Africa (Saudi Arabia, UAE, Israel, South Africa)
For Specific Research Requirements: Request for Customized Report
Full face segment accounted for the largest market share in 2022
Companies worldwide are actively engaged in the development of full-face smart helmets that feature integrated Bluetooth communication systems. This integration enables riders to have seamless communication while wearing the helmet. For instance, in June 2020, Sena Technologies, introduced the Outrush modular smart helmet. This helmet comes equipped with a Bluetooth communication system and is certified by the Department of Transportation (DOT).
Hard hat segment recorded the highest growth rate over the study period. The construction sector is prone to frequent accidents and occupational injuries worldwide. To address this concern, these hats have emerged as a solution in industries such as manufacturing, construction, & mining. These hats are equipped with advanced features that enable them to identify gas leakages, track locations, & to analyze the health vitals of the users. By integrating such technologies, smart hard hats aim to enhance safety measures for workers operating in challenging and hazardous environments.
Communication segment expected to hold significant market share
Communication segment is projected to hold significant market share in terms of revenue over the study period. Segment's growth is attributed to the integration of Communication Systems (ICS) in smart helmets, which enable bike riders to control various functions and applications using voice commands. Smart helmets equipped with ICS allow users to connect their smartphones to the helmet, enabling hands-free operation of multiple functions. By utilizing the helmet's integrated microphone and speakers, users can make phone calls, receive audio notifications, and access navigation services without the need to physically handle their devices. This seamless integration of communication features enhances user convenience, comfort, and safety.
Navigation segment recorded the steady growth. Smart helmets offer advanced navigation, positioning, and tracking features, facilitated by the utilization of Global Navigation Satellite Systems (GNSS). Smart helmets with navigation capabilities incorporate Augmented Reality (AR) interfaces that provide riders with projected images on the helmet visor, displaying important information about the route and other relevant aspects. This enables riders to access navigation guidance without diverting their attention from the road, ensuring enhanced safety and convenience. The AR interface overlays virtual information onto the real-world view, allowing riders to maintain their focus on the road while receiving navigational prompts.
North America region dominated the global market in 2022
The North America region dominated the global market with considerable market share in 2022, and is projected to maintain its dominance throughout the anticipated period. United States, a major contributor to the region's growth, is relatively mature and technologically advanced. Consumers in the U.S. have a strong inclination towards adopting new and emerging technologies, including smart helmets. The early adopter mindset and openness to innovative products drive the demand for smart helmets in the region. For instance, Sena Technologies, introduced the Outrush R, an upgraded version of the modular smart helmet, in the region, in May 2021.
The Asia Pacific region is anticipated to be the fastest growing region with a healthy CAGR throughout the projected period. Increasing sales of two-wheelers, such as motorcycles and bicycles, in countries like China, India, and Southeast Asian nations, are driving the demand for smart helmets in the region. As more individuals opt for two-wheelers as a convenient mode of transportation, the need for enhanced safety features provided by smart helmets increases. Region's rapid urbanization, increasing two-wheeler sales, growing manufacturing sector, and the adoption of advanced wearable technology contribute to its emergence as the fastest-growing market for smart helmets.
Competitive Insight
Emerging players in the market are exploring the potential of technologies like Head-Up Display (HUD), sensor integration, and Internet of Things (IoT). HUD technology allows users to access essential information such as speed, directions, and notifications projected onto their helmet visors, minimizing distractions, and improving situational awareness. Sensor integration enables the collection of various data, including health vitals and environmental conditions, to provide users with personalized insights and alerts. IoT integration enables connectivity and data exchange between smart helmets and other devices, facilitating seamless communication and interoperability.
Some of the major players operating in the global market include Beijing BaBaALi Technology, Crosshelmet, Bell Helmets, Forcite Helmet Systems, Intelligent Cranium Helmets, JARVISH, LIVALL Tech, H&H Sports Protection, Sena Technologies, and Lumos Helmet.
Recent Developments
In February 2023, MapMyIndia introduced new Mapples Gadgets for cars & bikes. It includes GPS trackers, kits, and GPS trackers.
Smart Helmets Market Report Scope
| | |
| --- | --- |
| Report Attributes | Details |
| Market size value in 2023 | USD 775.48 million |
| Revenue forecast in 2032 | USD 3,171.26 million |
| CAGR | 16.9% from 2023 – 2032 |
| Base year | 2022 |
| Historical data | 2021 – 2021 |
| Forecast period | 2023 – 2032 |
| Quantitative units | Revenue in USD million and CAGR from 2023 to 2032 |
| Segments covered | By Type, By Component, By End Use, By Region |
| Regional scope | North America, Europe, Asia Pacific, Latin America; Middle East & Africa |
| Key companies | Beijing BaBaALi Technology, Crosshelmet, Bell Helmets, Forcite Helmet Systems, Intelligent Cranium Helmets, JARVISH, LIVALL Tech, H&H Sports Protection, Sena Technologies, and Lumos Helmet |