The global salt content reduction ingredients market was valued at USD 4.40 billion in 2022 and is expected to grow at a CAGR of 9.4% during the forecast period. Consumers' growing desire to reduce their intake of salt has significantly supported demand. Ingredients for reducing salt content include hydrolyzed vegetable protein, glutamates, yeast extracts, mineral salts, and similar substances. They do cut back on the salt, but they do it while preserving food flavor and taste. Manufacturers of substances for reducing salt content are concentrating on ingredients that wouldn't damage the taste of different food products despite their addiction.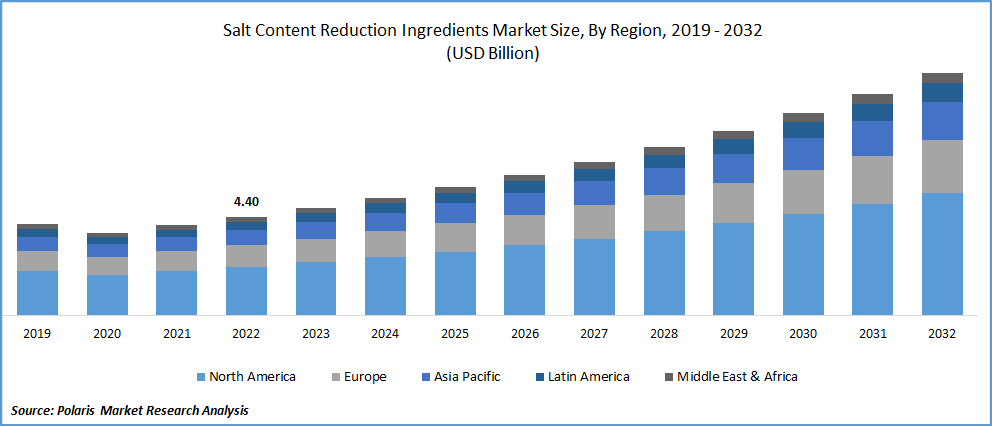 Know more about this report: Request for sample pages
Furthermore, it indicates that components used to lower salt content have reduced the incidence of cardiac diseases. Ingredients that lower salt content is mostly used to lower salt levels in food products. It has been recommended by several health standards, including the Dietary Guidelines for Americans, that the body should not consume more sodium than 2300 mg per day. Key players have been encouraged by government policies to use salt content reduction components in their increasing product lineup.
In addition, new growth prospects in the market for salt content reduction ingredients may arise as a result of government rules and policies towards sodium reduction. People are demonstrating a strong preference for consuming salt content reduction elements as a means of addressing this worldwide problem and lowering prescription dependence. Throughout the projection period, this will continue to fuel salt content reduction ingredients market expansion.
For instance, in July 2021, 3 new low sodium products have been added to the Food For Life Baking's portfolio, according to the company. As a result, the majority of processed food producers rely on additives that lower salt levels. However, At the same time, it should be mentioned that choosing a solution that works well, in this case, is quite difficult. In other words, it can be difficult to determine how much salt content reduction component to add while processing food goods. The market would undoubtedly be constrained by these factors throughout the anticipated timeframe.
The COVID-19 epidemic has reduced market demand and employment, but it hasn't stopped major market players from implementing some fresh methods of business evaluation. The market is expanding due to health issues, which are a key worry for both businesses and consumers. As a result, the salt content reduction ingredients market is expected to develop significantly following COVID-19, and businesses are moving toward greater service standards and technological advancements.
Industry Dynamics
Growth Drivers
The rising adoption of salt across various food items has increased the prevalence of various chronic diseases which has increased the demand for salt-reduction ingredients. If ingested in excess, salt can cause several health problems, including hypertension, heart disease, and other cardiovascular conditions. According to estimates from the WHO, there are 1.28 billion persons worldwide who have hypertension. This would lead to a higher level of medical dependence and hence higher costs. This necessitates consuming less salt.
Moreover, serious health issues might result from excessive salt consumption. Among them are stomach cancer and renal stones. People are consuming fewer salted and smoked foods as a result of the greater usage of refrigeration for food preservation (known risk factors for stomach cancer).
For instance, The American Cancer Society has projected the numbers for stomach cancer, commonly known as gastric cancer, in the US for 2023 such as there are about 26,500 new instances of stomach cancer (15,930 in men and 10,570 in women) and 11.130 people lose their lives to this form of cancer (6,690 men and 4,440 women). About 1.5% of all new cancer cases identified in the US each year are stomach malignancies. As a result, the awareness of reducing salt consumption has grown over time. This has subsequently had an impact on the market for substances used to reduce salt content.
Report Segmentation
The market is primarily segmented based on product type, application, and region.
By Product Type

By Application

By Region

Yeast Extracts

Glutamates (Monosodium/Potassium)

High Nucleotide Ingredients (Disodium Inosinate, Calcium Inosinate, etc.)

Hydrolyzed Vegetable Protein (HVP)

Mineral Salts (KCl, K2SO4, CaCl2, etc.)

Others

Dairy Products

Bakery Products

Fish Derivatives

Meat and Poultry

Beverages

Sauces and Seasonings

North America (U.S., Canada)

Europe (France, Germany, UK, Italy, Netherlands, Spain, Russia)

Asia Pacific (Japan, China, India, Malaysia, Indonesia. South Korea)

Latin America (Brazil, Mexico, Argentina)

Middle East & Africa (Saudi Arabia, UAE, Israel, South Africa)
Know more about this report: Request for sample pages
The mineral salts segment is expected to witness the fastest growth
The mineral salts segment is expected to grow with the fastest CAGR due to their easy availability and affordable price compared to alternatives, and mineral salts are the most used type of substance for sodium reduction. Trehalose, nucleotides, and hydrolyzed vegetable protein are some other substances anticipated to experience considerable expansion during the projection period.
These products are becoming more and more important as masking agents for bitterness and metallic aftertaste in food products. In culinary flavors and preparations like seasonings and sauces, sodium reduction substances are becoming more and more popular. This is anticipated to significantly increase its demand. Market participants should gain a competitive edge by increasing R&D to create superior ingredients.
The bakery products segment accounted for the highest market share in 2022
By deciding to lower the salt level of their products, bakers could improve the health of people all around the world. Additionally, the worldwide market is expected to experience exponential growth throughout the forecast period as reduced salt versions of sauces, spices, and culinary flavors become more popular. It is projected that the growing use of components with lower salt content in baked goods, frozen foods, and confectionary products would create new market expansion opportunities.
The growing consumption of processed food globally along with an increase in the usage of salt-reduction compounds in bread, sandwiches, and pizza is another important factor projected to enhance the market growth for the forecast period. Similarly, it is predicted that the market would expand more quickly due to the rising use of seasonings, sauces, and culinary flavors, growing manufacturer R&D activities, and production of unique goods with better attributes. Similarly, it is anticipated that sales of ingredients that reduce salt content will increase due to the fast-paced expansion of the food and beverage industry brought on by the population's rapid growth, changing lifestyles, rising disposable income, and rising food consumption.
The North America held largest market share in 2022
The U.S. is anticipated to continue to dominate in terms of both value and volume over the projected period. This is primarily due to the US government's numerous laws and rules as well as WHO recommendations on salt consumption. To maintain cardiac health, several governmental and private groups in the area are running health awareness campaigns that encourage the use of salt-reduction components in food products. In consequence, this has had a favorable impact on the North American market for additives that reduce salt content.
Asia pacific is expected to dominate the market. As persistent efforts to reduce salt consumption increase, Australia is developing as a prospective investment location for well-known salt content reduction ingredient makers. The government has set a goal of reducing salt (sodium) by 30% by 2025, which is anticipated to present lucrative prospects for makers of salt-content reduction additives in the area.
In addition, packaged food consumption has increased, particularly in China and India. As a result, producers of packaged foods have switched out salt for substances that lower salt content, like yeast extracts and mineral salts. Since the Japanese Hypertension Society (JHS) is quite active in Japan, Japan has the greatest market share in the Asia-Pacific region.
Competitive Insight
Some of the major players operating in the global salt content reduction ingredients market include Advanced Food Systems, AJINOMOTO CO. INC., Angel Yeast., Archer Daniels Midland, Associated British Foods, Cargill Incorporated, E.I. du Pont, Fufeng Group, Givaudan SA, Innophos Holdings, Jungbunzlauer Suisse, Kerry Group, Savoury Systems International, Sensient Technologies, Smart Salt, and Tate & Lyle.
Recent Developments
In April 2022,

Tata Salt has introduced Tata Salt SuperLite, the first salt in India to be 30% reduced in sodium. For those who are encouraged to cut back on sodium in their diets, Tata Salt's SuperLite is made with 30% less sodium than refined iodized salt.

In May 2020, Phyto Corporation (PhytoCo), launched PhytoSalt, the first plant origin based salt in the world that is low in sodium and free of microplastics, in the nation. With the help of its salt aggregation plant "Salicornia".
Salt Content Reduction Ingredients Market Report Scope
| | |
| --- | --- |
| Report Attributes | Details |
| Market size value in 2023 | USD 4.80 billion |
| Revenue forecast in 2032 | USD 10.80 billion |
| CAGR | 9.4% from 2023 - 2032 |
| Base year | 2022 |
| Historical data | 2019 – 2021 |
| Forecast period | 2023 – 2032 |
| Quantitative units | Revenue in USD billion and CAGR from 2023 to 2032 |
| Segments Covered | By Product Type, By Application, By Region |
| Regional scope | North America, Europe, Asia Pacific, Latin America; Middle East & Africa |
| Key Companies | Advanced Food Systems, Inc., AJINOMOTO CO. INC., Angel Yeast Co. Ltd., Archer Daniels Midland Company, Associated British Foods PLC, Cargill Incorporated, E.I. du Pont de Nemours & Co., Fufeng Group Ltd., Givaudan SA, Innophos Holdings Inc., Jungbunzlauer Suisse A.G., Kerry Group, Koninklijke DSM N.V., Savoury Systems International Inc., Sensient Technologies Corporation, Smart Salt Plc., and Tate & Lyle PLC |