The global satellite payload market was valued at USD 14.35 billion in 2022 and is expected to grow at a CAGR of 23.7% during the forecast period.
The communication and navigation industry has experienced significant growth due to innovations in technologies such as Radio Frequency (RF) pay-load systems, & advanced regenerative pay-loads. One of the key trends driving this growth is miniaturization, which has led to the development of small radar cameras and sensors. These compact devices are commonly integrated into large satellites, enabling them to capture high-quality images of the Earth's surface.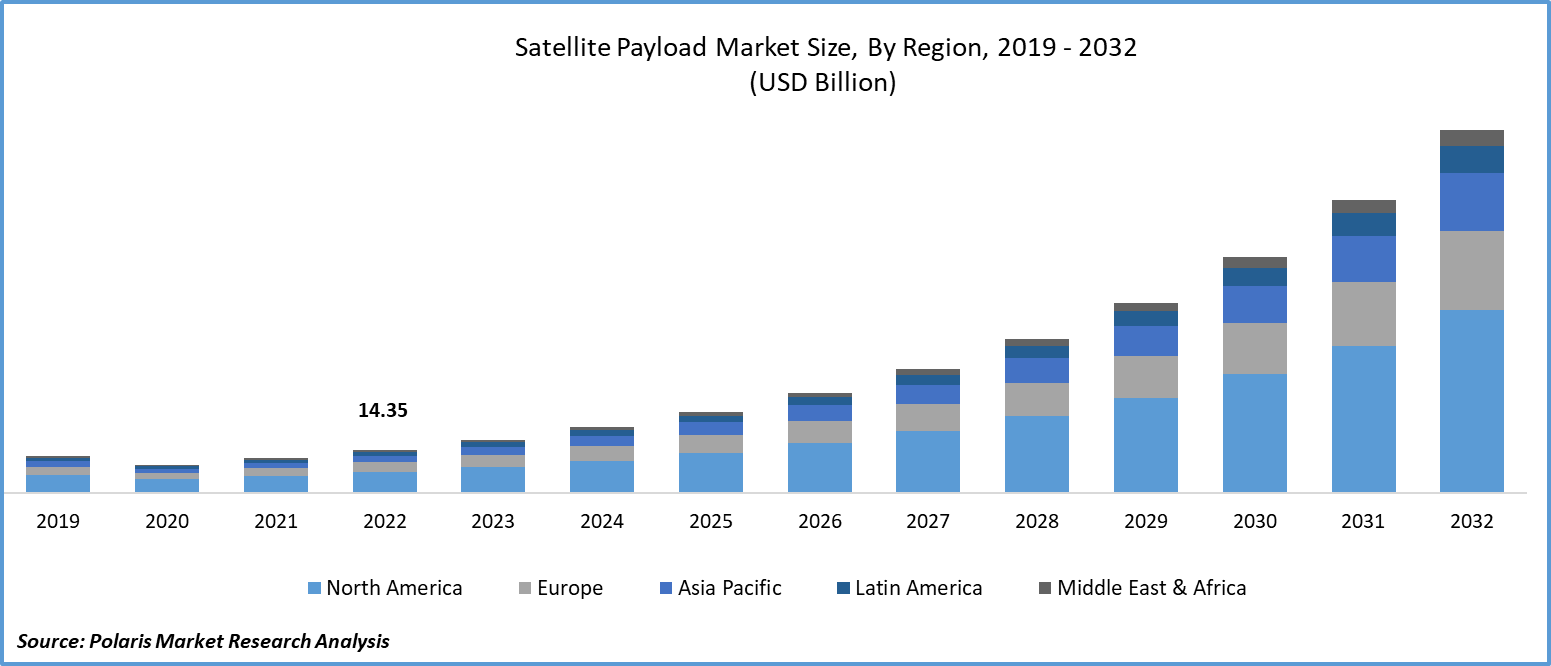 To Understand More About this Research: Request a Free Sample Report
These small satellites come equipped with advanced payloads that offer valuable information about various aspects of the Earth's surface, including land cover characteristics and urban regions. The data collected by these payloads serve multiple purposes, ranging from environmental monitoring to urban planning and disaster management. By harnessing the power of miniaturized radar cameras and sensors, the industry has been able to enhance its capabilities, providing more detailed and precise information about planet.
This progress not only fuels technological advancements but also opens new avenues for applications in areas such as agriculture, environmental conservation, and urban development. As the industry continues to evolve, these innovations in communication and navigation applications are set to shape the future of satellite technology, enabling us to better understand and utilize planet's resources.
The satellite industry is undergoing a transformative shift with the rising prominence of digital payloads. These innovative technologies are revolutionizing the way bandwidth is managed by enabling seamless switching between different transponders. This flexibility in bandwidth allocation is a game-changer, allowing satellite operators to adapt swiftly to changing demands and optimize their resources effectively.
As digital payloads continue to gain traction, they are not only driving down costs but also expanding the possibilities of satellite-based communication and navigation. This evolution signifies a fundamental shift in how we perceive and utilize satellite technology, paving the way for a future where efficient, cost-effective, and accessible satellite services play a pivotal role in various sectors, from telecommunications to remote sensing and beyond.
The emergence of Digital Transparent Processor (DTP) technology marks a significant milestone in the satellite industry, promising a transformative impact on how satellite communication systems operate. DTPs are poised to revolutionize the satellite payload market by utilizing multiple beams from satellites and integrating them into a single loop. This innovative approach enables seamless and efficient connections to multiple gateways, addressing various challenges related to connectivity and channelization.
Furthermore, DTPs offer a high degree of flexibility in connectivity. They can adapt to diverse network configurations and dynamically allocate resources based on demand. This adaptability is crucial in overcoming connection and channelization concerns that often arise in complex communication scenarios. Whether it is managing varying data rates, accommodating different frequencies, or adjusting to changing user demands, DTPs provide the necessary flexibility to optimize connectivity and ensure efficient utilization of satellite resources.
Additionally, the seamless integration of multiple beams through DTP technology enhances the overall efficiency of satellite networks. By overcoming connectivity challenges and optimizing signal transmission, these processors contribute to improved data throughput and reduced latency. This, in turn, leads to enhanced user experience, making satellite-based services more responsive and reliable for end-users.
Industry Dynamics
Growth Drivers
Ongoing advancements in satellite technology
The increasing adoption of digital payloads is not only reshaping the operational dynamics of satellites but also significantly impacting the industry's cost structure. By offering versatile solutions for various applications and services, digital payloads are enhancing the overall efficiency of satellite communication systems. This enhanced efficiency translates into cost savings, making satellite technology more accessible and affordable for a broader range of applications.
One of the notable advantages of digital payloads is their ability to facilitate the use of smaller and more affordable ground antennas. This cost advantage is a result of the optimized bandwidth management made possible by digital payload technology. Manufacturers are responding to this trend by developing compact antennas that can automatically align with satellites, further reducing the overall infrastructure costs for end users.
Report Segmentation
The market is primarily segmented based on orbit, application, end use, and region.
By Orbit

By Application

By End Use

By Region

Low Earth Orbit (LEO)

Medium Earth Orbit (MEO)

Geostationary Earth Orbit (GEO)

Communication & Navigation

Remote Sensing

Surveillance

Others

Civil

Military

Commercial

North America (U.S., Canada)

Europe (France, Germany, UK, Italy, Netherlands, Spain, Russia)

Asia Pacific (Japan, China, India, Malaysia, Indonesia. South Korea)

Latin America (Brazil, Mexico, Argentina)

Middle East & Africa (Saudi Arabia, UAE, Israel, South Africa)
To Understand the Scope of this Report: Speak to Analyst
By Orbit Analysis
LEO segment accounted for the largest share in 2022
LEO segment held the largest share. LEO satellites have gained significant recognition due to their ability to offer highly detailed images of the Earth's surface. This detailed imagery, capturing even minute features, has made them invaluable. These payloads offer several advantages to end users. Firstly, they provide a low-risk pathway to access orbit, ensuring a more secure deployment process. Secondly, these payloads deliver cost-effective space-quality data, making satellite technology more accessible and affordable. Additionally, they excel in providing efficient in-orbit data, ensuring the seamless flow of information.
Moreover, the rising prevalence of Low Earth Orbit (LEO) payloads has created new avenues for launch service providers to innovate dispenser systems, allowing for the simultaneous deployment of multiple satellites in LEO orbits. The growing demand for C-band and Ku-band Geostationary Earth Orbit (GEO) satellites has influenced the hardware components integrated into these satellites. Suppliers are developing technologies aimed at achieving enhanced performance while striving to minimize the launch mass. GEO satellites serve various purposes, including direct-to-home broadcasting, internet services, and regional mobile telecommunications applications.
By Application Analysis
Communication & navigation segment held the largest share
Communication & navigation segment held the largest revenue share. A pivotal trend shaping the communication and navigation sector is the rise of High Throughput Satellites (HTS). The substantial reduction in data costs and the significant improvement in satellite capital expenditure efficiencies have revolutionized the communication industry. Communication payloads have experienced notable advancements in technology, including innovations like channelization, space-based inflatable reflector antennas, internet routers in space, and the creation of power amplifiers.
Additionally, payloads play a crucial role in remote sensing applications, especially in fields like agriculture, where they are employed for tasks such as crop monitoring, land use mapping, watercourse surveillance, and disaster monitoring and mitigation efforts. Recent advancements, such as digital sensors in remote sensing, enable the scanning of vast areas of the Earth's surface. This data is then transmitted to satellite ground stations, showcasing the continuous evolution of technology in capturing detailed information for various applications.
By End Use Analysis
Commercial sector segment held the largest share
Commercial sector segment held the largest revenue share. This dominance can be attributed to the growing requirement for commercial payloads, driven by the escalating demand for broadband internet services and high-definition videos. The necessity for these high-quality videos has spurred a higher demand for increased satellite capacity. Consequently, industry players have expanded their in-orbit fleets to meet these requirements effectively.
Moreover, commercial satellites, due to their ease of programming and launch, have become a favored choice among end-use industries. The intentional shift in federal policy, promoting private sector satellite launches, is anticipated to have a positive impact on industry growth in the coming years. The rising demand for telecommunication and earth observation satellites is expected to drive the evolution of the commercial segment throughout the forecast period.
Regional Insights
The demand in North America garnered the largest share in 2022
The North America region dominated the global satellite payload market. The region's dominance can be attributed to the presence of major industry players and the augmented government investments in space technologies, fostering regional growth. Notably, the U.S. military recently deployed a communication satellite designed to enhance communication with soldiers. This satellite has the capacity to facilitate voice, data, and video transmission through a wide array of ground-based and mobile terminals.
Asia Pacific will grow at rapid pace. Heightened investments in telecommunication and earth observation satellites are anticipated to make a substantial contribution to market demand. The regional growth is further propelled by factors such as the growing commercialization of space activities and the rapid expansion of the local space industry.
Key Market Players & Competitive Insights
Manufacturers are introducing novel technologies that change the cost-effectiveness dynamics of payloads. A notable trend in recent years is the growing significance of miniaturization, especially in applications related to data collection and scientific observations.
Some of the major players operating in the global market include:
Airbus Group

Honeywell International Inc.

Lockheed Martin Corporation

Northrop Grumman

Raytheon Corporation

Sierra Nevada Corporation

Thales Group

The Boeing Company
Recent Developments
In January 2023, Airbus has entered into an agreement with the Belgian Ministry of Defence to provide them with an advanced UHF satellite communications service for their defense forces. This new payload is designed to bolster Airbus's portfolio over the satellite's entire lifespan.
Satellite Payload Market Report Scope
| | |
| --- | --- |
| Report Attributes | Details |
| Market size value in 2023 | USD 17.71 billion |
| Revenue forecast in 2032 | USD 120.33 billion |
| CAGR | 23.7% from 2023 – 2032 |
| Base year | 2022 |
| Historical data | 2019 – 2021 |
| Forecast period | 2023 – 2032 |
| Quantitative units | Revenue in USD billion and CAGR from 2023 to 2032 |
| Segments covered | By Orbit, By Application, By End Use, By Region |
| Regional scope | North America, Europe, Asia Pacific, Latin America; Middle East & Africa |
| Customization | Report customization as per your requirements with respect to countries, region and segmentation. |