The global satellite propulsion system market was valued at USD 9 billion in 2017 and is anticipated to grow at a CAGR of 5.3% during the forecast period. Satellite propulsion systems are designed to accelerate and power satellites into orbit. The satellite propulsion system delivers precise impulse bits for accurate control of position or altitude of satellites in the orbits. The different propulsion types used in satellites include chemical propulsion system, electric propulsion system, and hybrid propulsion system. Electric propulsion uses electrical power to accelerate a satellite, and requires very little mass to accelerate a satellite.
The demand for low cost small satellites has increased significantly as companies operating large satellites are looking for lighter and cost effective platforms. The increasing development of reusable space launch vehicles provides growth opportunities in the Satellite Propulsion System Market. The increasing deployment of Cubesats, and rising applications of satellite propulsion systems in the commercial sector boosts the market growth. Reducing prices of small satellites has increased its application areas, thereby supplementing the growth of this market. Growing interest of governments in small satellites for earth observation and defense sector would also support the growth of this market. Expansion of established companies into emerging economies, and technological advancements would provide numerous growth opportunities in the Satellite Propulsion System Market.
North America Satellite Propulsion System Market Share By Type, 2017 - 2026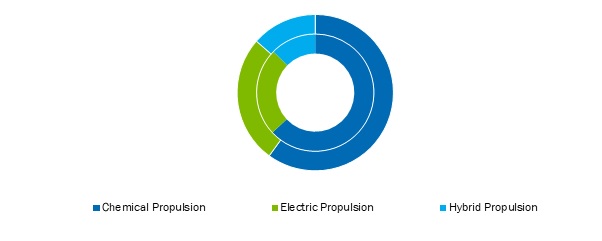 Know more about this report: request for sample pages
Segment Analysis
The global Satellite Propulsion System market is segmented on the basis of type, and geography. Based on the type, the market is segmented into Chemical Propulsion, Electric Propulsion, and Hybrid Propulsion. The chemical propulsion segment dominated the global market in 2017. However, the electric propulsion is expected to grow at the highest CAGR during the forecast period owing to growing adoption of small satellites, and increasing environmental concerns.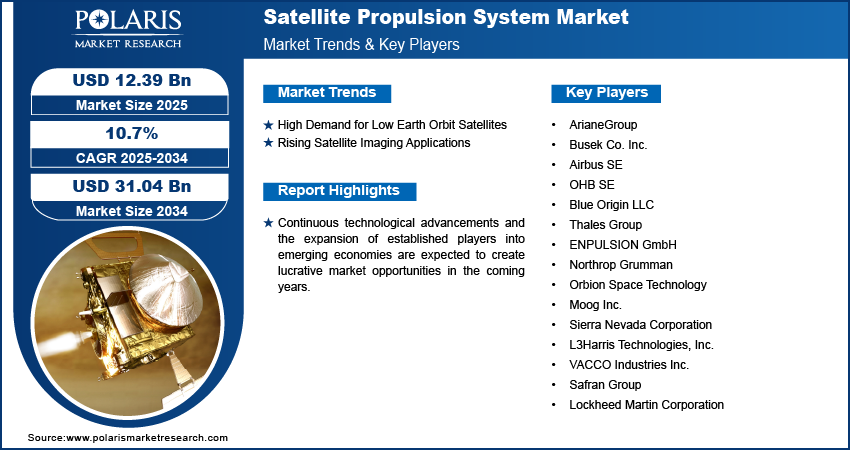 Know more about this report: request for sample pages
Regional Analysis
Satellite Propulsion System Market comprises a detailed geographic distribution of the market across North America, Europe, Asia-Pacific, Latin America, and MEA. North America is further segmented into U.S., Canada, and Mexico. Europe is divided into Germany, UK, Italy, France, and Rest of Europe. Asia-Pacific is bifurcated into China, India, Japan, and Rest of Asia-Pacific. North America accounted for the largest share in the global Satellite Propulsion System in 2017 owing to growing applications of small satellites in agriculture, real estate, defense, and government sectors in the region.
Competitive Landscape
The leading players in the Satellite Propulsion System Market include Ball Aerospace & Technologies Corp., Thales Group, Safran S.A, Mitsubishi Electric Corporation, Airbus Defense and Space, Airbus Defense and Space, The Boeing Company, Orbital ATK Inc., Aerojet Rocketdyne, OHB System AG, Bellatrix Aerospace, and Northrop Grumman Corporation. These vendors in the market are launching new products to meet the growing customer needs. In addition, the leaders in the market are acquiring and collaborating with top companies in the market to enhance their offerings in the market and expand their customer base.