The global scaffold technology market was valued at USD 1.11 billion in 2020 and is expected to grow at a CAGR of 9.1% during the forecast period. Prominent factors responsible for the market growth include the high demand for reconstruction surgeries among high net-worth individuals and easier organ transplantation procedures all over the globe. Biomimetic tissue is usually responsible to generate scaffold technology to generate 3D organotypic structures to eases up transplantation processes, thereby boosting the market growth.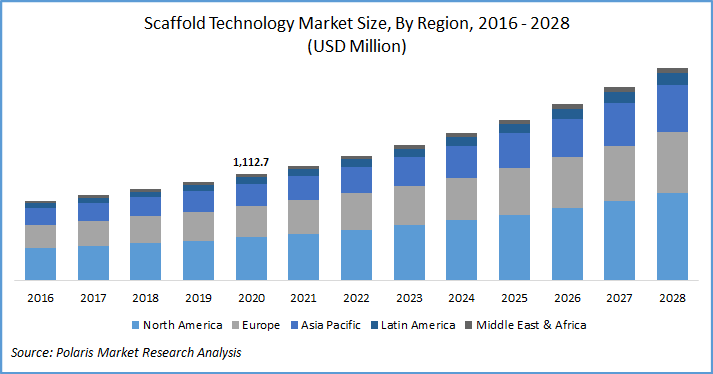 Know more about this report: request for sample pages
Industry Dynamics
Growth Drivers
Advancements in 2D to 3D cell culture techniques have provided significant opportunities in tissue engineering and cell therapy. Spheroids enhance the efficacy of the mesenchymal stem cells to improve tissue regenerative, reparative, and anti-inflammatory effects, with better survival rates post-transplantation. This has positively impacted the adoption of 3D scaffold cultures.
Introduction of biological scaffolds with distinguishable features such as inertness, biodegradability, ability to produce fluorescence for imaging propelling the market growth. Moreover, product launches by key players also favoring the market. For instance, in August 2019, Meril Life Sciences received approval for its biological scaffold "MeRes100 BRS", to be used for coronary artery lesions.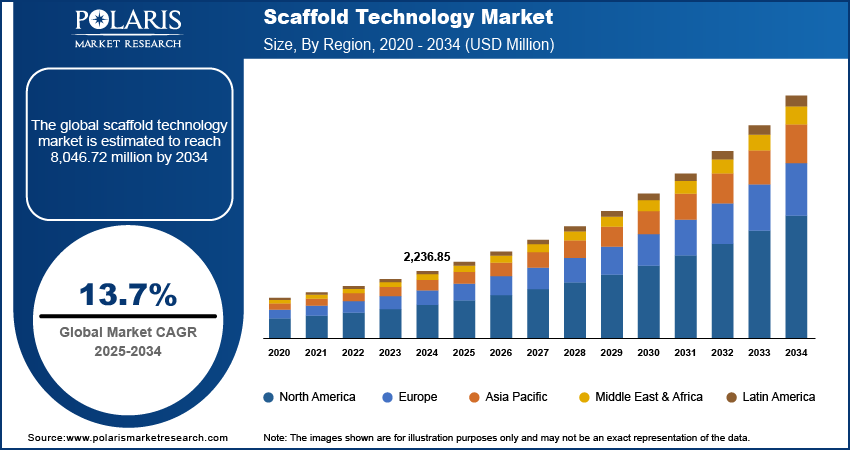 Know more about this report: request for sample pages
Scaffold Technology Market Report Scope
The scaffold technology market is primarily segmented on the basis of type, application, disease type, by end-use, and region.
By Type

By Application

By Disease Type

By End Use

By Region

Hydrogels
Polymeric Scaffolds
Micropatterned Surface Microplates
Nanofiber Based Scaffolds

Stem Cell Therapy, Regenerative Medicine, & Tissue Engineering
Drug Discovery
Others

Orthopedics, Musculoskeletal, & Spine
Cancer
Skin & Integumentary
Dental
Cardiology & Vascular
Neurology
Urology
GI, Gynecology
Others

Biotechnology and Pharmaceutical Industries
Research Laboratories and Institutes
Hospitals and Diagnostic Centers
Others

North America (U.S., Canada)
Europe (France, Germany, UK, Italy, Spain, Netherlands, Austria)
Asia Pacific (Japan, China, India, Malaysia, Indonesia, South Korea)
Latin America (Brazil, Mexico, Argentina)
Middle East & Africa (Saudi Arabia, UAE, Israel, South Africa)
Know more about this report: request for sample pages
Insight by Application
Based on application, the global scaffold technology market is bifurcated into stem cell therapy, regenerative medicine, & tissue engineering, drug discovery, and others. In 2020, the stem cell therapy segment accounted for the largest revenue share. Such a high share is attributed to the extensive use of scaffolds in aesthetic surgeries, soft tissue repairs, tumor repairs, and wound healing.
A combination of anti-microbial agents in the tissue repairs to enhance the cell regeneration process is projected to improve reconstructive surgeries. Advancements in computational techniques and fabrication technology have enabled the development of tissue scaffolds with controlled architectures.
The drug discovery market segment is expected to witness the highest growth rate over the assessment period. This is due to the strong demand for scaffold technology in drug discovery. The ability of 3D cell models to mimic the micro-environment for cell pathways and etiology studies has contributed largely to the market segment's growth. Moreover, scaffold reagents are primarily used for drug profiling driving the technology demand.
Insight by Disease Type
In 2020, the musculoskeletal market segment accounted for the largest revenue share, owing to rising cases of orthopedic complications. Each year, in the U.S. alone, more than 15 million fractures occur, this comprises 2 million osteoporosis and 1.6 million traumatic fractures. It is being estimated that over 1.6 million grafts are required each year in the U.S., with a huge economic burden of USD 60 billion.
The neurology market segment is anticipated to grow at the fastest rate over the assessment period. This is due to continuously rising research & development services for neurological disorders. For instance, in January 2019, researchers at the University of California and the Institute of Engineering in Medicine developed spinal cord with the use of 3D printed scaffolds. It was loaded with stem cells to generate itself in the whole organ. Thus, advancements in the technology and appropriate funding likely to fuel the market segment's growth.
Insight by End-Use
In 2020, the biotechnology market segment accounted for the largest revenue share. The wide application of scaffolds in drug screening and target validation studies is primarily responsible for such a huge share. Moreover, these firms use technology to deliver drugs and other modifications. The hospital segment is projected to register the highest market growth over the study period.
The rising grafting technology procedures such as biological scaffolds in hospital settings and rise in cardiovascular surgeries are primarily responsible for the segment's growth. For instance, Apollo hospitals introduced bio-resorbable vascular scaffold procedures to treat heart-related ailments. Moreover, bridge enhanced ACL repair by the Boston Children Hospital utilizes scaffolding technology to heal torn ligaments.
Geographic Overview
North America accounted for the largest revenue share. Regional factors contributing to the growth include recent advancements in stem cell research and regenerative medicine, an increase in research and funding towards scaffolding technology, and the presence of technology innovative companies in the region. Moreover, a large number of academic institutions are involved in technology research also favoring the region's growth.
The Asia Pacific is projected to witness a lucrative growth rate over the assessment period. Strong government focus on stem cell research is favoring the technology market growth. For instance, Indian Council of Medical Research (ICMR) and the National Centre for Cell Science deal with regenerative medicine in India. Both are government-funded organizations involved in the research and development of stem cell therapy and scaffold technology.
Competitive Insight
The key players operating in the market for scaffold technology are Merck KGaA, Thermo Fisher Scientific, Inc., Pelobiotech, Corning Incorporated, Avacta Life Sciences Limited, Vericel Corporation, Becton, Dickinson and Company, 3D Biotek LLC, Xanofi, Molecular Matrix Inc., REPROCELL Inc., Matricel GmbH, Akron Biotech, Nanofiber Solutions, 4titude, 3D BioMatrix, NuVasive, Inc., Allergan, and Medtronic.