The global shooting ranges market was valued at USD 1.21 billion in 2022 and is expected to grow at a CAGR of 7.6% during the forecast period. The shooting range industry is experiencing a period of rapid growth and modernization, due to an increase in spending by military and law enforcement organizations on weapons training across departments, rising youth engagement in indoor and outdoor sports, as well as rising demand for technologically improved shooting ranges equipment, particularly in emerging economies, are expected to drive the worldwide shooting ranges market over the projected period.

To Understand More About this Research: Request a Free Sample Report
Over the years, there has been a significant improvement in shooting range equipment and accessories, driven by technological advancements. The use of innovative technology has enhanced shooting experience for both professionals and amateurs, making it more accessible and safer. One Example is Artificial intelligence (AI) target systems where the goal of using image processing technology in these shooting ranges is to reduce the likelihood of potentially fatal accidents caused by these persons. Targets used at shooting ranges are made using artificial intelligence. When the weapon's camera detects certain targets, it transitions out of safe mode and into firing mode. The pistol automatically enters safe mode with several additional security features when a problematic scenario arises at the range.
The outbreak of the COVID-19 pandemic has significantly impacted the growth of the shooting ranges market. The outbreak of the pandemic in 2020 led to the closure of many shooting ranges worldwide. As the pandemic continued, shooting ranges were gradually reopened, but they had to comply with new health and safety regulations. The restrictions included limiting the number of customers allowed in the range, enforcing social distancing, and requiring customers to wear masks. These restrictions have impacted the shooting range market in several ways. the pandemic has also affected the supply chain for shooting range equipment. The lockdowns and travel restrictions have disrupted the production and transportation of equipment, leading to delays in delivery and increased costs.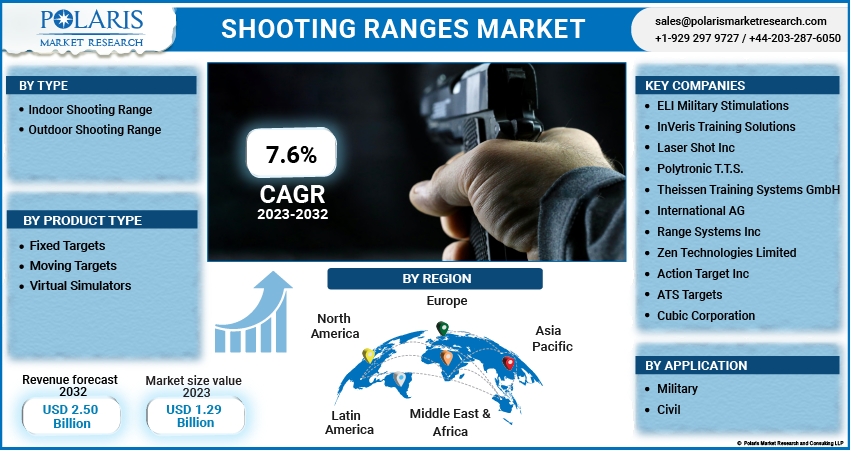 For Specific Research Requirements, Speak to Research Analyst
Industry Dynamics
Growth Drivers
The shooting ranges is experiencing growth due to the rising interest in recreational shooting activities and shooting competitions. The shooting ranges market includes indoor and outdoor shooting ranges that offer shooting facilities for various types of firearms and archery. Recreational shooting activities have gained popularity in recent years, as they offer a unique experience and a chance to hone shooting skills. Shooting ranges provide a safe and controlled environment for individuals to practice and enjoy shooting activities, without having to worry about legal restrictions and safety concerns. Additionally, the increasing popularity of shooting competitions and events has created a demand for shooting ranges that offer advanced facilities and equipment.
Moreover, the rising demand for shooting ranges is driven by the growing interest in hunting and self-defense activities. The shooting ranges market caters to the needs of hunters, law enforcement agencies, and individuals interested in self-defense activities. Governments around the world are also promoting recreational shooting activities and investing in the construction of new shooting ranges. For instance, the UK government recently announced a EUR 3.6 million investment in new performance archery facilities to help increase participation in shooting sports.
Report Segmentation
The market is primarily segmented based on type, product type, application, and region.
By Type

By Product Type

By Application

By Region

Indoor Shooting Range

Outdoor Shooting Range

Fixed Targets

Moving Targets

Virtual Simulators

North America (U.S., Canada)

Europe (France, Germany, UK, Italy, Netherlands, Spain, Russia)

Asia Pacific (Japan, China, India, Malaysia, Indonesia. South Korea, Others)

Latin America (Brazil, Mexico, Others)

Middle East & Africa (Saudi Arabia, UAE, Israel, South Africa)
To Understand the Scope of this Report: Speak to Analyst
Indoor Shooting Range segment accounted for the largest market share in 2022.
Indoor shooting ranges are enclosed shooting facilities that provide a safe and controlled environment for shooters to practice their marksmanship skills. These are shooting ranges that are only accessible to members or affiliated groups. These ranges often offer additional amenities such as lounge areas, locker rooms, and training facilities. Indoor shooting ranges are equipped with advanced technology such as computerized target systems and interactive simulators, which provide shooters with a more immersive and engaging shooting experience. These facilities are typically found in urban or suburban areas which makes them easily accessible to a larger population. This accessibility has contributed to their popularity and growth in recent years.
An outdoor shooting range is a facility that allows shooters to practice at longer distances and in more varied terrain. Outdoor ranges are typically located in rural areas and may be operated by private organizations or government agencies. Outdoor ranges may have a maximum shooting distance of several hundred yards or more, making them ideal for long-range rifle practice. Outdoor ranges may also offer more advanced shooting courses, such as tactical and combat training.
Virtual Simulators segment is expected to witness fastest growth.
The market for virtual simulators is anticipated to expand most quickly. Virtual simulators are a newer addition to the shooting range market. They provide individuals with a simulated shooting experience using advanced computer graphics and software. Virtual simulators can recreate a variety of shooting scenarios, from basic target practice to complex tactical simulations. They provide a safe and cost-effective way for individuals to practice shooting skills in a controlled environment. For example, Meggitt Training Systems offers a virtual simulator called FATS 100MIL, which allows individuals to practice shooting in a virtual environment that mimics real-world scenarios.
Fixed targets are a popular choice for shooting ranges as they provide a stationary target for individuals to practice their aim and accuracy. Fixed targets can come in a variety of shapes and sizes, from basic circular targets to more complex designs that mimic real-life shooting scenarios. They are often made of paper or cardboard and can be easily replaced or repositioned. For example, a wide range of fixed target designs, including bullseye targets, silhouette targets, and even animal-shaped targets for hunting practice.
Moving targets are another popular choice for shooting ranges. They provide a more dynamic shooting experience, as the target moves across the range, forcing individuals to adjust their aim and timing. Moving targets can come in a variety of forms, such as a mechanical system that propels the target across the range or a simple pulley system that allows the target to move back and forth.
Military sector is expected to hold the significant revenue share.
During the forecast period, the military segment is anticipated to have the largest share. The military segment of the shooting ranges market is driven by the need to train soldiers and other military personnel in the use of firearms. The segment includes ranges that are owned and operated by military organizations, as well as ranges that are leased from private operators. Military ranges may be located on military bases or in remote areas, and they may include a variety of shooting scenarios, such as urban environments, open fields, and specialized training areas.
One example of a military shooting range is the Joint Multinational Readiness Center (JMRC) in Germany. The JMRC is a premier training facility for U.S. and NATO forces, providing realistic combat scenarios and live-fire exercises to prepare troops for deployment to combat zones. The facility includes ranges for small arms, machine guns, and anti-tank weapons, as well as urban and rural combat training areas.
Civil segment of the shooting ranges market includes ranges that are open to the public or operated by private organizations. The segment is driven by a variety of factors, including the increasing popularity of recreational shooting, the need for training and certification for law enforcement personnel, and the growth of shooting sports such as hunting, target shooting, and competitive shooting. Sub-segments within the civil segment of the shooting ranges market include indoor and outdoor ranges, public and private ranges, and ranges that specialize in specific types of shooting, such as archery, skeet shooting, or pistol shooting. Some shooting ranges also offer additional services such as gun rentals, instruction, and gunsmithing.
North American demand is projected to expand significantly.
North America is one of the leading regions in the shooting ranges market, owing a rise in the use of shooting simulation and training systems by defense organizations as a result of the numerous military modernization and improvement initiatives being carried out in North America. Advanced defense technology development is also accelerated by a rise in investment. Additionally, the expansion of shooting sports contests in the area is anticipated to favor market expansion throughout the projection period. For Example, As of the fiscal year 2023, the U.S. Department of Defense (DoD) has a budget of $773 billion, making it the largest federal organization in the country. This allotment represents a 4.1% increase above the DoD budget for 2022.
Asia Pacific is expected to be the fastest growing in the global shooting ranges market over the forecast period. The demand for fixed and moving target shooting ranges by the defense forces of countries present in the Asia-Pacific region has grown because of an increase in geopolitical conflicts and increasing defense spending for training their personnel to manage challenging situations. Sport's governing boards of nations present in this region have increased their need for shooting ranges as a result of a rise in the number of competitors in international shooting and archery contests.
Competitive Insight
Some of the major players operating in the global market include ELI Military Stimulations, InVeris Training Solutions, Laser Shot Inc., Polytronic T.T.S. Theissen Training Systems GmbH, International AG, Range Systems Inc., Zen Technologies Limited, Action Target Inc., ATS Targets, and Cubic Corporation.
Recent Developments
In March 2023, the first facility of the indoor shooting range company "Range USA" could open in Minnesota. With 9 locations now under development, Range USA currently has 36 facilities spread over 11 states.
Shooting Ranges Market Report Scope
| | |
| --- | --- |
| Report Attributes | Details |
| Market size value in 2023 | USD 1.29 billion |
| Revenue forecast in 2032 | USD 2.50 billion |
| CAGR | 7.6% from 2023 - 2032 |
| Base year | 2022 |
| Historical data | 2021 - 2021 |
| Forecast period | 2023 - 2032 |
| Quantitative units | Revenue in USD billion and CAGR from 2023 to 2032 |
| Segments covered | By Type, By Product Type, By Application, By Region |
| Regional scope | North America, Europe, Asia Pacific, Latin America; Middle East & Africa |
| Key companies | ELI Military Stimulations, InVeris Training Solutions, Laser Shot Inc., Polytronic T.T.S. Theissen Training Systems GmbH, International AG, Range Systems Inc., Zen Technologies Limited, Action Target Inc., ATS Targets, and Cubic Corporation. |