The global silicone elastomer market size was valued at USD 6.02 billion in 2017 and is forecasted to grow at a CAGR of 5.1 % from 2018 to 2026. Elastomers are the major products made of silicone, and these account for over seventy percent of current silicone applications. Silicone elastomers are anticipated to gain more rapid gains over fluids or any other products that are made of silicone.
Significantly increasing application of elastomers in rebounding and development of construction sector in many parts of the globe and along with expanding opportunities in the automotive and the medical industry. Product demand will further benefit the rising utilization in the electronics, industrial machinery, and consumer goods owing to ease of flexibility, processing, and ability to form high precision parts.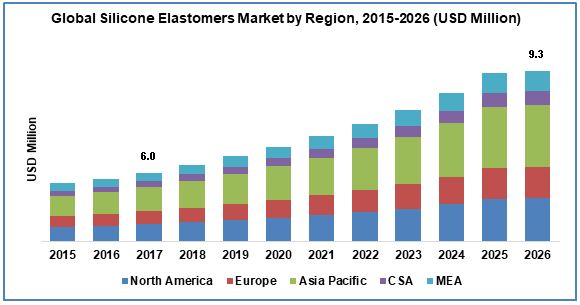 Know more about this report: request for sample pages
These products are also predicted to gain healthy gains led by renewed strength in the building and construction industry, where they are primarily employed in coatings and paints. The industrial markets represent leading outlets for elastomers, and increasing automobile production is the major cause behind this. Motor vehicles will continue to offer good opportunities for growth over the forecast period. And this is based on the auto markets efforts to improve vehicle safety and fuel efficiency, as well as more insulated and quieter interiors and cabins.
These products have a myriad of applications in microfluids and medical applications. These products are low Tg, truncated modulus materials with negligible secondary forces and no water adsorption. These are frequently considered to be the paradigm for the soft hydrophobic materials. Industry participants have been investing more, currently for novel innovative products owing to its increasing demand from a wide range of end-use industries that are significantly growing industries in the present time. One of such novel development is the treatment of silicone elastomer surface with O2 plasma, which improves the surface wettability owing to formation of hydrophilic groups.
Segment Analysis
The silicone elastomer market is segmented based on its types that includes liquid silicone rubber, high temperature vulcanized/high consistency rubber, room temperature vulcanized, by process including extrusion, liquid injection molding, injection molding, compression molding, others) and by end-use that consist of electrical & electronics, healthcare, automotive & transportation, industrial machinery, consumer goods, construction.
Silicone Elastomer Market Report Scope
By Product

By Process

By End-Use

By Region

Liquid Silicone Rubber
High Temperature Vulcanized/High Consistency Rubber
Room Temperature Vulcanized

Extrusion
Liquid Injection Molding
Injection Molding
Compression Molding
Others

Electrical & Electronics
Healthcare
Automotive & Transportation
Industrial Machinery
Consumer Goods
Construction

North America (U.S., Canada)
Europe (Germany, UK, France, Poland, Spain, Italy, Belgium)
Asia Pacific (China, India, Japan, Malaysia, Indonesia, Australia)
Latin America (Mexico, Brazil, Argentina)
Middle East & Africa (Saudi Arabia, UAE, Nigeria)
Know more about this report: request for sample pages
The construction industry was the largest end-use segment in 2017, driving over 40% of silicone elastomers demand. These product help in shaping today's modern buildings. Silicone elastomers find a wide range of application from complicated silicone profiles and sections that are fitted to steel, plastic or glass. The products is widely been used in vibration management of buildings as it acts to absorb stress, vibration and movements in concrete structures, especially taller structures that are prone to slightest of the movement from ground vibrations and wind.
Apart from offering vibration management, the component also provides sealing properties from dust, dirt and water ingress, and it makes it an ideal material to be used in building and other concrete structurers. Owing to silicone's excellent ozone and UV resistance, it has the longest life span compared to any other rubbers that are used in a range of outdoor environments.
Regional Analysis
Asia Pacific silicone elastomers market was the largest consumer of silicone elastomers in 2017, and China's market was the primary contributor. Largescale end-use industries witnessed significant yearly growth and it has been the major driving factor. The rising construction industry in emerging countries including India, Philippines, Malaysia and Indonesia, along with the developed markets in nations such as China, Japan, South Korea and Australia are the primary demand generating countries in the region.
An advanced and developed automobile manufacturing industry in Japan and South Korea and now India and China taking pace in the sector to further augment product demand over the forecast period. Western Europe and North America are also significant elastomer markets but with a comparatively slower growth as compared to APAC. Increasing demand from automobile manufacturers for use in feature-rich and advanced end-use products is majorly factor driving product growth in these regions.
Competitive Analysis
The silicone-based elastomer manufacturing industry is a competitive market space with several multinational and diversified product manufacturing companies that play an active role. Some of the leading industry participants include Momentive Performance Materials Inc., Dow Corning Corporation, Wacker Chemie AG, Shin-Etsu Chemical Co., Ltd., China National Bluestar (Group) Co., Ltd., KCC Corporation, Mesgo S.P.A., Reiss Manufacturing Inc., Zhejiang Xinan Chemical Industrial Group Co., Ltd., Mesgo S.P.A., and Specialty Silicone Products Inc.