The global gaskets and seals market size was valued at USD 65.1 billion in 2020 and is anticipated to grow at a CAGR of 3.9% during the forecast period. The products are increasingly being used for providing a physical barrier against contaminants, fluids, electromagnetic interference, and electrostatic discharge.
Rings are used for leakage or ingress prevention, protection against environmental contaminants and vibrations. Rubber is a prominent material used for the manufacturing of the product. Nitrile is used in applications involving oils, fuels, and solvents, whereas Viton is more appropriate for chemicals.
The automotive industry is a major contributor to the global market. Cork washers and compressed fiber seals are used in oil-bathed transmission systems. Geometrically shaped rings manufactured using steel, copper, and rubberized coating are used in engines to enable the passage of cylinder heads.
Engine gaskets and seals offer internal leakage prevention of oil, fluids, coolants, and air while enabling maximum compression. Automotive seals and gaskets are manufactured using a wide range of materials such as rubber, plastic polymer, and stainless steel. The product also uses other materials such as multi-layered steel, copper, and composites for enhanced strength and flexibility.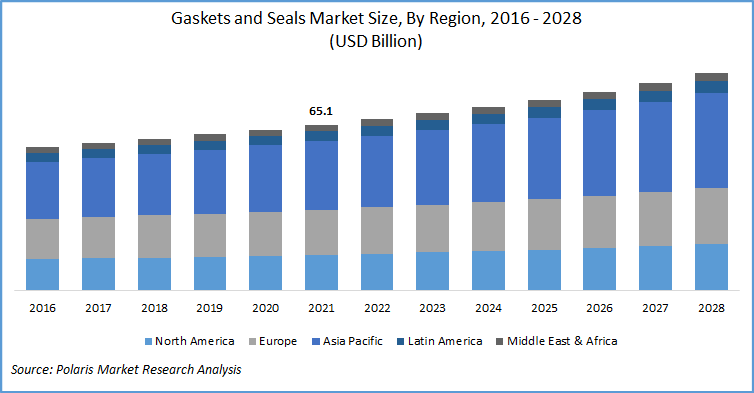 Know more about this report: request for sample pages
Industry Dynamics
Growth Driver
Fiber washers are offered by market players in a broad range of thicknesses, hardness, and colors. Vegetable fiber gasket is treated cellulose fiber material, which is permeated with protein glue and a glycerin binder to provide greater strength, flexibility, resistance to heavy pressure, and compressibility. It offers resistance to a wide range of materials such as oils, water, alcohol, grease, air, gas, gasoline, and other solvents.
Vulcanized fiber washers are hard, lightweight, durable, and chemically pure cellulose products with high tear resistance and excellent electrical properties. These products also offer greater mechanical strength, high flatness, and resistance to heat and cold.
The growing automotive industry and increasing penetration of passenger and commercial vehicles drive the growth of this market. The rising demand for modernized vehicles and rising demand from the aerospace and defense sector support the growth of the market across the globe.
The introduction of strict industrial emission regulations has increased the demand for gaskets and seals from the industrial and manufacturing sectors. The increasing industrialization, rising demand for automobiles from emerging economies, and technological advancements have also accelerated the sale of gaskets and seals.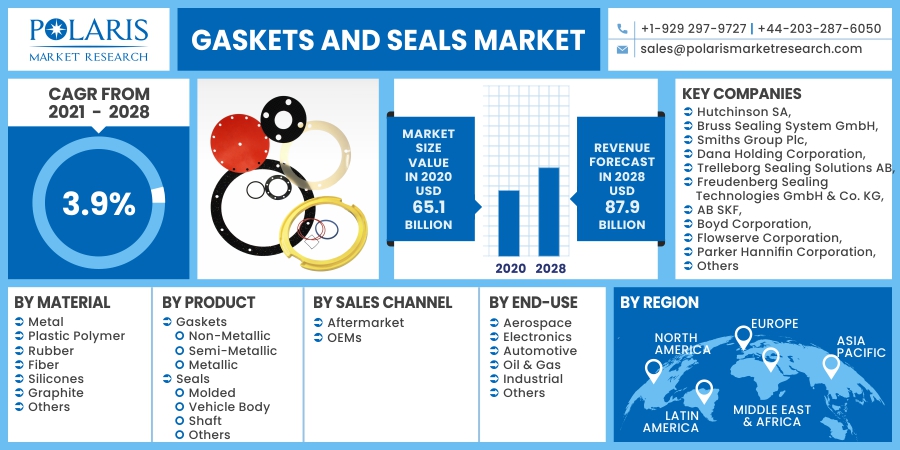 Know more about this report: request for sample pages
Gaskets and Seals Market Report Scope
The market is primarily segmented on the basis of material, product, sales channel, end-use, and region.
By Material

By Product

By Sales Channel

By End-Use

By Region

Metal
Plastic Polymer
Rubber
Fiber
Silicones
Graphite
Others

Gaskets

Non-Metallic
Semi-Metallic
Metallic

Seals

Molded
Vehicle Body
Shaft
Others

Aerospace
Electronics
Automotive
Oil & Gas
Industrial
Others

North America (U.S., Canada)
Europe (Germany, UK, France, Italy, Spain, Netherlands, Austria)
Asia Pacific (China, India, Japan, South Korea, Malaysia, Indonesia)
Latin America (Brazil, Mexico, Argentina)
Middle East & Africa (Saudi Arabia, South Africa, Israel, UAE)
Know more about this report: request for sample pages
Material Outlook
On the basis of material, the market is segmented into metal, plastic polymer, rubber, fiber, silicones, graphite, and others. Rubber gaskets and seals use a wide range of elastomers such as neoprene, nitrile, EPDM, and natural rubber. The demand for rubber gaskets and seals has increased in applications such as pipe gaskets, heat exchangers, and manways.
Product Outlook
The product segment has been divided into is segmented into gaskets and seals. Gaskets have further been bifurcated into non-metallic, semi-metallic, metallic, whereas seals have been segmented into the molded, vehicle body, shaft, and others. In 2020, the seals segment accounted for the highest market share. However, the gaskets market segment is expected to grow at the highest rate during the forecast period. Gaskets are used to offer resistance against chemicals, weather, or pressure. Cork gaskets are increasingly being used owing to their high compression and flexibility in applications involving solvents and oil.
Sales Channel Outlook
On the basis of sales channels, the market is segmented into aftermarket and OEMs. The OEM segment accounted for the highest market share in 2020. A massive increase in the use of gaskets and seals from manufacturing and aerospace industries has been registered, fueling the market growth of this segment. The rising penetration of electric and hybrid vehicles and the introduction of government regulations regarding the use of clean and renewable energy resources further accelerates the market growth of gaskets and seals.
End-Use Outlook
On the basis of end-user, the market is segmented into aerospace, electronics, automotive, oil and gas, industrial, and others. The automotive segment accounted for the highest market share in 2019. The growth in the global automotive industry, especially in Europe and Asia-Pacific, coupled with increasing demand for lightweight and electric vehicles fuels the growth of this market segment. Vehicles are being modernized to reduce noise, repairs and maintenance, vibration and harsh properties, component failure while improving vehicle efficiency and driving comfort, boosting the adoption of gaskets and seals in the automotive industry.
Geographic Overview
Asia Pacific dominated the global gaskets and seals market in 2020. Increasing industrial automation coupled with the growing penetration of vehicles in developing countries of the region has fueled the adoption of gaskets and seals in the region. Gaskets and seals offer improved efficiency, greater lifespan, and reduced maintenance costs.
The market demand for gaskets and seals has increased from industries such as manufacturing, oil and gas, petrochemical, and aerospace owing to economic growth and technological advancements in Asia-Pacific. Increasing disposable income and improving living standards have boosted the sale of passenger vehicles, driving the market growth in Asia Pacific.
Competitive Landscape
The leading players in the gaskets and seals market include Hutchinson SA, Bruss Sealing System GmbH, Smiths Group Plc, Dana Holding Corporation, Trelleborg Sealing Solutions AB, Freudenberg Sealing Technologies GmbH & Co. KG, Garlock Sealing Technologies LLC, AB SKF, Boyd Corporation, Flowserve Corporation, Parker Hannifin Corporation, Magnum Automotive Group LLC, and James Walker.