The global smart trash bins market was valued at USD 346.29 million in 2022 and is expected to grow at a CAGR of 14.6% during the forecast period. Smart trash cans are automatic trash cans or bins used to manage or dispose of trash. It is a touchless, sensor-based system that demands less work from users. This is primarily a result of the growing urban population, a shortage of trash disposal infrastructure, and inadequate waste management strategies, which urge householders to use smart waste management practices. The projection period will see a surge in smart trash cans due to the expanding problems with waste management worldwide and the development of smart cities. The need for smart trash cans is rising quickly as a result of the dynamics of globalization and urbanization growth. Leading market participants engaged in the market are concentrating on various waste management prospects while addressing the increase in worldwide product demand.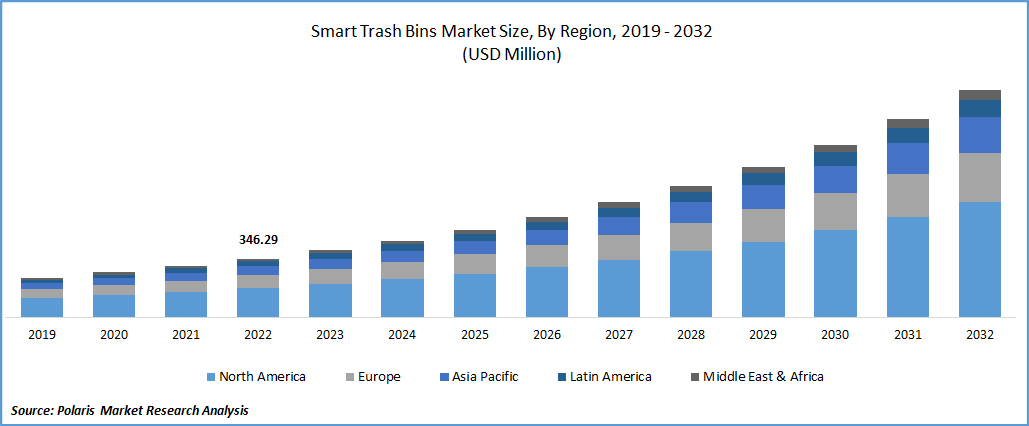 Know more about this report: Request for sample pages
Manufacturers of these bins are introducing products with cutting-edge features to accomplish the necessary waste management procedures, including garbage collection, transportation, disposal, and treatment. The quick advancement of technology has substantially improved the functionality and ease of using smart dustbins. With ongoing technological advances, the market is predicted to expand quickly. Numerous cutting-edge technologies, including RFID, the Internet of Things (IoT), and global positioning systems (GPS), among many others, are quite popular for their ability to collect waste in an economical and environmentally responsible way.
Urban societies are adopting smart waste management solutions at an exponential rate due to this inclination, which is most noticeable in metropolitan areas, to provide a better environment and public health. For instance, smart dustbins powered by artificial intelligence have been installed at Zhangjiang High Tech Park. By 2019, Alpheus, an AI-IoT technology company specializing in waste management, deployed another 2,000 artificial intelligence-enabled smart waste bins. An increasing number of industry competitors are introducing innovative and effective garbage cans to obtain a competitive advantage.
The deployment of smart city technologies, such as smart dumpsters, has accelerated because of the COVID-19 pandemic. An IIT Kanpur alumni from India has developed a smart container with a specific coating on the surface of its mouth that can cut the virus's lifespan by up to 95%. This lowers the chance that additional users will become infected and raises the bar for waste management safety. The COVID-19 pandemic's smart bins' strategic alignment halts the virus's spread by waste produced in clinics, hospitals, quarantined areas, and public areas. At the start of the COVID-19 pandemic, governments in several nations decided to impose lockdowns that forced municipal waste companies and government bodies to quickly revise their recycling systems and measures while taking into account factors like employee health and safety, the need for waste processing, staff availability, and general waste sector processes.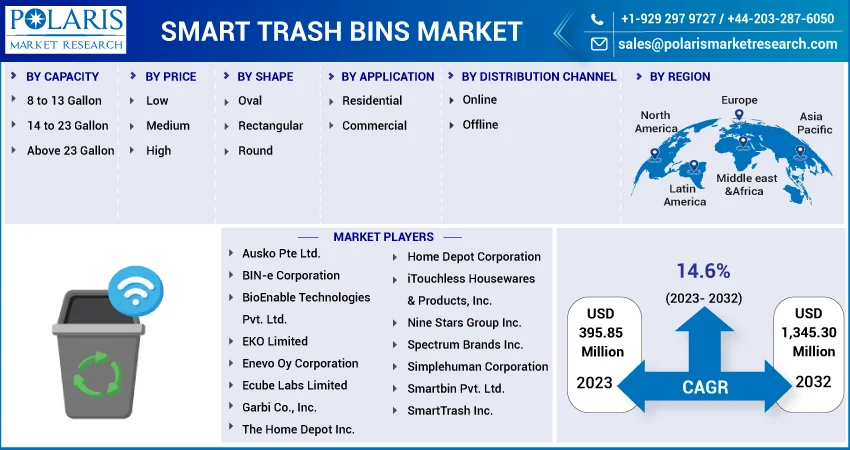 Know more about this report: Request for sample pages
Industry Dynamics
Growth Drivers
A significant factor in the smart trash bins market expansion continues to be the rising awareness of the importance of waste disposal and its connection to environmental safety. Manufacturers of smart trash cans are further enhancing their products' characteristics to protect the environment's safety as end users become more aware of various aspects of waste management. This is anticipated to help product distributors and manufacturers increase sales and establish a stronger position in the market.
Although waste management services have become a crucial part of municipal planning, the way they are now run is both resource- and time-intensive. This is mostly because of the continued use of antiquated, manual garbage collection methods and because logistical operations need access to efficient data-driven waste management and collection solutions. To address these urgent issues, governments, legislators, and the waste management sector are concentrating on creating and putting smart, IoT-based strategies and solutions into practice.
The primary goal of using this technology is environmental preservation without depleting resources like time, energy, and money. The level of the bin, the presence of gas, and humidity in the bin are all tracked in this work using sensors. Using an IoT-based software that has been developed, the state of the bin is updated in the cloud and sent to the authorities and garbage collectors. These are the factor that is driving the market for smart trash bins.
Report Segmentation
The market is primarily segmented based on capacity, price, shape, application, distribution channel, and region.
By Capacity

By Price

By Shape

By Application

By Distribution Channel

By Region

8 to 13 Gallon

14 to 23 Gallon

Above 23 Gallon

North America (U.S., Canada)

Europe (France, Germany, UK, Italy, Netherlands, Spain, Russia)

Asia Pacific (Japan, China, India, Malaysia, Indonesia. South Korea)

Latin America (Brazil, Mexico, Argentina)

Middle East & Africa (Saudi Arabia, UAE, Israel, South Africa)
Know more about this report: Request for sample pages
The Online segment is expected to witness the fastest growth
The internet sector currently has the largest market share and is expected to maintain its dominance during the projection period. Online platforms offer more possibilities for clients to go through and choose the type of smart garbage bin they want, which is a terrific approach to market any product, including smart trash cans. The demand for smart garbage cans is expected to rise due to convenience, free home delivery, and reliable and prompt service.
The residential

segment industry accounted for the highest market share in 2022
The residential sector is expected to continue as the primary market for smart garbage bins throughout the for. The market has expanded due to the creation of smart cities and the demand for smart waste management. The commercial market for smart trash bins has been impacted by considerations like the price of the smart garbage bin and extra maintenance cost compared to minimal pricing and nearly zero maintenance cost.
8 to 13 gallons is expected to hold the significant revenue share
It is anticipated that the 8 to 13-gallon segment will rule the market during the projection period. The 8 to 13-gallon capacity smart trash cans are designed exclusively for residential use, i.e., to be used in houses. A household typically produces less waste than the commercial and industrial sectors. Therefore the 8 to 13-gallon capacity properly suits a residence's needs. Above 23 Gallons, depending on the capacity necessary, mostly for residential and commercial purposes. Manufacturers of smart trash cans are producing goods with cutting-edge features to carry out these procedures, considering the significant processes connected with garbage management, such as transportation, disposal, waste collecting, and treatment.
The demand in North America is expected to witness significant growth
The North American smart trash can is anticipated to expand during the forecast period. Manufacturers of touchless waste bins are intensifying their efforts to increase the acceptance of their products as public welfare organizations, local government bodies, and other concerned regulatory boards increasingly take action to maintain cleaner environments in urban areas. To encourage the residential population to utilize touchless trash cans in regular garbage disposal operations, initiatives and efforts are being undertaken by governments and product manufacturers.
The Asia-Pacific region is anticipated to contribute significantly to the growth of the worldwide market. Globally, developing nations are supporting smart technology in their important cities to support smart city project initiatives, which are predicted to boost demand for smart garbage cans. The market is expanding in this region due to the country of India's increasing demand for improvements to its waste management system. Government initiatives like the Gramin Swachh Bharat Mission, Swachh Bharat Abhiyan, and Namami Gange Programme encourage people to keep India clean, which boosts the need for smart garbage cans. For instance, in March 2019, The Steel Authority of India Ltd (SAIL) introduced stainless steel smart trash cans. SAIL provides stainless steel trash cans for the Smart Garbage Stations built by the South Delhi Municipal Corporation at Bhikaji Cama Place in Delhi.
Additionally, the funding provided by various government initiatives, including Gramin Swachh Bharat Mission, Swachh Bharat Abhiyan, and others, is probably going to aid in the government's effort to raise money for the finalization of these clean India initiatives, which will, in turn, speed up the growth of the smart trash bin market throughout the forecast period. Additionally, users' increasing reliance on intelligent technology that can lower the labor needed to manage the waste collection process is a bonus in various geographical contexts. These elements are expected to fuel the global market expansion for smart trash bins.
Competitive Insight
Some of the major players operating in the global market include Ausko Pte., BIN-e Corporation, BioEnable Technologies, EKO Limited, Enevo Oy Corporation, Ecube Labs Limited, Garbi Co.., Honey- Can -Do International, Home Depot Corporation, iTouchless Housewares & Products, Nine Stars Group, Spectrum Brands, Simplehuman Corporation, Smartbin, SmartTrash, and The Home Depot.
Recent Developments
In December 2022, Mendel University (MENDELU) in Brno researchers created "smart bins" tailored to the unique requirements of cities, governments, and businesses. The ability to be GPS-tracked and report on fires are a few of the desired characteristics. A demo model of a smart garbage bin that uses sensors to detect when it is full and needs to be emptied can alert the operator is currently installed in the lab.
Smart Trash Bins Market Report Scope
| | |
| --- | --- |
| Report Attributes | Details. |
| Market size value in 2023 | USD 395.85 million |
| Revenue forecast in 2032 | USD 1,345.30 million |
| CAGR | 14.6% from 2023 - 2032 |
| Base year | 2022 |
| Historical data | 2019 – 2021 |
| Forecast period | 2023 – 2032 |
| Quantitative units | Revenue in USD million and CAGR from 2023 to 2032 |
| Segments Covered | By Capacity, By Price, By Shape, By Application, By Distribution Channel, By Region |
| Regional scope | North America, Europe, Asia Pacific, Latin America; Middle East & Africa |
| Key Companies | Ausko Pte Ltd., BIN-e Corporation, BioEnable Technologies Pvt. Ltd., EKO Limited, Enevo Oy Corporation, Ecube Labs Limited, Garbi Co., Inc., Honey- Can -Do International, Inc., Home Depot Corporation, iTouchless Housewares & Products, Inc., Modernhome and HANGSHAU Houseware Co., Ltd., Nine Stars Group Inc., Spectrum Brands Inc., Simplehuman Corporation, Smartbin Pvt. Ltd., SmartTrash Inc., and The Home Depot Inc. |