The global Smart TV market size was valued at USD 145 billion in 2017 and is anticipated to grow at a CAGR of 10.2% during the forecast period. A smart TV is a digital television offering internet connection, and storage for entertainment. Apart from receiving cable and satellite transmission passively, smart TVs also offer access and control features for streaming content from internet video services and connected devices. Smart TVs have the ability to connect to multiple input devices wirelessly for improved usability and control. Smart TVs are equipped with technology to support Ethernet, Wifi, USB, Bluetooth, flash memory cards coaxial cable, HDMI and other audio-video connections. Smart TVs also enable access to on-demand video services, access to pictures, music and video on connected storage devices.
The growing adoption of 4K resolution televisions and increasing penetration of televisions in the developing countries drive the growth of the market. Increasing consumption of online content along with increasing proliferation of high-speed internet encourage consumers to adopt smart TVs. The growing media and entertainment industry, especially in Asia-Pacific region, further boosts the market growth. The growing disposable incomes and improving living standards also support market growth. Another factor driving the market is growing demand for IPTV, and HD videos. Technological advancements and increasing purchasing power of consumers is expected to boost adoption of smart TVs during the forecast period. However, privacy and security concerns hamper the growth of the market. Growing demand from emerging economies, and increasing consumer awareness are factors expected to provide numerous growth opportunities in the coming years.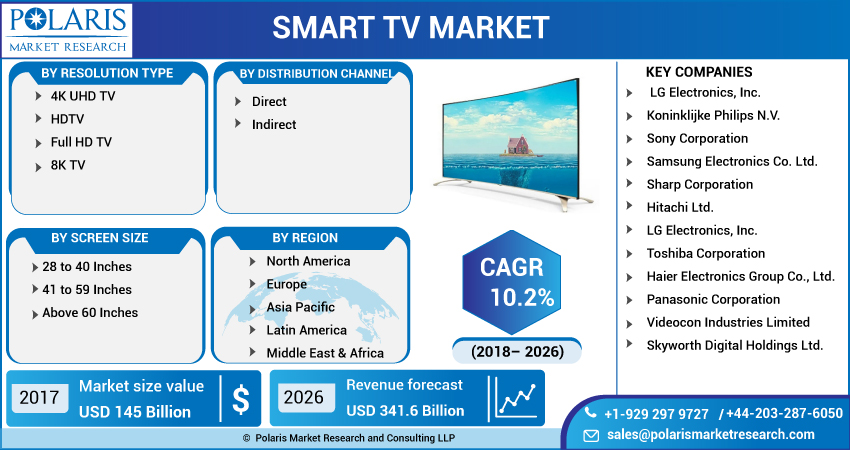 Segment Analysis
The global Smart TV market is segmented on the basis of resolution type, screen size, distribution channel, and region. Based on resolution type, the market is segmented 4K UHD TV, HDTV, Full HD TV, 8K TV. On the basis of screen size, the market is segmented into 28 to 40 Inches, 41 to 59 Inches, and Above 60 Inches. The distribution channel is segmented into direct, and indirect.
Regional Analysis
This report comprises a detailed geographic distribution of the market across North America, Europe, APAC and South America, and MEA. North America is further segmented into U.S., Canada, and Mexico. Europe is divided into Germany, UK, Italy, France, and Rest of Europe. Asia-Pacific is bifurcated into China, India, Japan, and Rest of Asia-Pacific. Asia-Pacific accounted for the largest share in the Global Smart TV market in 2017.
Competitive Landscape
The leading players in the market include LG Electronics, Inc., Koninklijke Philips N.V., Sony Corporation, Samsung Electronics Co. Ltd., Sharp Corporation, Hitachi Ltd., LG Electronics, Inc., Toshiba Corporation, Haier Electronics Group Co., Ltd., Panasonic Corporation, Videocon Industries Limited, and Skyworth Digital Holdings Ltd. among others. These leading players in the market are introducing innovative products in the market to cater to the consumers. Global players are entering new markets in developing regions to expand their customer base and strengthen market presence.