The global soil amendments market was valued at USD 3.45 million in 2021 and is expected to grow at a CAGR 11.1% during the forecast period. Soil amendments are methods that improve the quality of soil by influencing its composition and biochemistry. There are several acts and standards that are set up to safeguard the use of land amendments in green spaces such as farms, lawns, gardens, parks, and other landscapes.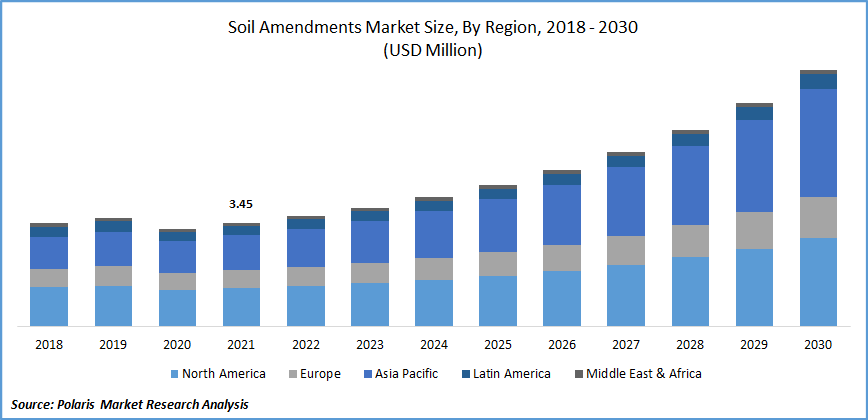 Know more about this report: Request for sample pages
The product standards of all the fertilizers that are produced and sold within the U.S. are controlled by the Fertilizers and Feeding Stuffs Act and the Agriculture Act (Part IV/Act no 41). In addition, the Association of American Plant Food Control Officials (AAPFCO) is responsible for the regulation of fertilizers and land amendments sales and distribution.
Furthermore, Section 733 (a) of the Tariff Act of 1930 (19 U.S.C. 1673 b(a)) ensures that the soil conditioners imported from Canada and Ontario are alleged to be sold in the U.S. at less than fair value (LTFV). M
Moreover, all matters related to legal limits of land conditioners in Europe are covered by Regulation (E.C.) No 396/2005. Unlike Europe, India has laid down acts and regulations that are governed by the Directorate of Plant Protection, Quarantine & Storage under the Ministry of Agriculture & Farmers Welfare. Furthermore, the Fertilizers, Feeds and Remedies Act (Act 36 of 1947) regulates the import and sale of fertilizers, farm feeds, seeds, and other land remedies within South Africa.
The COVID-19 pandemic had an overall impact on the global soil amendments market and its opportunities. Owing to the less or decreased supply of crop fertilizers due to the lockdown. There was a shortage of supplies to farmers due to cross-border barriers as countries worldwide imposed lockdowns resulting in long-term crop productivity.

Know more about this report: Request for sample pages
Industry Dynamics
Growth Drivers
Population growth and greater demand for organic products drive the growth of the soil amendments market. This amendments market growth is also supported by an increase in demand for organic farming and a rise in consciousness associated with land health management. There has been the implementation of initiatives and schemes to promote the adoption of organic amendments by governments across the world. Greater market demand for land amendments from developing nations and the development of fertilizers using land amendments are factors expected to fuel the amendments market growth in the coming years.
Report Segmentation
The market is primarily segmented based on product, soil type, application, and region.
By Product

By Soil Type

By Application

By Region

Construction & Mining
Agriculture & Gardening
Others

North America (U.S., Canada)
Europe (France, Germany, UK, Italy, Netherlands, Spain, Russia)
Asia Pacific (Japan, China, India, Malaysia, Indonesia. South Korea)
Latin America (Brazil, Mexico, Argentina)
Middle East & Africa (Saudi Arabia, UAE, Israel, South Africa)
Know more about this report: Request for sample pages
Organic segment is expected to dominate the market
By product, the soil amendments market is segmented into organic and inorganic. The land amendments market for the organic segment is expected to dominate the market during the forecast period. The rapid change in lifestyle, urbanization, and consumers' growing demand for organic food is anticipated to have a sustainable impact on the consumption of organic land conditioners such as worm compost, food waste, manure, and sewage sludge.
For instance, according to an article published by the IFOAM Organics International, in February 2021, 1.6% of farmland around the world was organic. Hence, the demand for organic food, as well as organic land conditioners, escalated the growth of the land conditioner market. Furthermore, the expansion of the agriculture sector has a productive impact on the consumption of organic land conditioners for farming purposes.
For instance, according to an article published by DownToEarth, in January 2021, the share of agriculture in GDP increased to 19.9% in 2021–2021 from 17.8% in 2019–2021. Furthermore, a rise in awareness about the advantage of using organic land conditioners is expected to induce the market demand for natural land conditioners, thus creating lucrative opportunities for this amendments market.
Clay is expected to be the fastest growing segment during the forecast period
By soil type, the market is segmented into clay, sand, loam, and silt. Among these, clay is expected to be the fastest-growing segment during the forecast period. Clay soil has a wide range of applications in construction, pottery, gardening, and other end-use sectors. Moreover, land amendments are used in clay soil to increase the pores, prevent crusting, and stop erosion & water runoff.
Furthermore, amending clay soil routinely can help in overcoming heavily compacted clay soil into a healthy one for garden growth and lawns. Gypsum is ideally added to it that improves land amendments and relieves compaction problems in existing gardens and lawns. In addition, gypsum adds essential plant nutrients such as calcium and sulfur.
Moreover, the addition of gypsum to vegetable gardens helps in prevent calcium deficiency in vegetables; thus, the demand for land amendments has surged and helps in booming the growth of lawns and gardens.
Furthermore, clay possesses enhanced molding capacity and can mold into different shapes after adding water as well as organic & inorganic land conditioners to it. Moreover, it is used widely in the ceramic industry for making pots, pipes, and other useful household appliances.
In addition to this, it can be used in the manufacturing of ceramic tiles, walls, and floors. For instance, according to an article published by Prasar Bharati, New Delhi, India, in April 2022, India's exports of ceramics and glassware products for 2021-22 achieved a record at $3,464 million. These factors together may increase the demand for land conditioners in the ceramic industry.
Construction & Mining is to be the fastest growing segment during the forecast period
Mining sites such as hard rock mining sites abandoned coal mining sites, refining sites, smelting sites, and constriction sites have infertile soil and soil with poor physical properties. Land conditioners containing nitrogen & phosphorus and several pH neutralizers are generally added to the land amendments at these mining sites.
Soil present in hard rock mining sites contains contaminants such as copper, molybdenum, lead, and nickel. The presence of these contaminants increases the risk of metal contamination, the risk of infertile land conditions, and possible food chain risks associated with molybdenum. To overcome these problems, land conditioners or amendments are added.
For instance, organic and inorganic land conditioners are applied to the surface of the land in the hard rock mining sites to minimize the risk of volatilization potential and minimize the risk of land ingestion. In addition, its presence around refiners and smelters tends to pose a risk of metal toxicity, and land ingestion is the dominant risk in these industrial areas. To overcome this problem, land conditioners are added, which, in turn, improves physical properties and minimizes associated risk. All these factors tend to escalate the growth of the global market.
North America region is expected to have a considerable share in the market
Residential gardening in the U.S. is growing rapidly, which, in turn, has increased the demand for land conditioners. According to the Canadian City Parks Report 2021, the government invested around $441 million in building city parks at various urban locations.
Moreover, home vegetable cultivation in Mexico is increasing rapidly, where land conditioners are widely used for providing nutrients and protection to various types. According to an article published by Fresh Plaza, the cultivation of vegetables on rooftops and patios has increased in the cities of Mexico. This is anticipated to enhance the performance of the soil amendments market in North America.
Competitive Insight
Some of the major players operating in the global market include Adama, Bayer, BASF SE, Evonik Industries, FMC Corporation, Greenfield Eco Solutions Pvt. Ltd., Gujarat State Fertilizers and Chemicals Limited, Lallemand Inc, Novozymes, Nufarm, Oro Agri Europe S.A., Saint-Gobain, SANOWAY GmbH, T Stanes & Company, and UPL Limited.
Recent Developments
In May 2022, BASF SE launched Agrostart, an innovation platform for digital solutions in the agriculture sector.
In March 2022 Haifa Group acquired Horticoop Andina. This was undertaken to widen Haifa's presence in Latin America and Ecuador.
Soil Amendments Market Report Scope
| | |
| --- | --- |
| Report Attributes | Details |
| Market size value in 2021 | USD 3.45 million |
| Revenue forecast in 2030 | USD 8.55 million |
| CAGR | 11.1% from 2022 - 2030 |
| Base year | 2021 |
| Historical data | 2018 - 2020 |
| Forecast period | 2022 - 2030 |
| Quantitative units | Revenue in USD billion and CAGR from 2022 to 2030 |
| Segments covered | By Product, By Soil Type, By Application, By Region |
| Regional scope | North America, Europe, Asia Pacific, Latin America; Middle East & Africa |
| Key companies | Adama, Bayer, BASF SE, Evonik Industries, FMC Corporation, Greenfield Eco Solutions Pvt. Ltd., Gujarat State Fertilizers and Chemicals Limited, Lallemand Inc, Novozymes, Nufarm, Oro Agri Europe S.A., Saint-Gobain, SANOWAY GmbH, T Stanes & Company, and UPL Limited. |