The global solar panel recycling market was valued at USD 141.80 million in 2022 and is expected to grow at a CAGR of 12.9% during the forecast period. The growth of the solar panel recycling market is being driven by government policies and regulations that promote the use of renewable energy sources and encourage the responsible disposal of solar panels. Solar PV cells and modules (panels) were incorporated by MoEFCC (Ministry of Environment, Forest and Climate Change) into its amended draft E-waste guidelines via Gazette on May 19, 2022. India will likely release its national solar waste management strategy second after the European Union. By doing so, it has established a niche reputation and joined an exclusive group of nations that address environmental issues related to solar energy. Recycling can help India to attain "Atma Nirbhar," as the recovered materials can be used again as secondary raw materials to create new modules and prevent further environmental harm from fresh mining.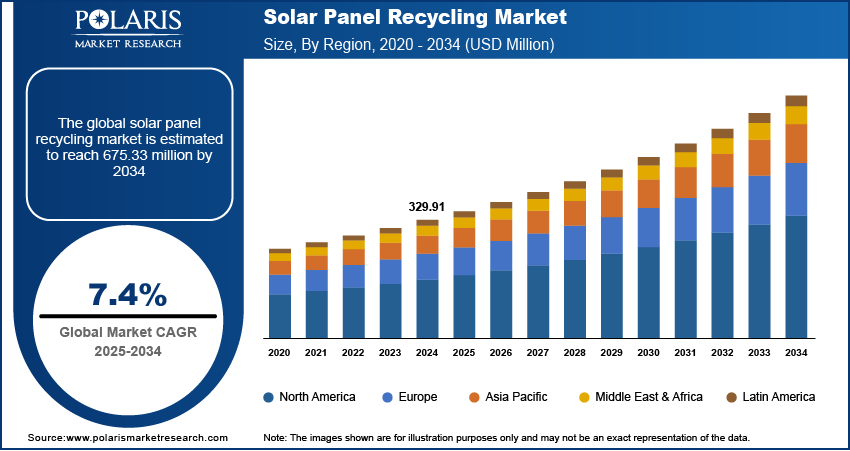 Know more about this report: Request for sample pages
The solar panel recycling market is expected to expand during the forecast timeline due to the continued high value of the renewable energy industry and rising investments in solar power generation. The development of solar technology is predicted to attract investment and offer new chances for industry participants to grow. Due to the quick pace of PV installation, the number of retired PV panels has also surged. This is expected to accelerate the expansion of the solar panel recycling sector soon. By 2050, the value of clean resources may exceed USD 15 billion, sufficient to power 630 GW with 2 billion solar panels. In the upcoming 10–20 years, lifespan of solar panels is anticipated to drive demand globally.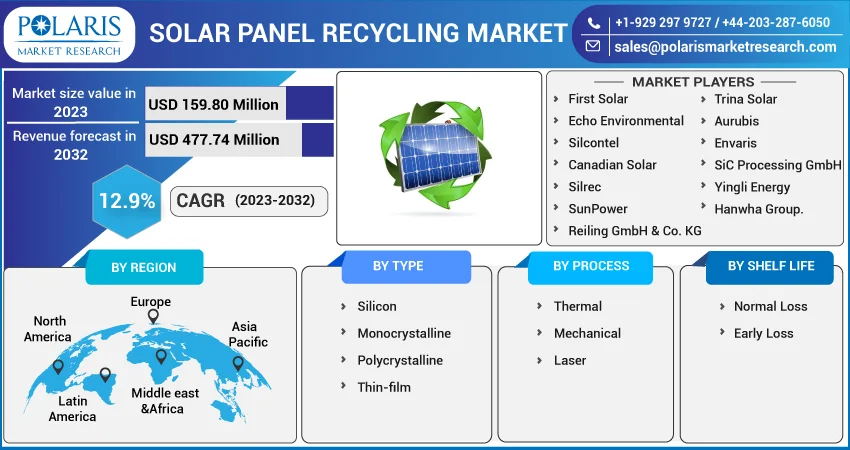 Know more about this report: Request for sample pages
Industry Dynamics
Growth Drivers
The global market is expanding as a result of the energy sector's gradual shift from conventional to renewable sources. Additionally, during the projected time period, a rise in awareness of the environmental damage caused by solar panel waste is expected to drive the market. On the other hand, it is anticipated that government efforts to reduce carbon footprints and increase investment in infrastructure for renewable energy sources would present lucrative growth prospects for top firms to maintain their market position in the years to come. The decaying older installations are expected to benefit the market for recycling solar panels. The market will expand as a result in the upcoming years.
Over the course of the evaluation period, the continued high value of the renewable energy industry and increased investments in solar power generation are projected to fuel the growth of the global market. Advances in solar technology are predicted to attract investment, which is expected to create new growth prospects for industry players. Additionally, the rapid growth in PV installation has opened the door for an increase in the number of PV panels that have been retired. As a result, the market for recycling solar panels is likely to grow faster in the near future. In Coming years, it is expected that the government's support for large-scale solar power generation to reduce carbon footprints will have a favorable impact on industry growth.
Report Segmentation
The market is primarily segmented based on type, process, shelf life and region.
By Type

By Process

By Shelf Life

By Region

Silicon

Monocrystalline

Polycrystalline

Thin-film

North America (U.S., Canada)

Europe (France, Germany, UK, Italy, Netherlands, Spain, Russia)

Asia Pacific (Japan, China, India, Malaysia, Indonesia. South Korea)

Latin America (Brazil, Mexico, Argentina)

Middle East & Africa (Saudi Arabia, UAE, Israel, South Africa)
Know more about this report: Request for sample pages
Silicon is expected to witness the fastest growth during the forecast period
Silicon segment is expected to witness higher growth in the future as solar panels with crystalline silicon make up most of the market. Over 95% of solar panels sold now are made of crystalline silicon. Solar cells in this kind of panel have a silicon crystal structure. These solar panels frequently have trace amounts of precious metals like silver and copper incorporated within them. Solar panels made of crystalline silicon are effective, affordable, and have lengthy lifespans; modules are anticipated to last for at least 25 years. This will fuel the demand for the market in the coming future.
Mechanical accounted for the largest market share in 2022
Mechanical segment is expected to dominate the market. Mechanical recycling involves physically breaking down the solar panels into smaller components, such as glass, aluminum, and silicon, which can then be recovered and reused. This method is widely used due to its low cost and simplicity, as well as its ability to recover a high percentage of valuable materials from the solar panels. The laser and thermal segments are also expected to see significant growth, driven by the increasing demand for high-purity silicon and the need for sustainable and responsible recycling solutions for decommissioned solar panels.
Early Loss segment is expected to hold a significant revenue share in 2022
Early Loss segment is projected to witness higher growth and revenue share in the coming years. The growth of the solar panel recycling market is being influenced by the increasing demand for recycling services as a result of the early loss of solar panels. As more and more solar panels reach the end of their operational life and are decommissioned, there is a growing need for responsible and sustainable recycling solutions. The recycling of solar panels not only helps to reduce waste and minimize the environmental impact of solar energy generation, but it also helps to recover valuable materials and components that can be used in the manufacture of new solar panels.
The demand in North America is projected to witness a higher growth rate during the forecast period
North America is expected to witness a higher growth rate in the coming years due to stringent regulations by the government in this region. In terms of developing and executing waste management policies for PV waste, the EU is unquestionably in front of other regions. The EU's Waste Electrical and Electronic Technology (WEEE) Directive holds manufacturers or distributors who initially introduce or install such equipment accountable for the proper disposal of waste. Additionally, the presence of major solar panel manufacturers in North America, such as First Solar and SunPower, is also driving the growth of the solar panel recycling market.
Asia Pacific is expected to have a larger revenue share in upcoming years. Several governments in the Asia Pacific region are launching initiatives and policies to promote the adoption of renewable energy sources and encourage the recycling of solar panels. For example, the Indian government has launched a National Solar Mission to promote the growth of the solar energy sector in the country. Solar panels provide electricity from the sun that is clean and renewable, and their use as an energy source has increased. Approximately 40% of new electric generation capacity in the United States was generated by solar panels in 2020, up from just 4% in 2010. In the United States as a whole, solar technology was used to generate 3.3% of the electricity in 2020. This is creating a wide range of opportunities for the growth of the market.
Competitive Insight
Some of the major players operating in the global market include First Solar, Echo Environmental, Silcontel, Canadian Solar, Silrec, SunPower, Reiling GmbH, Trina Solar, Aurubis, Envaris, SiC Processing, Yingli Energy & Hanwha Group.
Recent Developments
In January 2023, First Solar finished the sale of Luz del Norte, a utility-scale solar power facility in Copiapó, Chile, with a 141 MW AC capacity, to the Toesca, a private asset manager with its headquarters in, Chile.

In January 2023, CSI Solar signed an investment agreement with the municipal body of the Jiangsu Province, China, according to a statement from Canadian Solar.
Solar Panel Recycling Market Report Scope
| | |
| --- | --- |
| Report Attributes | Details |
| Market size value in 2023 | USD 159.80 million |
| Revenue forecast in 2032 | USD 477.74 million |
| CAGR | 12.9% from 2023– 2032 |
| Base year | 2022 |
| Historical data | 2019- 2021 |
| Forecast period | 2023- 2032 |
| Quantitative units | Revenue in USD million and CAGR from 2023 to 2032 |
| Segments covered | By Type, By Process, By Shelf Life, By Region |
| Regional scope | North America, Europe, Asia Pacific, Latin America; Middle East & Africa |
| Key companies | First Solar, Echo Environmental, Silcontel, Canadian Solar, Silrec, SunPower, Reiling GmbH & Co. KG, Trina Solar, Aurubis, Envaris, SiC Processing GmbH, Yingli Energy and Hanwha Group. |