The global specialty oleochemicals market was valued at USD 8.51 billion in 2017 and is forecasted to grow at a CAGR of 5.4% from 2018 to 2026. Specialty oleochemicals are the base oleochemical products and are driven by the large number of applications and growing demand for bio-based end-use products. Material and technological developments in the manufacturing technologies and cultivation of raw materials hold immense significance in the growth of specialty oleochemicals.
Specialty oleochemicals include plant-based feedstock such as soybean oil, palm oil, rapeseed oil, and sunflower oil. Rapidly rising consumer demand for biosurfactants, biodegradable polymers, and lubricants have resulted in increased consumption of specialty oleochemicals. Government support to utilize more sustainable products and stringent regulatory framework for the petroleum-based products are the crucial factors for the growth of specialty oleochemicals.
North America Specialty Oleochemicals Market Share by Application, 2017-2026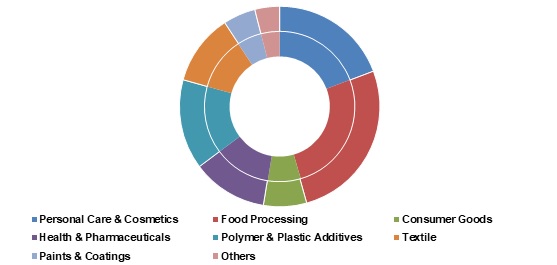 Know more about this report: request for sample pages
Bio-based lubricants sector consumes large quantities of specialty oleochemicals. On account of characteristics such as enhancement of the desired properties, tailor-made formulations, and narrow variation in properties specialty chemicals are largely used in the production of lubricants. However, the manufacturing process includes high cost and is technology intensive, that can stagnate market growth substantially.
Paints, inks, health & pharmaceutical products, food processing, and polymer & plastic additive sector have also witnessed rise in the consumption of specialty oleochemicals. Many end-use industries of specialty oleochemicals have witnessed significant growth in different parts of the world. Specialty oleochemical derivatives are used in pharmaceutical products.
Healthcare industry has grown tremendously in the lower income and emerging countries coupled with the expansion of services in the developed nations. Some of the developed nations such as the United states and Western European countries have worked efficiently to make their healthcare industries advanced in all the necessary aspects.
Specialty oleochemicals downstream potential businesses have also witnessed growth trends in different regions. For instance, textile industry in China and Southeast Asia have developed at a fast rate and showcase intense competition to the rest of the world. Food & beverage sector has witnessed an upward trend in many countries and consume specialty oleochemicals in different food products, such as bakery and margarine.
Know more about this report: request for sample pages
Segment Analysis:
Specialty oleochemicals are segmented into product type and application. On the basis of product type, these are bifurcated into specialty esters, glycerol esters, alkoxylates, fatty amines, fatty acid methyl esters, and few others. Specialty ester is anticipated to be largest product segment due to the sustainability factor it showcases in comparison to its petroleum-based substitutes
On the basis of applications, specialty oleochemicals are segmented into paints & coatings, polymer & plastic additives, textile, personal care products, health & pharmaceuticals, lubricants, consumer goods, and others. The other category of applications includes oilfield chemicals, crop protection, candles, paper, and rubber industry.
Specialty Oleochemicals Market Scope
By Product

By Application

By Region

Specialty Ester
Fatty Acid Methyl Ester (FAME)
Glycerol Ester
Alkoxylates
Fatty Amines
Others

Personal Care & Cosmetics
Food Processing
Consumer Goods
Health & Pharmaceuticals
Health & Pharmaceuticals
Textile
Paints & Coatings
Others

North America (U.S., Canada)
Europe (Germany, UK, France, Italy, Spain, Belgium, Russia, Netherlands)
Asia-Pacific (China, Japan, India, Australia, Korea, Singapore, Malaysia, Indonesia, Thailand, Philippines)
Latin America (Brazil, Mexico, Argentina)
Middle East and Africa (UAE, Saudi Arabia, South Africa)
Know more about this report: request for sample pages
Regional Analysis
Asia Pacific is expected to be the most lucrative regional market for the global specialty oleochemicals. This region has immense potential in terms of the large industrial bases for different downstream businesses. The region also has massive availability of the raw materials, especially in Indonesia, Malaysia, and the Philippines where the palm and coconut oil markets have witnessed tremendously higher growth.
North America is the second largest market for the specialty oleochemicals. The United States is the major contributor due to rising application growth prospects in personal care & cosmetics, consumer goods, healthcare industry, and paints & inks sector. Europe is also anticipated to witness considerable growth on account of growing significance of biodiesel and sustainability.
Competitive Analysis:
The specialty oleochemicals market is moderately competitive and highly consolidated. It constitutes of large number of domestic and international market players. Some of key oleochemical market players include Emery Oleochemicals, KLK Oleo, IOI Group, Oleon, Evonik Industries, Kao Corporation, Vantage Specialty Chemicals, and Wilmar International.