The global sports nutrition market was valued at USD 16.59 billion in 2020 and is expected to grow at a CAGR of 9.3% during the forecast period. Prominent factors responsible for the market growth include rising demand for different types of protein bars, energy drinks, and other dietary supplements, coupled with an increase in fitness centers all over the world, particularly in high-income countries. Market growth is also complemented with rapid urbanization, consumer awareness, influential product marketing.
According to the estimates of the International Health Racquet and Sportsclub Association, in 2016, it was estimated that in the U.S. alone there were around 38,477 health fitness centers. Moreover, in 2017, fitness club membership in the country increased to 60.9 million, denoting a rise in consumer awareness of fitness among U.S. citizens, thus driving the demand for sports nutrition products and services.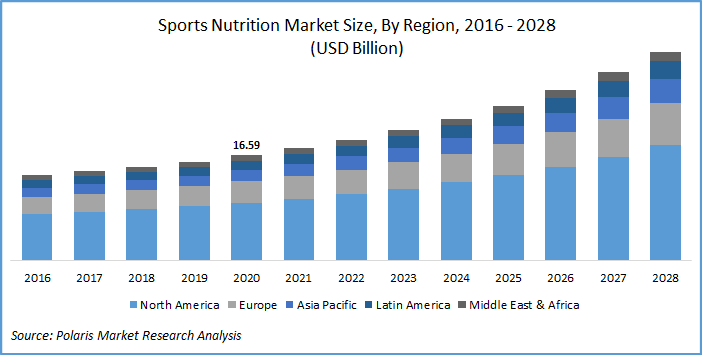 Know more about this report: request for sample pages
Industry Dynamics
Growth Drivers
The growing importance of daily activity is positively spurring the demand for sports nutrition foods and supplement products. There is an increasing trend of consumers towards fitness-related activities. As per the study done by 'Physical Activity Council' it was estimated that more than 64 percent of the U.S population are engaged in intense physical workouts such as running, and gym exercises.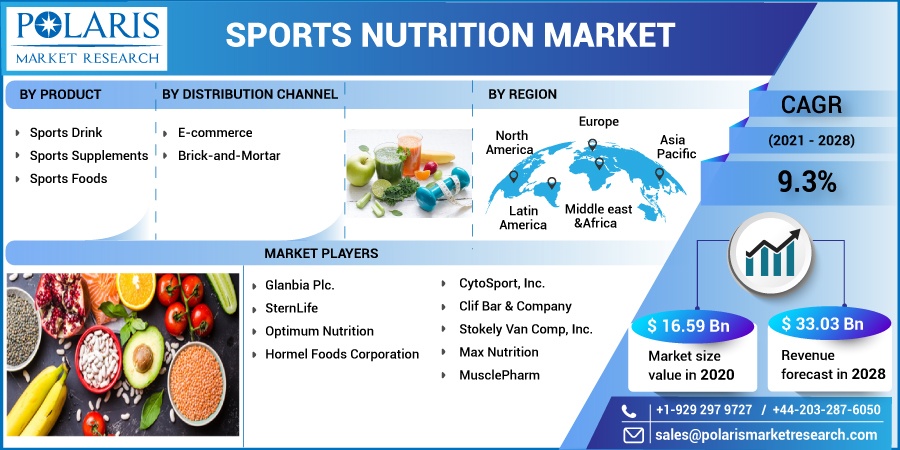 Know more about this report: request for sample pages
Consumers all over the world are increasingly concerned about what they eat and how it impacts their bodies. Moreover, there is a demographic shift in the market from core users, who are regular users to the general people who seek to stay fit, to remain healthy in their daily life. Thus, growing awareness about a healthier lifestyle is expected to create enormous growth opportunities.
Sports Nutrition Market Report Scope
The market is primarily segmented on the basis of product, distribution channel, and geographic region:
By Product

By Distribution Channel

By Region

Sports Drink
Sports Supplements
Sports Foods

E-commerce
Brick-and-Mortar

North America (U.S., Canada)
Europe (France, Germany, UK, Italy, Spain, Netherlands, Austria)
Asia Pacific (Japan, China, India, Malaysia, Indonesia, South Korea)
Latin America (Brazil, Mexico, Argentina)
Middle East & Africa (Saudi Arabia, UAE, Israel, South Africa)
Know more about this report: request for sample pages
Insight by Product
Based upon the product, the global sports nutrition market is categorized as supplements, drinks, and sports foods. In 2020, sports supplements accounted for the largest revenue share. Such a high share is attributed to growing awareness about health and fitness and commercially available supplements.
Moreover, the market segment is also driven by product launches, for instance, in 2017, Momentous, the U.S.-based nutritional supplement company introduced its first line of protein powders RedShift and AbsoluteZero. Previously, in 2016, Klean Athlete introduced Klean Creatine, which enables athletes to build muscle mass and recover from work fatigue through nutrition.
The sports food market segment is projected to witness a lucrative growth rate over the assessment period. This is due to the rising trend towards nutrition, energy, and protein bars. Moreover, increasing nutrition product launches is also favoring its growth. For instance, in 2018, U.S. based firm Bodybuilding.com, introduced its own privately labeled protein bars, cookies, and creams.
Insight by Distribution Channel
In 2020, the brick-and-mortar market segment accounted for the largest revenue share, owing to the presence of a large pool of customer base in retail stores. The presence of distributed retail chains of key players Walmart, Vitamin Shoppe, and GNC is one of the major factors contributing to its growth. For instance, in the U.S. alone, GNC and Vitamin Shoppe have 4,800 and 785 retail stores, respectively.
The E-Commerce sports nutrition industry segment is projected to witness the highest growth rate over the forecast period. Such high growth is attributed to the adoption of online channels to purchase nutrition products, as they offer huge discounts to attract customers. Moreover, e-commerce players are introducing innovative strategies to compete with specialty stores for nutrition products. In this direction, in 2018, Amazon introduced its own brand OWN PWR, which comprises 11 nutrition products. Thus, the easy availability of supplements on the online channels is projected to the segment's growth prospects.
Geographic Overview
North America's sports nutrition industry accounted for the largest revenue share. The factors responsible for the region's market growth include growing establishments of fitness chains, an increase in recreational and sports activities, coupled with an awareness of good nutrition among sportspeople, and a rise in e-commerce players introducing their line of private label brands. Moreover, the region has small, medium, and large market players operating in the value chain contributing significantly to the market growth.
Asia Pacific sports nutrition market is projected to grow at a lucrative market growth rate over the assessment period, primarily due to its increasing popularity. Moreover, rapidly rising concerned digital infrastructure in low-income countries like India and China, creates significant market opportunities for the e-commerce players, which further drives the sales of such products. Moreover, rising sports activities also contributing to its market growth.
Competitive Insight
The prominent market players operating in the sports nutrition industry are Glanbia Plc., SternLife, Optimum Nutrition, Hormel Foods Corporation, CytoSport, Inc., Clif Bar & Company, Stokely Van Comp, Inc., Max Nutrition, and MusclePharm.