The global sugar-free chewing gum market was valued at USD 13.76 billion in 2022 and is expected to grow at a CAGR of 6.9% during the forecast period.
Consumers are becoming more aware of the negative impacts of ingesting sugar and sugar-based goods. People who use gum and mints provide a constant supply of sugar to their teeth, hastening the erosion and leading to tooth decay. To fight the negative consequences of chewing gums that contain sugar, firms are offering chewable gums without sugar for customers who enjoy chewing gums.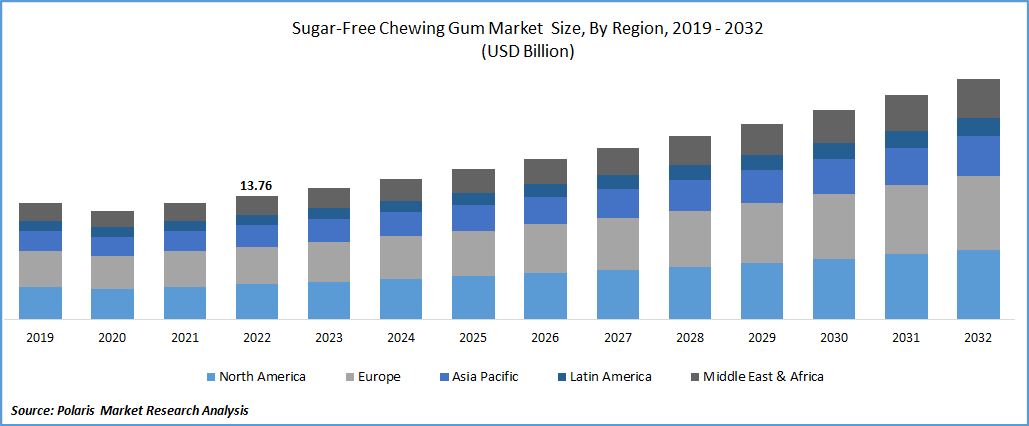 Know more about this report: Request for sample pages
The market for this product has expanded rapidly in recent years. The growing health-conscious population, as well as the increased incidences of dental decay caused by excessive sugar consumption, have raised the demand for sugar-free chewing gum. Other factors projected to promote the growth of the worldwide sugar-free chewing gum market include regular product improvements, such as the introduction of new flavors, and a thriving organized retail sector. Innovative marketing strategies are also boosting industry growth.
Because sugar-free gums contain no sugar, other substances are added to produce a flavor comparable to sugar. Sugar substitutes generated from plants are among such sweeteners or additives. Other organic ingredients are applied to such gums to enhance their smoothness and storage stability.
Chewing gum used is linked to a variety of unfavorable health outcomes, such as migraines and occlusal joint disease. Gum chewing causes tension in the jawbone, which contributes to cervical discomfort, hearing discomfort, as well as other difficulties. Sugar substitutes like sorbitol serve as a stimulant, which might lead to digestive issues if used regularly. Other illnesses such as hunger and losing weight have also been related to it.
More market competition is created through more competition, price, and altering customer preferences. People's spare time is fueling market growth amid the Pandemic due to shutdowns and the therapeutic advantages of sugar-free gum chewing. Due to the epidemic, global shut downs in 2020 and continuing limitations in 2021 interrupted the sugar-free chewing gum distribution network, raising obstacles for producers in the sugarless chewing gum industry.
Know more about this report: Request for sample pages
Industry Dynamics
Growth Drivers
The worldwide chewing gum market is experiencing a fundamental change toward producing anti-sugar products because of the population's preference for sugar-free food and drinks because of the prevalence of sugar disorders and diabetes. Additionally, sugar-free bubble gum substitutes are now being acknowledged as a preventative step for oral decay by several prominent dentistry groups and companies across the world.
Chewing gums were traditionally sweetened with sugar which led to tooth cavities. Many chewing gums available in Europe these days use artificial sweeteners or sugar alternatives and the most common one is polyols. These are also known as sugar alcohol as their structure is like sugar and alcohol. Among various polyols, the most common is hexagonal, sorbitol, and xylitol.
An increasing number of new niche players such as Mondelez and Mars in this industry is projected to provide significant momentum for market growth. However, the demand is witnessing a drift from young consumers as the market in some regions is estimated to be matured. Aging or declining industries can be difficult for businesses, but they can encourage them to push and reinvent.
Consumer demand for diverse tastes is driving up demand for single packs. Due to increasing interest and the expanded utilization of social media, Double mint has fared well in Asia, and expanding buying capacity promotes the sales development of sugar-free chewing gum. The future of sugar-free chewing gum lies in awareness via packaging hence, fresh product innovation with appealing packaging is the primary tactic employed by companies.
Report Segmentation
The market is primarily segmented based on flavor Type, Application, and region.
By Flavour Type

By Application

By Region

Spearmint
Peppermint
Fruit Flavour
Original Bubble Gum

Hypermarket/Supermarket
Convenience Stores
Specialist Stores
Online Retail
Others

North America (U.S., Canada)
Europe (France, Germany, UK, Italy, Netherlands, Spain, Russia)
Asia Pacific (Japan, China, India, Malaysia, Indonesia, South Korea)
Latin America (Brazil, Mexico, Argentina)
Middle East & Africa (Saudi Arabia, UAE, Israel, South Africa)
Know more about this report: Request for sample pages
The peppermint flavor is the most popular in sugar-free chewing gums
Menthol is a chemical found in peppermint. Many of the advantages of peppermint oils are attributed to menthol. Menthol is a popular ingredient in a range of products, notably chewing gum and crushed pills, due to its soothing and rejuvenating effects.
Companies in this industry offer menthol powder recipes, whether organic or synthesized, that allow food makers to develop interesting new items while harnessing the special attributes that menthol may provide. Player's completely natural powdered menthol uses our encapsulating technology to offer innovative menthol products that benefit the whole business. However, spearmint is projected to show the fastest growth over the forecast period followed by fruit flavors.
Convenience stores dominated the market by application in 2022
Convenience shops lead the market, accounting for a significant market share of worldwide industry revenue, in 2022. Chewing gums are ideal for supermarket checkout and point-of-purchase impulsive purchases because the majority of them are priced between USD 18 and 20. These not only increase shop sales but also raise the visibility of effective chewing gums. Furthermore, when these things began to offer to society, they were more closely related to everyday requirements. As a result, a huge number of purchasers may be observed acquiring these on a daily basis from pharmacies.
Chewing gum is not particularly suited to e-commerce. It's typically a tiny, low-priced product that consumers add to their baskets while they wait in queue for a supermarket checkout, instead of looking for it on their own. Few companies have discovered a method to persuade shoppers to buy gum while shopping online. Amazon accounts for a significant percentage of online gum sales. Businesses like Walmart and Instacart, which handle a considerable volume of online grocery orders, seldom go above and beyond their way to promote chewing gum to clients.
The demand in North America is expected to witness significant growth
North America is expected to account for the largest share of the worldwide market. The rising demand for sugar-free chewing gum, owing to its diabetic population & consumer awareness favored the region's growth. The United States is a developed country that is widely recognized as being at a diverse consumer portfolio. Another key factor driving growth in the United States is the entry of new businesses into the confectionery business.
Competitive Insight
Some of the major players operating in the global market include The PUR Company, Mars Incorporated, Health Made Easy, Ferndale Confectionery, Ferrero, Verve, Kraft Foods, Haribo GmbH, Wrigley, Topps Company, Simply Gum, The Hershey Company, Perfetti Van Melle, Mondel?z International, and Lotte Corporation.
Recent Developments
In 2021, Stride, a Cadbury gum brand, announced the release of 4 new flavors in Australia. Mango Peach, Lim Passion fruit, Peppermint, & Lemonade are among the flavors available.
In 2021, Nudd, a UK-based start-up, introduced a plastic-free, plant-based, non-sugar bio-degradable gum in the region. The company's goal is to raise customer awareness about the global plastic waste created by traditional gums. The product is offered in 2 different flavors: peppermint & spearmint.
Sugar Free Chewing Gum Market Report Scope
| | |
| --- | --- |
| Report Attributes | Details |
| Market size value in 2023 | USD 14.67 billion |
| Revenue forecast in 2032 | USD 26.67 billion |
| CAGR | 6.9% from 2023 - 2032 |
| Base year | 2022 |
| Historical data | 2019 - 2021 |
| Forecast period | 2023 - 2032 |
| Quantitative units | Revenue in USD billion and CAGR from 2022 to 2030 |
| Segments covered | By Flavour Type, Application, By Region |
| Regional scope | North America, Europe, Asia Pacific, Latin America; Middle East & Africa |
| Key companies | Ferndale Confectionery Pty Ltd (Australia), Ferrero SpA (Italy), Kraft Foods Inc (US), Haribo GmbH & Co. Kg (Germany), The Wm. Wrigley Jr. Company (US) |