The global surgical dressing market was valued at USD 3.92 billion in 2020 and is expected to grow at a CAGR of 5.7% during the forecast period. It is gaining traction due to the increasing number of surgeries worldwide. As per the Global Observatory on Donations and Transplantation (GODT) database, there was an upsurge in the number of organ transplant procedures globally. This increase in surgeries is majorly due to the advancement in technology, flexible government medical and health policies, and increasing awareness about the surgeries.
The majority of the developed economies such as the U.S., UK, Germany, and France have Ambulatory Surgery Centers (ASC) which benefit the patients with economical surgeries in shorter duration. This market trend has also been seen in the developing economies such as India and China which are implementing the ASCs.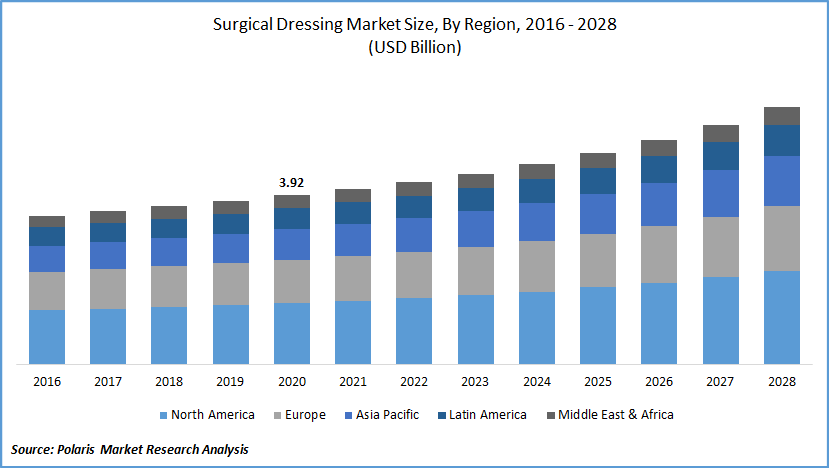 Know more about this report: request for sample pages
Along with these installations, the government in these regions is also leveraging on their healthcare policies. This is one of the major reasons which has increased the number of surgical procedures. This is acting as one of the major driving factors for the growing market for surgical bandages.
Another major driving factor for this market is the increasing number of diseases such as cardiovascular diseases, obesity issues, diabetes which are mainly due to lifestyle disorders. With these diseases, the patient must undergo different surgeries such as cardiovascular disease surgery or obesity-related surgery. These increasing number of surgical procedures are proving to be one of the major driving factors for the market growth of surgical bandages.
Composite bandages, which are multi-layered waterproof bandages, are a part of the primary dressings. These are three-layer bandages, where the lower layer consists of semi or non-adherent material for water to infuse to the next layer, however it prevents it from sticking to the granulating tissue.
One of the key factors for the market growth of these segments is the increase in CVD diseases majorly in developing nations. The growth of diabetes-related surgeries and transplant surgeries in the developed nations are also pushing the market growth of surgical bandages.
Surgical Dressing Market Report Scope
The market is primarily segmented on the basis of product, application, end-use, and region.
By Product

By Application

By End-Use

By Region

Primary Dressing
Secondary Dressing
Others

Diabetes-Based Surgeries
Ulcers Surgeries
Burns Surgeries
Transplant Surgeries
Cardiovascular Diseases (CVD)-Based Surgeries
Others

Hospitals
Home Healthcare
Ambulatory Centers
Specialty Clinics
Others

North America (U.S., Canada)
Europe (France, Germany, UK, Italy, Hungary, Netherlands, Austria)
Asia Pacific (Japan, China, India, Malaysia, Indonesia, South Korea)
Latin America (Brazil, Mexico, Argentina)
Middle East & Africa (Saudi Arabia, UAE, Israel, South Africa)
Know more about this report: request for sample pages
Insight by Product
Primary dressing accounted for over 40.0% of the global market for surgical dressing in 2020. The primary bandages are in direct contact with the wound. The primary dressing may be embedded with anti-bacterial drugs or anticoagulants. In order to keep these bandages in place, there is normally adhesive tape used. The primary dressing has been further bifurcated into several dressings including film, alginate, soft silicone, composite, hydrogels, hydrocolloid, and foam.
Negative Pressure Wound Therapy (NPWT) which uses a vacuum dressing to promote healing in chronic wound or third-degree wounds is growing at a substantial rate. NPWT is expected to have a higher market share during the forecast period due to its rapid healing process, reduced infection chances, and increasing patient compliance.
The secondary segment is employed to keep the primary bandages in place. They are not in direct contact with the wound. They are also used to provide support and protect the wound from mechanical trauma. They made contain adhesives. They can also be embedded with anti-bacterial drugs or anticoagulants.
Absorbent bandages soak up exudates without adhering to the wound. This type of bandages is used on surgical wounds, lacerations, donor or skin graft sites, burns, abrasions, or exuding wounds. The materials used for manufacturing these wound care products may be Teflon coated and come in a variety of shapes and sizes such as squares and rolls.
Insight by Application
The complications associated with diabetes include heart attack, leg amputation, kidney failure, stroke, retinopathy, and nerve damage. These complications can be avoided with early diagnosis and proper management of the disease with a change in lifestyle and anti-diabetic drugs.
If the disease condition is improperly managed the complications resultant from it require corrective surgeries. Surgeries such as amputation due to diabetic ulcers or diabetic foot, vitrectomy, and metabolic & bariatric surgery are recommended to manage the disease condition.
Cardiovascular Diseases (CVD)-based surgeries segment accounted for over 19.0% of the overall revenue share of surgical dressing in 2020. A report by the AHA titled "Heart Disease and Stroke Statistics-2017 Update", states that a 30.0% decrease is expected with respect to CVDs related deaths between 2010 and 2020 in the U.S. This is projected to occur due to early diagnostics and increasing availability and affordability of CVD-based surgeries.
Wound care products such as hydrogels, hydrocolloids, foams, gauze, bandages especially elastic bandages and triangular bandages, adhesive tapes may be used in these surgeries. As the disease prevalence increases, there is an expected growth in the surgical bandages industry which is attributed to the increase in CVD-based surgeries.
Insight by End-Use
The hospitals segment accounted for over 54.0% of the global revenue in 2020. Hospitals require all categories of surgical dressing. They require these bandages in large quantities as they are required for all surgeries and all secondary treatments as well. Hospitals generally issue an open tender offer for the procurement of these bandages.
The number of specialty clinics is increasing as there is a need to bridge the gap between the number of hospital beds available and the number of surgeries needed. Additionally, there is a rise in the number of these clinics due to increasing health care expenditure. As the number of specialty clinics increases the need for surgical dressings also increases. This need is attributed to an increasing number of surgeries conducted.
The surgeries conducted in these clinics include surgeries that are of short duration and may not have an extended recovery time. These clinics also require all types of surgical dressings as they may conduct a large variety of surgeries. Thus, there is growth in the surgical dressing market, due to an increase in the number of specialty clinics.
ASCs are health care facilities that conduct small surgical procedures such as small eye surgeries, dental surgeries. These centers are increasing in number in developed and developing countries and they reduce the pressure on hospitals and physician clinics. These centers also need surgical dressings and ASCs are a huge potential market for surgical dressings.
Geographic Overview
The market demand for surgical dressings in North America is expected to witness a growth of 5.7% over the forecast period. Surgical procedures are needed to treat a broad spectrum of diseases across all age groups. The cost of these surgical procedures is also more in the U.S., but most of these surgeries expect a few dental surgeries may be covered under the national or corporate insurance policies.
The total number of surgeries conducted in ambulatory settings and inpatient settings were reported to be 9,322,200 and 9,730,300 respectively. The number of surgeries conducted is expected to increase due to the rise of lifestyle disorders. Thus, the market demand for surgical dressings is expected to increase.
The surgical dressing market in Asia Pacific is likely to grow due to an increase in healthcare expenditure along with increased penetration of national and private health insurance. Countries such as Thailand, India, China are also expected to serve as a potential driver of the market, due to an increase in medical tourism in these countries of this region. Thus, the market for surgical dressing is expected to grow in this region.
The countries included in Latin America are Argentina, Brazil. Colombia, Cuba, Dominica, Panama. The major drivers for the surgical dressing market in this region may include an increasing number of ambulatory centers, increasing health insurance coverage, increasing life expectancy, and increasing lifestyle disorders.
Competitive Landscape
The leading players in the surgical dressings market include Acelity, Medline Industries, Inc. Smith & Nephew, Medtronic, Advancis Medical, Alliqua Biomedical, 3M, ConvaTec, Coloplast. These players are expanding their presence across various geographies and entering new markets in developing regions to expand their customer base and strengthen their presence in the market. The companies in the market are also introducing new innovative products in the market to cater to the growing consumer market demands.
The key market players opting for product launch as a secondary growth strategy for surgical dressing to enhance their presence in the global surgical dressings market. Product launch held ~20% of the total strategies adopted by the overall key players in the market. The companies adopting product launch as its primary strategy include Smith+Nephew, Medtronic, ConvaTec, and Coloplast.