The global synthetic paper market was valued at USD 1,026.73 million in 2021 and is expected to grow at a CAGR 5.6% during the forecast period. Synthetic paper is used across various end-use industries such as cosmetics, pharmaceuticals, cosmetics, and food & beverages for applications such as packaging, printing, and labeling.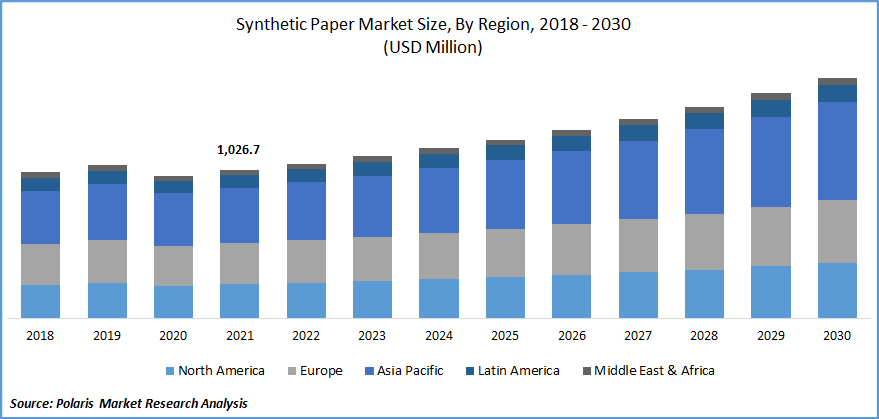 Know more about this report: Request for sample pages
Synthetic paper is very similar to regular or normal paper that is available anywhere, apart from the difference that it is made of synthetic resin, which is obtained from petroleum as the main content. Most of them look exactly the same as regular paper and seem to be extracted from wood pulp; however, that's not the case. These papers are molded in such a way that it looks similar to plastic and is very durable in nature.
These synthetic resin papers are categorized into two kinds such as film and fiber synthetic paper. However, among the two, film synthetic paper is more widely used. Moreover, it imparts certain properties such as tear resistance and water and grease resistance. These papers also include printable surfaces and can provide superior-quality printing.
The COVID-19 pandemic had a negative effect on the global synthetic paper market and its opportunities. The disturbance in the value chain across the world due to the lockdown has obstructed large-scale manufacturing. Travel restrictions and limited import/export activities also led to reduced demand for the industry. Several industries were adversely affected by the pandemic, directly influencing industry.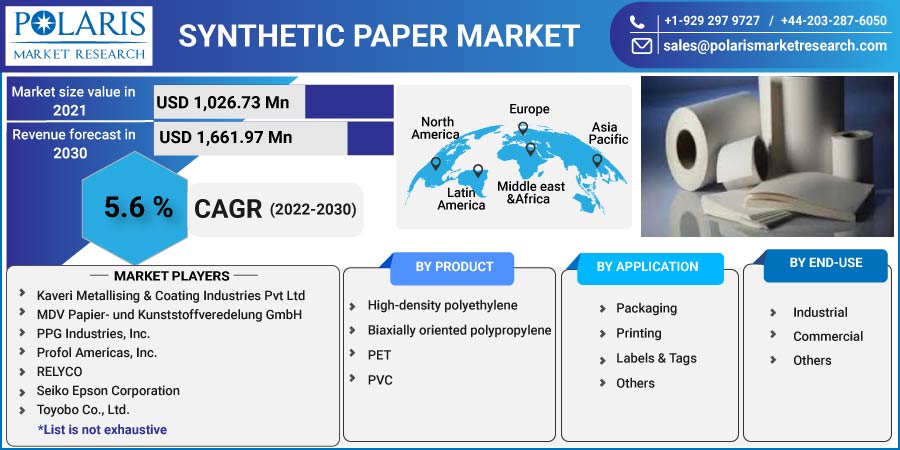 Know more about this report: Request for sample pages
Industry Dynamics
Growth Drivers
The growth of the global synthetic paper market is primarily driven by its increasing adoption in the food and beverage industry. The food packaging sector has witnessed a significant increase in demand. For instance, according to a report published by the India Brand Equity Foundation (IBEF), the food packaging sector in India is expected to expand at a compound annual growth rate (CAGR) of 4.1% by 2025 in which 49% of plastic-based food packaging material will be used for packaging of different food & beverage products.
Greater demand for the industry from the packaging and labeling sectors supports the growth of the industry. Increasing population, urbanization, industrialization, and urbanization across the globe further accelerate the adoption of the industry. Increasing consumer awareness and environmental concerns have resulted in greater adoption of eco-friendly solutions, supporting the growth of the industry.
The inclination toward the use of sustainable packaging solutions further boosts its adoption. Modifying purchasing habits of consumers, rise in demand from developing nations, and increase in adoption of e-commerce platforms are expected to contribute to the growth of the industry during the forecast period.
Report Segmentation
The market is primarily segmented based on product, application, end-use, and region.
By Product

By Application

By End-Use

By Region

High-density polyethylene
Biaxially oriented polypropylene
PET
PVC

Packaging
Printing
Labels & Tags
Others

Industrial
Commercial
Others

North America (U.S., Canada)
Europe (France, Germany, UK, Italy, Netherlands, Spain, Russia)
Asia Pacific (Japan, China, India, Malaysia, Indonesia. South Korea)
Latin America (Brazil, Mexico, Argentina)
Middle East & Africa (Saudi Arabia, UAE, Israel, South Africa)
Know more about this report: Request for sample pages
High-density polyethylene type is expected to be the fastest growing segment during the forecast period
By product, the synthetic paper market is segmented into high-density polyethylene, biaxially oriented polypropylene, PET, and PVC. The industry for the high-density polyethylene segment is expected to be the fastest growing segment during the forecast period.
HDPE films are used in industries such as packaging, medical, industrial, and food. Other applications include the production of covering sheets, which can be used as a separation layer during the production of bitumen belts are driving the adoption of HDPE films.
Different color variants of HDPE films can be manufactured through the addition of specific color concentrates, making them suitable for applications such as the manufacturing of T-shirt bags, semi-product for printing, and liners for paper bags. These factors are driving the demand of the global market. The linearity, stiffness, and crystalline nature of HDPE films make them tough and solid materials to be used for a variety of packaging applications.
Printing segment accounted for the largest market share
By application, the synthetic paper market is segmented into packaging, printing, labels & tags, and others. Among these, printing is expected to be the largest market in the industry. It possesses various significant properties such as flexibility, impact resistance, puncture resistance, moisture resistance, glossy finish, and others. Its use for printing purposes is one of the main trends in the global market.
The growth of the pharmaceutical sector, where sterilized synthetic paper is used as a prime packaging material for drugs and medical equipment, also fuels the growth of the industry. Moreover, being lightweight, flexible, & glossy, they are widely used for personal packaging care & cosmetics products.
Industrial segment accounted for the largest revenue share
By end-use, the industrial sector is expected to be the largest market. They are used across industrial tags for identifying products and are used for industrial labeling. Moreover, these papers are used for horticultural products as well. Wherein these are used for the printing of horticultural tags for trees and plants.
They are extensively used for the wrapping and packaging of medicinal products, glass containers, and cosmetics. Moreover, it is also used for tins, cans, durable consumer products, and different kinds of an industrial products. In addition, they are also used for packaging non-food items such as industrial liners, shipping sacks, bubble packaging, and rack & counter bags.
Asia-Pacific region will lead the global market by 2030
Asia-Pacific region is expected to account for a larger share in the market due to increasing urbanization, dynamic food preferences, rapid economic growth, and low per capita consumption. In addition, polyethylene films are also used across numerous applications such as anti-bird, nets for olive & nut picking, anti-hail, shading, and wind-breaking. Thereby increasing the demand in the Asia-Pacific region.
Competitive Insight
Some of the major players operating in the global market include Agfa-Gevaert N.V., Arjobex SAS, Cosmo Films, Daks India Industries Pvt Ltd, Elastin International Corp., Hop Industries Corporation, HWASEUNG Industries Co.,Ltd, Kaveri Metallising & Coating Industries Pvt Ltd, MDV Papier- und Kunststoffveredelung GmbH, PPG Industries, Inc., Profol Americas, Inc., RELYCO, Seiko Epson Corporation, Toyobo Co., Ltd., and Yupo Corporation.
The prominent companies operating in the industry are launching new advanced products to strengthen their market presence. Companies are also partnering and collaborating to enter new emerging markets and expand customer base.
Recent Developments
In December 2021, Yupo Corporation launched a new product on reduced plastic that are used synthetic paper for labelling.
In May 2021, Cosmo Film launched a new product which is 100% made of opaque synthetic paper. This is specifically created for dangler application. This opaque synthetic paper is matt finished, and is non-tearable.
In September 2019, Cosmo Films, introduced two type of synthetic papers. One is high tear digitally printable paper, and the other is resistant synthetic paper.
Synthetic Paper Market Report Scope
| | |
| --- | --- |
| Report Attributes | Details |
| Market size value in 2021 | USD 1,026.73 million |
| Revenue forecast in 2030 | USD 1,661.97 million |
| CAGR | 5.6% from 2022 - 2030 |
| Base year | 2021 |
| Historical data | 2018 - 2020 |
| Forecast period | 2022 - 2030 |
| Quantitative units | Revenue in USD million and CAGR from 2022 to 2030 |
| Segments covered | By Product, By Application, By End-Use, By Region |
| Regional scope | North America, Europe, Asia Pacific, Latin America; Middle East & Africa |
| Key companies | Agfa-Gevaert N.V., Arjobex SAS, Cosmo Films, Daks India Industries Pvt Ltd, Elastin International Corp., Hop Industries Corporation, HWASEUNG Industries Co.,Ltd, Kaveri Metallising & Coating Industries Pvt Ltd, MDV Papier- und Kunststoffveredelung GmbH, PPG Industries, Inc., Profol Americas, Inc., RELYCO, Seiko Epson Corporation, Toyobo Co., Ltd., and Yupo Corporation |