The synthetic small molecule API market was valued at USD 131.45 billion in 2021 and is expected to grow at a CAGR of 5.8% during the forecast period. Increased appetite for specialist capabilities, geographic diversification of the supply chain, and new discoveries that continue to be highly priced are the factors responsible for the growth of the synthetic small molecules API.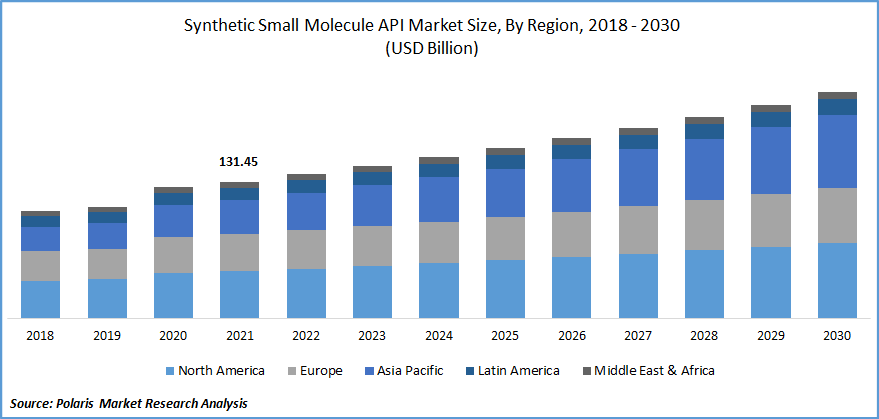 Know more about this report: Request for sample pages
They active pharmaceutical ingredients that are commonly made up of 20-100 atoms, are well-defined, purified, and studied quickly, and are extensively utilized in various biological and pharmaceutical procedures.
They are effective inducible modifiers and enzyme inhibitors due to their typical physicochemical characteristics and tiny size. Furthermore, these molecules are highly effective in preventing, diagnosing, and treating diseases. Owing its numerous applications commonly in the healthcare industry have driven the industry's growth.
The industry's expansion is attributed to the low cost of manufacturing associated with synthetic small molecules and their incredible effectiveness. Around 78% of all APIs, most of the drugs patients take, are synthetic small molecules. This increases the demand for finished products and API formulation, which fuels the growth of the synthetic small molecule API market.
Even though numerous causes are driving the development of synthetic small APIs, there is still deficient public awareness of the same. This is especially true for developing nations with their poor economic standards. However, budgetary restrictions and the healthcare infrastructure in these countries could provide complicated challenges for the global industry.
The Covid-19 pandemic has positively impacted the synthetic small molecule API market as demand eventually grew during the pandemic owing to the respiratory system impairment in patients suffering from the infection. The pandemic facilitated the industry's growth by encouraging players to diversify their businesses and to avoid shortages geographically.
COVID-19 is further driving the investigation of synthetic small molecule products. Additionally, studies for repurposing existing synthetic small molecule drugs are ongoing to treat SARS-CoV-2 infection.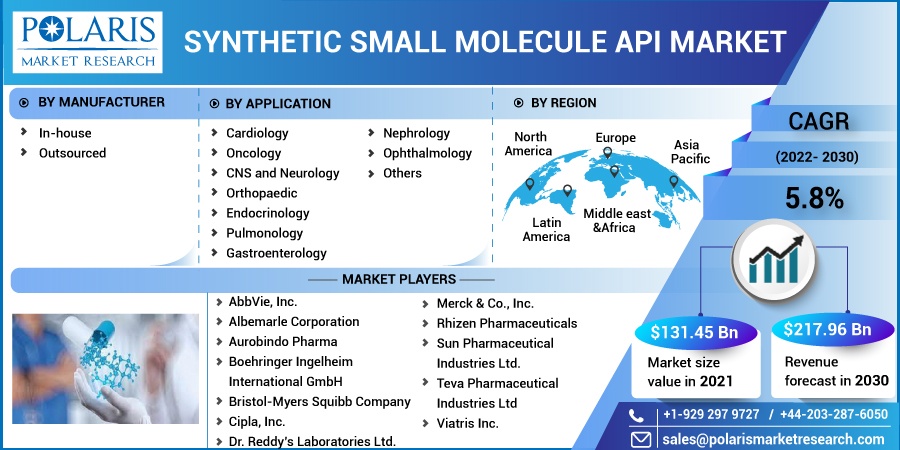 Know more about this report: Request for sample pages
Industry Dynamics
Growth Drivers
Despite many prominent contract manufacturing organizations (CMOs) investing in advanced therapy medicinal product (ATMP) capabilities in recent years and increasing the use of biologic APIs in both the pipeline and among marketed drugs, the majority of marketed drugs are small molecules. With the rise of oncology pipeline drugs driving the increase in high potency, combined with synthetic small or virtual pharma companies being unable to acquire or access containment capabilities in-house, the demand for innovative specialized synthetic small molecule capabilities will remain high.
High demand for generic drugs is a crucial driver leading to market growth. API for these drugs generates high revenue for chemical and synthetic manufacturing companies. This factor is creating an opportunity for contract development and manufacturing companies working for it, owing to the growth in outsourcing trend as companies want to enhance profitability by reducing the cost of production, which is anticipated to influence the market's growth.
The market's growth is witnessed by the ease of production associated with synthetic small molecules and the high effectiveness possessed by these molecules. Furthermore, these represent a good amount of the total share representing the majority of medicines consumed, which amplifies the demand for finished products and formulation of API. Additionally, rapid growth in several corporate agreements has propelled the industry. For instance, BASF pharma sold its OMEGA 3 manufacturing facility to Marine Ingredients in Norway.
Report Segmentation
The market is primarily segmented based on manufacturer, application and region.
By Manufacturer

By Application

By Region

Cardiology
Oncology
CNS and Neurology
Orthopaedic
Endocrinology
Pulmonology
Gastroenterology
Nephrology
Ophthalmology
Others

North America (U.S., Canada)
Europe (France, Germany, UK, Italy, Netherlands, Spain, Russia)
Asia Pacific (Japan, China, India, Malaysia, Indonesia. South Korea)
Latin America (Brazil, Mexico, Argentina)
Middle East & Africa (Saudi Arabia, UAE, Israel, South Africa)
Know more about this report: Request for sample pages
In-house accounted for the largest market share in 2021
The growth of the in-house segment is attributed to manufacturers' efforts to reduce their reliance on CDMOs and suppliers for raw materials and instead focus on developing their own API. For instance, Lonza launched a new synthetic small-molecule manufacturing complex to enhance future small-molecule technologies expansion in April 2021.
The outsourced segment is supposed to grow faster over the forecast. The growing shift of manufacturing companies towards contract research and development organizations for the production of API commercially is increasing, showing the fastest growth of the segment. For instance, Curia, a CDMO, invested in expanding its commercial manufacturing capacity at its Rensselaer, New York facility. Furthermore, increasing demand for the requirement of complex manufacturing processes further drives the growth of the segment.
Cardiology is expected to grow at the highest rate during the forecast period
The cardiology segment accounted for the largest market due to the increasing prevalence of target diseases worldwide owing to changes in lifestyles and food habits. Additionally, the rising number of patients from various cardiovascular diseases along with the increased implementation of treatment for cardiovascular conditions has driven the segment's growth. According to WHO, cardiovascular disorders are the most common cause of death worldwide.
Overweight and obesity in people have raised their blood pressure and blood glucose level leading to cardiovascular disorders. According to WHO, significant cardiovascular deaths are due to heart attacks and strokes, and most of these deaths occur prematurely in people under the age of 70.
Small-molecule synthesis is essential for the development and effectiveness of numerous pharmaceutical medicines, from over-the-counter analgesics to life-saving medications for cardiovascular disease. For instance, EUROAPI's current synthesis portfolio includes approximately 60 small-molecule API references with several therapeutic applications for both humans and animals.
North America is projected to grow at the highest growth rate during the forecast period
The market in North America accounted for the largest market share in the synthetic small molecule API market during the forecast period. With favorable initiatives, the growing support from the government has increased players' interest in developing novel products in the region.
For instance, in 2021, AbbVie announced the U.S. FDA approval of Qulipta (atogepant) for episodic migraine in adults as the medication-only oral antagonist of the calcitonin gene-related peptide receptor. Furthermore, the government in this region is becoming supportive in terms of regulation of API production, which further has reduced the region's dependence on Asian manufacturers.
Asia Pacific is expected to account for the fastest growth in the global market owing to the large patient population's high adoption of over-the-counter (OTC) drugs coupled with the growing healthcare and pharmaceutical industry and intense research and development in API. According to IBEF, Indian pharmaceutical companies increased investment in R&D, driving the market growth in this region.
Competitive Insight
Some of the major players operating in the global market include AbbVie, Inc., Albemarle Corporation, Aurobindo Pharma, Boehringer Ingelheim International GmbH, Bristol-Myers Squibb Company, Cipla, Inc., Dr. Reddy's Laboratories Ltd., Merck & Co., Inc., Rhizen Pharmaceuticals, Sun Pharmaceutical Industries Ltd., Teva Pharmaceutical Industries Ltd., Viatris Inc.
Recent Developments
In 2021, Rhizen Pharmaceuticals announced the FDA approval of a novel drugUmbralisib, a PI3K-delta inhibitor for treating adults with relapsed marginal zone lymphoma and follicular lymphoma.
In 2018, Merck acquired OncoEthix for a novel oral BET (bromodomain) inhibitor, OTX015, which shows potential for treating advanced solid tumors and hematological malignancies.
Synthetic Small Molecule API Market Report Scope
| | |
| --- | --- |
| Report Attributes | Details |
| Market size value in 2022 | USD 138.68 billion |
| Revenue forecast in 2030 | USD 217.96 billion |
| CAGR | 5.8% from 2022 - 2030 |
| Base year | 2021 |
| Historical data | 2018 - 2020 |
| Forecast period | 2022 - 2030 |
| Quantitative units | Revenue in USD billion and CAGR from 2022 to 2030 |
| Segments covered | By Manufacturer, By Application, By Region |
| Regional scope | North America, Europe, Asia Pacific, Latin America; Middle East & Africa |
| Key companies | AbbVie, Inc., Albemarle Corporation, Aurobindo Pharma, Boehringer Ingelheim International GmbH, Bristol-Myers Squibb Company, Cipla, Inc., Dr. Reddy's Laboratories Ltd., Merck & Co., Inc., Rhizen Pharmaceuticals, Sun Pharmaceutical Industries Ltd., Teva Pharmaceutical Industries Ltd., and Viatris Inc. |